Going to the Chicago Pipe Show doesn't really feel like going to a show at all. It feels more like going to a magnificent 3-4 day party where you get to hang out with your best friends that you haven't seen in a long time. Sometimes I even experience a little post-show depression because you are on the highest high when you are there, and then it is suddenly over. However, I am still smiling thinking back on the show and enjoying all the goodies I brought home with me.
The official name of the show is "The 2011 Chicagoland International Pipe & Tobacciana Show". It took place at the Pheasant Run Resort in St. Charles, IL from Wednesday, May 11 though Monday, May 16. I was looking forward to a break from the hot humid Florida weather, but when I arrived in Chicago it was 88 degrees and humid … the exact weather I had just left. However, we had a perfect example of "watch what you wish for" as on Friday the temperature went down to 46 degrees with wind and rain. No matter what the weather is, the Chicago show is always a pleasure.
The Pheasant Run Resort is a great place. It is somewhat rustic and luxurious at the same time and I enjoy staying there each year. (Although, I was puzzled as to why they were still doing work on the outdoor pool since last year.) The resort is extremely accommodating to us pipe smokers. The staff is always exceptionally friendly and it's obvious that they appreciate all the business the show brings them each year.

One of the front desk people, Valerie Zozzaro, even remembered me from last year, and this was only my third year there. I arrived mid-afternoon on Wednesday at O'Hare and rented a car for the 45-60 minute drive to St. Charles. I did a little shopping for snacks and drinks for the room, had Thai food and Mango Martinis for an early dinner, and then stopped in at the SmokingPipes.com room. Ted Swearingen offered me a drink and tobacco, and I graciously accepted. Then Sykes showed up to take everyone to dinner. I was invited, but since I had already eaten, I spent the rest of Wednesday night in the smoking tent with Stacen, Bill Kotyk, John Seiler, Vernon Vig, Maxim Engel of Pipes2Smoke.com and several others.


You can see some more photos from Wednesday night in the smoking tent in my forum post here.
On Thursday morning I stopped by the Pipe Making Seminar. Here are a few photos of this perennial two-day workshop.
Most people arrive on Thursday and you can see them checking in and mingling in the lobby of Pheasant Run.
I also paid a visit to the local B&M in town and published a piece on them right from my hotel room.
You can see it here – Bull & Bear Ltd Tobacco Shop, St. Charles, IL
Thursday evening had me quite busy attending the Dunhill Focus Group,Charatan Focus Group, and then helping the Seattle Pipe Club and New York Pipe Club pack samples for The Balkan Sobranie Throwdown.
The Dunhill Focus Group included a "People's Choice Awards" where different categories were voted on by attendees. The results were as follows:
Louise Pavonetti of Hermit Tobacco won Best of Show, and the $100 cash prize, for her collection of Dunhill ladies's pipes.
Hermit Tobacco won best Dunhill non-pipe.
Craig Cobine won best Dunhill smooth pipe and best Dunhill rough finish pipe.
Mike Reschke won best Dunhill subsidiary rough finish pipe (Parker) and best Dunhill subsidiary non-pipe (Parker).
Paul Bender won best Dunhill subsidiary smooth finish pipe (Charatan).
The people's choice awards for the Dunhill focus group will continue in 2012 with another cash award of $100 for Best in Show.
Here are some photos from the Dunhill Focus Group
At the Charatan Focus Group there were over 200 pipes on display with judging in several categories. John Tolle won Best of Show for Executive and Coronation. Other winners in different categories were Andy Camire, Bruce Plumb, Mark Lindner, Dennis Congos, and Kevin Kaplan for Charatan Supreme – Best of Show.
Here are some photos from the Charatan Focus Group.
| | | |
| --- | --- | --- |
| John Tolle's Executive | John Tolle's Coronation | Dennis Congos' Charatans |
| | | |
| Kevin Kaplan's Charatan Supreme - Best of Show | Kevin Kaplan Shows Off his Winning Pipe | |
On Friday, the pre-show took place and several vendors told me they did so well that they sold more on Friday than during the main show on Saturday and Sunday. Even though the show traffic was down from last year, most people I talked to had a good show, but there are always going to be people that say they didn't have a good show no matter which show you are at. That is true of any type of show in any industry.


Maxim Engel of Pipes2Smoke.com echoed my own sentiment regarding shows; "It's what you make of it." He also told me that he did quite well selling many high-end pipes to some Chinese customers and that the Chinese and Russian customers were once again buying up a lot of pipes and really making it a great sales show for several vendors.
Brad Pohlmann's table was right next to PipesMagazine.com and I personally watched him sell pipes for $1,600, $1,800 and $2,200. So there were definitely buyers with big budgets and the opportunity for vendors to make sales.
Friday afternoon I attended and spoke at the United Pipe Clubs of America Annual Meeting, and I volunteered to be on the Executive Committee along with Craig Norris, President of The Conclave Of Richmond Pipe Smokers, and Russ Ouellette, representing the Capital District Pipe Club in Albany, NY.
Friday evening included a large complimentary buffet dinner sponsored by Altadis, also a Pipe Makers Forum and a Pipe Repairmen Roundtable, and of course, plenty of pipe smoking long into the night.
Saturday night included the Balkan Sobranie Throwdown, (for which we will have separate coverage) a tobacco blending presentation by Russ Ouellette, Rob Cooper's talk on the "State of the Estate Market", and Neill Archer Roan's Presentation on "The Thermodynamics of Pipe Smoking". I unfortunately missed these presentations (except for the Balkan Sobranie Throwdown) as I had conflicting arrangements. So much happens at the Chicago show that there are some overlapping activities. I once again decided to attend the Saturday night Pipe & Cigar Banquet from 6:30 – 9:00, and then immensely lucked out by being spontaneously invited to a private tobacco tasting. I hung out with Tad Gage, Mike McNeil and several others where they were opening 20 – 30 year old tins of pipe tobacco and handing out pipe-full samples.
Finally, I ended up in Gary Schrier's room drinking scotch, smoking pipes, having late-night alcohol induced munchies of salami, shrimp, cheeses,  and crackers along with wonderful conversations about pipes, tobaccos, and the state of the pipe hobby. Neil Archer Roan even made his way in and the three of us chatted until late into the night. I made it to bed at around 1:00 AM.
We have separate coverage of The 2011 U.S. National Slow Smoking Championships, which took place on Sunday.
Here is a Tiny Part of my Stash from Chicago.
The Reason Why the PM.com Table Had So Much Traffic in Chicago
| | |
| --- | --- |
| | |
There were so many people with tables of pipes and tobaccos that comprised such an astronomical amount of products, that it was impossible to talk to everybody before the show was over. Plus, it would make for an article longer than anyone would read, so here is our specific coverage of a few of the exhibitors at the 2011 Chicagoland International Pipe & Tobacciana Show in St. Charles, IL. (We are trying to profile exhibitors that previous pipe show articles have not included, while at the same time, not leaving out new tobacco blends. See links at the end of the article for past pipe show coverage.)
Cornell & Diehl New Blends – Founding Fathers and First Responders

C&D introduced two new blends. Personally, I like Founding Fathers, and I love First Responders. Click those links for short reviews and photos I've posted in our forums.
Founding Fathers was conceived of by Keith Towney, Sales Manager of Cornell & Diehl, and he tells us the story. "The idea for Founding Fathers came about when I was walking through the French Quarter. I was walking by some candles, which I always pick up for my wife when I'm in New Orleans. I was enjoying this aroma which turned out to be a pomegranate scented candle. It just filled the whole house up with this unbelievably great aroma, so I thought why not try putting it on tobacco?
We put it on a standard American aromatic base that we use, and it turned out great. Pomegranate is currently a popular flavor for many food and drink products, but what is interesting is that is was also the "in" fruit during American colonial times. It's been around for centuries and it was a prized fruit for the founding fathers, such as; Jefferson, Washington and Madison. They all imported the trees and grew them on their Virginia plantations. That's why we named it 'Founding Fathers', as the Founding Fathers probably would have enjoyed this tobacco."
Chris Tarlar described the origins of First Responders as follows. "This was originally a Pease blend named 'Tribute'. It came after 9/11, and we took several dollars from each tin sale and sent it to a scholarship fund that was set up for the surviving children. Now, we reintroduce the blend as First Responders. It is a blend of red, bright and stoved Virginias with a dash of Perique and toasted Cavendish."
G. L. Pease Triple Play was also introduced at the show. You can see our pre-release review here – G. L. Pease Triple Play Tobacco Review.
Scott Holtman Nashville, Tennessee
Scott started making pipes in 2006 with Paul Hildebrand in Phoenix, Arizona. He originally started out as a retail tobacconist, but got tired of the long hours. After making some pipes from kits, he was hooked and decided to get serious about it as a business. Scott is  affiliated with the Briar Studio, which is a joint venture in Nashville Tennessee between Todd Johnson and Bruce Weaver, and also includes pipe makers; Jody Davis, Steve Morrisette, and Pete Provost. You can see some of Scott's pipes below.
Brian Ruthenberg – Ruthenberg Pipes
Brain started making pipes as a serious endeavor about 10 years ago. He was at the Richmond Pipe Show at the time and placed 2nd in the amateur division of the Pipes & Tobaccos Magazine Carving Contest. It was only the 6th pipe he's ever made.
Brian tells us; "The guy who got first place was trained for a year and a half by Danish pipe maker Peter Matzold before entering the contest, so I felt pretty good about that. I had made six pipes. He had been working with a pipe maker for a year and a half. I had been doing it a month and a half …"
Brian makes about 150 pipes a year and the average price range is $300 – $400, but there are also pipes as low as $200 and as high as $1,500. Most Ruthenberg pipes are made from Italian briar and occasionally Algerian briar. Here are some of Brian Ruthenberg's pipes that were displayed at the show.
Some of the other materials used in Ruthenberg pipes are sterling silver, ivory and curly maple. Brian says; "I like to make standard shapes pretty much, but I always like to do interesting new shapes like this pear shape. I was looking at a website and saw it. I looked at a block of briar and saw the pipe immediately, but I had the block of briar for probably six months and didn't know what to put on it, what to make out of it and then there is this pipe, and I looked down and there was the block of briar and it fit."
Ruthenberg pipes can be viewed and purchased at BriarArt.com
PipesandCigars.com announced a follow up to Lakeland Brickle with the new Lakeland Brickle Fortissimo.
Russ Ouellette described the new blend as "a response to customer requests for a little more kick and a little more flavor. Where the original was more leaning on rose flavoring this is more tonka (bean) and clove dominant, so it's a deeper, richer flavor and I chose the flavors mainly … because by adding more dark burley to kick up the blend I needed something rich enough to be able to mask the earthiness of the dark burley."
Order Lakeland Brickle Fortissimo Here.
Brigham Pipes (U.S.A.) – Brian Levine
The latest development for Brigham Pipes is that they are now warehoused and shipped from the U.S.A., which has enabled them to reduce prices a whopping 30%.
Brigham Pipes are unique with their own special cooling system. They are also beautifully designed, of high quality and moderately priced, making them desirable and affordable by most pipe smokers.
The Brigham system consists of a Maple dowel, which is hollowed out to be a tube inserted into the pipe. It doubles as a cooling filter, and the Tenon of the pipe. This design allows for a continuous airflow from the draft hole to the lip.
The diameter is precisely maintained, and there are only miniscule tolerances inside the mortise because of the maple tube. The Rock Maple filter draws out the moisture and cools the smoke.


Brian Levine states; "By the time the smoke travels through the stem to the smoker's mouth, it is transformed into a cool, softened flavor. The issue of the gap between the tenon and mortise is completely negated by our continuous flow system. No gap means no gurgle, and a cooler and more consistent smoke. The draft hole is 3.5 millimeters, and it narrows slightly at the button. It is rare to find a pipe at this price with those specifications."
"With the Brigham system, the smoker can use a pipe cleaner anytime they want. It's the easiest pipe to get a pipe cleaner through. Other pipes with filters, balsa systems, and other "system pipes" make it difficult to get a pipe cleaner through. Our hollow filter which maintains the same diameter throughout enables a pipe cleaner to easily slide right through."
"The Rock Maple filter also helps keep the shank and stem clean, so we have the easiest pipe to clean."
Each pipe comes with one filter, and replacement boxes of 8 filters can be purchased separately. The price range of most Brigham pipes is very reasonable at $60 – $110. There will be some special edition pipes that will go up to $180. Here are some of the Brigham pipes that were displayed at the show.
SmokingPipes.com
Sykes Wilford, Founder & President of SmokingPipes.com exhibits a Tokutomi Sandblasted Calabash shape with a boxwood cap. The bowl is removable. The bottom bowl is briar and the top of the bowl is boxwood. It is lined, sealed with cork, with boxwood at the end of the shank and top of the bowl, and the rest is briar. The price is $1,800 and Sykes says;"for a Tokutomi with all of these intricacies and high level of craftsmanship, that price is quite reasonable."
| | |
| --- | --- |
| | |
Pohlmann Pipes – Brad Pohlmann


Brad is a well-known and well-respected pipe artisan residing in Southern Oregon. He has been making pipes for 35 years. When asked how he originally got into pipe making, Brad tells his story.
"I wanted to have my own business and ran into a guy making pipes in New York City on my way back from Europe that inspired me. So I thought I would open up my own pipe shop and have a stock with my own pipes and so I went back to look up this guy in New York City and ended up in Vermont with Elliott Nachwalter in the Briar Workshop."
Interestingly, I indirectly learned from the guy I was trying to find in New York. He had gone up to Vermont and showed them some techniques which they taught me."
Brad makes about 100 pipes a year ranging in price from $475 to $2,300. He uses "very old Italian wood that Barry Levin actually had. He gave it to a friend of his up in Craftsbury, Vermont and he was going to make pipes and then he never did and he told me he had it for 15 years and in 2003 I called Jim Cooke up and told him I was thinking about making pipes again. Jim and I had worked together at the Briar Workshop and a couple of months later he called up and said hey Brad I know somebody that has some wood up here in Vermont and it was the perfect excuse to jump on a plane and go to Vermont for a few days. So I flew up to Vermont and looked at this supply of wood and I liked it, so I bought all of that, so I got a large supply that's probably 25 years-old now and it's real good for blasting and a lot of crosscuts.
I use it a lot for my sandblasted pipes and I get that 1930s Dunhill sort of grain pattern because there are a lot of cross grains and so forth in this stuff."
You can see Brad's pipes at PohlmannPipes.com and SmokingPipes.com
Obsidian Pipe Stem Oil
One of my favorite new products introduced at the Chicago show is Obsidian Pipe Stem Oil. I have been using it as a product tester for months and my stems have never looked better. John Hauser, the inventor, tells us; "It is specifically designed to work with the rubber base of vulcanite stems. It won't oxidize like olive oil will Olive oil will eventually oxidize and go rancid.  Also, it doesn't have the olive oil taste which is great on a salad or for cooking but I don't want to taste it while I smoke. It contains small amounts of organic grade UVA/UBA properties which will help keep the stem darker for longer.


Order Obsidian Pipe Stem Oil Here
Mac Baren Tobacco Co.
| | |
| --- | --- |
| | |
Last, but not least, we bring you Mac Baren's new introduction – HH Highland Blend. This new blend has been highly anticipated for months after it received an outstanding pre-release review published here on PipesMagazine.com back in March – New Mac Baren HH Highland Blend Exclusive Sneak Peek.
Highland is a succulent blend of fully matured Virginias, Ready Rubbed Burleys, Latakia and a touch of Fire-cured Cavendish. It is topped off with one of the worlds finest 30-year old Scotch whiskies, Glenfarclas. The natural flavors from the tobacco and the delightful taste of the Scotch marry perfectly, so when smoked you experience the mellow taste and subtle smoky note of the tobaccos combined with the overtone of a fine scotch.
There were plenty of free samples for show attendees to try, and you could purchase one or more of the first 500 tins produced. They are certainly collectable as they are numbered, signed by Mac Baren Product Specialist – Per Jensen, and specially marked "Launch at Chicagoland Pipe Show May 2011". I was excited to acquire tin #2 and tin 499 of the 500. (Per keeps #1 and 500 for himself.)
It was an immensely enjoyable, fun, friendly and exhilarating show!
————————————-
Kevin Godbee
Owner / Publisher – PipesMagazine.com
Right Click Media, LLC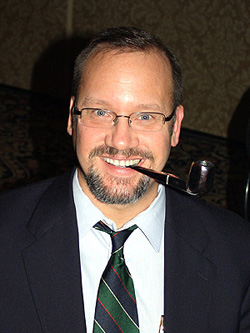 The next show we will attend is the 2011 Kansas City Pipe and Tobacco Show on June 25 – 26, 2011. We hope to see you there!
The 2012 Chicagoland International Pipe & Tobacciana Show dates are May 5th & 6th.


Past Pipe Show Coverage:
St. Louis Pipe Show 2011 Report
The West Coast Pipe Show 2010 Report
Richmond Pipe Show 2010 Report
The 2010 IPCPR Show (formerly RTDA)
8 Responses