Would you believe that this year was my first year to ever attend a Chicago Pipe Show?  It was.  Most of the time, the Chicago show overlapped other conferences that I had to attend for my day job so I couldn't fly out and buy pipes. So year after year, I gawked at pictures and wished I could be there.  This year though, I managed to make it out, which was a good thing, as you'll see later.
This was the second year at the show's new location, the Lincolnshire Marriot Resort, and as far as attendance went, it seemed like a success as there were many more people there this year than last.  The trip from the airport (O'Hare) is about a 20-minute taxi or Uber ride down the road.  Like previous shows, this show featured a climate-controlled smoking tent and not one, but two show floor rooms with tables galore.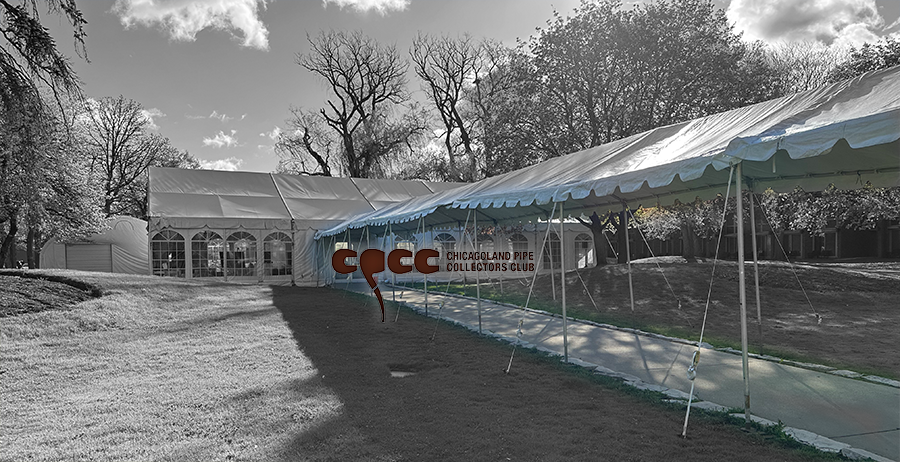 Many of you have been to the show year after year, so you're used to these show summation articles written by me and my fellow compadres.  So this year, I'll focus on the new and interesting, and a slight slant on it since it was my first year attending.  And this year was a doozy as we had the first ever "Reality TV Style" Battle of the Briar, which was the brainchild of Jeff Gracik (J Alan Pipes) .
"The whole thing was Jeff's brainchild.  When he first pitched it to me I thought he was crazy.  Turns out I was the one who was crazy!" – Steve Fallon
I circled with Jeff and asked him how he conceptualized this new program:
Jeff Gracik:
I'm sure many pipe makers have had a similar idea—essentially the Iron Chef or Forged in Fire but with pipe making. The problem is the equipment required to make it happen. Last year, I revamped and led the show's pipe-making seminar. The show committee was receptive to the changes I wanted to make, and the reviews afterward were positive. It dawned on me that we had all the needed equipment, and I felt like I had a little extra confidence to propose the idea to the show committee after the seminar went so well. After pitching it and receiving very positive feedback, I worked with Tim Garrity (the president of the CPCC) and Allan Boyd (head of pipe-making events) to make it happen.
Everything fell into place as more people volunteered to support the event, with Steve Fallon generously offering to sponsor and co-host the Battle, Hasan Abid heading up the IT side, making sure that we could be heard and seen outside the room, Jeffthechef live-streaming the event on YouTube, and Adam and Nick from the GetPiped podcast filming everything for a documentary to be published in the future. It was a group effort that wouldn't have been as successful without everyone pitching in to get us across the finish line.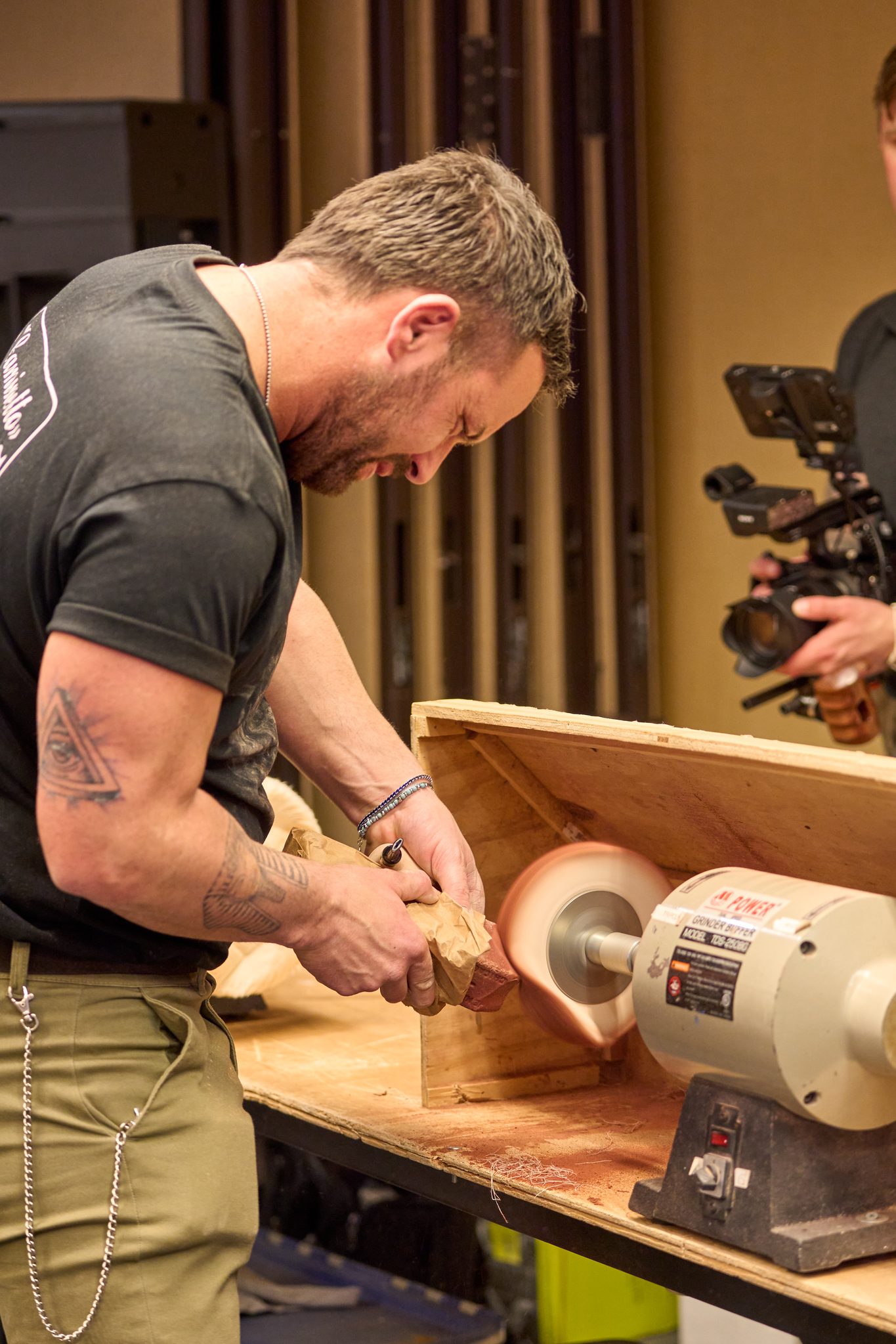 Each of the pipe makers brought their A-games to the event and, despite the "pressure-cooker feel" imposed by the 60-minute time limit, made really, really good pipes. Everyone watching, whether in person or by video in the smoking tent, was on the edges of their seats as the clock ticked down and Scottie rushed to get her pipe turned in with one second to spare! It was a blast! I'm so proud of everyone involved for what we created together, and I am looking forward to doing it again next year.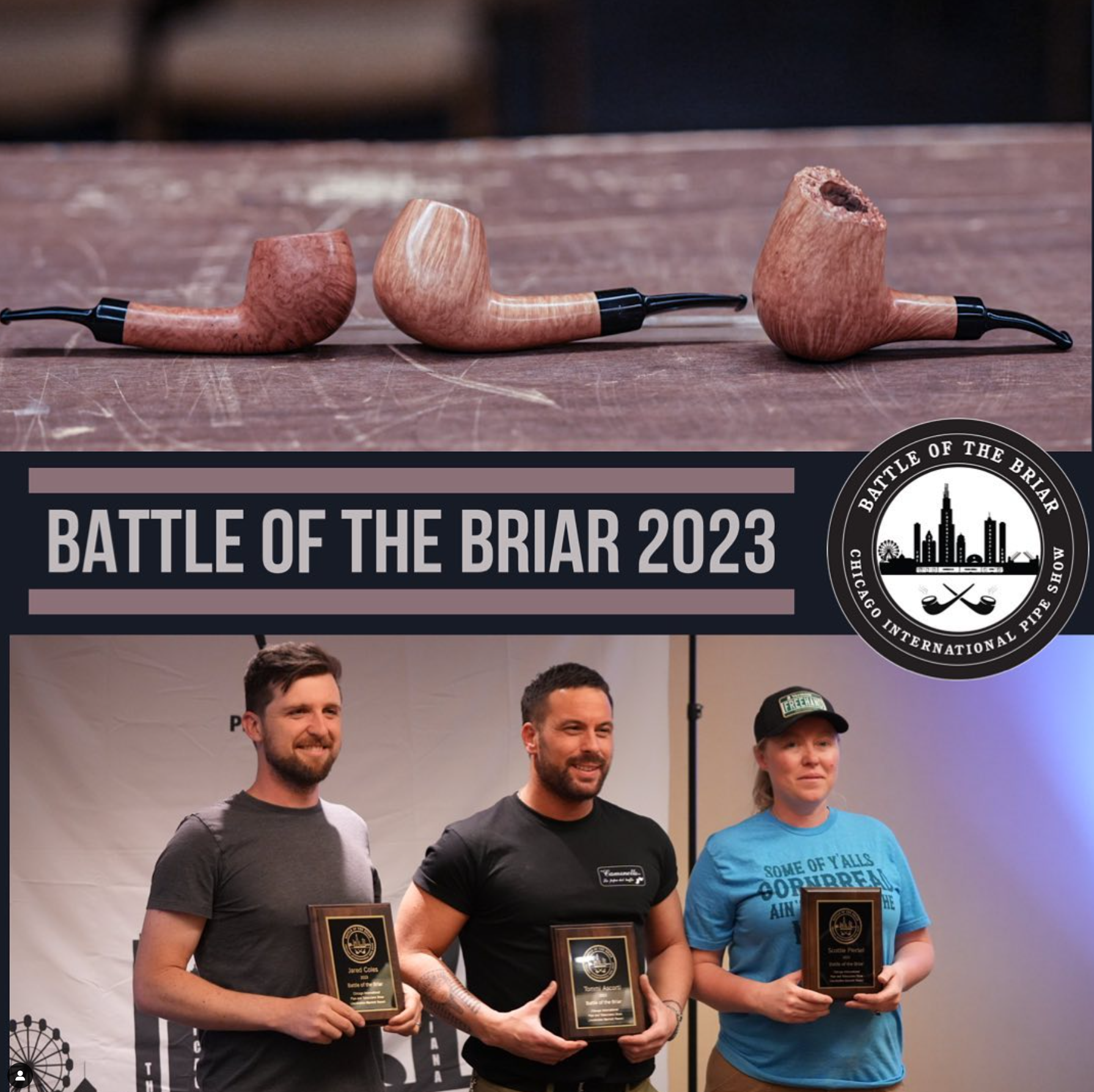 Next, I chatted with the contestants Scottie Piersel, Jared Coles, and Tommaso "Tommi" Ascorti, asking them two questions –  what was the most interesting or fun thing, and what was the most challenging thing about doing this contest?
The Joy of Aged Tobacco
Any seasoned pipe smoker knows that at a pipe show, the old tins will get popped.  This year I had the privilege to sample some amazing tobacco – one tin of which was not popped but cut open with a can opener.
This particular tin was from 1979.  What I didn't know is until 1981 or '82 the McClelland cans required a can opener.  You'd think I would know these things, but it just goes to show you that you can always learn new things at a pipe show.
Mixture No. 14 is a medium English blend with Latakia, Orientals, and Virgina.  I did not get the typical vinegar/catsup smell off of it – only subtle smokey plum and raisins.  I also had not had this blend before, so I don't know if it had it in newer tins I'm sure someone will educate me though in the comment section. With this much age, it was very mellow but amazingly pleasant.  Many agreed on Tobacco Reviews that this specific blend needed to be cellared to be truly appreciated – I think 44 years did the trick.
UPCA National Slow Smoking Championship
The Annual National Slow Smoking Championship brought together many of the country's best slow-smokers to challenge each other to see who will represent the US at the World Championships.  The pipes this year were made by Chacom and purchased by the UPCA. The contest blend was created by Quinn of the Country Squire.
The contest pipe is a sandblast billiard (shape 342) made by Chacom with a brass military mount and an acrylic bit. It is stamped "UPCA Chicago 2023".
1st: Lester Young 1:06:40
2nd: John Warner 1:06:00
3rd: Allan Boyd 00:57:03
International Champion: Turker Sezgin 00:45:14
Women's Champion: Tiara Thayer  00:33:20
At the UPCA meeting the previous day the clubs discussed how we attend the International Pipe Smoking Championships, last year because we only sent one person representing the USA we did not have an actual "team" and sat with the UK.  This year the goal is to have 2 more Americans fly out with Lester to represent us as TEAM USA.   If you're not already, please get involved with your local pipe clubs, and in turn, encourage them to help the UPCA so they can help in sending a full team.
Doctor of Pipes and Master of Pipes
This year we congratulate the following inductions:
Interesting Tid-Bits
Episode I:  Maj O'Mera: 1-17-24
Episode II: Sergeant Kimble: 3-13-24
Episode III: Lieutenant General Marshall: 5-15-24
Episode IV: First Sergeant Deckard: 7-12-23
Episode V: Captain Ryan: 9-13-23
Episode VI: Specialist Falfa:11-25-23
Summing it all up, it was a great show filled with an action-packed agenda, so much so that I couldn't even make it to all the talks and events.   As long as the show made its goal of fundraising, we can look forward to a great show next year.  Remember gang, these events are expensive and require large outlays of cash from pipe clubs, sponsors, and vendors to make them a success.
Here are several additional photos from the Chicago Pipe Show 2023.
More Pipes and Tobaccos Articles
1 Response