Viva Las Pipe-Vegas Take Two (Vegas Pipe Show Report)
Viva Las Pipe-Vegas Take Two (Vegas Pipe Show Report)
Year number two is in the books for the Las Vegas International Pipe Show, formally the West Coast Pipe Show until renamed by Brian Levine and Dave Peterson. After all the prep work, shipping, hand-shaking, etc., we've wrapped another great show. It seemed the theme of this year's show was camaraderie. One could say that of any pipe show, but this one stands out a bit for me as the atmosphere was full of warm embraces of old and new friends alike. Funnily enough, as I was putting this article together and editing my crappy pictures, I came across a similar post on Instagram from our friend TheBriarFellowship echoing the same sentiment.
As he puts it, "It encompasses the feeling of this show from my perspective. That's what this show wound up being for a lot of us. We're all spread out across the world, and come together to share the love of the hobby. A lot of these pipesfolk have been friends for YEARS, and for many the only place they see each other in person is here, and it shows; the giant smiles on peoples faces when they see an old friend."
The show was a bit larger in both the number of vendor tables as well as the smoking lounge attached to the show floor. Pipe smokers enjoyed smoking on the show floor as they perused the tables and oogled pipes and vintage tins of tobacco and accouterment. Some tables expressed to me that they felt there were fewer people at the show, but the sales were up from the previous years. We suspect this is because of the number of new tables added and the expansion of the show it had the appearance of spreading people out a bit more, and point of fact, there were considerably more at the show than the previous year.
This year's show stats are as follows: 107 exhibitor tables, 425 attendees, 2200 raffle tickets, 104 dinners, and 175 rooms Friday and Saturday nights.
For those of you playing the show-size home game :
Last year's show had 79 exhibitor tables, 330 attendees, 2,000 raffle tickets, and served 80+ dinners on Saturday night and 112 rooms.
The Vegas show starts out with room-hopping on the 14th floor of the Palace Station Hotel and Casino, and as mentioned last year by Kevin, it lets you browse some of the carvers and estate sellers to get first dibs a bit before the show flow actually opens. The 14th floor is a smoking floor so you can smoke in the hall and in every room and hopefully won't set off the smoke alarms, although it actually happened the Thursday night before the show.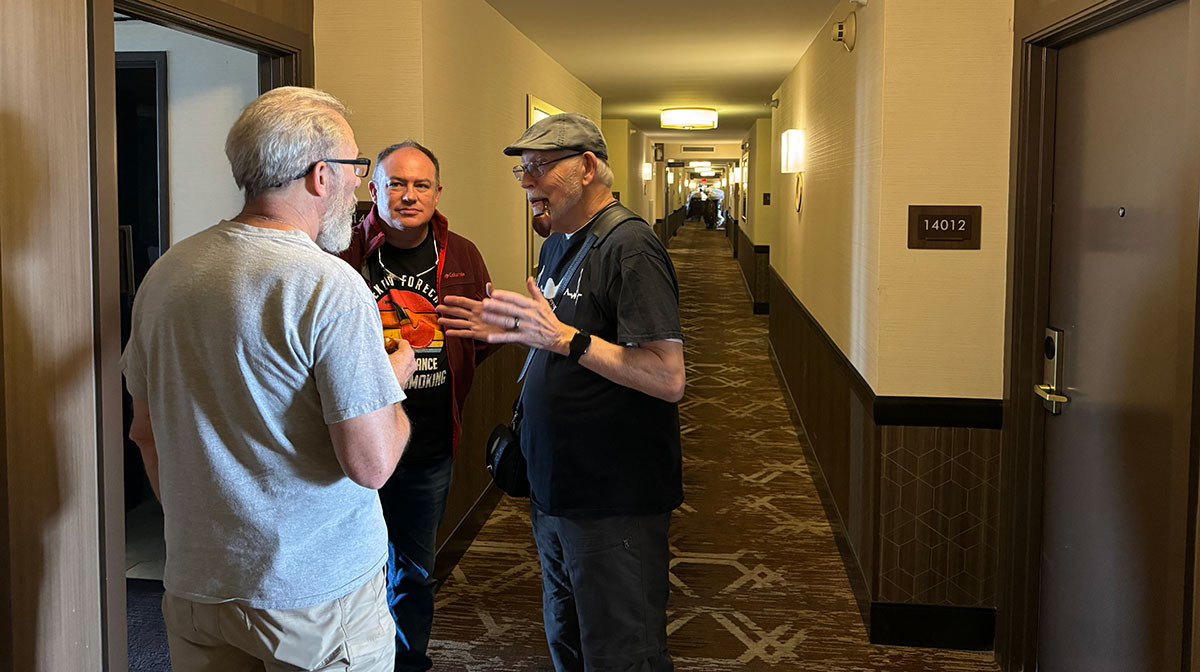 I went back through some 10 years worth of Pipe Show reporting here on the website and didn't find any picture examples of what this actually looks like, but you're in luck.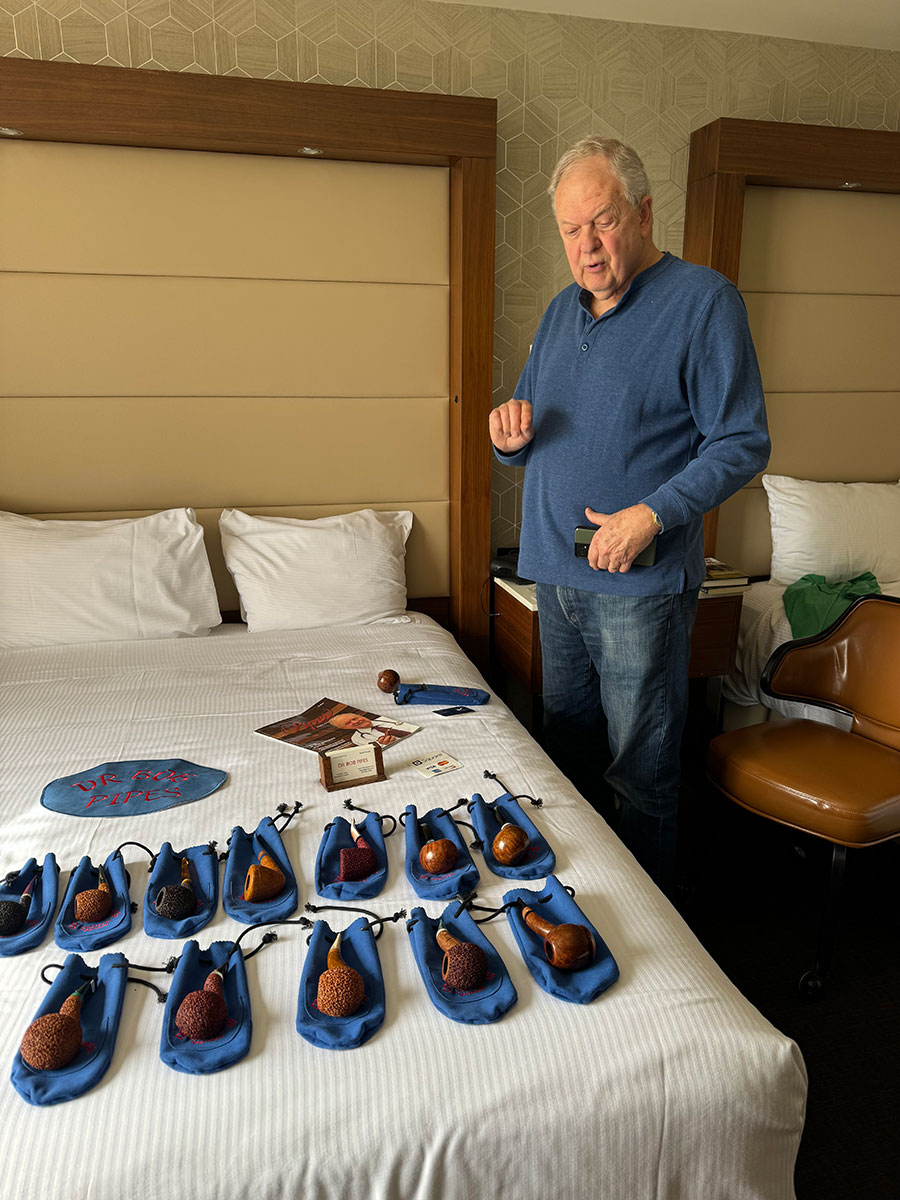 I snapped a few shots so you can get a feel for room hopping.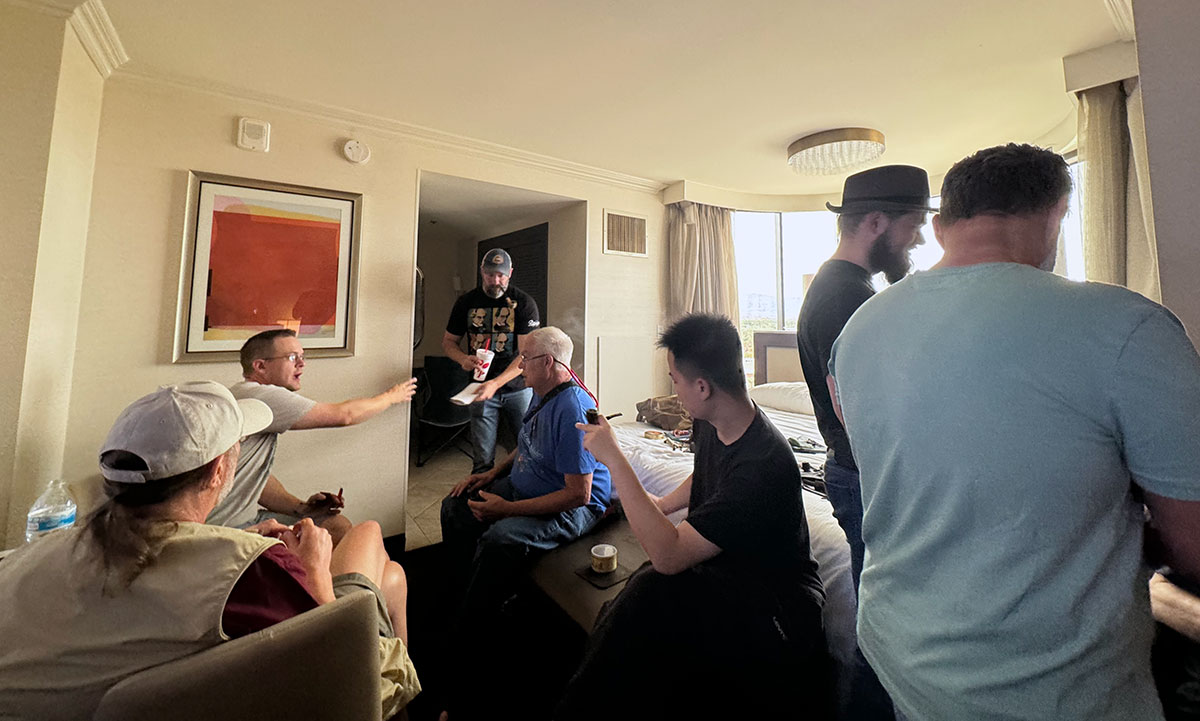 Going along with the theme (camaraderie) of the show is the awards dinner and post-dinner gameshow.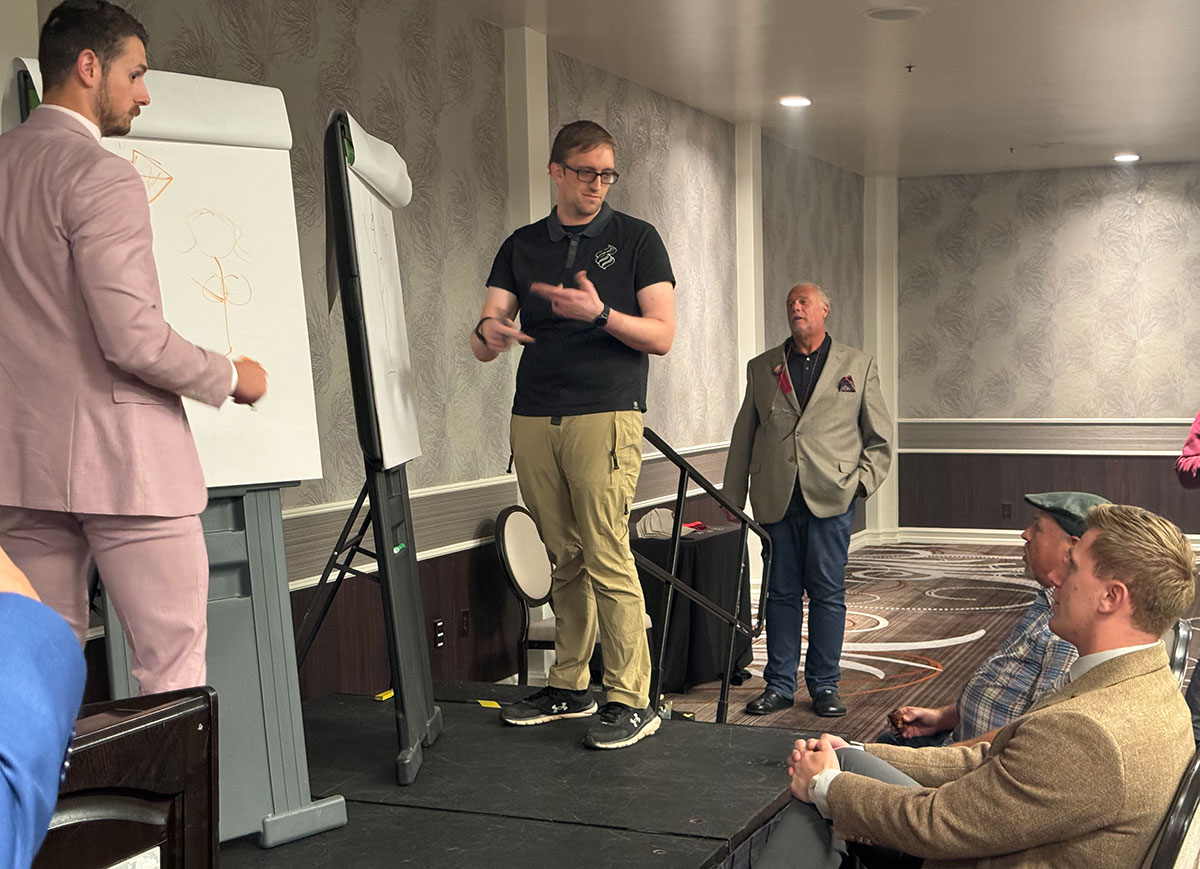 The night's "entertainment," hosted by Brian Levine and Dave Peterson, topped off the evening by suckering pipe smokers to the stage to participate in several laugh-inducing game shows, starting with a pipe smokers' version of Pictionary. The audience was also encouraged to yell out "answers," albeit mostly wrong answers.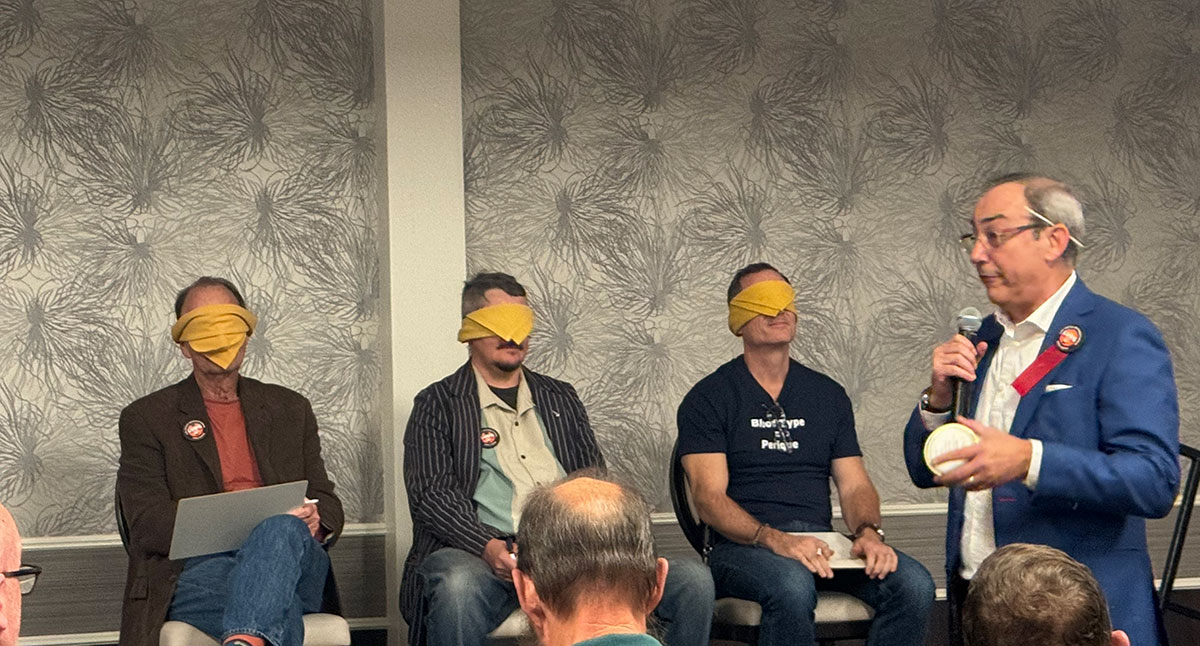 Then they played a game of "Guess that thing," where Brian handed each contestant (Steve Fallon, David Shaine, and Neal Osborne an item they had to identify while blindfolded. This ranged from a specific pipe to a bag of tobacco, to a banana.
Awards:
The show also does 4 categories of awards that are given out at the dinner. This is chosen by a committee of judges who walk the floor.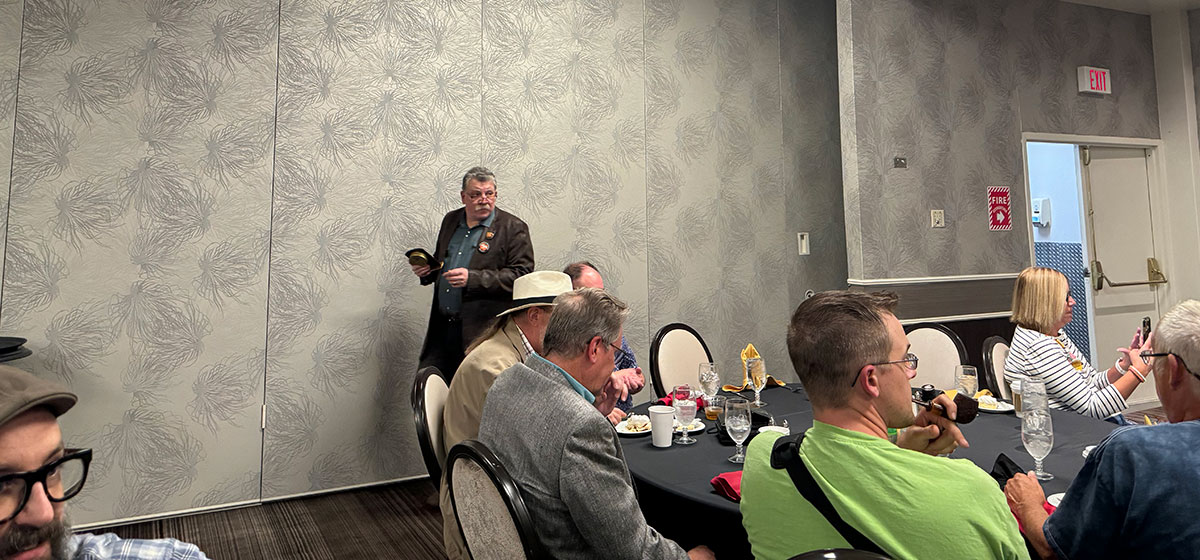 Best Pipe Of Show – Alex Florov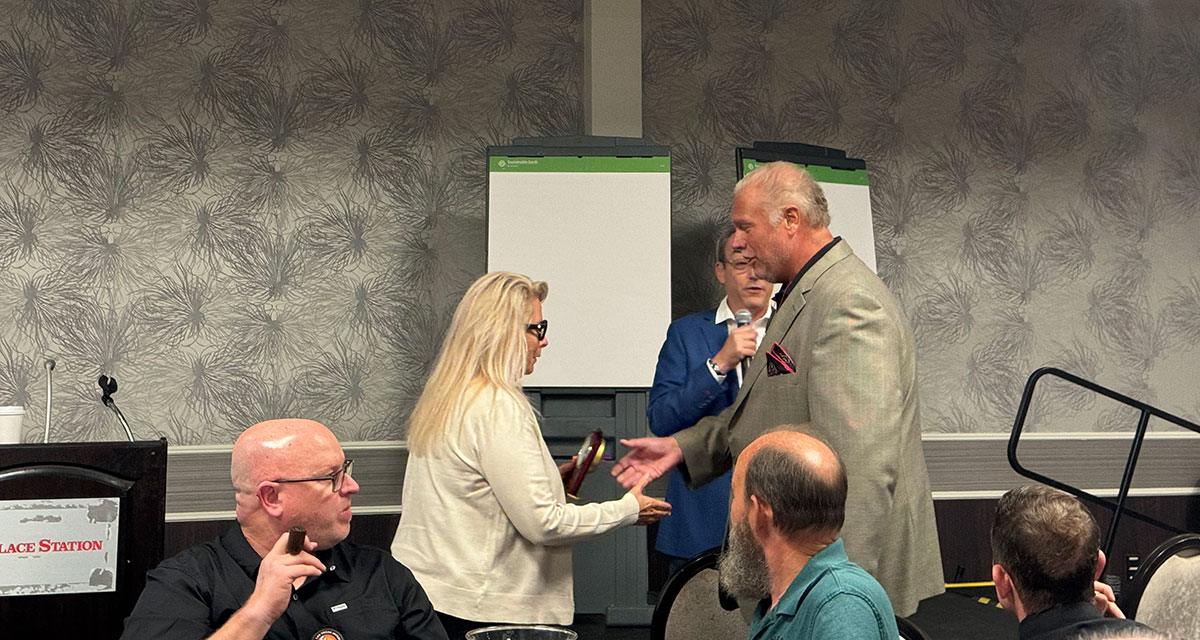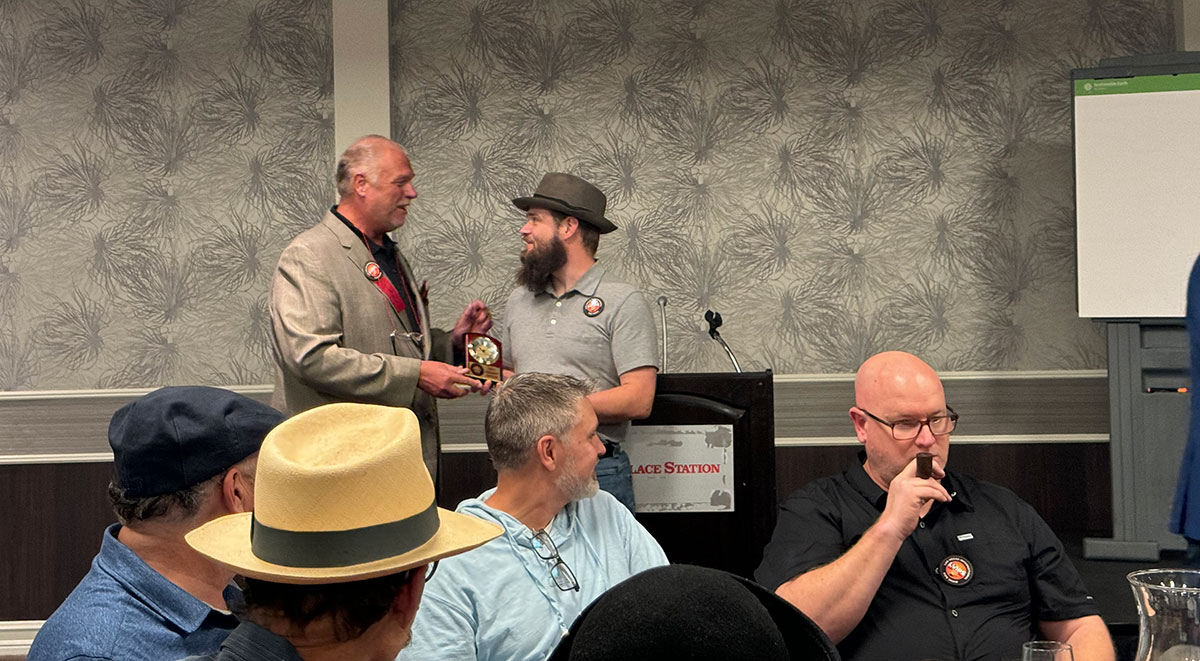 Best Hobbyist Display (Carver) – Sandahl Pipes – Jeremiah Sandahl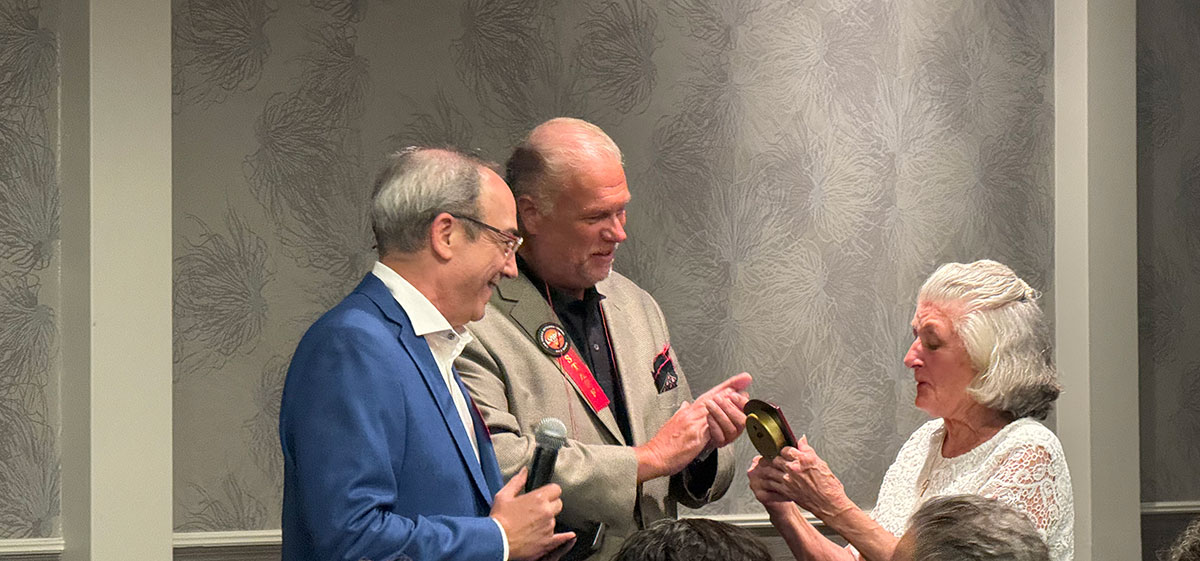 4th and Final award, which was Judges Choice – an honorary award in Memorium to Paul Perri accepted by his wife.
The Show Floor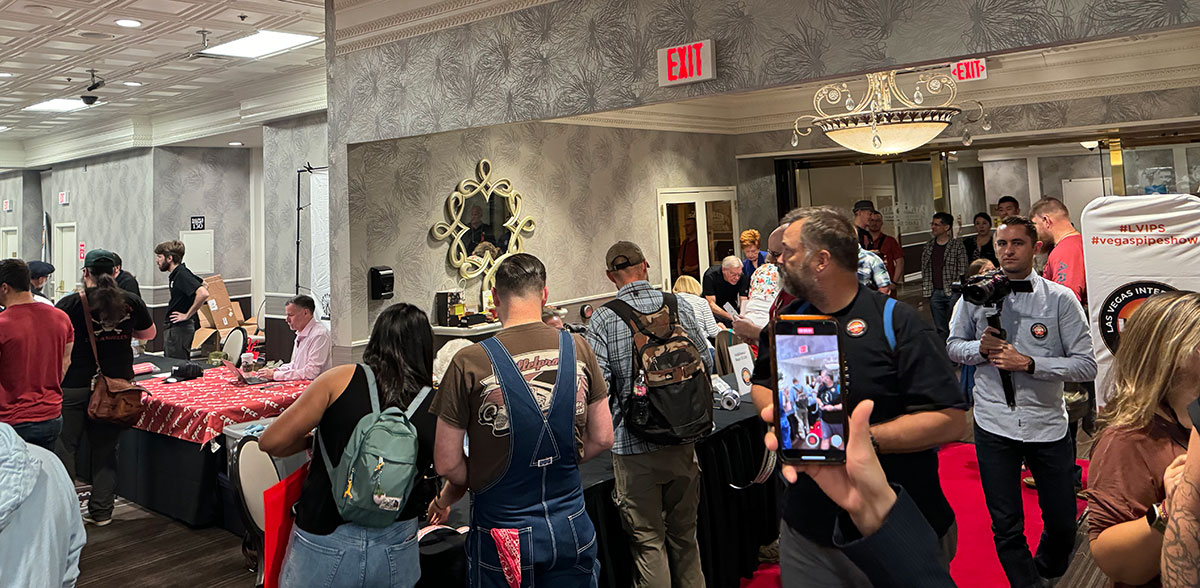 As you can see, the show was jam-packed with pipe collectors, YouTube pipe community folks, and pipe smokers.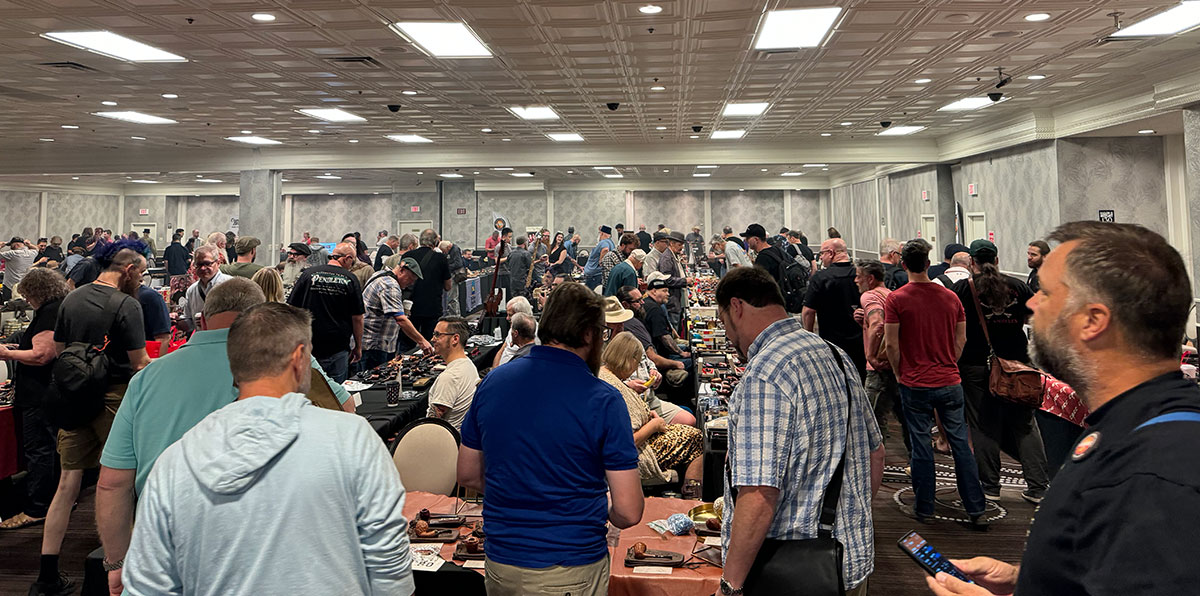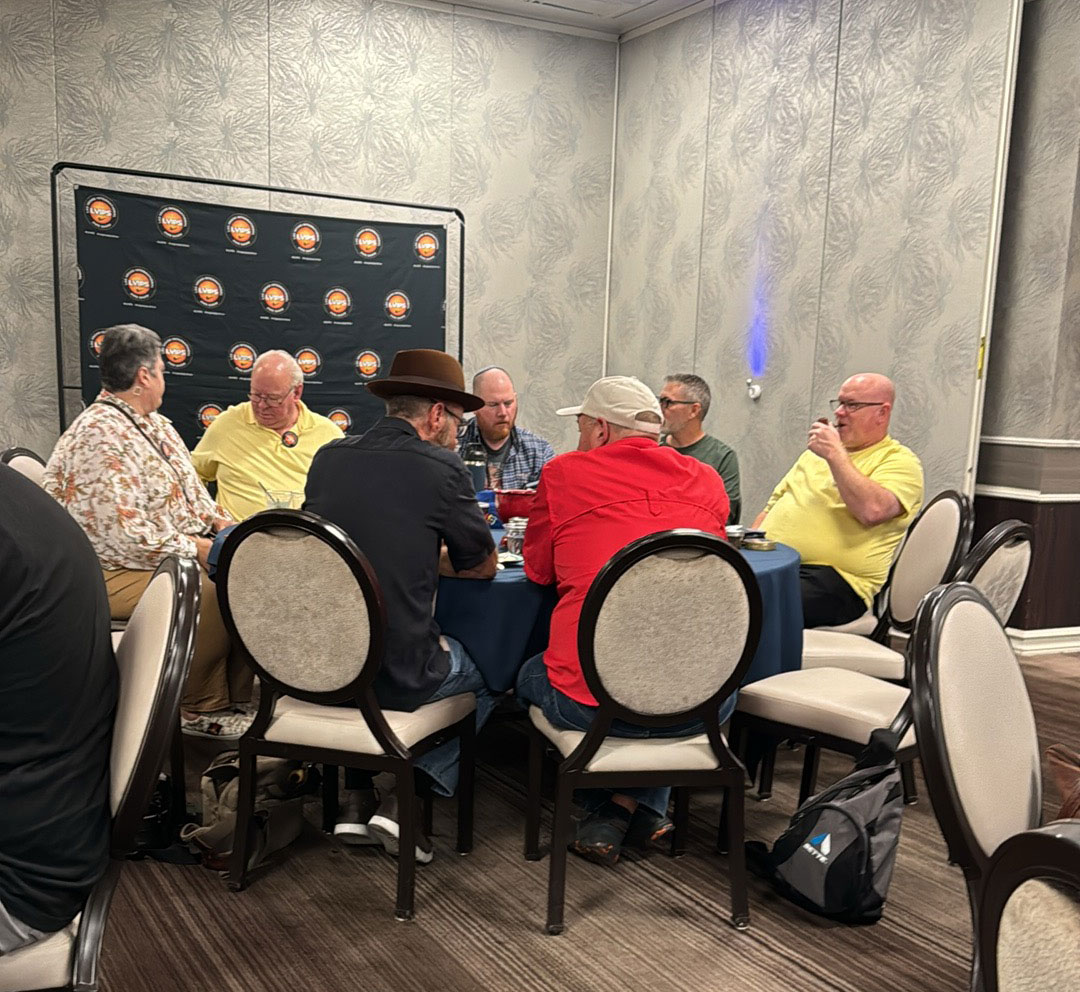 The Las Vegas show allows everyone to smoke on the show floor and of course, in the smoking lounge that is attached to the show floor.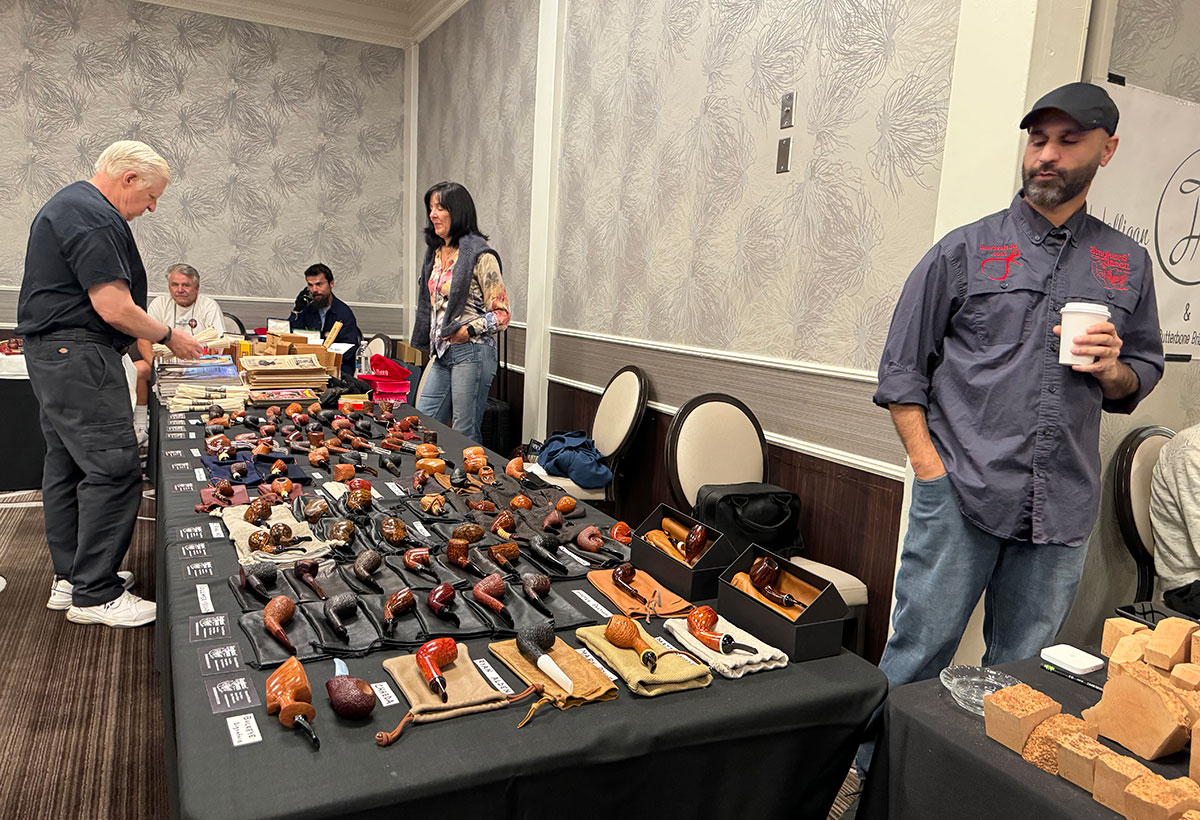 Interesting Tidbits:
A cross-section of new and interesting tidbits I came across at this show.
Premal Chheda is going to be bringing back some older blends by way of Germains – he will be taking a trip over there and taking pictures of the process as he digs up the past of blends that haven't been released since the 1960s. Stay tuned for more information about that. As far as when we can expect the next drop of Smokers' Haven blends, it's anybody's guess. "Soon" was the word of the day.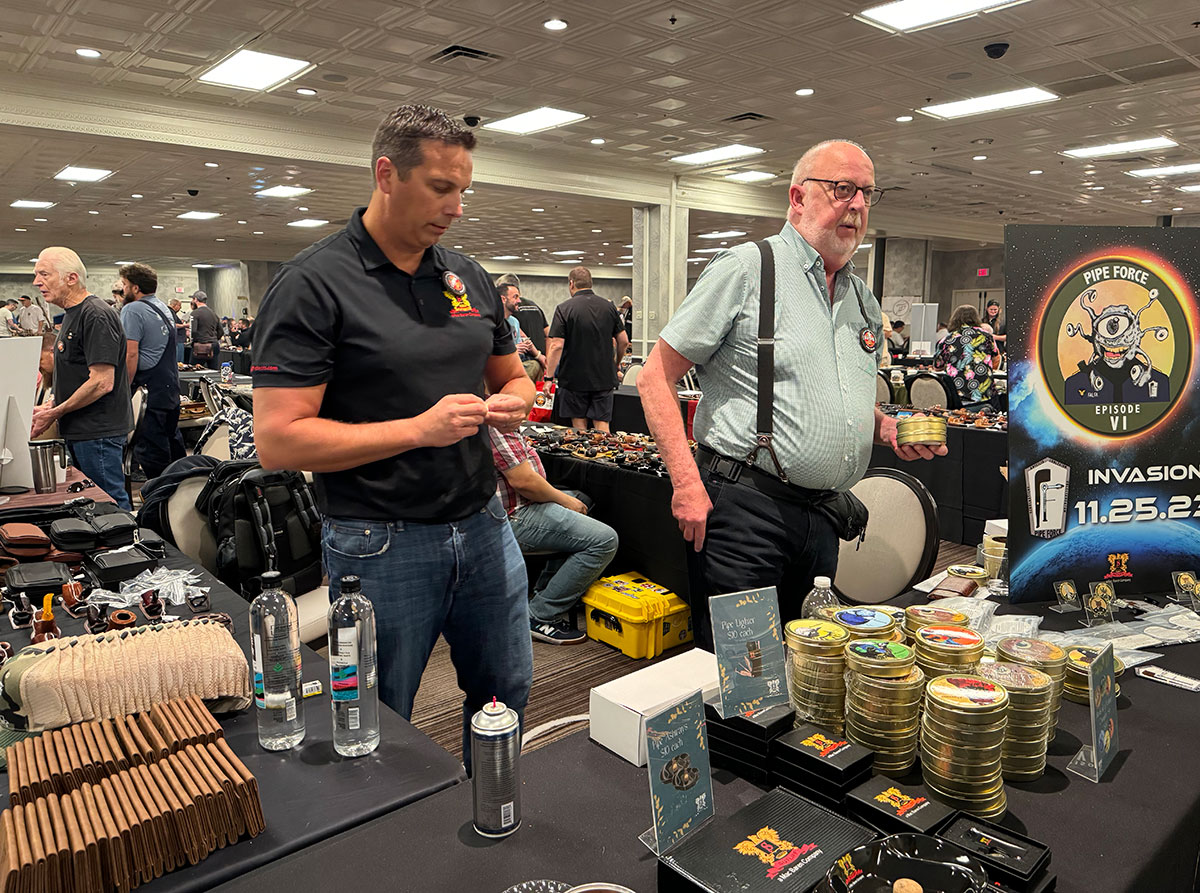 Sutliff released Maple Shadows in 8oz tins only and dated in October. The artwork is top-notch 3-color print: orange ,black, and grey.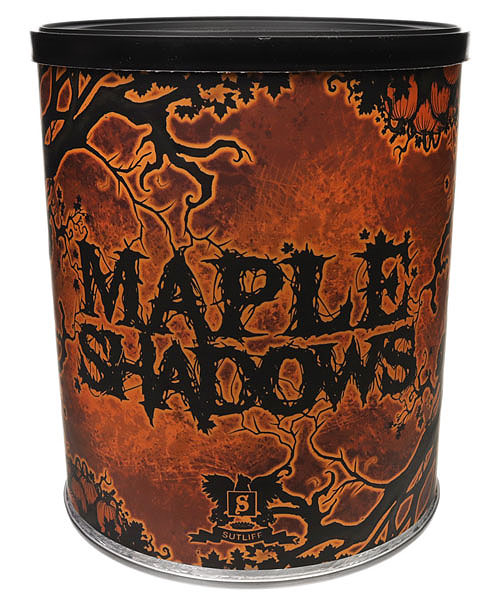 I sampled some at the show and decided to snag a tin. I hope they make this a yearly seasonal thing. Burns right down, is not overly syrupy or moist, and has a great punch in the face of dark-fired Kentucky and subtle virginias with a caressing finger of maple across your lips like someone trying to shush you to just accept it. Jim Inks gave it a 4-star, and I'd agree it's a solid win for the season.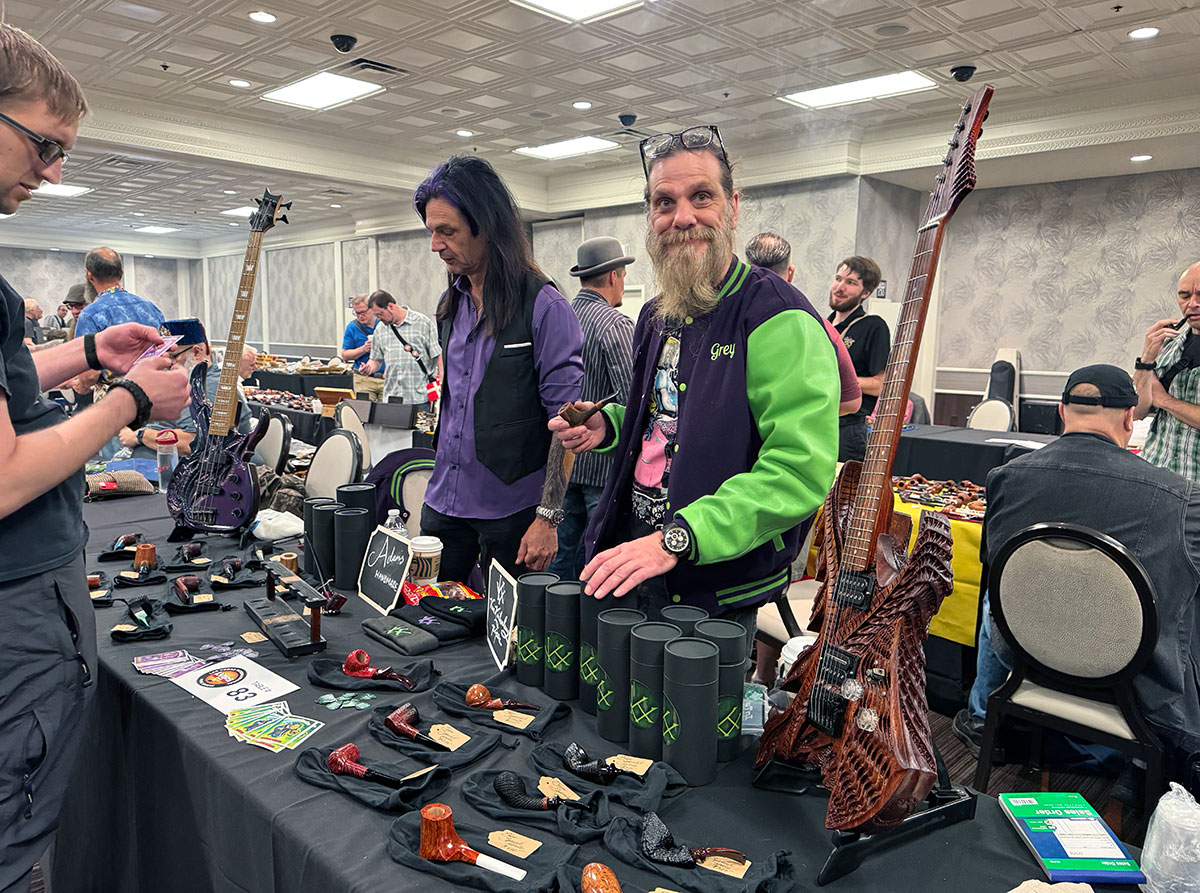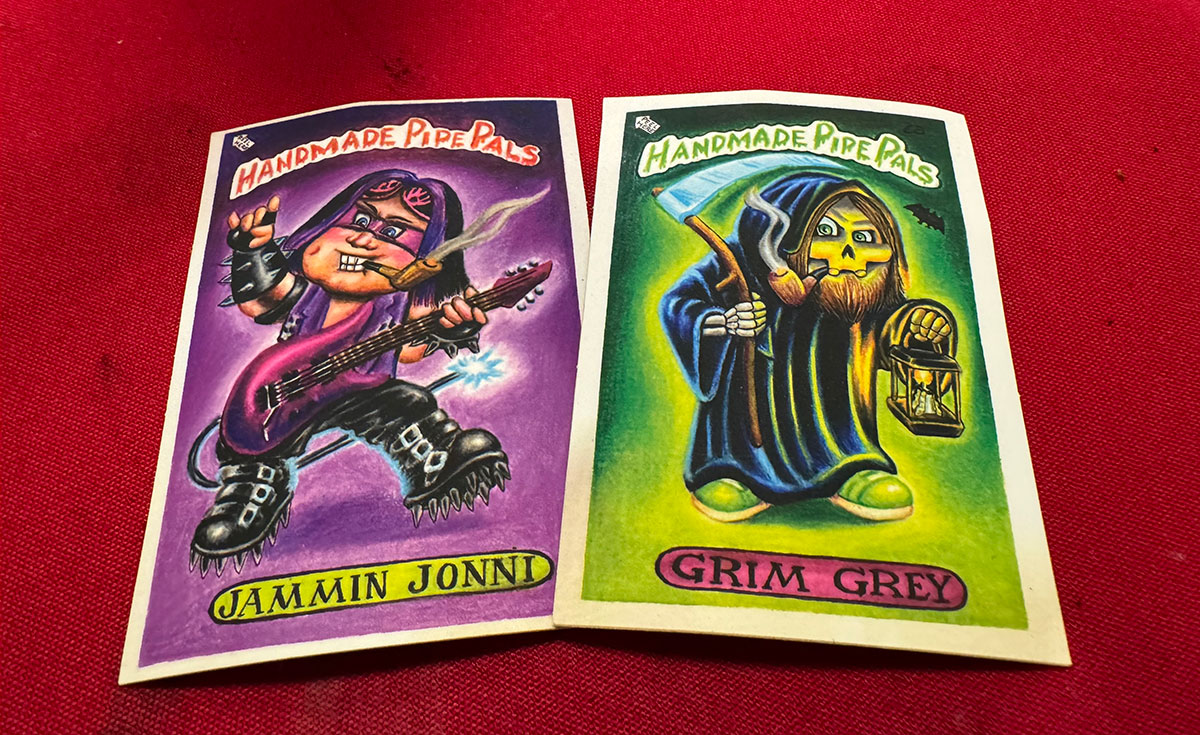 I stopped and talked to Show newcomers "Handmade Pipe Pals" Jonni and Grey, to learn a bit about them. Jonni, who is originally from across the pond, has been carving for three years, and Grey similarly about the same but has been carving Guitars for 30 some-odd years. Grey started smoking pipes at the Original Tinder Box in Santa Monica, CA, and Brian McNulty took him under his wing, learning the ropes of doing repairs and cleaning, and then started making pipes. Over the pandemic, Jonni and Grey opened up a workshop and started making pipes together. As for styling, Jonni likes doing fluted fans and almost automotive-themed engineered pipes, pokers, etc. Grey says he's influenced by the Danish and Italian carvers but loves to do figural carving; as an example, he's carved some pipes to look like morta, and yet it's briar. He loves to lean towards organic carvings. As this was the first show they were at, they are looking at future shows to travel to and bring their new, unique flair – which, as you can see from the pictures, makes them pop. I loved the garbage pail kids-themed cards they did.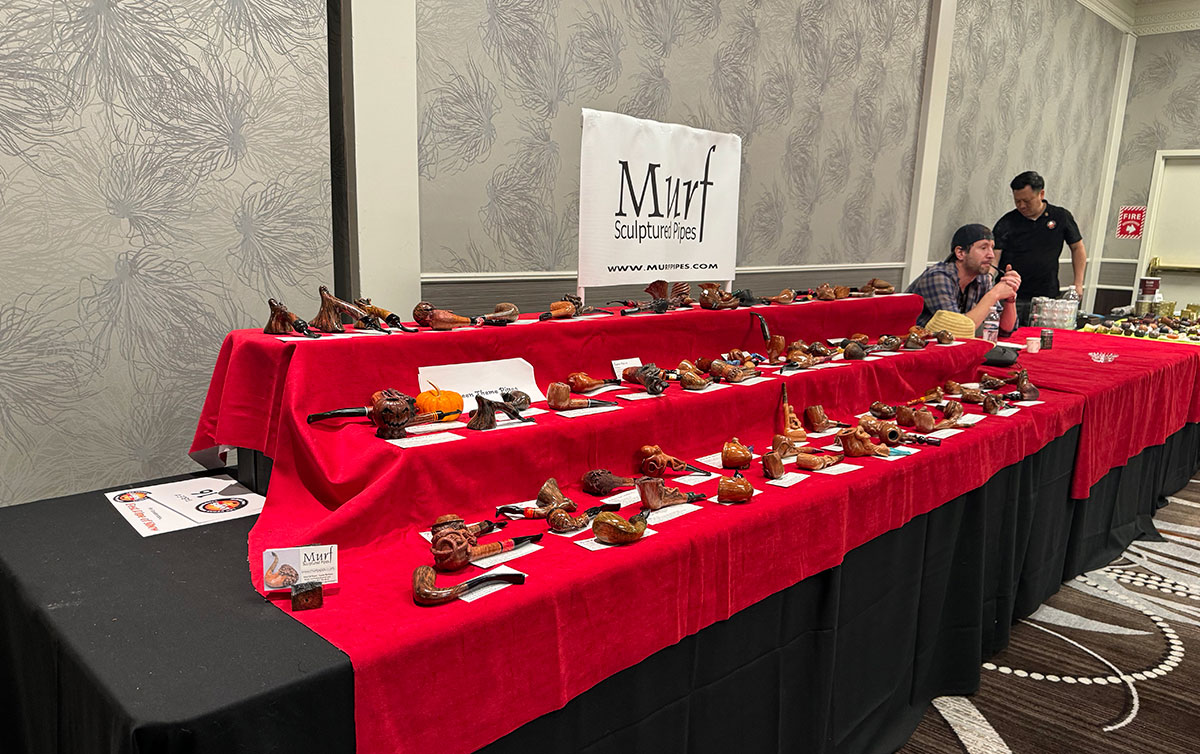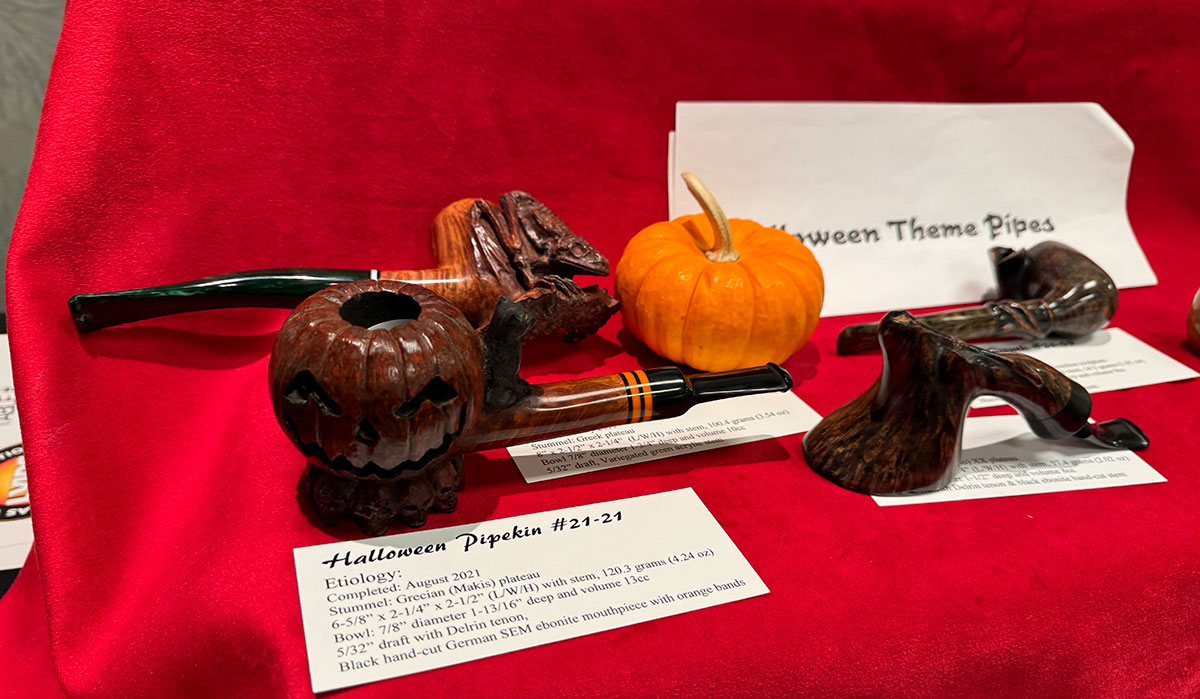 Murph Pipes had some interesting Halloween-themed pipes that were eye-catching.
From Pumpkins to zombies to skulls.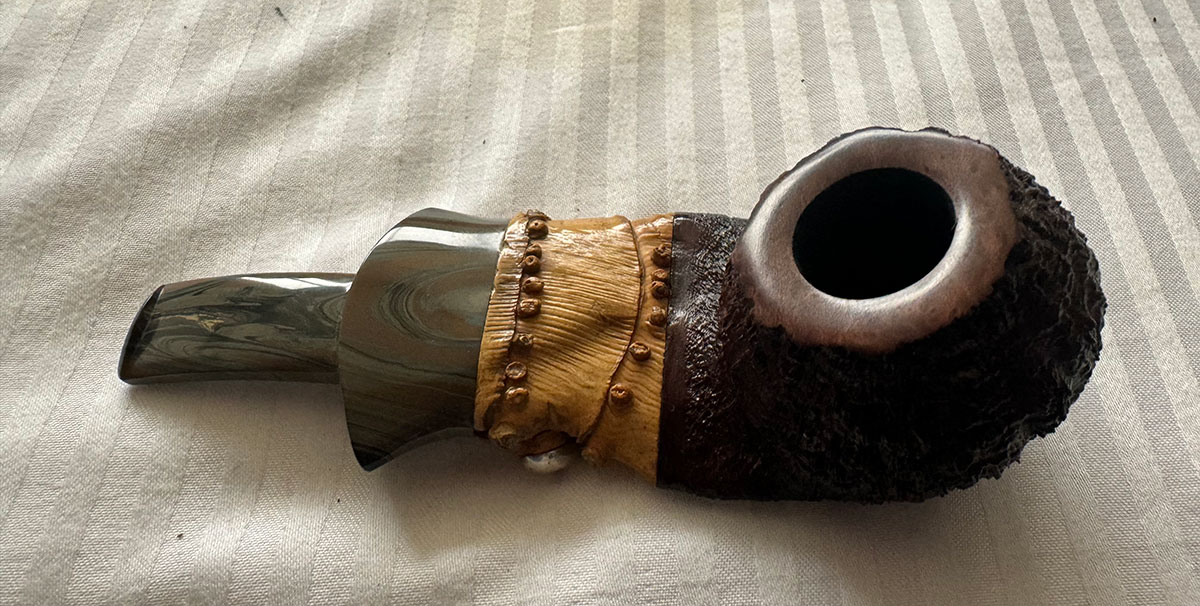 Jay Furman commissioned Jeremiah Sandahl to do a pipe for him with some bamboo that was actually grown flat or a squished oval that was acquired from China. If you're familiar with Jeremiah's style, it fits perfectly with his wider shank work.
And with that, I can say this was a great year, and I'm looking forward to next year at the same place because the show has signed the contract and already has the dates of Oct 11-13. More information will be available soon to pre-book rooms.
Now, on to the Gallery of Show Pictures!
Kevin Godbee's photos are in a gallery here.
More Pipes and Tobaccos Articles