In Praise Of Pipe Show Organizers … And A Challenge To Pipe Makers
In Praise Of Pipe Show Organizers … And A Challenge To Pipe Makers
Rick Newcombe

There are many great pipe shows in America these days — all put on by volunteers. As I am writing this in Los Angeles, my heart is in Columbus, Ohio. I wish so much I could be at the pipe show being sponsored by the North American Society of Pipe Collectors, which means it is being sponsored by a handful of enthusiastic pipe lovers who live in Columbus and are willing to work night and day to put on a great show.
There is so much work involved in organizing and running a good pipe show, and the only reason anyone would put in all those hours for free is out of a labor of love.
Most pipe show organizers make personal financial guarantees to the hotel or venue that hosts the show. If the money is not raised, they would be out of pocket. Same for pipe clubs that sponsor shows. I know of several organizers who consistently fund excess expenses out of their own bank accounts, and I do not know of a single pipe show organizer who is getting rich off the proceeds.
So why do they do it? What is the main benefit of a pipe show?
I believe the answer is that, in this anti-smoking world, there is a yearning for social get-togethers among like-minded people. We pipe smokers are the few. In fact, we almost never smoke pipes with our friends during the course of a day. We typically smoke alone at night, and our pipe friendships are nurtured by phone and email, for the most part.
A pipe show is a time for us to see old friends and make new ones, all with a shared passion for our pipes. But it is important not to take these shows for granted. As a collector, I feel obligated to make contributions to the auctions at every show I attend. I always buy a table, even if I don't have anything to sell — just to support the show.
The people whose primary goal in attending a pipe show is to sell things have a special obligation to help the shows. The good news is that many of them do. Three examples are Sykes Wilford, Aaron Sissom and Steve Monjure, who consistently support pipe shows by buying an extra table or two. Iwan Ries offers an endless supply of hot coffee at the Chicago show. There are many other examples of sellers who make contributions to the auctions aimed at raising funds to cover expenses at existing shows and to provide funds for future shows.
The cost of the tables may or may not cover all expenses, so having a fundraising auction has always been a good insurance plan for the shows. I am proud to donate some of my books, used pipes, pipe racks, whatever, as a way to help the shows, and I have many friends who do the same.
But there seems to be a trend among some pipe makers not to donate one of their pipes or tampers or anything to help the shows. They feel that by attending the show and buying a table they are doing enough.
I don't think they are, and I hope they will reconsider their position.
Of course, some pipe makers consistently donate a pipe to help out, and they should be recognized and praised. I applaud those who do and want to persuade the ones who don't to change their minds.
As pipe maker Brian McNulty of Anima Pipes says, "It's just the right thing to do." Yes, Brian is old-school in his thinking, and I find that very refreshing. It is not just about the money.
Remember, the primary purpose of a pipe show is for like-minded people, totally alienated from the world at large in respect to our hobby, to gather in one place and have fun. It is NOT to make money. If you make a little, fine, but that should not be your primary goal in attending a show. The outside world thinks we're all a bunch of nuts because of our enthusiasm for pipes in the 21st century, which explains why it is so reassuring for hundreds of us to gather together for a couple of days.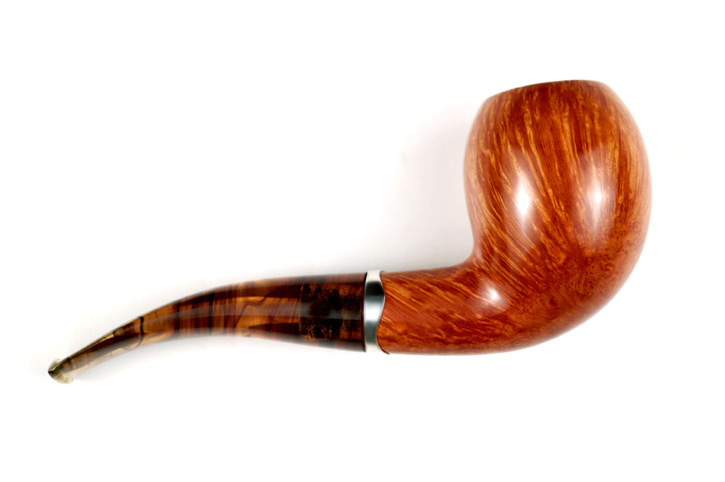 I think a pipe maker should display his pipes on a table at the shows primarily to promote his work — advertising to promote the brand, if you will. If he makes some sales, great. If not, he can sell his pipes on his website or through a pipe distributor. With that mindset, pipe makers will be much more relaxed at the shows, not feeling the pressure to sell as many pipes as possible. Collectors will be more relaxed in studying a new pipe maker's work, knowing that there is no pressure to buy on the spot.
With so many new pipe makers at every show — at times it seems like thousands — there is a feeling that some are in it only for the money. A good way to dispel that notion would be for them to donate pipes to demonstrate their commitment to the hobby and to promoting successful pipe shows.
If the thought is that your work is too valuable to be given away, I would remind you that Jess Chonowitsch, one of the greatest pipe makers in history, donated a pipe to the West Coast Pipe and Cigar Expo in 2000. So did Peter Stokkebye, whose Jorgen Larsen pipes still sell for many hundreds of dollars.
I vividly remember the banquet dinner at that show in Los Angeles being seated between Jess and Peter, and the latter, who had a wonderful sense of humor, was clowning around, telling Jess, "My pipes have never been outbid by any other pipe maker's. We always raise the most money." Jess chuckled and said, "Well let's see how it goes."
The Stokkebye pipe sold for an impressive $400 and the Chonowitsch for considerably more, $2,250. The organizer of that show, Robert Vance, told me that those two sales made the difference between the show breaking even and losing money.
I asked Jess why he donated a pipe, and he said, "To help the show, of course."
Tonni Nielsen, Tom Eltang, Former, Rainer Barbi, Paolo Becker and many other great pipe makers have donated pipes as a way to help the organizers pay the bills that all pipe shows demand. Lars Ivarsson has donated handmade pipe tampers that raise a great deal of money for the shows. All these pipe makers have been around for years and years, and they understand that pipe shows have provided a tremendous boost to their worldwide sales for a variety of reasons.
In Europe, pipe shows are "sponsored" by a pipe store owner who then collects anywhere from 25 to 50 percent of the sales price from each pipe maker. It is something like a tax, and it helps the show organizer pay the bills.
But since in America we have no sponsors, only volunteers, and no one is taxed — it becomes a matter of generosity, good will and fairness.
Don't forget, the organizers make it possible for the pipe makers, and pipe dealers, to sell their wares, and for us collectors to have all those super-fun weekends with our pipe-loving friends. We should all try to chip in to help the shows, but especially the people who go there for personal financial profit. They have a special obligation to pay back for some of the tremendous benefits the show organizers are providing them.
For many years I syndicated a column by the late motivational speaker, Zig Ziglar, and he had a famous saying about business that captures everything I have learned as a successful entrepreneur: "You can have everything you want in life as long as you will help enough other people get what they want."
The show organizers help us get what we want, and we should give back by helping to make sure that their financial pressures are alleviated as much as possible. It is win-win if both sides contribute equally.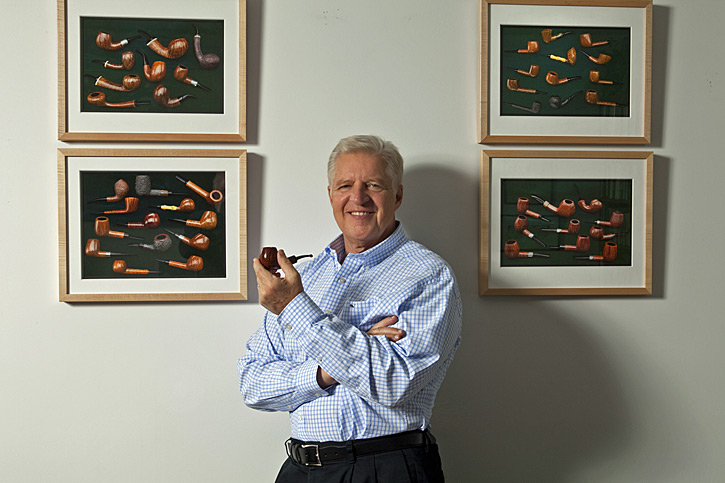 Rick Newcombe – Pipe Collector, Author of Several Pipe Books, Founder of Creators Syndicate
Still Searching for Pipe Dreams
In Search of Pipe Dreams
22 Responses