Kevin Godbee

There are certain pipe tobacco blends that have been around for decades, and a few for over a century. Several of us pipe smokers might consider these tobaccos to be famous. Some examples that come to mind are; Escudo, Dunhill My Mixture 965, Balkan Sobranie, and many others – (feel free to add your favorites in the comments below). Bell's Three Nuns has a history of approximately 123 years. It is definitely one of the famous tobaccos that is still brought up in current conversations today. Previously unavailable in the U.S.A. for the last 18-years, as reported here, Three Nuns has arrived on our shores once again just this past June.
Getting back to those current conversations that still come up today, we need to talk about the elephant, or shall I say, the devil in the room. When the aforementioned news came out, conversations exploded in the pipe smokers forums with several simultaneous threads running which I have decided to call the "Shrieks of No Perique!" threads.
Cut to the chase: Three Nuns, at one time had 22% Perique tobacco in the recipe, and now it does not.
And actually, that is not totally correct. One-third of that so-called 22% is "Manufactured Perique"! So there was really about 14% actual Perique tobacco and 7% of another tobacco with added flavoring…"23.5 lbs of casing per 100 lbs of dry weight strips". (Who knew I'd have to do math for a tobacco article?)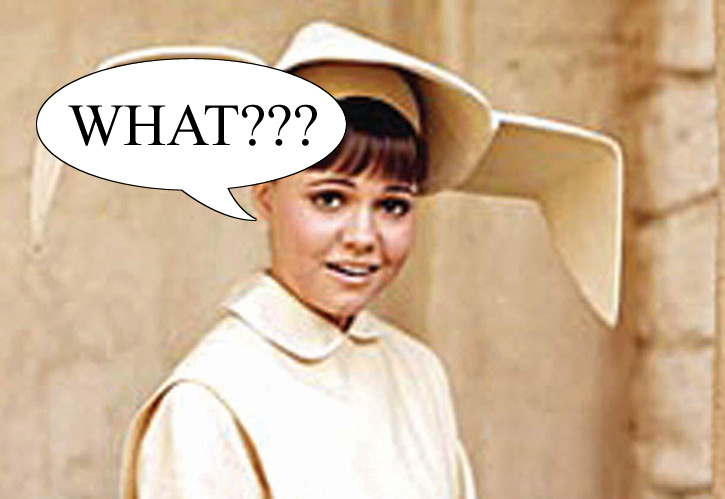 When we made the editorial decision to have our prominent home page tobacco review for the September issue be that of Three Nuns, I knew we would need to address this topic. So we are going to have are three related pieces.
1. The bit you are currently reading which will have the most complete history of Three Nuns so far, some editorial assertions, and my own little mini-review of the current Three Nuns at the end.
2. The full blown tobacco review by our staff expert E. Roberts… and …
3. G. L. Pease's recently published Out of the Ashes column, "Nothing Endures, But Change", which discusses how tobacco blend recipes change, and offers his editorial perspective. (Keep in mind that Pease's piece is not singling out Three Nuns. His fictional account could be applied in real life to many tobacco blends.)
Getting back to the recipe for Three Nuns, look at this PDF of a memo from July 28, 1971, marked "Private & Confidential", from B.A.T. It gives the recipe for Three Nuns at the time. Notice the part that reads; "The Blend consists of: – Perique 22% (1/3rd of which is manufactured Perique) …" then in the next paragraph, the formula for manufactured Perique is given along with the "casing / Flavour – Casing F-14 – (Manufactured Perique)".They go on to list ingredients that only exist as code words. There are no definitions of three of the four ingredients – the fourth being water. Sources that wish to remain anonymous tell us that it was common for the tobacco industry to have code words for the ingredients in their casing recipes. There are other fascinating espionage-like, top-secret things we uncovered in our research as well.
One example has nothing to do with Three Nuns, but it's fun to see anyway. There is a March 17, 1964 letter from American Tobacco Co to BAT Liverpool. They were trying to copy Mac Baren's Mixture. The letter shows that they shipped the samples of Mixture in Three Nuns Tins to disguise it, as if some corporate spies might intercept it, and if so, they would be fooled. There is also an endeavor code-named "Project Convent" in 1987, which is referenced further down in this article.
It seems that the story of Three Nuns is not complete in any one place, or in any one person's experience or memory–and memories are not perfect. This is not really surprising since, as we said before, Three Nuns been around for about 123-years. We contacted four different companies and didn't really get too far.
Sutliff Tobacco Co., the U.S. importer / distributor referred us to Mac Baren, the current producer. Mac Baren referred us to Imperial Tobacco, the British holder of the rights to the Three Nuns name. Imperial Tobacco referred us to Sutliff–we came full circle.
Now we know why they use code words in the recipes–they don't really like to talk about this stuff…and to be fair, nobody really had all of the information at their fingertips, nor the time to piece it together. I also sent an email to my contact at Orlik / STG (the former producer of Three Nuns before Mac Baren) and did receive some information over the course of three emails. However, we found that even when someone was willing to take some extra time to try to help, that accurate information was still challenging to come by. Even with our contact reaching out to his retired colleagues, we still didn't piece together the full picture.
The questions I asked everyone regarding Three Nuns was: Who originally created it? When? Where was it originally produced? What is the history of the changing of ownership rights? When did the blend change to not having Perique and why was the change made? How was this compensated for in the recipe?
As it turns out, we had to dig deep, and spend dozens of hours researching to try to answer the questions ourselves.
Here is what we have been able to piece together –
Three Nuns list of different manufacturers/versions:
– early 1890s – 1904: J & F Bell Glasgow, Scotland
Then, for the next 100-or-so-years, there were different production houses for different geographic and demographic markets.
(For Domestic UK distribution / consumption)
– 1904 – 1957: Stephen Mitchell & Son, Glasgow, Scotland
– 1957 – late 1980's H.O. & W.D. Wills, in Glasgow, and then Ogden's in Liverpool
– late 1980's-current: Imperial Tobacco (the pouched version with no Perique) Liverpool, and Nottingham since 2007.
(Export from UK – to the US and other markets)
– 1911 – 1990: British American Tobacco, Liverpool, England
– 1990 – 2013: Orlik /STG, Denmark
– 2013 – present: Mac Baren, Denmark
The version that most U.S. pipe smokers remember as the "original" was probably the one made by BAT in Liverpool, which ended production in 1990. One of B.A.T.'s responsibilities was to produce and distribute Imperial brands outside of the domestic UK market.
Some more corporate documents we unearthed that helped piece together the history are as follows:
Coumarin is a fragrant organic chemical compound found naturally in many plants, notably in high concentration in the tonka bean and deertongue. The name comes from a French term for the tonka bean, coumarou.
Coumarin has been used as an aroma enhancer in pipe tobaccos and certain alcoholic drinks, although in general it is banned as a flavorant food additive, due to concerns regarding its hepatotoxicity in animal models. Hepatotoxicity implies chemical-driven liver damage.
In January / February of 1990, British American Tobacco transferred production of Three Nuns (along with other tobaccos) to Orlik in Denmark. See PDF here. Orlik is not mentioned by name, but we have confirmation from various sources. You will notice that Three Nuns actual production in Denmark was slated to begin in April 1990.
After having uncovered all of this information, plus other documents not published here, numerous emails and conversations, and sampling different vintage tins—it only gets more intriguing. Using the puzzle analogy, it seems that not only are some of the puzzle pieces missing, but some pieces came from a different puzzle box—they just don't fit at all.
Prior to unveiling the above referenced documents, we were given dates ranging from 1988 to 2003 for the start of production in Denmark. (The actual start was 1990.) The one consistency in this faulty information, which was also flawed, is that Three Nuns never contained Perique for the entire time it has been made in Denmark.
[Insert game show buzzer sound.] Wrong!
We have printed corporate records that discuss Perique being contained in the recipe at least until 1994.
Things get a little fuzzy after that as far as corporate documentation goes. However, for the purposes of our investigative reporting, a colleague opened a sealed 1998 vintage tin of Three Nuns and we both sampled it.
Without a doubt, this tin contains Perique. It is unmistakable in the can aroma and extremely apparent when smoked–stewed fruit and pepper are hugely evident in the flavor-profile. We are 100% sure that there is Perique in this tin. As far as confirmation from a third-party source as to the dating of this tin—I choose to believe what my friend tells me in hopes that I will continue to receive more 15-year old aged tobacco in the future. This tin does say it was made in Denmark.
This was really amazing tobacco. Here are a couple of tin shots of the 1998 Three Nuns, made in Denmark, containing Perique.
It was sometime around the late 1990s to early 2000s that Three Nuns was no longer exported to the USA. There was also a pouched version without Perique, while at the same time a tinned version with Perique both floating around in different markets. The tinned version was maintained for an up-scale market of duty free shops, and the pouched version was kept away from those outlets. The pouch packaging implied inferiority, and in this case, it was a true. It was a different blend in the pouch, and consumer feedback was negative.
Below is a tin from Orlik's production that I purchased at The Danish Pipe Shop when I was in Copenhagen in July 2010. You can see that the label is oriented vertically instead of horizontally, likely to accommodate the warning label required by law. I did not detect Perique in it when I smoked it a few years ago. (My Nording Hunter Series Wild Boar pipe is in the foreground.)
Here are some additional corporate memos with some extremely fascinating information –
June 23, 1992 – Memo states that BAT UK Export version of Three Nuns still uses Perique tobacco, which is a superior quality to the UK (domestic) version, as 3 Nuns is seen as BATUKE's premier tobacco product.
September 10, 1992 – BAT Memo and report on the pipe and ryo tobacco market. States that Perique is contained in Three Nuns. Also states trademark is owned by Imperial and rights for use granted to BAT under a 1976 license.
(Excerpt from September 1992 memo)
———————————————
MARKETING STRATEGY
The marketing strategy for all the tobacco brands follows a similar format except Three Nuns has been established as BATs premier pipe tobacco which differentiates it from the UK Imperial version which is ready rubbed and packed in a pouch . This positioning for Three Nuns in Duty Free is to be upheld in order that we have a brand which can be marketed against competitor premium tobacco brands such as Dunhill . On account of this it will remain as a rope tobacco which is packed in a tin, with its own distinctive presentation.
FUTURE ACTION
Three Nuns will remain as current but will be subject to review in 1993.
———————————————
December 28, 1993 – Fax from Orlik to BAT with cost estimate shows recipe for Three Nuns Ready Rubbed would contain 7% Perique.
February 8, 1994 – Meeting follow up letter to Orlik from BAT re: 1994 – 1995 plan. Item 5 – Three Nuns still has Perique, but they are planning to change it now. It seems Ogdens makes it for the UK domestic market, and that they have already swapped out the Perique in that version.
"5. Three Nuns
The experimental blends were comparable in smoking terms to the Ogdens version. Differences were noted in the visual appearance, with the Ogdens blend having a higher inclusion of black tobaccos. The BATUKE blend carried its distinctive Perique nose. New blends will be developed substituting the Perique with a higher inclusion of Black Cavendish or processed fire cured tobacco. BATUKE to request Ogdens permission to use their flavour and for confidential disclosure of ingredients for AMGP approval."
So, why did the Perique go missing somewhere around 1999? Did the Y2K bug have anything to do with it? What about The Artist Formerly Known as Prince? Was everybody too busy partying like it was 1999?
Seriously though, in the late 1990s through the mid-2000s, the supply and quality of Perique had been in a steep decline, which was probably the impetus for the change. Read more on this in "The Mystique of Perique".
Now that we've had some time down memory lane, let's get back to the present. In Deepak Chopra's book, "The Ultimate Happiness Prescription: 7 Keys to Joy and Enlightenment" – He explains how you can only be truly happy living in the PRESENT. Not in the PAST, and not even thinking about the FUTURE either. The PRESENT is key.
Presently, we have the 2013 current version of Three Nuns, made by The Mac Baren Tobacco Co. under license from Imperial Tobacco Co., and distributed in the U.S.A. by The Sutliff Tobacco Co.
It seems most likely that Three Nuns has not had actual Perique tobacco in it for at least 14-15 years. In that case, do we really need all of the "Shrieks of No Perique!" forum threads and comments?
I say "NO. We do not." This is old news that people are talking about like it happened yesterday. Individuals are referring to the current Three Nuns, as the "New Three Nuns". The "New Three Nuns" recipe is 15-years old ladies and gentlemen!
If you want to just moan and complain about the good ol' days, knock yourself out. But if you don't try the new 2013 Mac Baren version of Three Nuns, you are really missing out. It's exceptionally good!
Here are some photos from my tin when it was new –
It looks pretty delicious, doesn't it? It is.
I have smoked an entire 50-gram tin of the current Three Nuns made by Mac Baren. The production date on the label is March 2013. I smoked it during most of the month of August. It has now gone up in smoke, and it was delightful.
The tin aroma is dominated by the smokiness of the Dark-Fired Kentucky. Interestingly though, the DFK leaf is a harmonizing, synergizing factor. It does not dominate the flavor like it does the tin aroma. The flavor is sweet, savory and slightly tart at the same time. I've smoked it every day for 3-weeks, and I love it! The moisture level was perfect for smoking right out of the tin. The coins fall apart a little bit, but that makes it easier for rubbing out. I know this is a cliché, but the tobacco burns cool and down to a fine, powdery white ash – and I tend to puff hard, especially with a tobacco that is full of flavor like this one.
I found it to be of mild-to-medium strength in nicotine [read Russ' new article on nicotine here], and only got a little buzzed one time when I smoked a group 5 bowl at a fast pace. Smoked in a group 3 or 4 bowl at a slow pace, and it is just packed with flavor, and no light-headedness.
Three Nuns is a Religious Experience that shouldn't be missed.
Please be sure to read the full review by E. Roberts, he has some quite interesting things to say, and provides much, much more detail.

Kevin Godbee is the Publisher & Editor in Chief of Pipes Magazine. Kevin started smoking pipes and cigars in 1998 and started an online cigar magazine & community site in 2005. (The site was acquired in 2008 and no longer exists.) He launched PipesMagazine.com in 2009, and in less than three years the site has become the largest trafficked pipe smoking related site, and the #1 Source for Pipes and Pipe Tobacco Information.
In the beginning of his career, Kevin worked in the hobby and specialty toy business for 16 years in sales, marketing, advertising and product development for three different manufacturers, and with his own company.
Over the last 10 years working in the online business, he has become an expert in Internet Marketing and SEO. Kevin is a Certified Master Tobacconist (CMT) through Tobacconist University, a member of Cigar Rights of America and is a "Media Member" of the International Premium Cigar & Pipe Retailers Association. In his spare time he sings, plays guitar, cooks, and enjoys all the wonderful places to go and things to do in beautiful downtown St. Petersburg, Florida where he lives in his penthouse bachelor pad. Kevin has been smoking pipes and cigars for 15 years.
24 Responses