Steve Morrisette

Since hunting season is upon us now it might be fun to look at some hunting gear. I chose the hunting jacket, pipes and a special watch to limit what could become volumes of material. My father was an avid hunter, pipe smoker and a watch aficionado, so I was introduced to these subjects quite young. Now my Dad, Harry, God rest him, loved to hunt fowl. Mallard, canvasbacks, doves, grouse, quail and crow were his usual quarry. He did not hunt larger game animals. Shooting fowl on the wing meant he was a shotgunner. He did hunt deer once with solid slug loads, but decided he disliked sitting in a blind for long periods having to be silent and motionless, mostly.
A Discovery
Somewhere in the mid seventies he gave up hunting. I asked him why and he simply said he realized they were too pretty to kill. I suspect he also realized, as I came to later, that what we enjoyed was being out in the field. Walking and stalking and taking in the natural beauty. Since that was the best part, dispensing with the weight of gun, shells, hunting licenses and pursuing land owner permission to hunt gave us more time and freedom to roam. We retained and made good use of our field gear and hunting clothes on future non-lethal "hunting trips". Staying warm and comfortable was still the paramount concern. In any kind of winter hunting or just walking in the uplands and fields, this is a constant.
Dad's Hunting Buddies

Korean War Jacket

Norfolk Jacket

Corduroy Barn Coat

M43 Cockpit Jacket

Sheepskin B-3 Bomber Jacket
Before I was old enough to accompany Harry and his pals into the field I delighted in greeting them upon their return in the evenings.
They were skilled, smart and funny guys that obviously enjoyed each other and their day. Plus, they looked so cool! Mr. Payne, an attorney and Korean War vet always wore his Army field jacket and an olive drab watch cap. Mr. Lea, partner in a very fine men's clothier, always wore a very smart outfit – usually a Norfolk jacket and a Tyrolean trilby ( if on a field shoot ). The others always kidded Mr. Lea about looking "so clean and serious".
Dad usually wore a big brown corduroy barn coat and a brown canvas bucket hat. Billy Parker, another attorney and Dad's best friend, wore his USAAF field jacket or his amazing leather flying suit jacket if it was very cold. Mr. Parker was a bombardier flying over Europe in WW II. He also favored a G.I. watch cap. Except for Mr. Lea, they all looked sporty, if a bit drab, but their guns were always in top trim. I was fascinated by Mr. Lea's Norfolk jacket and now, decades later have several versions hanging in my closet. I came to find out that Jimmy Lea's jacket was the only one in the bunch that was designed from the outset as a hunting garment, specifically for upland shooting. This was typical of Mr. Lea; to have the best gear. (He had a custom fitted and engraved Baretta O/U 12 gauge too. An awesome gun.) I had thought, since he was a haberdasher with a high end clientele, he was just wearing a nice heavy duty suit coat with lots of pockets.
The Norfolk Jacket

Norfolk Jacket

Gelly Tweed Full Norfolk Jacket
Though it's original creator remains in doubt, the Norfolk jacket did originate in the 1860's in Norfolk, England. Designed and modified for optimal field use, it has many features that facilitated the hunter.
The jacket had two large lower patch pockets with button over flaps and a deep center pleat to allow extra roomy storage for shells, game or field glasses, etc. Often there was one or two breast pockets also with button over flaps and center pleats. Occasionally there was a "hidden" side entry pocket opening just to the right of the left upper pocket and had a vertical opening. It's function perhaps was to hold papers or a flask of whiskey. Two vertical suspender like straps of matching cloth ran down from the shoulder seam on either side, front and back, to reinforce the coat and help sustain the weight in the lower pockets and that of slinged gun. Over each shoulder and stitched down are flaps of extra material that helped distribute the weight of a gun and any field pack or shell bag. It also padded the hunter's shoulders and put extra cloth in a high wear area.
A full belt, again of matching cloth, was at the waist and not joined to the coat, but rather ran through belt loops created by appropriate gaps in the aforementioned dual vertical straps.
Norfolk jackets typically button up the front with four buttons. All the buttons are leather covered to prevent snagging, breakage and allow ease of use with cold or gloved fingers. The collars are somewhat large standard notched coat collars that can be turned up and have a substantial throat latch that can be buttoned tight against the neck to keep out wind and rain – both quite common to the English countryside. Frequently the cuffs would have button tab closures, also for warmth.
Specialization

Full Norfolk Jacket with Action Pleats
These first ever purpose made hunting jackets had several other shooter friendly features. Rear upper side pleats from shoulder to waist and a deep reverse center back pleat formed an " action back." These allowed for the unrestricted and quick movement of the shoulders, arms and upper torso necessary to shoulder a gun and track a fast moving target. A rear center vent facilitated riding on horseback.
The true Norfolk jacket would also typically be tailored to allow for a bit of extra room to help with movement and to accommodate a heavy woolen sweater or waistcoat for very cold weather. The belt helped support any weight in lower pockets and slimmed the waist, offsetting the fuller cut of the coat. As a true hunter's coat, the Norfolk jacket was made of a heavy wool tweed. This dense and specially woven cloth was also very practical and it is often referred to as "thorn proof". Since wool is the finest natural cloth for the combination of heat retention, moisture resistance, breathability and soft comfort, it is the natural choice for the hunter in the 1800's and perhaps the 21st century too. It is even silent during movement.
Stolen Design Elements
All of the features and qualities of the Norfolk jacket, though combined and employed for optimal hunting, have been co-opted by clothing designers since it's first appearance at aristocratic country hunts in the U.K. The safari or bush jacket is a direct steal. Note how many of these features abound in today's garments. You probably have some in your closet. You may thank those blue-blooded English bird hunters for all those stylish elements that seem to never completely fade away.

Steve Morrisette in Abboud Jacket
The Modern Hunting Jacket
Miracle fabrics, Gore-Tex, activated charcoal alloys, state of the art camo patterns, nylon zippers and some eye opening price tags adorn the current crop of hunting jackets. Though the very well heeled can still choose a bespoke Norfolk jacket and matching britches for hunting afield, today's gunner or bowman (bowperson?) more often will visit a sportsman's shop or outdoor outfitter for their hunting gear and clothes. Or, in the case of many of our returning military, employ a tried and true G.I. field jacket – though not usually in desert camo.
Hi-Tech, Hip and Camo
These days, camo, or camouflage pattern jackets are ubiquitous. In fact, one can hardly set foot outside without encountering some variation of camo on virtually everything these days. Again, designers will draw from any source – no matter how questionable. Camo patterned clothing is the hunter and fisherman's version of the NFL fan's team jersey or the NASCAR guy's hat. BTW- Can fish really be fooled by a camo fishing vest? I wonder.
In upland shooting, where one is often on the move, stalking game, it is not quite as essential as it is for those intent on taking a white tail or a canny widgeon. Still, camo seems to be de rigeuer. I bring up camo patterns because there is an interesting aside I wish to relate to you.
A 5 Billion Dollar Boondoggle
Camouflage uniforms have been a military staple since the rifled barrel replaced the smooth bore long arms and made close quarter combat virtual suicide. Shooting from concealment became mandatory. Camouflage clothing was an obvious benefit. Today, all modern militaries outfit troops in camouflage uniforms for combat.
In the summer of 2009, the U. S. Army began a program to update their camo pattern to the new digital type that was developed by Lt. Col. Timothy O'Neill.
It was all the rage, adorning everything from sox and gloves to capital ships and aircraft.
Well, some years and five billion dollars later, it was determined in actual field conditions that the Army's new digital camo patterned uniforms were actually less effective than a 1950's era German Army marsh pattern that was adapted for various terrain and conditions by armies across the globe.
I was told that a popular brand of camo gear, Sitka, is considered cutting edge and even hip, with it's distinctive "Optifade" digital pattern. Fashion forward hunters seem to be snapping it up – at premium prices. Optifade digital camo patterns, one each for big game, white tail and waterfowl, were designed by Timothy O'Neill. Yes – that Timothy O'Neill.
Don't Buck the System
System clothing is the latest trend. Modular, coordinated layers are matched to mate with various jackets, vests, shirts and next to skin layers. All elements from the same brand are specifically purposed for various hunting scenarios and conditions. Scent masking, waterproof camo to match the chosen ground or trees are all combined into snug fitting, silence inducing and comfortable outfits.
Everything Old is New Again
The upland hunter of the 19th century had system clothing too: long underwear, close woven cotton shirt, a heavy knit natural wool sweater, thorn proof breeks ( mid calf length britches for ease in tramping through rough thistle ) heavy long wool stockings, knee high lace up field boots water proofed with oil, gloves, muffler, a tweed flat cap, ear muffs and, of course, a Norfolk jacket. Those fellows bagged their limit in comfort too. And they looked good. As gentleman of the time, this was expected.
Modern Choices
Today, superb hunting jackets can be had from Scent-lok, Sitka, Baretta and Browning. More traditional jackets can be found from Filson, Barbour, Cordings and Holland and Holland, the latter two in the U.K.

Browning Hells Canyon Soft Shell Jacket 304581A-1998l

Eddie Bauer Micro Therm Storm Down Jacket
Eddie Bauer makes a very cool jacket that looks to be a great item. It is their Micro Therm Storm down jacket. It weighs less than a pound, is warm and wind proof with stretch side panels for ease of movement and has tough Cordura overlays in key contact/wear areas. Available in several colors, they are not camo patterned so in the city they don't scream "hunter".
At a good price they can be had for under $200.
Hunter's pipes
As far as I know there are no purpose built pipe designs for hunting or fishing. The best idea I ever saw for the hunter or fisherman was a metal military mount pipe retro-fitted with a lanyard ring. The military mount allowed for rapid breakdown and storage of a hot pipe and the lanyard around the neck prevented the pipe from falling from mouth on to forest floor, canyon rock or into a rushing stream.
Pipes and Hunting
Pipes have gone hunting probably since before firearms did. Certainly old European porcelain pipe bowls with hunting scenes and game attest to an ancient association. I know Harry, my Dad, and all his pals smoked pipes in the field or a duck blind. Old photos of hunters with pipes abound. The capped pipes featured in last month's column could be a good choice for the hunter.

Re-born Hunter's

Porcelain Hunting-Themed Pipe

Porcelain Hunting-Themed Pipe
Non-Scents?
There is no little controversy on the subject of smoking while hunting. These days, health arguments aside, many hunters eschew all smoking as likely to spook game. Some of these very dedicated sportsmen go so far as to store their hunting clothes in airtight bags outside cabins or in the bed of the pickup. They will dress outside and take care to eliminate all contamination of human scents and smells. Others puff away and claim to bag their limit just the same. Since this no smoking afield notion is fairly new and our fore fathers definitely killed their share of bucks and ducks, I wonder about the effect tobacco smoke has on the quarry. I have never felt it hampered spotting bird or furry folks when out of doors. But that's just my idea. I could be missing a lot.
A Hunter's Watch
Now this is just way cool. Casio makes a watch for hunters and a similar version for fisherman that has some very interesting and useful features.
Reading Tracks
The Casio PAS 410B -5V Pathfinder Moon Phase Hunter Timer Watch can calculate peak game activity times factoring in lunar phases, latitude and longitude, sunrise and sunset on the current day or future days and even has a silent vibrating alarm so as not to spook game. These watches are based on the very rugged, accurate and dependable G-Shock series. The hunter's version displays a series of paw print icons to indicate levels of likely activity. Four paws means chamber a round! After scanning a few hunting and fishing forums on the net, I found that it has been very well received.
I have a watch with a tide indicator and was surprised how handy it was when figuring the best time for a surfing session. At under fifty bucks, the Casio hunter and fisherman watches are a great idea.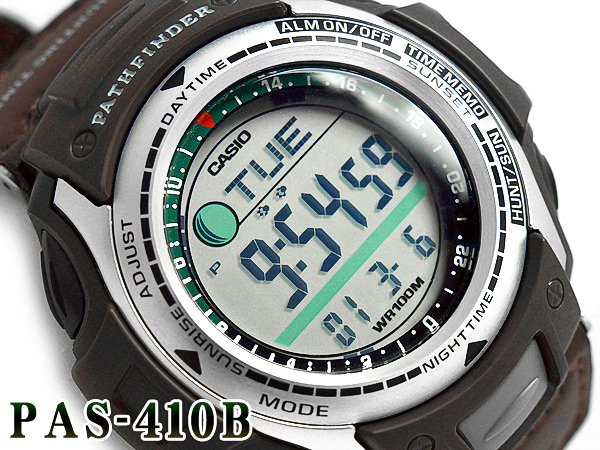 the Gentleman Smoker's Tip
The first matter to attend to prior to any field outing is footwear. It is absolutely essential to keep one's feet comfortable, warm and dry, and ankles well supported. A comfortable and supportive walking shoe or boot is useless unless it is able to keep your feet dry and warm. This is an immutable fact. Nothing will turn a novice against hunting and field outings more irrevocably than the misery of enduring a day with wet and/or cold feet. In extreme weather this can actually be dangerous, even lethal if one becomes lost in the woods or mountains. Please research your footwear carefully and do not scrimp. I suggest strongly to avoid shoes altogether and opt for a good pair of boots. A fine pair of field boots, properly maintained, will be the last pair you will ever need. Please heed this advice. Cheers and good hunting!
Steve Morrisette
the Gentleman Smoker

Steve Morrisette is an artisan pipe maker, relentlessly snappy dresser, and self-confessed Virginia gentleman. He makes artisan pipes for discerning collectors, and scours the internet and shops of all types seeking information and fine garments, hats, watches, shoes, and jewelry – anything related to the gentleman's lifestyle. Steve also spent several decades as a working drummer and photographer/photojournalist. You can find his pipes at www.smpipes.com, and catch his style photos and latest pipes on Facebook and Instagram.
More Pipes and Tobaccos Articles
4 Responses