Steve Morrisette

Since I was a boy I've always been intrigued by those who seem to acquire goods and services at a lower price than typical retail. They seemed smarter, more clever and creative than those that simply looked at a price tag and plunked down the cash.
Don't get me wrong, I am not a penny pincher or particularly frugal. I have former spouses that will readily affirm this – ad nauseam.
I find it an interesting challenge to find the best deal on things. Rather like Sherlock Holmes solving a case, it can consume me. Many may regard that analogy as rather too grand.
However, if one considers what is a true bargain, not just the lowest price, then the complexity of the challenge is revealed.
What is a Bargain?
A bargain is a balance of initial cost, expected quality and/or length of service, owner satisfaction and confidence in the purchase. This balance is always unique to the individual.
Some place more value on saving up front, others may value length of service and many seem to value the inferred status of certain brands.
Rarely is the lowest price a bargain, especially when it comes to goods or services that fill a substantial or important need.
Would you rely on the cheapest brakes? A discount parachute? A cut-rate lawyer or the cheapest contractor?
Yet many will choose the lowest priced offering and let it go at that.
Our Focus
I shall discuss a few wardrobe items and also briar pipes, and offer what I believe to be true bargains. I will also state my reasons for my admittedly subjective choices.
Ignorance is Not Bliss
By way of introduction to this process I will relate a recent conversation I had with a fellow pipe smoker asking about purchasing shoes for work.
This fine fellow is a successful professional and has the means to purchase a good pair of shoes. In fact, I'm sure he could probably afford a very expensive pair of nice dress shoes.
He began by telling me the style of professional dress shoe he wanted and then stated that he never spends more than about $80 on such a pair of shoes.
I flatly told him he could not get a good pair of new dress shoes for that sum.
It was obvious that he not only disagreed, but simply did not believe that it couldn't be done.
As far as I am concerned, it cannot be done unless he happened upon an extremely rare low sales price on what would normally be a far more expensive shoe. Setting aside such a rare occurrence, I'll explain my thinking on this.

Brooks Brothers Italian-Made Shoes are higher-end at $650
A good pair of Shoes
A man's dress shoe, especially one worn all day in circumstances routinely having a relatively formal dress code, should be of good quality, provide comfortable support, style and lasting durability.
$80 may get you one of these, but certainly not all three and is therefore no bargain. You will not find the quality materials, design, fit and finish, nor real durability, in an $80 pair of men's dress shoes.
I told him he might get by with a $150 pair found on sale for say, $100 if he was lucky. The shoe that at purchase costs twice as much will offer better style, finer leather and construction and with some reasonable care will last twenty or more years. If he were really fortunate, he might find a pair designed to be resoled thus, really extending the useful life of the shoe and giving a great return on investment.
The $80 shoe will begin to look worn and deteriorate in a year or so and will have to be replaced. That is, unless they are only worn once or twice a week, in which case two or more additional pair of $80 shoes will be needed to take up the slack.
You can see in the long run spending more saves money, gives one a better looking shoe to begin with and one that most likely will start out and remain comfortable for the life of the shoe.
This is what I mean by a bargain and why and how spending a bit more can actually be the way to secure a true bargain.

Allen Edmond's are a Great Mid-Range at $350, and they are made in the USA.
A Decent Suit
Today, when a gentleman dons a suit it is primarily to look well. Whether for a formal occasion,
a dressy date or professional dress code, a suit should not only make one look and feel good, it should be comfortable and well made for durability.
Fit is paramount and comfort and durability are nearly as important.
Having one or two decent suits or five or seven depending on need and desire is, to my mind, far better than owning a dozen "Just OK" suits.
As with the aforementioned shoes, spending a bit more can yield much greater rewards – that is to say; a bargain.
A decent suit, as I term them, is well made, of quality fabrics, useful colors and patterns and above all is tailored to fit properly.
A two or three hundred dollar off the rack suit will usually fall short in several areas.
You are not going to get fine fabrics at that price point. The quality of workmanship and construction likely will be subpar and no amount of tailoring will make it fit well. It will be just "OK".
What to Do?
Well, you can walk into an upscale men's shop, Neiman Marcus or a Nordstrom and purchase a truly nice looking suit from their mid tier labels like Hugo Boss, Burberry, or
Zegna. No doubt they will be well made and have very nice fabrics. They will also set you back at least about a grand, and that's on clearance. Plus, you'll still have to have tailoring done. Sleeve length and trouser hems will be done gratis, but further work, often necessary for a fine fit, will cost extra.
Here is my recommendation: Suit Supply
Suit Supply has a fairly large catalog of suit styles to choose from and many of these offer several fabric choices. They are current and good looking designs.
You may choose a style, fabric and options like working cuff buttons, pocket styles or lapel types. You are measured by an in house tailor and for a basic price of $400-$500, you get a decent, good looking suit that will fit properly and should last a good while. Most alterations can be done as you wait when you choose a basic model.
Suit Supply also offers a Blue Line and a Suit Up Personal Tailoring Service for a bit higher rate. These offer more customization, more involved fitting and tailoring and a broader range of fabric choices.

Brooks Brothers, Made in the USA Sports Jacket with working sleeve buttons, $800.
The Suit Up option offers a made from scratch, completely canvassed suit, many style options and over 600 fabrics from some of the top mills in Italy.
The Blue Line suits start at $650 and the Suit Up Personal Tailoring begins at $819.
That is substantially less than an off the rack Hugo Boss on sale. And it's custom tailored to your body, complete with your choice of style and fabric options.
Such a suit, well looked after, should last decades and work well for you if it is on the conservative side, and you don't radically change suit sizes. This, I call a bargain.
Have a look at their web site, you may well be impressed.

From Suit Supply

More Suit Supply Looks
The Shirt on your Back
Almost nothing can make one feel and look better than a properly fitted shirt of good fabric. They don't bind in the upper arms, puff out at the waist, they stay tucked, have a comfortable collar and the proper sleeve length. Under a good suit they are heaven. If you doubt this, it is because you have never experienced it. Period.
Now here is where most guys freak out about cost.
Sure, you can get a shirt for $15 or $20. You can also spot them from across the room. They look cheap because they do not fit well, have lousy construction and are made from crummy cloth. This may be, nay, perhaps is, snobbish. However if you care about looking well and projecting a good impression, then a good shirt is indispensable. You don't need a dozen or more custom Charvet shirts. One good white shirt and one good light blue should be fine for most guys that don't have a suit and tie work environment. Just keep them ready for when they are needed.
Easy Prey
Bargains can be easily found when it comes to a decent shirt.
There are several approaches.
Prior to the hunt you must have your measurements accurately taken by a competent tailor. ( They will do it at no charge so be nice to him/her because you will be back. )
You will want not just your collar size and sleeve length, but also your chest size, waist and torso length. Discuss these dimensions with your tailor so you will know if you really do need a slim fit or perhaps a big/tall shirt cut. You should also be aware that most of us have one arm longer than the other, with obvious ramifications for sleeve length choices.
Knowing what type of collar best suits your face is important too – but that is another column.
Locked and Loaded
Armed with knowledge of your actual measurements – put them in your smart phone for reference – you can begin to stalk your shirt bargains.
Quite decent shirts can be found at outlet type stores such as TJ Maxx, SteinMart, Burlington Coat Factory and also nicer department stores on clearance.
If you are lucky, your city will have one or more good consignment stores that stock some nicer men's clothes. ( I once found a gorgeous $500 Bobby Jones sky blue, pure silk wind breaker, still in the factory plastic bag, for $50 at a great consignment shop in San Francisco. I still have it. )
Ok, so you've found a likely candidate that appeals to you, seems well made with say, single needle tailoring, nice fabric, good buttons and well made button holes.
Now, try it on.
Yes, that's right, you must try it on and button it all the way up and tuck it in.
Just because the neck size and sleeve length printed on the tag seem correct does not mean it will fit you well. So, have a look, preferably in a three way mirror and move about, sit, stand, crouch, etc. Stay buttoned up. If the shirt looks good and doesn't bind or bag or choke you during your "road test," then it's on to the tailor for the final tweaks to make it as perfect as possible.
But Wait, There's More!
More often than not, sleeve length will need adjustment, especially for that shorter arm. You may also want some material removed from the upper arm for a sleeker fit. Taking in the sides, or putting darts in the back are also options that can turn a decent OTR shirt into a well fitting garment that brings a smile to your face and makes your wife do a double take.
You must factor in the costs of these alterations into your total expenditure otherwise, you could turn a potential bargain into an expensive project. Get prices for this work in advance from your tailor.
You larger guys need to remember that garments that are too loose fitting actually accentuate your size. Fit is always king!
Taking into account the sale price of say a modest $25 plus the cost of tailoring, you are likely to be in the $40-$60 range. But that is Ok. You have a well-made shirt that you like and look great in. Truly not bad compared to the $100 + the big labels get – and that is before you begin those alterations.
A Different Strategy
Here is an alternative that appeals to me: Charles Tyrwhitt shirts.
Charles Tyrwhitt ( pron. "Tirrit" ), is a British shirt maker that offers nice shirts made to measure, with custom options and fabric choices and their prices range from moderately high to down right bargains. Several times a year they have sales as well as first time buyer's discounts. I have seen some quite decent solid white and light blue shirts for as little as $29 plus shipping. This is a great deal for a decent, everyday office work shirt. You may receive a very nice printed catalog of their clothes several times a year for free by online subscription.
Tyrwhitt offers exact collar sizes, sleeve lengths, classic, slim and extra slim fit cuts, choices of collar styles and cuffs styles. You also have options for pockets and monogramming and iron or no iron fabrics.
Their current first time buyer offerings to catalog subscribers is a solid light blue or white shirt, slim fit cut of Egyptian cotton for $39 delivered via UPS in seven days. I'd call that a bargain.
Here are some examples of Tyrwhitt shirts: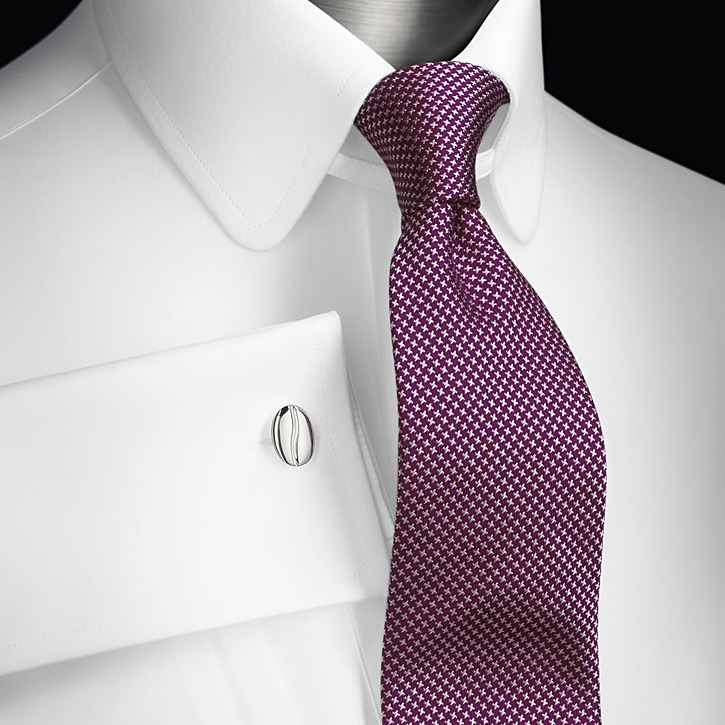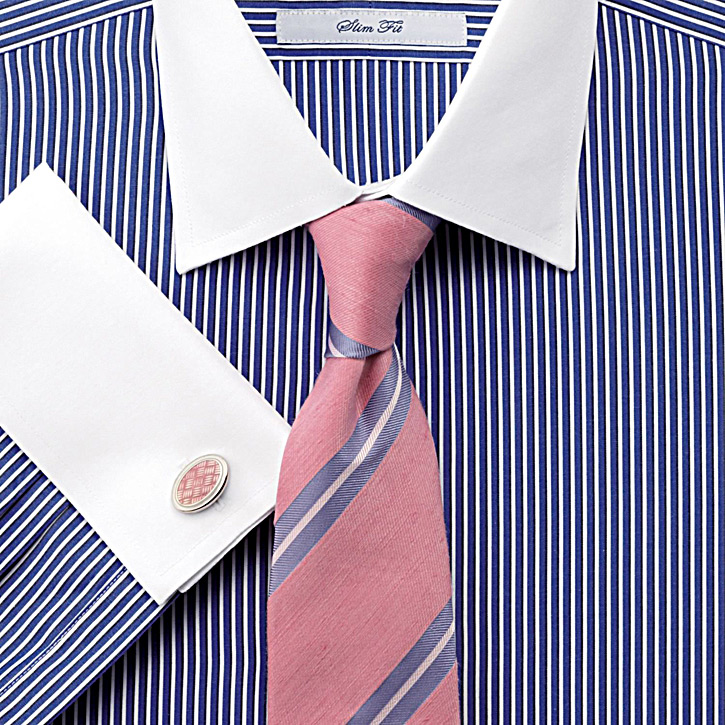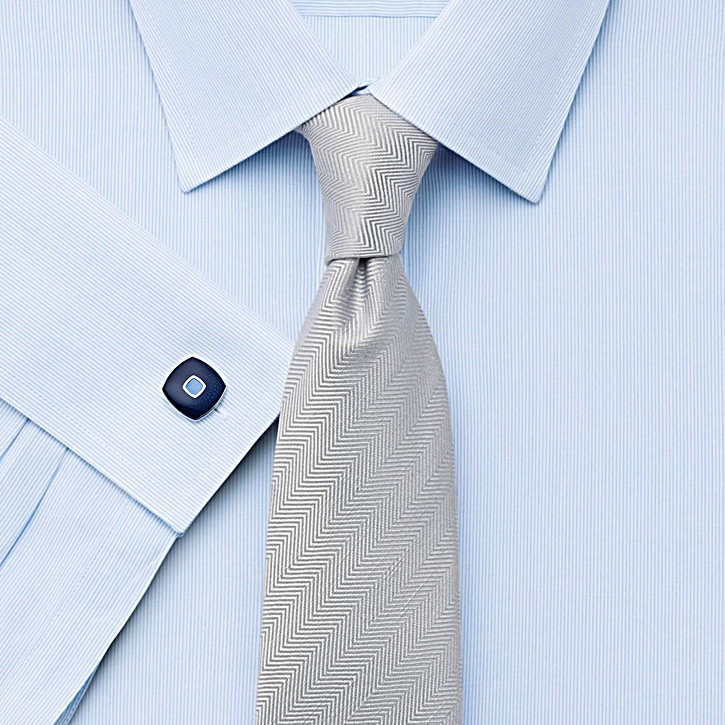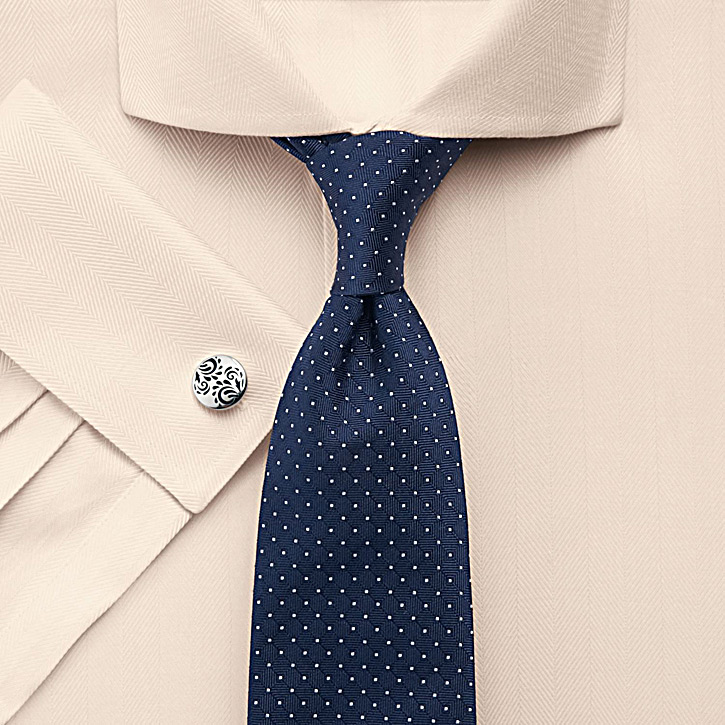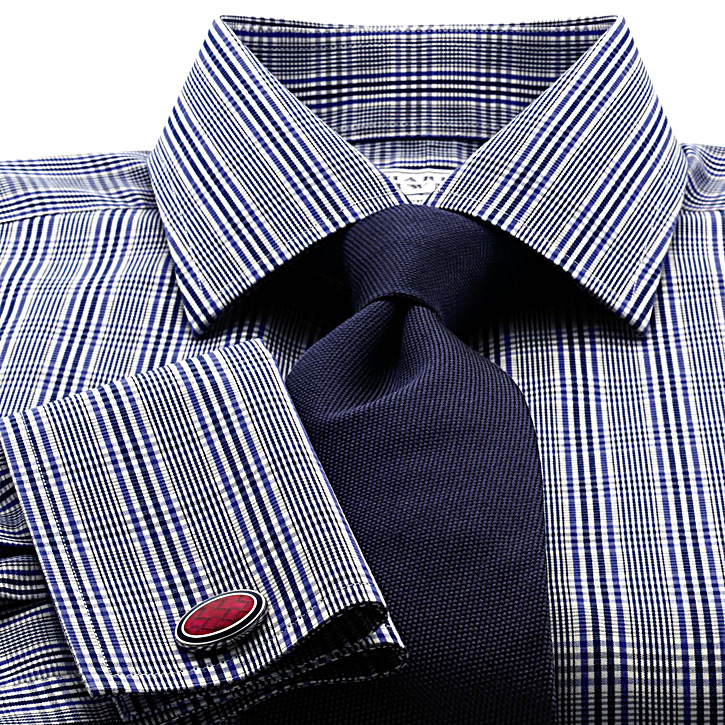 Bargain Pipes?
Ok, never one to fear treading on thin ice, I will explain my philosophy of bargain pipes and make a couple of recommendations as well.
A No-Brainer
Estate pipes. Get a pre-owned Rolls Royce for the price of a new Buick. And of course, Caveat Emptor.
Apples vs. Oranges
Here is a brief bit on my philosophy on bargains among artisan pipes.
Recently a very bright young pipe maker and I were discussing the current explosion of new artisan pipe makers. He cited the need for a pipe maker to "pay their dues" before asking the multiple hundred dollar prices that more established and experienced pipe makers command for their work.
I said that I disagreed and told him that Mozart and Hendrix and other young genius artists were examples of those that did not require years of study and training to create masterpieces.
My friend pointed out something that I had not considered: apples vs. oranges.
Composing and performing great music is very different compared to creating a utilitarian object from wood and Ebonite.
He conceded that a new and relatively inexperienced pipe maker could make a fine smoking pipe, perhaps even a beautiful, fine smoking pipe.
His point was however, that without the necessary time under his or her belt, how can they know what could go wrong with the pipe down the road? What is the precise amount and types of adhesives to use and how? What is too thin in a shank wall? Or a mouthpiece? What materials should not be combined or must be combined in particular ways and circumstances so as to be durable and lasting?
Can they truly judge the nuances of briar?
In other words, what can go wrong and how does one avoid the multiple pitfalls if they have never encountered them? Jody Davis was once quoted as saying that pipe making was often a process of fixing mistakes.
Choosing the Right Guy
All this put me in mind of the time, several years ago, when I needed a simple, yet vital surgery.
Fortunately at that time one of my photography clients was a huge medical and healthcare system with literally thousands of doctors, nurses and support staff.
I knew just who to ask for recommendations for a surgeon to perform my needed procedure.
Two candidates were suggested. One was a new hire, a young honors graduate from Johns Hopkins who was impressing everyone. The other was a long time member of the system; an older, curmudgeonly ex-Marine physician and surgeon.
I interviewed both men.
The Hopkins grad was using the latest digital laser gear and had been doing these surgeries for three years. He was indeed impressive and seemed an excellent choice.
The old ex-Marine was irritated and annoyed that I requested an interview rather than just scheduling the surgery out right.
Sitting across his desk from him in his office with all his USMC memorabilia surrounding us, I asked him about the procedure. With a frustrated look and in a curt manner, he informed me that he had done this simple operation "literally about five thousand times" in his career.
I then asked him when was the last time he had encountered an unexpected problem?
With a dismissive wave of his hand, he replied, "I can't even remember".
So I pressed him. "A week, a month, a year? "
Then he sat back in his big leather swivel chair, turned slightly and looked out the window and said, " My God! Five, no, eight years maybe? And I do this procedure at least a dozen or more times a month!"
I smiled and said, "When can we do it?"
This was a different kind of bargain hunting. The cost was the same for either doctor, of course. I will tell you that I had less pain and recovered two days earlier than expected.
The right kind of experience can create a real bargain.
I Used to Have Friends
So, as to pipes, I must recuse myself and my work here and I can whole-heartedly recommend Rad Davis' pipes and those created by Scott Klein as true bargains.


Rad Davis Pipe
There are frankly a dozen or more I could also name – most good friends – but I would risk leaving out a few, I'm sure. I am quite familiar with Rad's pipes, having owned a few.

Scott Klein Pipe
I've spent a fair amount of time making pipes with Scott and have been able to observe his process and it is as close to bullet proof as I have seen. Both of these men produce work worthy of their prices.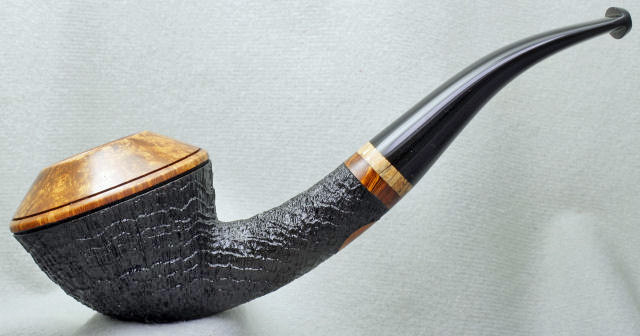 Rad Davis Pipe
To my ( former? ) pipe making buddies, I offer my sincere apologies and humbly beg your forgiveness for leaving you out here. You know who you are guys.

Scott Klein Pipe
I'll be in Chicago this spring prepared to accept your punches, should you be so inclined.
the Gentleman Smoker's Tip:
To extend the life and good looks of your nice shirts, wear them only once and immediately after, put them in a soak of cold water and mild laundry detergent. Adding a bit of Oxy-Clean is most helpful. Soak for at least twenty minutes and rinse it out thoroughly and hang to dry. Next wash them as usual before another wearing. Treat collars and pits to prevent stains just prior to the soak. This sounds involved but adds only about five minutes to your changing routine when you arrive home. You may end the soak whenever it is convenient, just don't over do the detergent and always use cold water. This little extra effort will help preserve your favorite shirts for a good long time.
Cheers,
Steve Morrisette, the Gentleman Smoker

Steve Morrisette is an artisan pipe maker, relentlessly snappy dresser, and self-confessed Virginia gentleman. He makes artisan pipes for discerning collectors, and scours the internet and shops of all types seeking information and fine garments, hats, watches, shoes, and jewelry – anything related to the gentleman's lifestyle. Steve also spent several decades as a working drummer and photographer/photojournalist. You can find his pipes at www.smpipes.com, and catch his style photos and latest pipes on Facebook and Instagram.
More Pipes and Tobaccos Articles
6 Responses