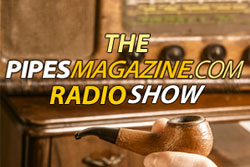 PipesMagazine.com is proud to announce the launch of The Pipes Magazine Radio Show starring Brian Levine.
PipesMagazine.com is the only solely digital magazine, and online community, targeted to pipe smokers and collectors worldwide. The e-zine bills itself as "The #1 Source for Pipes and Pipe Tobacco Information."The Pipes Magazine Radio Show is the only online radio talk / entertainment show in the world that is targeted to pipe smokers and collectors.
The show host, Brian Levine, has been in the pipes and tobaccos business for over 15-years. Mr. Levine is well-known both within the industry and to consumers alike. His friendly, witty personality, along with his encyclopedic knowledge of pipes and tobaccos has established him as an industry expert. He is well-liked and respected by many in the business. His résumé includes working for Alfred Dunhill, Hollco-Rohr, IPCPR, Villiger-Stokkebye International, he was the General Manager of SmokingPipes.com, and is currently the Sales & Operations Manager of Brigham Pipes U.S.A. Brian is also the best known collector of Disney Pipes [see inset half way down].
The Pipes Magazine Radio Show is your source for news, talk, entertainment and all things pipes. We will discuss additional pipester lifestyle subjects like cigars, food, fashion, scotch, sports, movies, shows—but mostly the show will be about pipe smoking and collecting. There will even be interviews with well-known pipe smokers, collectors, musicians, and of course; tobacco blenders and pipe makers.
You can listen live, or download the archived show to your mobile device and listen in the car, café, during your daily run, or in between classes, (not during class, please).
New shows will air on Thursdays at 8 pm, and the archive will be immediately available for download to your mobile device for listening during your Friday morning commute.
Stay tuned for The Pipes Magazine Radio Show debuting this Thursday night, September 20 at 8 pm.
More Pipes and Tobaccos Articles
46 Responses