Marshall "Butch" Armstrong

Have you ever thought about pipe smoking? It must seem like a silly question. Of course we think about pipe smoking. We think about it every day. We think about our down time when we can enjoy that next bowl. We think about which tobacco we're going to smoke next, and which pipe we'll use. But what I'm getting at goes deeper than that. Have you ever really thought about why you smoke a pipe? This may seem a bit esoteric but I hope not. I think there are deeper reasons why we smoke pipes that we rarely think about. On the surface we like smoking a pipe because of the taste of the tobacco, because we want to try new pipes and new flavors. Because we like to share what we have with others. Because we want to collect pipes and tobaccos. But I still think there are other reasons we smoke that don't always come to mind. Maybe some of those reasons don't translate well into words. I'm thinking of contemplative and meditative reasons for smoking a pipe.
Albert Einstein was a theoretical physicist and philosopher of science. He is considered by many to be the smartest man who ever lived. Living with that weight on your shoulders would give anyone a stress level that would be hard to manage. But if you've ever seen pictures of him smoking his pipe you'd never know that he was under any stress. His face is always serene and contemplative. Recently I watched a television program about him. That program is what got me thinking along these lines. The program showed a film clip of him smoking his pipe while reading some physics papers. Calm and serene as anyone could be, he contemplated ideas that we common folk could never think of. All while smoking a pipe. I believe that pipe smoking has a science to it that few understand. It does something for us, and to us, that we don't understand except on a deeper level that doesn't require conscious thought. Some of you might say, "That's fine, leave it that way." And on the one hand, that's not a bad idea but on the other I think it's worth exploring. Many other famous thinkers, writers, scientists, philosophers and actors such as, Bing Crosby, Bertrand Russell, Edwin Hubble, J.R.R. Tolkien, Sir Arthur Conan Doyle, and C. S. Lewis were also pipe smokers.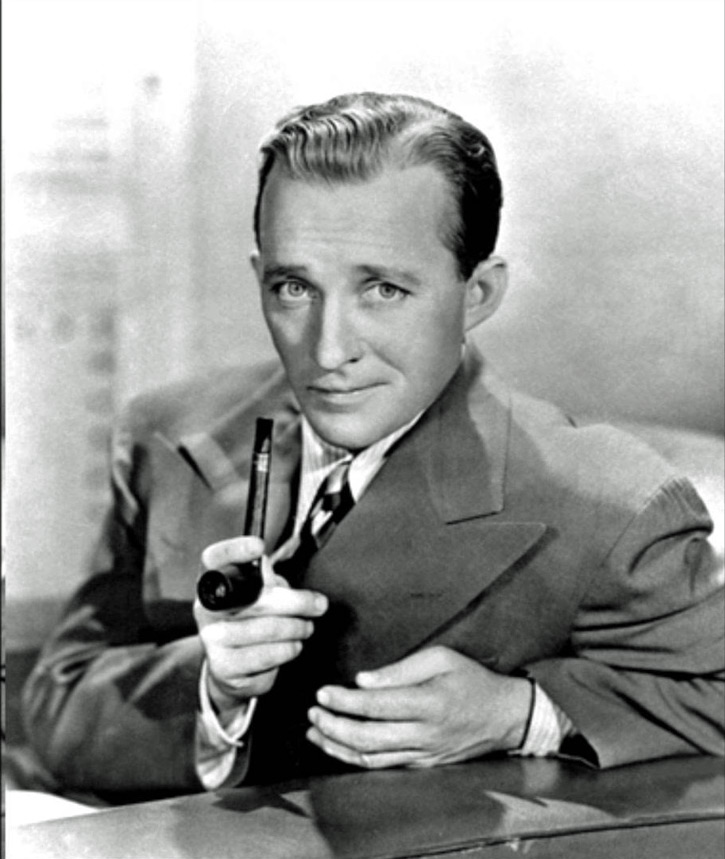 Bing Crosby
I tried surfing the web for anything written on the science of pipe smoking and found plenty of articles. Unfortunately it was mostly about the actual "science" of how a pipe works. The "thermodynamics of pipe smoking" or "packing and lighting, strength and pace of draw, and smoking technique." All of these things are covered quite well on the web and in quite a few books, but the "science" of what pipe smoking is, or what it does to, and for the pipe smoker is largely untouched. There were many articles that alluded to the meditative and contemplative aspects of pipe smoking but none that I found that helped explain why or how this is so. From a web site called "Science 2.0, in an article called "Weekend Science, The physics of Smoking a Pipe, by Hank Campbell, August 27th 2011, the author says: "If you are like me, and you grew up watching Sherlock Holmes, heck even if you watch "Mad Men" today, you see pipes. Once a minute, someone will thoughtfully take a puff, a cloud of smoke will appear and something intelligent will happen." Which immediately raises the question for me, "Why do intelligent things happen? Is it because the men are intelligent, or because they smoke pipes, or both, or is it something else?" Why does this seem to be so elusive?
On a website called eckSermonator.com by Jason Hess it says, "Pipe smoking is the perfect companion for philosophical conversations (sic)" And from an article on the Washington Post titled "Bowled Over No Longer" By Peter Carlson dated Sunday, June 19, 2005, the author says, "It was a world of wise, contemplative men who sat and smoked and read serious, leather-bound literature, as well as a world of rugged outdoors-men, canoeists and fly fishermen and clipper ship captains who puffed their pipes as they pored over nautical charts before sailing 'round the Horn." Again my question, why? Why are pipe smokers wise and contemplative? Is it something about the pipe smoking that helps us to be that way or are we smart thinkers already and are simply drawn to pipe smoking? Is it media such as movies and books that have portrayed pipe smokers as such that has put these ideas in our heads?
I was drawn to meditation quite a few years ago and I do it (meditate) a few times a week. There is a meditation technique called "mindfulness" which is a meditation of concentration. Mindfulness basically means focusing your mind on exactly what is happening at this moment. Take driving a car for instance. You grab your keys, jump in the car, start it up and before you can get out the driveway you're thinking about where you're going and what you're going to do when you get there, instead of concentrating on driving. Using mindfulness meditation means concentrating on nothing but the driving. Hands on the wheel, feet on the pedals, looking in the mirror, watching the road. Not letting your mind wander off in another direction. It's not easy to do and really takes some practice to get good at it. I tried this technique while smoking my pipe. Packing and lighting. Drawing the smoke, blowing it out. Watching the smoke rise from the bowl. Concentrating on the flavors. When other thoughts appeared I simply pushed them away and returned to the smoking. I did this when I was preparing for the article I wrote on smoking Virginia tobaccos. It was a great experience. I was fully involved in the tasting and smoking and the meditative effects were wonderful. I felt more relaxed and peaceful than I had in a long time because all other thoughts were pushed aside except for concentrating on my smoking. No worries about anything in life. Just the enjoyment of the pipe. It was great.
I think that the art of smoking a pipe is such that you have to slow down to do it. Or you want to slow down at least. I have been a cigar smoker for years but there isn't much to think about there. Cut the end off, light it and smoke it. But with pipe smoking you have to pay more attention. Fill the bowl, light, tamp, light again, draw right, etc. And when you're not letting your mind run a hundred miles an hour with the cares of the day you can easily get to that contemplative state that I've talked about. Pipe smoking helps us to think a little more about what we think and do as opposed to just doing it full steam ahead. So then we become contemplative and meditative and start believing the world is not such a bad place after all. Now I'm getting philosophical, but that is a part of this idea too. There have been a lot of philosophers who smoked a pipe. When the scarecrow in the "Wizard of Oz" thought that he needed a brain, maybe all he needed was a pipe. (And to be careful with matches, of course.)
So I'm not exactly sure if writing all this has helped me come any closer to understanding what I'm talking about. Maybe some of you have some ideas about this and I'd love to hear them. There is some kind of connection between pipe smoking and a contemplative, meditative life. But it's elusive and seems to hover right at the edge of thought. Kind of like the feeling of having something "right on the tip of your tongue." You're almost sure you know the answer but it's just not showing itself yet. Maybe all I need to do is have another pipeful and think about this some more. Yeah, that's it. Another pipeful. Then I'm sure it'll come to me. Yeah right!

Marshall Lee Armstrong enjoys camping, fly fishing, kayaking, painting, drumming and writing. He has published two books of poetry and writes a blog called "The Window", which includes a section called "SMOKIN'" where he writes about cigars and pipe smoking. He is 58-years old, and has worked as a Rock Band Drummer, Electroplater, Chemical Process Technician, and Circuitry Manufacturing Supervisor. He is currently a Medical Lab Technician. He started smoking pipes in 1980.
12 Responses