C. S. Lewis: Novelist, Scholar, Broadcaster – Pipe Smoker
C. S. Lewis: Novelist, Scholar, Broadcaster – Pipe Smoker
By Fred Brown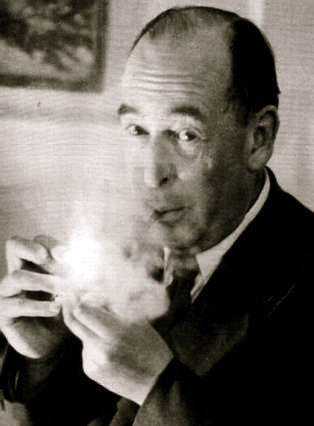 Pints and pipes. That's what most conversations centered on at The Eagle and Child Pub back in Oxford, England, in the 1940s and '50s.
There, inside the number 49 Saint Giles landmark on most any weekday, patrons would have found the likes of C.S. Lewis and J.R.R. Tolkien turning up their tankards and re-lighting their pipes.
This prolific pair called themselves the "Inklings," a title stemming from the fact that their "inklings" were with pen and paper. These brilliant Oxford scholars were not just writers but they represented some of the greatest minds of the century. And Lewis actually did dip his pen into an ink bottle and scribble out his manuscripts, one nib-full at a time.
In those early Oxford years, both men were caught up in the mystical grip of mythology-Lewis the "Narnian," for which he became a famous author and Tolkien the "Hobbit," equally famous for his Hobbit characters of the Middle-Earth.
Both men were dons (dominus, Latin for "lord of the house") but the term also referred to teachers at Oxford University. The two literary giants met daily to talk about stories they had written, to discuss philosophy and mythology, to read their works aloud to each other and, of course, to tip a pint and light a pipe.
Later in their careers, the two influential men of letters fell out over religious and philosophical academic issues, only to be reconciled toward the very end of their careers.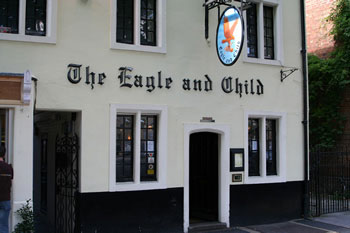 The Inklings rituals probably began with only Tolkien and Lewis meeting to discuss religion and mythological stories. But later, an Oxford student named Edward Tangye Lean, who had studied under Lewis, invited the famous dons to join a university literary group formed to discuss books and writing.
The initial meeting took place in Lewis' room at Magdalen College, an ancient institution built on the famous sprawling complex known as Oxford University, England. After a few meetings, the sessions migrated to The Eagle and Child pub, which was located within walking distance of the campus.
In those days, the pub was affectionately known as "The Bird and Baby"-a take-off of the more formal "The Eagle and Child" moniker. Located in St. Giles in Oxford, the pub had been owned by St. John's College since the 17th century.
It was built about 1650, and at some point had also been called the "Fowl and Foetus." With all these complicated titles, it seems appropriate that these two literary giants who were so immersed in mythology should hold their lunchtime in a back room know as the "Rabbit Room."
Here, two of the greatest authors of the 20th century met with others to talk, laugh, smoke and enjoy each other's company. Included in that group were Charles Williams and Hugo Dyson. Williams, who had a great influence on Lewis, was friend of W. H. Auden, the renowned English poet of the era, and Dyson was a lecturer at Reading College and part of the coterie of writers and thinkers who were hanging out together for mutual inspiration and conversation.
Indeed, Lewis famously said once, "There is no sound I like better than adult male laughter (Alan Jacobs, "The Narnian: The Life and Imagination of C.S. Lewis").
These pub hours with each other were invaluable, allowing Lewis and Tolkien to explore and polish new ideas and thoughts, some of which found its way into their individual books. And it also gave them the opportunity to smoke their pipes.
Lewis had smoked from his childhood (reportedly since the age of 12) and continued to puff cigarettes from time to time, but he always returned to his pipe.
The pub and pipes also acted as a relief from the rigors of Oxford. Lewis, for example, had to prepare weekly lectures, and, in addition, he was a Magdalen Fellow, which meant that he had administrative responsibilities as well, including serving as a college tutor in English literature.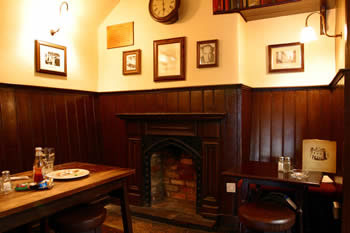 Tutoring was perhaps the most demanding part of his career since he had to meet daily with individual students in his office to discuss their own writing in depth.
A. N. Wilson, one of Lewis' biographers, writes: "He was responsible for all those men at Magdalen who were reading English. He had to prepare them for the study of Old English (Anglo-Saxon), Middle English (that is, the language and literature of England from about 1200 until 1450, including Chaucer) and all the remaining periods of English literature up to the Victorian period."
That's enough to stagger even a mossback Oxford professor, so it was perhaps fortunate that when Lewis arrived at Magdalen College to begin his teaching career he was but 27 years old and had more stamina that the older beloved dons.
Clive Staples Lewis was born on Nov. 29, 1898 and died on Nov. 22, 1963. Known as "Jack" to family and friends, his nickname is said to be derived from the family dog, named Jacksie. Lewis was so devoted to Jacksie that when the dog died, the then four-year-old Lewis announced that he himself would be known as "Jacksie" from that day forward.
Eventually, Jacksie was shortened to "Jack", which is the name Lewis answered to the remainder of his life.
Lewis was born in Belfast now Northern Ireland. His father, Albert, was a solicitor, giving the family certain privileges beyond the norm in that time in Ireland.
His mother, Florence Augusta Hamilton Lewis, daughter of a Church of Ireland (Anglican) priest, was known as Flora. Lewis's father was devoted to her, and when she died in 1908 at the age of 46, the entire family was devastated. Albert never married again and Lewis was especially traumatized and never really recovered from the death of his mother.
To assuage his grief, Lewis retreated with his older brother, Warren ("Warnie") Hamilton Lewis, to the vast rooms of Jack's imagination. The two brothers loved to draw and write stories about animals which they gave human form and emotions.
The Lewis brothers were privately educated and eventually Warnie joined the military and became an officer. Jack went on to Wynyard School in Watford, Hertfordshire, soon after his mother's death.
These schools were followed in turn by Campbell College, Malvern College, and then Lewis fell under the tutelage of William T. Kirkpatrick, who, as the former headmaster of Lurgan College, had tutored Lewis's father.
In 1916, Lewis won a scholarship to Oxford University. Warnie had already been sent off to fight in World War I, and Jack soon interrupted his Oxford studies to become an infantry officer in the rather famous Somerset Light Infantry, which had seen many a battle since its creation in 1685.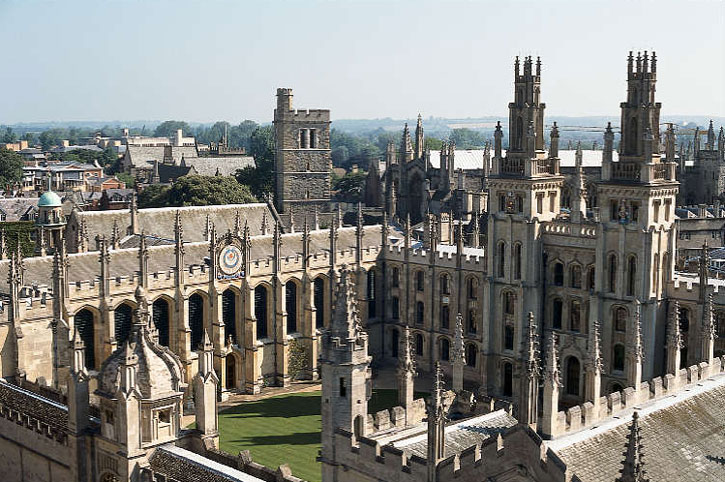 Lewis was a second lieutenant stationed near the front along the Belgian border. After suffering "trench fever" he returned to the line and was severely wounded in 1918 near the French village of Arras when an English artillery round fell short.
Lewis was struck by shrapnel which hit him in the hand, upper leg, and under his arm. The metal broke a rib and entered his lung, effectively ending his tour of duty.
That shell killed his best friend up to that point. The memories of that event, he later wrote, never left him.
After recovering from his war wounds, Lewis returned to Oxford to complete his studies. But this was also the time of a strange event in Lewis's life.
During the war, he had become friends with Edward "Paddy" Moore. They made a wartime pact that if either of them was killed that the other would take care of both of their families. Paddy was killed. Lewis had been introduced to Paddy's mother, Jane, just prior to the war. She was 45 years old at the time and Lewis was but 18.
After Lewis returned home from the Great War, an unusual relationship bloomed between Lewis and Jane Moore that lasted until she died in 1951. He referred to her as his "mother" and she called Lewis her "stepson." In 1930, Lewis, his brother and Jane Moore moved into a home on the outskirts of Oxford they called "The Kilns," for its brick kilns on the property. Today that home serves as a kind of museum to C.S. Lewis.
In the beginning Lewis and Warnie were both heavy cigarette smokers. But at some point in his youth, Jack took up the pipe. In one online Lewis source, the Christian Pipe Smokers, a forum thread mentions that the Wade Center at Wheaton College owns two of Lewis's pipes. The center identified the maker of the pipes-the shorter pipe is a Tetley's Lightweight, and the longer pipe is a Cub Foreign.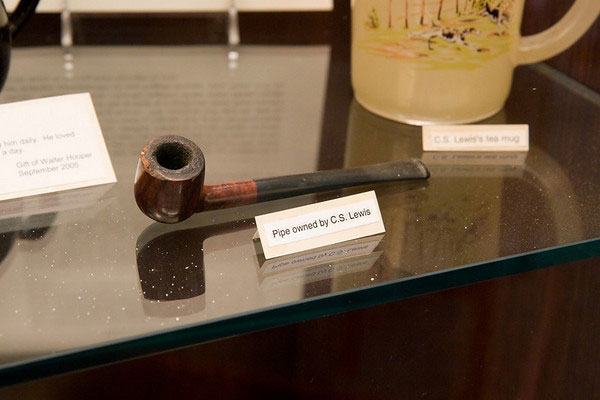 Another clue to his smoking preferences in the Jacobs biography is a photo of Lewis at his desk, in coat and tie, apparently editing a manuscript. At his left elbow is a pipe that looks to be either an acorn or a prince, and just in front of the pipe appears to be a tin of tobacco and a box of matches just behind it.
Lewis carried pipes with him everywhere he went. He always had one or two in his coat pockets, along with his favorite tobacco. And he still continued to enjoy cigarettes, even while he smoked his pipes.
On the web site, Into the Wardrobe a "Pipe Dream" thread on the now defunct forum, "A Community of Wardrobians," claims that Lewis smoked "mainly Comoy or Charatan" pipes.
One of Lewis's favorite pipe tobacco blends was Gold Block. This, too, can be found at the Christian Pipe Smokers forum in one of the threads. He also smoked the original Three Nuns, according to the blog,theophiliacs, which describes itself as, ". . . . four theological students steadily transitioning from various pentecostal (cq) backgrounds into this worldwide communion called Anglicanism. Two of us write from Minneapolis/St. Paul MN and two from Albuquerque NM. While our opinions may vary, our passions remain the same: community, communion, craft beer and a decent briarwood pipe."
Although both Gold Block and Three Nuns can be purchased today, it is unlikely that either is the original blends that Lewis smoked.
In fact, Three Nuns is no longer manufactured in England but has migrated to Denmark, where it is manufactured by Scandinavian Tobacco Group Denmark under the label of Three Nuns Troost. Three Nuns can also be found at Synjeco's Pipe Smoker's Haven, which is under license from Imperial of England.
Gold Block, "The Aristocrat of Pipe Tobaccos," can be found on e-Tobaccos.
Lewis was a writing machine. In addition to writing hundreds of letters and the scripts for his Christian broadcasts on the BBC during World War II, he produced more than 40 works of non-fiction, more than 20 works of fiction and four books of poetry. He was editor of two anthologies and he even left an unfinished work with his friend Tolkien.
Sadly, the day he died was also the day that President John F. Kennedy was assassinated and Aldous Huxley died.
There is much more to Lewis than is uncovered here. For further in-depth reading about C.S. Lewis, Google his name, and you will discover more than 26,000 sites concerning the author.
Fred Brown is a Retired Senior writer for the Knoxville News Sentinel and was a working journalist for 46 years before retiring in 2008. He lives in Knoxville, TN., where he continues to freelance.
More Pipes and Tobaccos Articles
12 Responses