New Products from The 2014 Chicago Pipe Show
New Products from The 2014 Chicago Pipe Show
Fred Brown

CHICAGO—The spectacular 18th Annual Chicagoland International Pipe & Tobacciana Show is in the history books, but fun for the pipe smoker is just beginning. After five-point-two days at the Pheasant Run Resort in St. Charles, Ill., frazzled sleep-deprived vendors and bedraggled retailers, packed it in and headed home. The news is this: If you are looking for innovation, new products, some exciting boutique and small batch blends, 2014 is your year.
Most of the blenders and pipe manufacturers at the Chicago show who are major sponsors of PipesMagazine.com all reported that new products either are in the starting gate ready to be released or are in the works for the future.
Let's start with Cornell & Diehl, who has now teamed up (news article here) with the mighty Smoking Pipes.com and Sykes Wilford gang at Little River, S.C. Chris Tarler, who studied the art of tobacco blending and the business side of tobacco under his late father, Craig Tarler, is vice president of C&D manufacturing. He says C&D has three spectacular blends out that will surely capture the imagination of pipe smokers who are building their cellars. Naturally, it's called the "Cellar Series." The three tobaccos are Chenet's Cake, Oak Alley, and Joie de Vivre. All are plug Virginia and Perique tobaccos.
Oak Alley has Latakia added and Joie de Vivre is a burley. The Chenet is named for the farmer Pierre Chenet who began cultivating Perique in a big way in 1824, taking a page from the Choctaw and Chickasaw Indian tribes who were smoking the leaf in St. James Parrish, La., when the first Acadians showed up in Louisiana. The tins with new art labels were on display at the show and will be released within the next couple of weeks. Some 1,500 tins of each have been produced thus far and will be retailed through Smokingpipes.com and wholesaled through the Laudisi Distribution Group, which is part of the Laudisi Enterprise Inc. empire.

Chris Tarler, VP of Manufacturing at Cornell & Diehl with the three new tobaccos;
Chenet's Cake, Oak Alley, and Joie de Vivre.
Tarler, who says Cornell & Diehl had a "blowout" show, says the tobaccos are built to last and last, just right for cellaring. "These tobaccos will cellar and ferment well. It will sweeten and will be really good after three, five, 10 years," he said while relaxing with a pipe in the 6,000-square-foot smoking tent at the show.
His next big release will be a Christmas blend, "We Three Kings," to debut at the International Premium Cigar & Pipe Retailers Association in July at Las Vegas. Other news from C&D is that G.L. Pease will have a limited edition coming out this year. It will be a one-time only edition. And the C&D operation itself will be moving to Little River, S.C., Tarler says, in the future, leaving Morganton, N.C., for the sunny climes of coastal South Carolina.
Lane Limited, spread across two tables at the show, is so proud of its new tinning operation that it is ready to do tinning "from a brand standpoint," says Leonard Wortzel, Vice President of Marketing and Product Development. Take the three new blends in premium tins Lane just brought out to honor its heritage in the Captain Black Pipe Tobacco lineage, Midnight Gold, Red Sky and Black Sea.

Leonard Wortzel (R), Vice President of Marketing and Product Development at Lane / STG discusses new Lane Tobaccos at the Chicago Pipe Show
"New for us is that we have the first U.S. tinning operation [for vacuum sealed, all-metal, European-style tins]. We are the only folks who can do the tinning from a brand standpoint," Wortzel says. With the tinning operation now, Lane can mass-produce tins, he says. "What this allows us to do for the consumer is to bring out boutique and special blends. We can be more creative," he says. The tinning operation, he says, lets Lane tin private labels for cigar as well as pipe manufacturers. It gets Lane back to "what it was. It will allow us to bring back smaller batch items."

Foreground: (L-R) Crown Achievement and the New Captain Black Tinned Tobaccos;
Midnight Gold, Red Sky & Black Sea
Once the mighty Lane had 30 brands, but dropped to around eight. Wortzel says the company, based in Tucker, Ga., has now resurrected three in bulk, as well as the recent re-introduction of tins of Crown Achievement. Crown Achievement is back in bulk, along with a new Latakia and RH-Q3, similar to Lane's Hazelnut. And, Wortzel says, Lane is bringing out a bulk burly and black, which will be 50 percent burley and 50 percent black Cavendish. "Lane is owned by a company (Scandinavian Tobacco Group of Denmark) that cares about tobacco and has a passion for pipe tobacco." STG purchased Lane from Reynolds American Inc., in 2011(news article here). Since then, the buyout has given STG, the largest pipe tobacco manufacturer in the world, a very large footprint in the U.S. market. It has also allowed Lane to "reconnect with our customers," Wortzel says.
The PipesandCigars.com tables, four side-by-side were stationed next door to Missouri Meerschaum's two tables for a very solid reason: P&C's masterful Russ Ouellette and MM have teamed up with just the neatest idea: four new pipe tobacco blends to match three MM pipes, which are new designs, mostly.

The Missouri Meerschaum Tables were next to PipesAndCigars.com for their Team Effort on New Products
(L) Phil Morgan (in white shirt) talks to a customer, and (R) Russ Ouellette fills a bag with free samples
This marriage of MM cobs and tobacco is not only unique, but it is historic (news article here). Not in the 145-year history of Missouri Meerschaum has the company had a pipe tobacco. The tobaccos, though, will only be available at P&C.com. The four tobaccos developed by P&C's Ouellette are a Virginia/perique, a burley, an aromatic and a Latakia tobacco. All of the tobaccos will be in pouches, Russ says.
"The project took a year to develop," according to Russ. "The tobaccos will be named in recognition for a pipe design, such as "Country Gentleman" for the Great Dane pipe. The three new pipes are the Mark Twain, a cob Dublin, the amber-stemmed Huck Finn, a familiar billiard cob shape, and the Tom Sawyer, a small version of the Finn sans amber.
Russ says P&C's latest in the Marquee Series, White Knight, is his tribute to the "old Balkan Sobranie" tobacco and then later this year there will be "three or four" new releases, some under the popular Hearth and Home brand.
Russ is developing a new Vaper blend named for "a specific pipe maker" and will be released at the 30th Anniversary CORPS (Conclave of Richmond Pipe Smokers) set for Oct. 10-12 at the Richmond Convention Center.
In another bit of Russ O. news, he is also working on a tobacco designed just for bricks and mortar shops.
"This will give the B&Ms something they can have that you can't get from an online vendor," he says. He says the brick and mortar idea is a page borrowed from P&C's parent owner, Cigars International of Bethlehem, Pa.
Maxim W. Engel of Pipes2smoke.com says he has just started bringing in Russian artisan carvers. He was bragging about Andrey Savenko. "He makes pretty specific stuff. Tops, 40 pipes per year and you could only get him in Russia," Engel says in his hotel room where the Russians are spread out across the king sized bed.

Maxim W. Engel of Pipes2smoke.com Closes the Deal
Another carver is rather unique, Engel says. "Alexander Sokolik is from Kiev, Ukraine. He says he is just carving pipes and not paying attention to politics." Engel says he thinks he is seeing a trend in "young Balkan" carvers, who are helping each other learn the tricks of the trade. "All of these guys are younger. They are making nice pipes and the prices are good."
The Pipe Guys, Jon Guirguis and Philip Assad, were all about establishing orders for the new and exciting Vincent Manil's special La Brumeuse, the Semois varietal grown only and processed in the Ardennes region of Belgium.

The Pipe Guys, Jon Guirguis (L) and Philip Assad (R) Provided Samples of Semois
and Exhibited the New Bouchons de Semois
Although you could not purchase the Semois, Guirguis and Assad were handing out small brown packets of the Semois. The first pre-order in January is gone and now they expect to have enough on hand to handle new orders. The other news is that the Bouchons de Semois, or "plug" in French, should go on sale in a couple of weeks, Assad says. The small end of the plug fits down into the pipe bowl, almost like a cork. The bouchons are hand rolled and look something like a fat cigar emerging from the top of the pipe bowl.
Brandon S.A. Bellegarde, general manager of the Laudisi Distribution Group, says Savinelli is taking a retro look back to the 1960s with some of its shapes for this year.

Brandon S.A. Bellegarde, general manager of the Laudisi Distribution Group
He also says that a new Japanese pipe lighter, the Kiribi, has three distinct models on the market now: the Ohgi, the Mikazuki and the Kabuto, a really nifty nod to the Samurai helmet horn. They come in silver, brushed nickel, black matte and red, and sell from $85 to $135 on Smokingpipes.com.
Phil Morgan, general manager of Missouri Meerschaum Co., says the company has never had a pipe tobacco blend produced by the company most famous for the corncob pipe. That is all changing this year with P&C's four new blends and the three new pipes to set off the blends.

Phil Morgan, general manager of Missouri Meerschaum Co.
"In our 145 year history, we have never put our name on a pipe tobacco," Morgan says. And after some hefty research, Morgan says the company came up with its Mark Twain "Dublin" cob shape. "Twain almost certainly had to have smoked one of our cobs," Morgan says. "That's because we were the only ones making cob pipes up to 1900."
Twain, known for his wit, humor and devotion to pipes and cigars, was born in 1835 and died in 1910. By that time, the only company making cobs, Morgan says, was Missouri Meerschaum. The Twain pipe is a winner.
Erik Stokkebye of Comoy Pipes and the 4th Generation Tobaccos, says the company is going back to some original shapes and designs for its Comoy pipes. "All are the original Comoy shapes from the 1970s and 1980s. The wood is all natural grain, and all are made in St. Claude, France."

Comoy Tobaccos and Pipes (L), Erik Stokkebye (R) with 4th Generation Tobaccos, Pipes, and a Gorgeous Leather Suede Messenger Bag that holds pipes, tobaccos and even an iPad or similar type tablet.
He also showed off an absolute killer suede leather pipe "messenger bag." It will hold not only your pipe, tobacco tin, but also has a slot for your electronic tablet, plus other pipe paraphernalia. It is quite unique and sells for $130. "You think that is a good price?" Erik asked. You betcha, Erik! In addition, there are fairly new Comoy pipe tobacco tins and bulk tobaccos in the line.
Wrapping up specific exhibitor coverage, Dave Neeb, veteran pipe maker and owner of Mkelaw-Pipes.com says he is seeing roughly 75 to 80 percent repeat customers on his site for estates as well as his own brand of pipes.

Dave Neeb, veteran pipe maker and owner of Mkelaw-Pipes.com
So, now it is off to the Internet to see what new goodies are up and lurking from the sponsors of PipesMagazine.com
[All photos by Fred Brown]
[A general overview of the 2014 Chicago Pipe Show with additional information can be found here]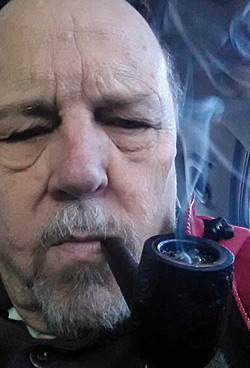 Fred Brown is a journalist who lives in Knoxville, TN. He will write this column for PipesMagazine.com monthly. He can be contacted at
tennwriter@bellsouth.net.
More Pipes and Tobaccos Articles
6 Responses