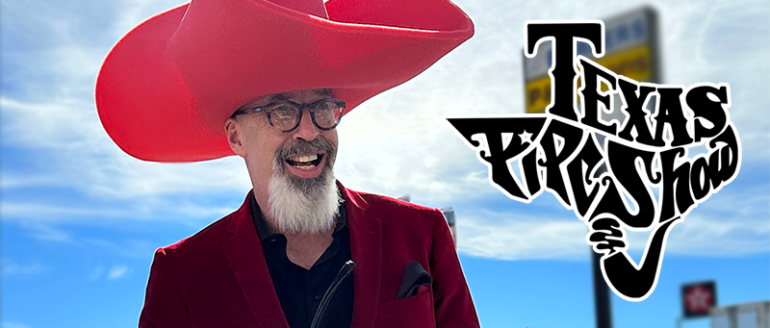 This years Texas Pipe show started out a bit chilly at a balmy 40 degrees. Luckily, it warmed up into the high 50s for the day with the sunshine making it a perfect day in Texas. The quaint "last pipe show of the year," was a great end to the season with carvers and vendors braving the cool morning to show off their new and estate pipes and pipe related paraphernalia.
This was also the first year Kevin Godbee (owner of PipesMagazine.com) made an appearance at the Texas Show. He got a chance to chat with everyone in between judging a cookoff competition at the World Food Championships.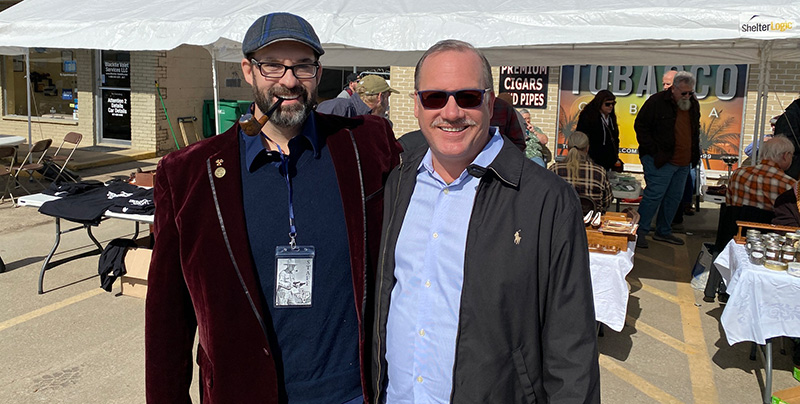 The Texas Pipe Show started as a very small trunk show with a couple vendors like the Pipe Tart stopping in on her annual road trip to visit family. In 2017 the Texas clubs combined forces to put on a larger event drawing from all over the state with the North Texas Briar Club, Dallas Pipe Club [Loan Star Pipe Club], Austin Pipe Club, and the Waco Pipe Club with our local celebrity Steve "The Pipe Stud" Fallon. In addition, the Houston, San Antonio, and Abilene Pipe clubs also made an appearance to throw down a challenge at the slow smoke.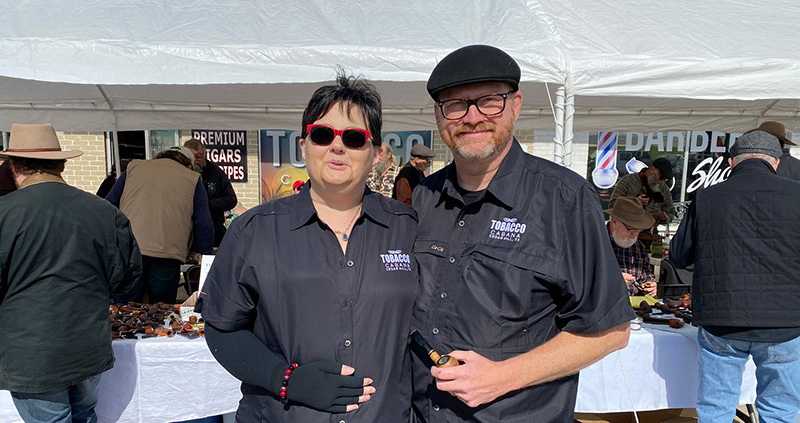 This years show was hosted once again by Rhonda and Steven Rast, owners of
Tobacco Cabana
in Cedar Hill, Texas just outside Dallas and Fort Worth. Hosting the pipe show at Tobacco Cabana allows the show to be free to the public and free to vendors and carvers, keeping the costs low.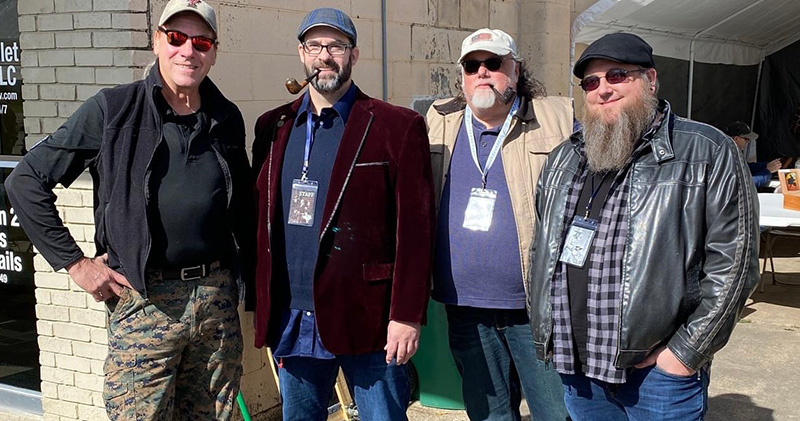 Every year the Texas Pipe Show chooses a charity to work with to donate half the raffle proceeds to. This year the show chose to donate to
Cigars for Warriors
. Executive Admin Assistant Paul Hinman from Cigars for Warriors was onsite checking out the show and snapped a pic with the shows organizers. Cigars for Warriors is entirely volunteer run with no one taking a salary and is the largest cigar based charity in the US.
Cigars for Warriors generally ships out 300-400 boxes of cigars, pipes, and tobacco a month and have shipped over 1.1 million boxes to our active duty soldiers. It's not cheap to send care packages – they can run over $160,000 a year postal bill to ship all the boxes. Proceeds from this years Texas Pipe Show will go to help offset that shipping cost.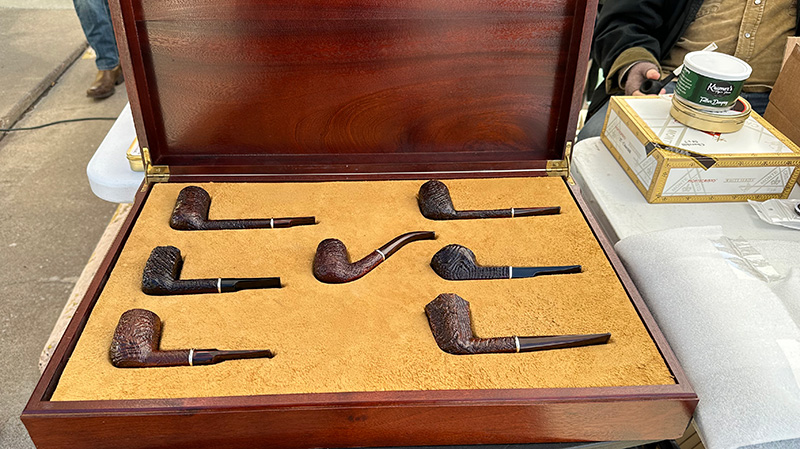 And speaking of proceeds, this year the show had a special raffle with a seven-day Ashton Pipe Set donated by Steve Fallon with a description as such:
William Taylor made 7-Day Wooden & Leather Encased Set of

Ashton

pipes. And Taylor himself, in addition to the pipes, also hand-made the wood & leather topped case that comes with removable legs that can enhance the collection further by the presentation of an "

Ashton

Pipe Table! This fabulous and still unsmoked set of year 1988

Ashton

pipes also have Sterling Silver bands. They enhance each pipe beautifully. Five of these pipes are in Taylor's not often seen Brindle finish and the remaining two pipes are in his Pebble Grain finish. As noted below, all of these pipes are large in size, too. This handsome set comes with Certificate of Authenticity plaque signed by Mr. Taylor himself! Among his many talents, the late William Taylor (dec. 2009), was known for his extraordinary sandblasting abilities, and every one of these pipes do indeed show off terrific sandblasts. The hand made stems are also works of art and made for comfort. And finally, also included will be a plaque from importer R.D. Field, stating that this is the first

Ashton

7-Day cased set ever imported into the USA.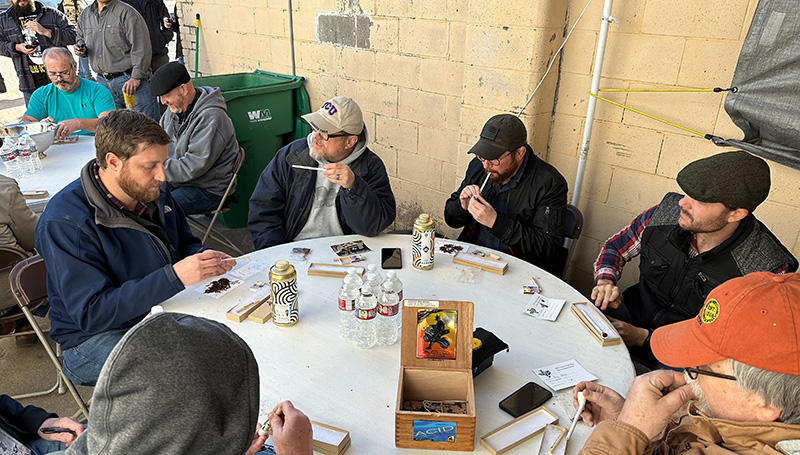 First prize was a pipe donated by Pete over at
Briarworks
which had the Texas Pipe Show Logo etched in the shank as well. Additional prizes donated by The Pipe Tart, Steve Fallon, and STG.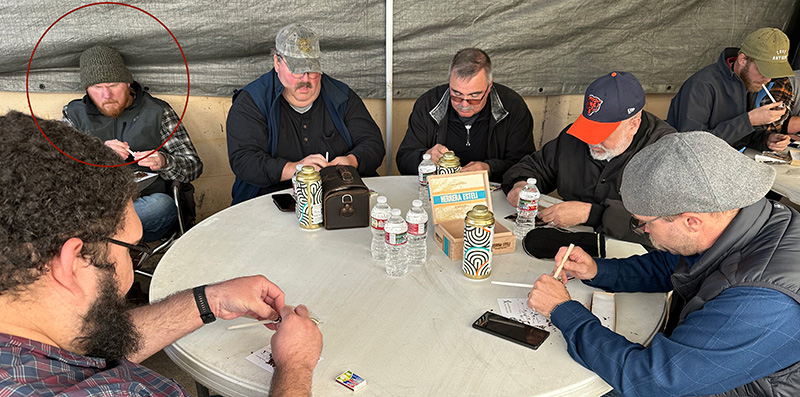 The slow smoke was an officially sanctioned
UPCA
regional competition. But in true Texas style they couldn't be normal. This year they had small clay pipes that were approved by the UPCA. Normally, slow smokes need to be in briar pipes but after chatting with our friends in Europe they agreed that local or regional slow smokes were meant to be community building and not as strict on the rules when it came to pipe choice and cost. So clay pipes it was, and as such, 3 grams of tobacco would not fit in that pipe no matter how hard you tried.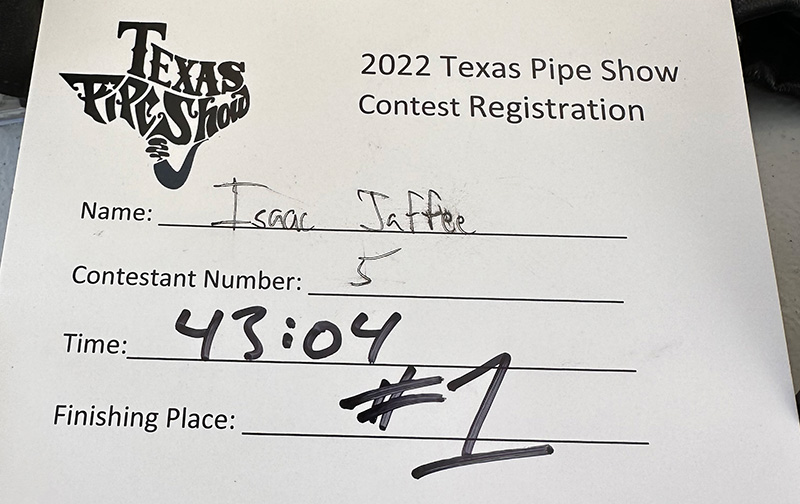 Isaac won the slow smoke with a finishing time of 43:04 which for those pipes was impressive. As a winner at the regional show he's able to compete in Chicago in 2023 and his entry fee is covered.
The show had many familiar faces traveling from all over the US.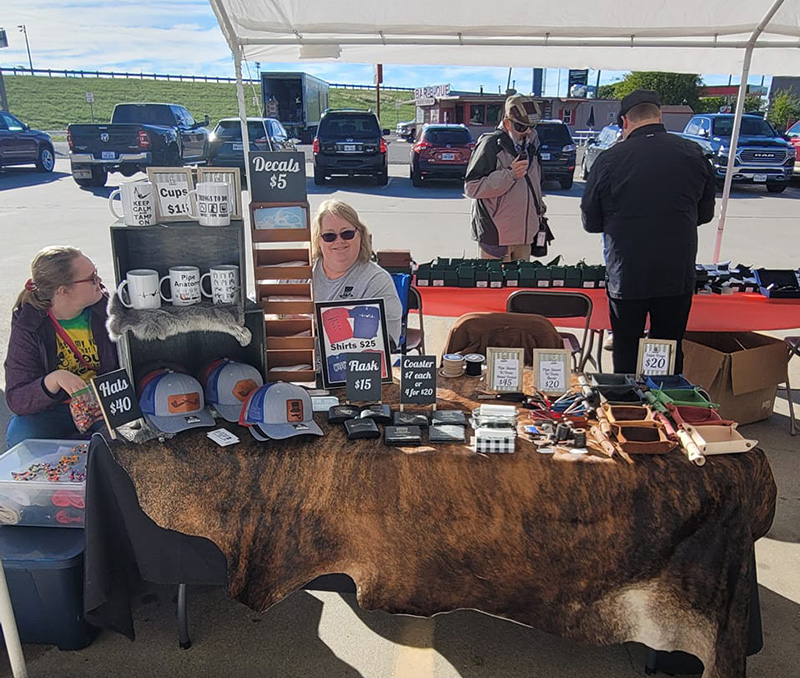 Some new faces as well, selling unique leather products.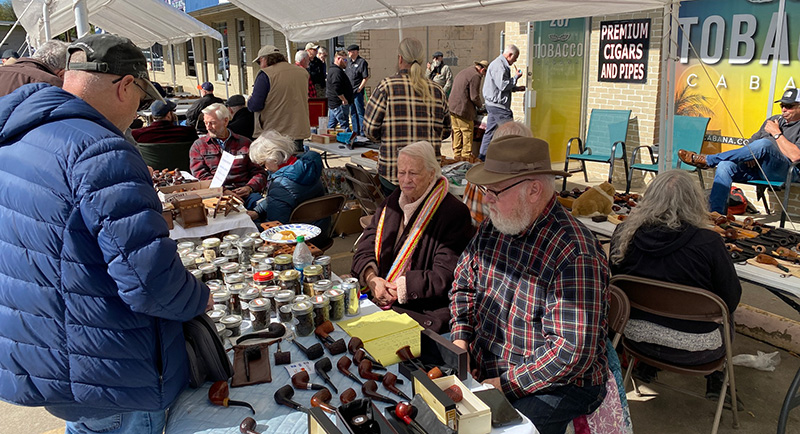 The show already has a date for 2023 and will have some exciting news about the size and scope. It will be held once again in Cedar Hill, Texas on November 11th, 2023 and since it's on Veteran's Day there will be some future updates about the interesting changes coming soon in the new year.
Photo Gallery Below
Credits James Foster, Kevin Godbee
More Pipes and Tobaccos Articles