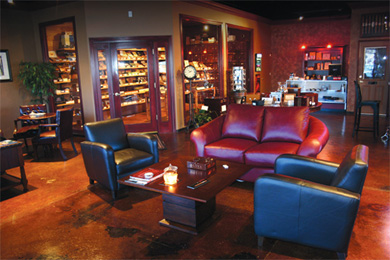 The State of Washington soon may be joining 46 other states regarding smoking ban exemptions for retail tobacco shops and 33 other states exempting cigar lounges from smoking bans, according to local and national groups supporting the exemptions.
Called the Cigar Lounge Bills, HB 1683 and SB 5542 would allow a limited number of endorsements to qualifying cigar lounges and retail tobacconist shops holding retail tobacco products licenses. The House bill is scheduled for a hearing today, Thursday, February 10 at 8:00 a.m. in House Hearing Room 8 of the John L. O'Brien Building in Olympia. The Senate companion bill is scheduled for a hearing by the Labor, Commerce & Consumer Protection Committee at 10:00 a.m. on February 17.
The bills have the support of several local and international cigar-oriented groups led by the Cigar Association of Washington (CAW). Other groups backing the bills are the Seattle Pipe Club, International Premium Cigar & Pipe Retailers Association, the Cigar Association of America and Cigar Rights of America. The groups are calling on Washington residents to show their support for the bills by contacting their respective state legislators.
"All Washington voters – especially premium cigar retailers, cigar smokers, pipe smokers, and non-smokers, as well – should tell their state legislators to vote for these bills because jobs and businesses are at stake as well as significant state revenues which will be generated primarily through licenses and sales tax revenues," said Joe Arundel, owner of Rain City Cigar in Seattle and spokesperson for the CAW.
Arundel calls the bills, "small accommodations of fairness to the current draconian statewide smoking ban which prohibits smoking in public places and should not include cigar and pipe smoking in locations that are dedicated to that purpose."
Arundel pointed out that no more than 100 cigar lounge endorsements and 500 retail tobacco shops throughout the state would qualify for the exemption in any calendar year while the license and user fees are expected to raise some $4 million of which $3.8 million will go to the Passport to College Program while the state liquor board will receive $200,000 to administer the program.
To qualify, cigar lounges and retail tobacco shops must show the liquor board they meet stringent new requirements that include the following:
Physically separated from other areas by solid walls or windows and have self-closing doors
Contain certified ventilation and exhaust systems
Allow cigars or pipe tobacco to be smoked in the designated areas
Post signs indicating cigar and pipe tobacco smoking is permitted on the premises
Not allow anyone underage to enter the establishment
Obtain signed acknowledgments from employees who understand that cigar and pipe smoking is permitted on the premises
Meet strict sales and inventory standards
6 Responses