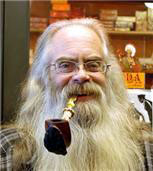 Dave Sprunger was considered a well-liked and respected business owner in the Mount Pleasant, Michigan community by smokers and non-smokers alike.
The owner of the Smokers Club, 100 S. Mission St., died at his Merrill home Sunday evening. He was 54.


David Edel, weekend manager at the Smokers Club, knew Sprunger for 32 years. Sprunger worked at Edel's store in the 1980s.
"He's a one-of-a-kind kind of guy. He always chooses his employees correctly," Edel said. "He would go out of his way to make sure the customer is satisfied."
Sprunger and Edel's friendship went further than just working in the same store. In 1999, Sprunger became the pipe-smoking champion in Midland when he smoked a pipe in 1 hour, 28 minutes and 42 seconds, beating out Edel by five seconds. Edel eventually became the pipe-smoking champion in 2002.
Dave Sprunger's business will be owned by his widow, Kim Sprunger, and their daughter, Melody Moore.
Moore will handle the business transactions for the club, keeping the Sprunger name in the business.
"He's been here for 14 years but he didn't own the store until about four years ago," Kim said. "He added on to the store last year from where the pottery place used to be."
Not only did Sprunger take care of his family and his store, he also strove to take care of those in need.
"He would find people who lost their job to donate to, even if he didn't know them at all, even if he didn't have as much," Kim said. "He was the most generous man I knew."
Sprunger's granddaughter, 19-year-old Merrill sophomore Angel Moore, worked at the store and also appreciated her grandpa's attitude toward his employees and customers.
"He'd thank us every day before he left … If he was working, he would hand out free stuff to people," Moore said. "He would laugh a lot and play the music. It was such a chill setting where he was not strict. He was a really good person, and he is going to be missed."
A pre-funeral visitation will be held 2 to 5 p.m. and 7 to 9 p.m. Thursday at Case Funeral Home, 125 E. Saginaw St. in Merrill.
The funeral will take place 11 a.m. Friday. He will be buried at St. Mary's Cemetery at Merrill and Homer roads. A luncheon will take place after the burial at Mount Haley Township Hall.
Smokers Club
100 S Mission St , Ste C
Mount Pleasant, MI 48858
Phone: (989) 775-8536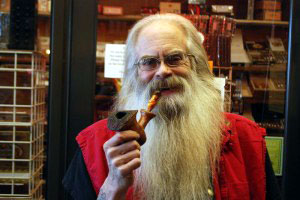 Obituary: David J Sprunger (1956-2011)
3 Responses