Mystery: The Peterson System Stem That Time Forgot
Mystery: The Peterson System Stem That Time Forgot

James Foster, CST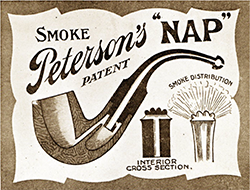 Mark Irwin reached out to me around the end of last year and asked if I would be interested in participating in a project.  When he mentioned it was Peterson project- my interest was piqued immediately. In this case, it's the patent that time forgot which was uncovered by Mark Irwin and Gary Malmberg while doing research for the now released Peterson Book.
I give you the Peterson NAP.  No this isn't a patent on how to take a nap and still smoke your pipe without it falling out of your mouth. Like the Patented System Pipe, you are familiar with – this is a different take on how airflow is pulled into your mouth, and like the strange shape, it definitely has us scratching our heads.

Why did this disappear? Why had we never heard of it? Did it not work as well? We obviously have a lot of questions for Mark and Gary and they have done some initial research but the results have been sparse. I'll outline what they've learned so far.
The Patent and the Name
In looking at the original patent filings, in 1898, Charles Peterson finalized the P-Lip Patent System, but 6 years later he applied for a new system mouthpiece patent – the NAP. He was granted the patent 18 months later and it was advertised in the 1906 catalog.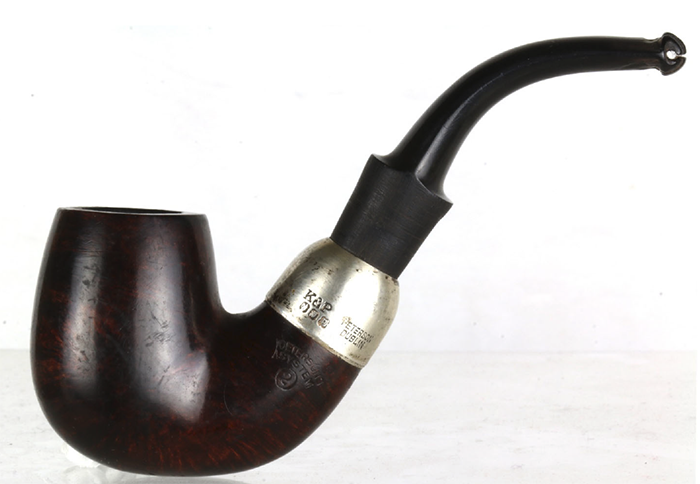 As Mark and Gary were researching this pipe for their book The Peterson Pipe: The Story of Kapp & Peterson they first wanted to figure out the meaning or origin of the name NAP. Gary pointed me to some of his findings in the book as well as documented on his site Peterson Pipe Notes:
The word "NAP," in all caps, baffled us, but with other more pressing matters to contend with, we simply noted it and let it pass. Had we been to the race track, of course, we would have known. NAP comes from British (and Irish) horse-racing slang. According to Wikipedia, "A tipster is someone who regularly provides information (tip) on the likely outcomes of sporting events . . . . A tip that is considered to be a racing certainty . . . is also called a nap [often capitalized as NAP] and tipsters in newspapers will tend to indicate the "nap." . . . Nap (derived from the card game Napoleon) indicates this is the tipster's most confident selection of the day." Hence, when Charles Peterson named his new mouthpiece a "NAP," he was saying that the mouthpiece was certain to win.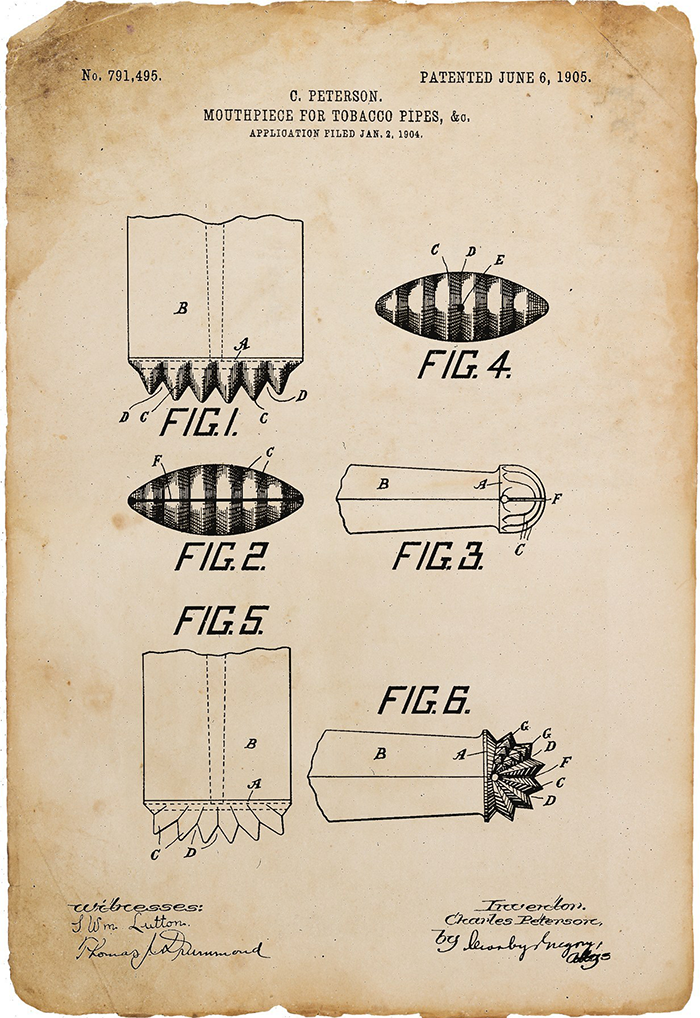 A close reading and inspection of Charles Peterson's NAP patent document will show that when he applied for the patent, he refrained from specifying how many vents (in addition to the two lateral ones) would be cut in production models. The drawings all show five, but the extant examples in amber and vulcanite mouthpieces have only three.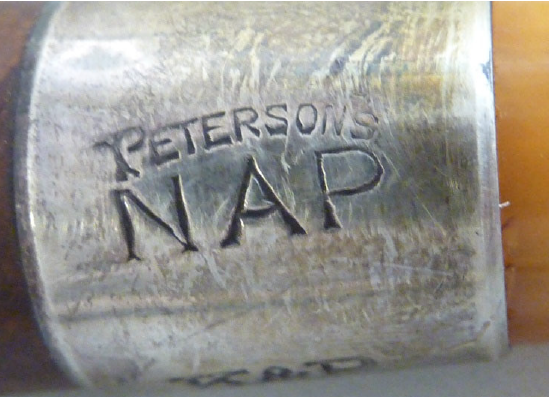 Examining the Stems
Gary managed to acquire and/or view a few amber versions of this stem as well and as Mark puts it "Indiana Jones," a 1920's vulcanite version of the stem. Interestingly, the smoke does not pass over the tip of the tongue like a traditional mouthpiece, nor does it come across the top of the palate like a P-Lip. "Smoke is drawn into the lateral vent cut at the button, then radiates from five points at 36 degrees of separation," Quoting Gary.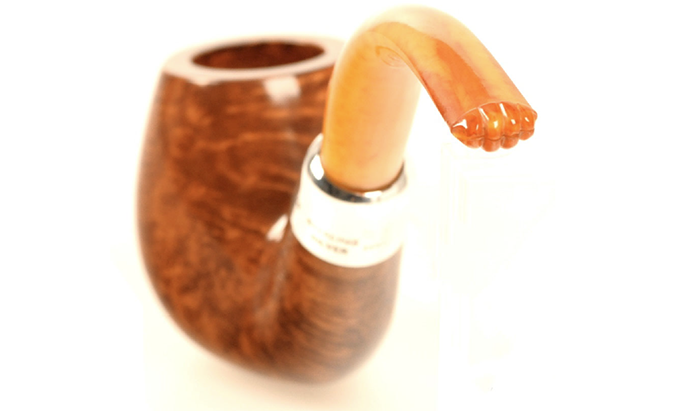 Similar to the original system pipes the NAP stem contains a graduated bore airhole – intended to function with the existing Patent System reservoir. This indicated that it was much drier than traditional mouthpieces – as the moisture is caught by the system reservoir. "The tongue cannot possibly block the flow of smoke, but the flow is so efficiently slowed and dispersed by the NAP shape the tongue is no longer necessary as a valve."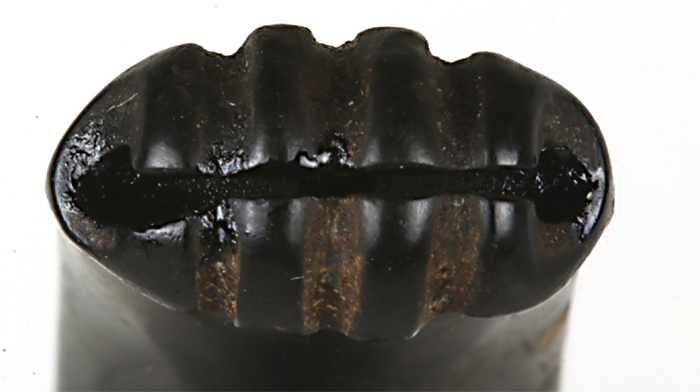 "The NAP is, as may be inferred from Gary's experience, a significantly easier draw than the PLip, and because the smoke radiates, seems by design to be made for sipping. But because of its radial distribution, the smoke has a softer, richer feel and taste than the P-Lip," says Mark.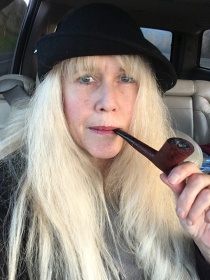 Next Steps
So, what is this project I alluded to at the beginning of the article? Simply this. We want to test some theories and find out for ourselves with new stock whether this type of mouthpiece is workable, better, or on par with the p-lip. Because the stems are not something Peterson has made in maybe 80 years we've had to find a carver who is willing to give it a go-to carve this highly technical stem. Silver Gray, who recently took home the gold at the Las Vegas Pipe Show this past November has agreed to give it a go and she has Gary's 1920's IFS (Irish Free State) System 312 NAP mouthpiece to study and replicate. Peterson has agreed to turn a few bowls and they are now in production to send to her shortly.
What's next? In this multi-part series, I'm expecting some production photos from the Peterson side as well as from Silver, and I'll detail how the reproduction is going. Next will be the test, and hopefully, a panel discussion at this year's Las Vegas show where we'll compare notes. But first, let's hear your thoughts. What do you think, is this stem something you'd try?
Wrap up:
I'd be remiss if I didn't make a note to thank Mark and Gary and their research to expand our knowledge of the history of Peterson Pipes and giving me permission to pull information from their book and website linked above in the article.   Look for the next article on our progress in the summer months.
James Foster goes by the online handle of Pylorns in the forums, and he is the creator of an app for keeping track of your tobacco cellar inventory called The Pipe Tool, serves as the President of the Austin Pipe Club and is a Certified Tobacconist.
More Pipes and Tobaccos Articles
3 Responses