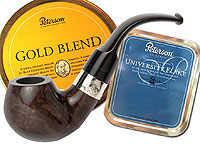 The Peterson pipe company in Ireland is known for producing both high quality pipes and excellent tobaccos. You may have heard of "The Peterson System"? The Peterson pipe is unique in that it is designed to contain an interior reservoir in the shank. This reservoir traps condensed tobacco moisture from the smoke, in turn giving the smoker a cooler and drier smoke. The Peterson System was invented and patented back in 1890. In 1898, Peterson invented the "Peterson Lip" mouthpiece, which directs the smoke up and away from the tongue. The Peterson Lip mouthpiece reduces the amount of saliva entering the stem and provides for a contoured fit in the mouth.
Peterson of Dublin is one of the oldest names in briar pipes. They began as a small tobacco shop in 1865. Friedrich and Heinrich Kapp opened Kapp Brothers as a place to purchase meerschaum and briar pipes. Charles Peterson, a pipe maker, approached the brothers with a new pipe design and a plan for a partnership. They named the new company Kapp & Peterson.
Kapp & Peterson became Dublin's most respected pipe and tobacco manufacturer and eventually evolved into Peterson of Dublin. Today, the many styles and shapes of Peterson Pipes are very traditional in nature and are wonderful representations of pipes from the 19th century.
Here is a diagram showing the Peterson System and an actual pipe cutaway.
Cutaway of a Peterson Pipe
Peterson System
(Click for larger image)
Peterson Tobaccos come in a variety of styles, such as; Aromatics, Latakia, Flakes, Traditional Blends, and there is a Limited Edition – Special Reserve 2009.
So far on this site we have reviewed the aromatic Luxury Blend and the flake style Irish Flake. We have smoked several others and have reviews on the way as of this writing. This article will be updated with links to future reviews when they appear.
Angela Fortune from Peterson Pipes was gracious enough to provide The Peterson 2009 Catalog in a free downloadable PDF here – The Peterson 2009 Catalog.
Peterson has also granted Pipes Magazine permission to publish their DVD "Making of a Pipe" for your viewing pleasure here.
"Making of a Pipe" for your viewing pleasure here
You can see Peterson of Dublin's website here: http://www.peterson.ie/
If you are interested in ordering Peterson Pipes and Tobaccos online, here are some links to different products.
Peterson Tobaccos at PipeTobacco.com
Peterson Pipes at Tobacco-Barn.com
Written by Kevin Godbee
Publisher & Founder of PipesMagazine.com Certified Master Tobacconist (CMT) #1858 from TobacconistUniversity.org
My grandfather didn't smoke a pipe, but my uncle and some of my elementary school teachers did. In 1998, my neighbor Sam invited me out, and we ended up back at his place where there was a cigar humidor, and pipe rack on the coffee table. I had my first cigar, and then decided to try pipes too. I love the elegance and relaxation of smoking a pipe. In 2002, I started learning how to make websites, do SEO, and create content. I had a cigar content site and forums from 2005-2008 when it was bought out. In 2009, I launched PipesMagazine.com, which is now the largest, busiest community forums, and article content site for pipe and tobacco enthusiasts. We have one of the longest running pipe and tobacco focused podcasts since 2012 with lifetime industry veteran, Brian Levine.
View all posts by: Kevin Godbee
More Pipes and Tobaccos Articles
2 Responses
Site Sponsors
Recent Posts
March 10, 2023

You Have HOW Many Pipes?

I actually don't really know. I mean, I have some vague idea, more of a guess, a sort of order of magnitude dart throw. I swear, this isn't a point of pride or some kind of bench racing brag, but rather something closer to embarrassment. As I wander through the boxes, racks, pouches, bags full of pipes, in an attempt to 1) get them into a semblance of order, and 2) think about thinning the herd a little, it's feeling a little daunting. Worse, it's not the first time I've been through this, and I'm afraid it might not be the last. It all began at a time when I would answer the question, "How many pipes do you need?" with the ever so witty, "Just one more." I know I'm not alone there. I sometimes feel like there should be a twelve-step program for the pipe acquisition afflicted. But, they're such compelling little things; tiny works of functional art, where the beauty of the wood and the skill of the maker come together to yield something that's too often hard to resist. I easily recall my early days as a young pipe smoker, enthusiast, burgeoning collector, fanatic, whatever I was at the time. I was full of wild enthusiasm towards building up a good collection. It began with just wanting a nice seven-day set, so I could let my pipes rest a week between smokes as I was told was necessary for optimal smoking. That happened fairly quickly, though my seven pipes weren't all anything to be truly proud of. Then, I wanted enough pipes for two weeks, because I began to think that if one week of rest was good, two would surely be better. After that, it really did seem a good idea to have different pipes for different types of tobacco. (I still adhere to this notion fairly strictly.) And, then there should be smaller pipes for shorter smokes, larger ones for the longer, leisurely periods. See where it starts? When we're told that a seven-day "set" is an almost necessary practicality, at least if we're going to truly enjoy smoking a pipe on a daily basis, "they" might as well give us the first one free. The seven-day, at least for me, quickly revealed itself to be a gateway drug, leading me by the hand down a dark corridor to a much more sinister affliction. So, thus disordered over the years, I've found myself collecting brands, makers, pipes from specific countries, shapes, finishes – if there's a way to categorize pipes, I've probably at some point had a sub-collection specializing in that particular categorization. I'm a pipe nerd; things like this are bound to happen. At some point in the journey, I had the bizarre notion that if I ever were ever to reach 100 pipes, I'd surely have enough, and I could stop looking for new ones. Or, perhaps better still, the collection could remain at or near that figure by careful selling and trading. This delusional strategy worked just fine. Until it didn't. The collection continued to grow. More and more of the pipes in my collection began to take on some sort of emotional value. I've mentioned in the past that pipes can be talismans of events, or even more importantly, of people. Recently, I was reminded of an old friend who sold me a very special Castello 55 from his own collection. He is no longer with us, but that pipe will always remind me of him, of his vast knowledge, freely shared, of Castello pipes. I now have a lot of pipes like that. Some of them I smoke regularly, and the idea of parting with them never even occurs to me. Others, I don't, for whatever reason, but when I think about putting them on the block, they whisper their stories in my ear, and back they go until the next round. The century mark has long ago come and gone. A bunch of years ago, I was fairly successful in weeding the garden a bit, selling off quite a few, and feeling quite proud of myself for thinking that, just maybe, I might once again find 100 pipes in my collection, this time coming at it from the other direction. I'm sure it's no surprise that this hasn't happened. What's wrong with having so many, some would say too many pipes? It's hard to find an answer I can really live with. I suppose perhaps the worst thing is that some of them, even the special ones, might be too-long ignored. Maybe this isn't really a bad thing. Once in a while, there's the opportunity to rediscover some old gem, listen again to the stories it might tell, put it into rotation for a while, and experience it all over again. Maybe it's just keeping track of everything amidst my disorganized chaos, or finding suitable ways to display them all, while keeping them clean and dusted, or just finding them if they're bagged up in their fancy leather gloves. Maybe it's just me fostering feelings of excess, latent notions of decadent overindulgence. I should talk with my therapist about that. What I do know is that no matter how, or how many times I examine my "condition," the same conclusion persists. I have a lot of pipes, and it's highly likely that this will not only be an enduring condition, but it's probably only going to get worse. There are times when a particular piece just stops speaking to me, and even that can be a problem. In the past, I've too hastily sold off or traded a piece that no longer felt special, only to years later regret parting with it, wishing I'd kept it. Or worse, scouring estate pipe offerings looking for it, or at least a suitable stand-in. There was this lovely old Charatan Executive, you know, and a pair of Larsen bulldogs, one straight, the other bent, that were different from any seen […]