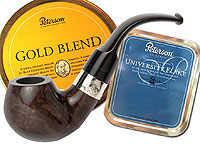 The Peterson pipe company in Ireland is known for producing both high quality pipes and excellent tobaccos. You may have heard of "The Peterson System"? The Peterson pipe is unique in that it is designed to contain an interior reservoir in the shank. This reservoir traps condensed tobacco moisture from the smoke, in turn giving the smoker a cooler and drier smoke. The Peterson System was invented and patented back in 1890. In 1898, Peterson invented the "Peterson Lip" mouthpiece, which directs the smoke up and away from the tongue. The Peterson Lip mouthpiece reduces the amount of saliva entering the stem and provides for a contoured fit in the mouth.
Peterson of Dublin is one of the oldest names in briar pipes. They began as a small tobacco shop in 1865. Friedrich and Heinrich Kapp opened Kapp Brothers as a place to purchase meerschaum and briar pipes. Charles Peterson, a pipe maker, approached the brothers with a new pipe design and a plan for a partnership. They named the new company Kapp & Peterson.
Kapp & Peterson became Dublin's most respected pipe and tobacco manufacturer and eventually evolved into Peterson of Dublin. Today, the many styles and shapes of Peterson Pipes are very traditional in nature and are wonderful representations of pipes from the 19th century.
Here is a diagram showing the Peterson System and an actual pipe cutaway.
Cutaway of a Peterson Pipe
Peterson System
(Click for larger image)
Peterson Tobaccos come in a variety of styles, such as; Aromatics, Latakia, Flakes, Traditional Blends, and there is a Limited Edition – Special Reserve 2009.
So far on this site we have reviewed the aromatic Luxury Blend and the flake style Irish Flake. We have smoked several others and have reviews on the way as of this writing. This article will be updated with links to future reviews when they appear.
Angela Fortune from Peterson Pipes was gracious enough to provide The Peterson 2009 Catalog in a free downloadable PDF here – The Peterson 2009 Catalog.
Peterson has also granted Pipes Magazine permission to publish their DVD "Making of a Pipe" for your viewing pleasure here.
"Making of a Pipe" for your viewing pleasure here
You can see Peterson of Dublin's website here: http://www.peterson.ie/
If you are interested in ordering Peterson Pipes and Tobaccos online, here are some links to different products.
Peterson Tobaccos at PipeTobacco.com
Peterson Pipes at Tobacco-Barn.com
More Pipes and Tobaccos Articles
2 Responses