Dunhill Pipe Tobacco Returns to the US
Dunhill Pipe Tobacco Returns to the US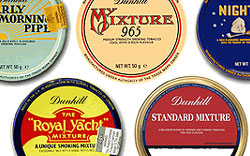 There have been rumors in the past, but this time it is true. We have it straight from British American Tobacco, the owners of the Dunhill Tobacco trademark – Dunhill Pipe Tobaccos will once again be available in the United States, most likely in September 2010.
Last week I was in Denmark with Sykes Wilford from SmokingPipes.com. Part of our trip consisted of touring the Orlik factory, which is one of the largest pipe tobacco factories in the world. Mr. Troels Mikkelsen, the Factory Manager, took Sykes and I on a tour of the factory. (We will have pictures and videos of the Orlik factory in future articles). During the factory tour he mentioned that they would start producing Dunhill Tobaccos in August for the US market, and suggested we get official word from headquarters.
He connected us with Mr. Richard Henger from BAT in Holland. We spoke to him on the phone and he confirmed that Dunhill was coming back to the States.
Today, we received word from Patrick Smith from BAT in Switzerland and he provided the following:
———————————————-
"No other pipe tobacco brand matches Dunhill's sense of craftsmanship, heritage and tradition. The eclectic range we have chosen to re-launch comprises a number of classic blends such as 'My Mixture', which dates back to the days when personalized blends were created at the Dunhill shop. Of course, some of the variants in the range are allowed to express their unique personality and usage occasion through quirky and ephemeral design executions.
1. Dunhill Pipe Tobacco will be on show at the IPCPR Show in New Orleans in August and more fully available in September 2010.
2. The importer will be CAO, and discussions are finalizing in regards to prices.
3. The skus are attached."
———————————————-
Dunhill Pipe Tobaccos have been world-renowned for decades, and Americans have been yearning for their return after an absence of about two years.
The Dunhill Tobaccos that are coming back are; Dunhill Early Morning Pipe, Dunhill My Mixture 965, Dunhill Night Cap, Dunhill Royal Yacht, and Dunhill Standard Mixture.
UPDATE July 28, 2010 – After hearing rumors of more than the five blends listed above, we checked with BAT and were informed of the following … see below …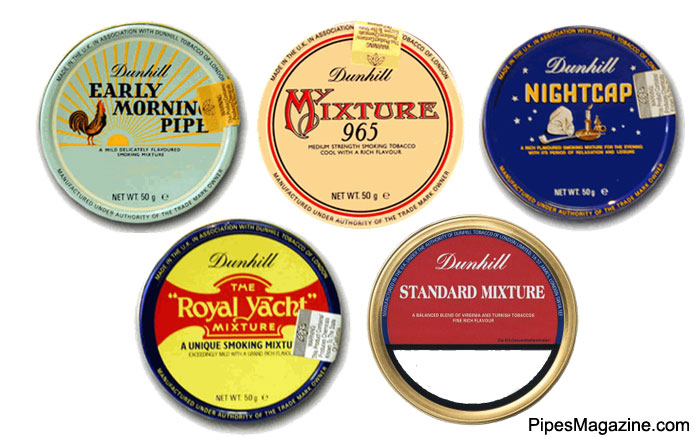 "The initial outlay on show in New Orleans will be five skus, as shown. After the show and based on demand, there are four more distinct skus to be added and that will be available, along with the 5lb bag of three. More specifically;
At the Show:
50g
Early Morning Pipe
Standard Mixture Medium
Nightcap
The Royal Yacht
My Mixture 965
Later on, we will add:
50g
Dunhill Flake
Dunhill London Mixture
Dunhill Standard Mixture Mellow
Dunhill Deluxe Navy Rolls
…and we will also have
5 lbs
Dunhill Early Morning Pipe
Dunhill My Mixture 965
Dunhill Nightcap
More Information on Dunhill
27 Responses