I just recieved a Savinelli Cricket pipe today. I had been wanting to try one out for quite a while now.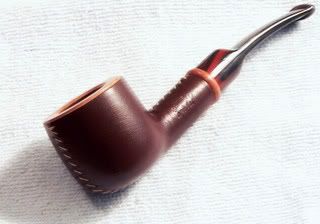 There's just something homey about a leather covered pipe. I'm aware of all the down sides about leather covered pipes, but I still find them intriguing.
You picture a paneled den and leather arm chairs, and a glass of single malt on the tabel.
There are gun cases, and a fireplace. Pictures of your champion Llewellin setters on the walls, and so forth. Just the perfect setting for a nice relaxing smoke.
Oh well, I don't have a paneled den, my guns are locked away in a safe now, and my setter has been gone for many years, but you get the picture.
Anyway, about the Cricket pipe. It is very light and feels good in the hand. The stem looks to be a cheap plastic Cumberland imitation.
There is a coating inside the bowl which I usually don't care for. The leather seemed to be very thin. The stitching looks cheaply done.
The only other leather covered pipe I have to compare it to is a Longchamp pipe made during the 60's I think.
I have included both in the photos. The stitching on the Longchamp looks much better done, and it has lasted quite well, given the age of the pipe. The leather also appears to be slightly thicker.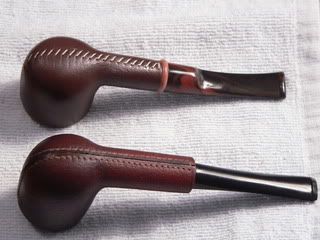 I haven't smoked the Cricket yet. I usually trust Savinelli to do a good job with their pipes. Hopefully this one will not prove the exception.
It looks cheaper made than the Longchamp, but looks can be decieving. I will put it through it's paces pretty soon.
Happy smoking.