Fred Brown

For the pipe smoking world, 2013 hasn't been much of a "smoking" ("hot") year.
Oh sure, recently we've had plenty of innovation (and re-innovation) in tobacco blends (Three Nuns and Capstan redux come to mind). And there have been vast strides made in pipe-making from absolutely astounding artisans.
The crafts of tobacco-blending and pipe-making are in a kind of renaissance, maybe even an artistic revolution. Perchance it's not too far off to say that pipes and tobaccos are going through an Age of Enlightenment.
Even though truly masterful pipes are being turned out and tobacco blends have never been better, the truth is that all is not well in tobaccoland.
Pipe smokers are perhaps the last family of independent thinkers on a global scale. And in 2013 they were firmly placed on the endangered species list.
With rising complaints from the antis, pipe smokers, Homo sapiens Erica arborea, have existed under a black cloud for many years now, but 2013 became an exceptionally bad time for the genus.
You could almost hear the thump, thump, thump of the big footfalls coming up behind us. The big boys, the really big boys, are after the lowly pipe smokers—men and women who simply enjoy a pipe bowl of tobacco leaf from time to time.
Congress, when it wasn't shutting itself down or shooting itself in the foot, took dead aim at pipe tobacco this past year. The Food and Drug Administration changed heads, from a scientist to a lawyer, and began tightening its grip on tobacco policy enforcement.
Two bills made it to Congress in 2013 that, if passed and signed into law, will rearrange the furniture in retail and online tobacco shops and alter pipe smoking as we know it.
That bit of news set off a feeding frenzy of sorts within the pipe smoking community, which has seen the enemy and produced hoarders of pipe tobacco. We discuss how much poundage we have in our cellars on popular forums. Good grief, Charlie Brown.
We talk of pounds of tobacco being squirreled away in our homes, man caves, (man caves!), in closets, beneath beds and in Styrofoam coolers!
On some pipe forums (PipesMagazine.com in particular) the hoarding has even taken on drama. We are hoarding tobacco to stay the time of the "Tobaccolypse."
At the first whiff of rising taxes in late 2012 and the first of 2013, pipe smokers began buying up large quantities of tobacco tins and bags, hoping to create a buffer between themselves and the perceived coming tax increases and hikes in pipe tobacco prices.
Much of the recent scare derives from two congressional bills now inching their way through congress.
But, if either of these ill-begotten bills becomes law, then the "Tobaccolypse," will transfigure itself from mere bad dream to reality.
One of the worst bills was authored by U.S. Sen. Frank Lautenberg, D-N.J., near the end of April. Introduced as the Tobacco Tax and Enforcement Reform Act, what this bill does essentially, among its more draconian elements, is increase federal excise taxes on pipe tobacco.
You can read the bill's summary here.
The Tobacco Tax Equity Act of 2013 was authored by Sen. Richard Durbin, D-Ill., the congressman pipe smokers love to hate.
This bit of skullduggery legislation would amend the Internal Revenue Code to provide what Durbin calls the "tax rate parity among all tobacco products."
Durbin's tax rate parity would tax pipe tobacco and roll-your-own tobacco at $24.78 per pound instead of $2.8311 per pound as it is today.
And the bill finishes up with this flurry, in very clear, uncluttered terms, defining for all to understand just what a tobacco product is: "The term `tobacco products' means "(1) cigars, cigarettes, smokeless tobacco, pipe tobacco, and roll-your-own tobacco, and "(2) any other product containing tobacco that is intended or expected to be consumed."
And, if you don't quite grasp the above language, Durbin added that "Any product" described in his bill that the Food and Drug Administration has declared to be a tobacco product, will be "taxed at a level of tax equivalent to the tax rate for cigarettes on an estimated per use basis."
Both bills, by the way, were helped along by some crossbreeding. Lautenberg received co-sponsorship service from Sen. Durbin and Durbin's doozy was co-sponsored by Lautenberg.
Both of these alarming bills are in committee, which means they could remain in the form in which they are currently constructed, or they could come out wobbling in some new zombie-like feature added on by some other congressmen.
Looking ahead to the New Year there are some really bright and fun spots, maybe even some "smoking" hot spots.
Some of the pipes being created today are, well, phenomenal. Of course, classic shapes abound. The Italians continue to just chisel out beautiful pipes with some sort of old world magic, and English and other Euro-craftsmen are solid.
But many of the Euro-innovators, like Alex Florov, fashion pipes that look as if they might just take off and fly away. They are just incredible to study and to wonder, "How did he do that with a briar burl?"
If you search Smokingpipes.com on the Internet and run across the Ukrainian artisan Konstantin Shekita, you might just scratch a hole in your head attempting to figure out how he found a way to weave pipes like rattan strips. Amazing work!
Some of the artisan offerings from Maigurs Knets of Latvia, who SMC says he "interprets the classics into very Art Nouveau sculptures," appear as if they might run off instead of walking away.
Werner Mummert, a German pipe-maker, has some creations that seem to have been speared right through the gullet in some sort of "Hunger Games" contest. Other pipes off his workshop table make you think of some industrial-strength thing with green and orange and yellow squares. Awesome!
And, of course, there is the steampunk pipe movement. Honestly, those are the Megalodons of pipe smoking. But, they are fun, fun, fun. Many of the pipes resemble steam pipes screwed together with elbow joints.
And then there are any number of fine craftsmen who take on the whales and blowfish shapes. These are not your grandfather's pipes.
Yes, the art of pipe-making and tobacco-blending are still in good hands. We have a great year ahead, a "smoking hot" (not bowl hot, that is) year.
That is, if we can just keep politicians from trampling all over our precious tobacco leaf, our rights and trying to wipe us out, making us endangered no more, but extinct.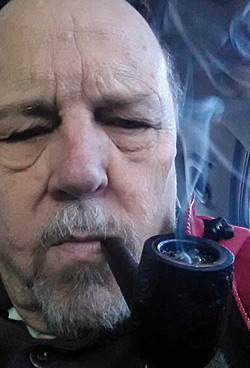 Fred Brown is a journalist who lives in Knoxville, TN. He will write this column for PipesMagazine.com monthly. He can be contacted at
tennwriter@bellsouth.net.
13 Responses