Fred Brown

Gather around, boys and girls. I've got "Breaking News," as they say in TVland. You really don't want to miss the Chicagoland Pipe Show this year, if only to take a gander at a tin of tobacco that sells north of $1,000.
Granted the tin is 1 kilogram, or 35 ounces, and if my math is correct, that comes to more than $28 per ounce. The huge Scandinavian Tobacco Group (STG) has produced the blend, W.O. Larsen Hand Pressed. The tobacco comes in its own "handcrafted humidor."
The only information I could find on the tobacco comes from a United Kingdom E-zine, The Moodie Davitt Report, in a story by Colleen Morgan, the zine's associate editor.
Morgan wrote that the new blend is a one-of-a-kind tobacco employing very old techniques that were outdated long, long ago.
Using a hand press to compress the tobacco, Morgan writes that STG used 21 blends of tobacco that have sweet gale, a "bog myrtle" or aromatic shrub found in marshes. The lance-shaped yellowish sweet gale leaves were handpicked from Denmark's marshlands.
Morgan reported that only 200 of the handcrafted humidors full of the rare tobacco, blended by Master Blender Lasse Berg, will be sold to the public.

Craig Cobine (Chicago Show Director) &
Brian Levine (Sales Director Sutliff & Mac Baren, and Pipes Magazine Radio Show Host)
Dang, I was hoping to stock my cellar with the rare leaf!
OK, now that your jaw is firmly on the floor, here are a few more of Chicago's door buster newsy notes:
This year's 21st Chicagoland International Pipe and Tobacciana Show has more vendors than ever before, according to show director Craig Cobine. He told me he has had to "halve" some tables to get in 30 additional vendors over previous years. Show sponsor the Chicagoland Pipe Collectors Club has never sold a half table before, Cobine says, even though some vendors shared the cost of a table in the past.
There will be 314 tables this year, as compared to around a normal 302, Cobine said. By the way, if you would like to know more about the show's history, there is some really great material on the CPCC website.
Meerschaum pipe lovers will have a new feature to sweeten their visit: artisan meer carvers direct from Turkey are scheduled to carve the White Goddess of pipes, to which some of us are slaves. Also, there will be more meer tables than in the past.
The normal pipe collection displays during the show will have some "important" presentations. Five club members of the Washington County Pa., Pipe Club will exhibit their collection of Northern Briars pipes by Ian Walker. Walker "has been a stalwart (of the show) for many years," Cobine said.
Tsuge Pipe Co. will also have a display to celebrate its 80th anniversary, Cobine said. "Tsuge has been a mainstay of Japanese pipe making. They will have a selection to celebrate that anniversary."
Joerg Wittkamp from Germany is scheduled to bring a display of Ivarsson-made pipes, including Sixten Ivarsson, Nanna Ivarsson, and Lars. He will also have pipes by Jess Chonowitsch and others. The collection will have 15 pipes from each of the famous carvers. "This will be a very grand display of some of the most treasured Danish pipes. This is not to be missed," Cobine said. "A collection such as this is rare. These pipe collections will all be under glass."
This year's 21st edition presents a wonderful opportunity for both buyers, looking for that perfect pipe, and the collector, Cobine said.
That's because there are more tables, with half-tables and a range of more than 40 vendors. And this will be a great year for the meer lover as well, Cobine says.
"Last year we had three meer vendors. This year there are six, and most of them have a whole table, or 24-square feet of meers."

Leonard Wortzel, STG Lane
In addition, this year there will be two tables for cobs and a couple of clay pipe manufacturers.
Many new carvers, both American and European, will be showing off their wares. And there is the always-popular pipe carving seminar with about a dozen students signed up.
Cobine added that many of the past carving seminar students are now journeyman pipe makers, selling their own productions.
Teaching this year's seminar will be Mike Butera, Joe Nelson and Lee Erck.
"In addition, many of the high-end pipe makers often stop by the sessions to lend some assistance, critique and offer ideas," said Cobine."
The show's growing success is due in part to the growth of the hobby. For the pipe smoking public, Cobine says, this will be the largest show the CPCC has staged. It will also be great for collectors, since more vendors will be on hand.
Part of the increase in vendors, Cobine says, is that for the first time, vendors were able to register online. This, he thinks, brought in the Turkish carvers.
"We've never had the show online where you could register electronically. I think that opened up the potential for more vendors. We now have exhibitors coming from Eastern Europe. They are newcomers. We've never had that before."
And, of course, it's not just pipes that will make things interesting. The huge smoking tent will be open.
Many of the nation's finest tobacco manufacturers will be on hand, and perhaps introducing a new blend just for the show. That usually happens, Cobine says.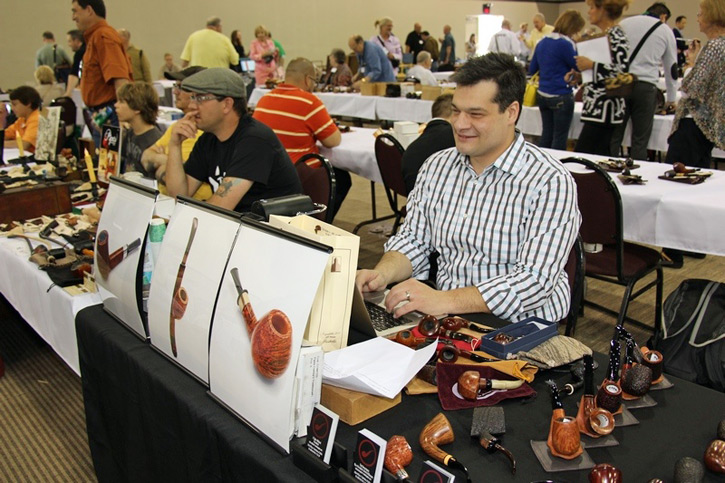 Sykes Wilford, Founder of SmokingPipes.com
And this year, there is a class on blending personal tobacco recipes titled, "Intro to tobacco blending or home blending 101." The day-long seminar is set for 10 a.m. to 4 p.m. Thursday, April 28, in the smoking tent.
The class is limited to 32 participants and cost is $35. To register, contact Tom Dinelli at tdinelli633@gmail.com.
What will make this fun is that the glib and ever-popular Brian Levine, host of the weekly PipesMagazine's Radio Show, joins Per Georg Jensen of MacBaren Tobacco Co. as the leaders of the leaf for blending magic.
And just to tie it all together, your hard-working, erstwhile correspondent, better known as the Pipe Pundit, will be in St. Charles, Ill., for this 21st edition of the Chicagoland International Pipe and Tobacciana Show.
The Pundit will be reporting on all the pipe doings at the Mega Center of the Pheasant Run Resort in St. Charles, Ill., exclusively for PipesMagazine.com.
And, naturally, the Pundit will roam the Smoking Tent for tobacco scoops and all the news that you can stand with one bowlful.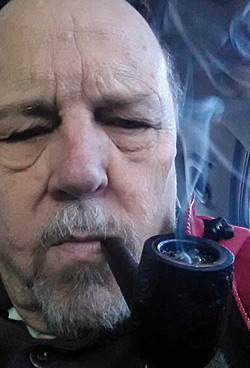 Fred Brown is a journalist who lives in Knoxville, TN. He will write this column for PipesMagazine.com monthly. He can be contacted at
tennwriter@bellsouth.net.
5 Responses