Fred Brown

First, a few words from the old newspaper cynic, author and official American curmudgeon, H.L. Mencken (1880-1956), the "Sage of Baltimore":: The most dangerous man to any government is the man who is able to think things out… without regard to the prevailing superstitions and taboos. Almost inevitably he comes to the conclusion that the government he lives under is dishonest, insane, intolerable. And one more blast from Mencken before we begin in earnest: Democracy is the art and science of running the circus from the monkey cage.
Call me an alarmist, but I fear for our future. As I see it, our prospects play out like this: As go cigars, so goes pipes and tobacco.
How is this for the way things work: At the same time America is normalizing relations with Cuba, it is telling the premium cigar world that maybe it would be a good idea to start digging a hole and to place a phone call to the florists for the funeral!
Now, everyone who hasn't been under a rock knows that the best cigars in the world come from—let's hear it—"Cuba!&quot: And most of those brands are premiums, right?
Does this make any sense? Just when America is coming around to fixing relations with a close-by neighbor who just happens to have the finest cigars and best cigar rollers on the planet, our government in all of its regulatory nonsense is about to put the kibosh to premium cigars by initiating iron-fisted tobacco regulations through the Food and Drug Administration.
Some of us have waited more than 50 years to get cigars from Cuban legally. (Note: Legend is that when President Kennedy initiated the "all trade&quot: embargo in 1962, he sent his staff out in Washington to buy up all the Cuban cigars they could find. Just saying.)
And now when you think the ghosts of the past are about to float into the firmament, the government sends out a gremlin to run you down.
And get this: In Denver, weed smokers are pushing to be able to smoke their joints in bars and pubs.
If that flies in the Mile High City (which takes on new meaning today), then that will grant you the right to smoke weed in a bar while at the same time preventing your lighting up a cigar or pipe. Yeah, that makes sense. You talk about crass hypocrisy?
Maybe we all should move to Denver!
But, here is why I am so upset: if the FDA is able to go through with some of its complicated options (Option 1 and Option 2) of its proposed regulations that define premium cigars as any rolled up wad of tobacco costing $10 or more as "premium&quot:, you will see the start of the end of days. There are plenty of really, really good cigars under a 10-spot, which could mean those "cheapies&quot: will face the FDA wrecking ball if produced after 2007.
So, does the "exemption,&quot: as FDA describes it, mean that anything under $10 and not being sold as of Feb. 15, 2007, (the date FDA picked as a grandfather clause) will have to go through a "premarket tobacco application?&quot:
Naturally, the premarket gibberish will cost the manufacturer thousands of dollars, time and effort to get FDA approval for a cigar that costs, say, $8.
Of course, since we are dealing with a colossus of a bureaucracy all this could change, and probably will before the ink dries on this column.
Can you see how disruptive these actions could be for not only for the manufacturer but also the merchant? If enacted, thousands of jobs will be lost in the U.S. and the Caribbean, and this at a time when we are telling Cuba that we are friendly neighbors again!
But, wait, that's not all. If the FDA can do that to premium cigars, its Center for Tobacco Products will next turn its guns on pipe tobacco. Legislation is already scooting around halls of Congress that would make coming out with new pipe tobacco blends sound like making a loan to Greece: you pay in gold and get nothing in return.
Let's face it. The tobacco picture today in America is as "F.U.B.A.R.'d&quot: as Donald Trump's hair.
I'm not making another push to hoard your pipe tobacco and cigars. Lord knows, I have a cellar full of pipe tobacco and enough humidors humming away to make Churchill giddy with delight. Simply put, I'm done with the cellaring (maybe), since I believe I'm ahead of the FDA hammer.
It is down to this: If I wish to smoke my pipes and cigars in peace and tranquility, why can't you (the anti-zealots) leave me be? I either smoke outside on my deck, or in a cigar shop where I am amongst kindred souls.
And here are a couple other anomalies that haunt me: If tobacco and nicotine are so bad for you, why aren't the Regulators falling in on weed smokers? THC (delta-9-tetrahydrocannabinol, the main component responsible for marijuana's mind-altering effect) has got to be worse than nicotine, depending upon your point of view, right?
And now, the FDA is running after the electronic cigarette smokers. They just woke up to the fact that if high school and middle school kids can't smoke mom and pop's cigarettes, they will buy e-cigs with who knows what is in them?
So the FDA has turned its ire toward the growing e-cigarette threat to children (2.2 million now smoking the things, according to the latest printed figures) and publishing all sorts of studies that make it seem as if the Regulators are playing catch-up ball, which they are.
Clue: If it becomes too expensive or onerous to buy the old-fashioned tobacco-filled cigarettes, then those who wish to smoke will find their way, perhaps, to those electronic things. I have a better idea, however: Buy a pipe and some good pipe tobacco while you can.
I wonder. Does any of this remind you of some sort of dystopian world where the inmates are in charge and tobacco zombies are on the loose?
I now turn the podium over to Mr. Mencken once more:
For every complex problem there is an answer that is clear, simple, and wrong.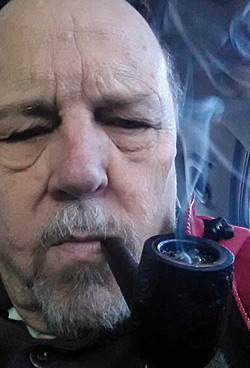 Fred Brown is a journalist who lives in Knoxville, TN. He will write this column for PipesMagazine.com monthly. He can be contacted at
tennwriter@bellsouth.net.
19 Responses