Fred Brown

Notes and things: It's a jungle out there. We know that, instinctively, but now there is more bad news: I just read in a pipe newsletter that because of something called "net neutrality," the day of ordering pipes and tobacco over the Internet could be over. Really?
The logic behind the article is that because B&Ms are becoming an endangered species, and the Internet is now a more robust source for pipes and tobacco, net neutrality gives the government the right to regulate the Internet as a public utility.
It's being public, so the thinking goes, there will be those who will want to keep the mention of pipes and tobacco on a planet far, far away from those on the Internet whom our hobby would maim for all time.
The story appeared in the June 2015 Issue of The Pipe Collector, Volume 23, Number 3, the venerable and much admired North American Society of Pipe Collectors.
I don't have a beef with either the newsletter or the author. Indeed, I am a subscriber and read it and find Bob Palermo's story intriguing.
It is Palermo's contention that one of the unintentional consequences of net neutrality and Big Brother's regulatory takeover will swallow another element of our lives, which would give the anti-zealots another shot at pipes and tobacco. Therefore, Palermo writes, that with the growing demise of retail tobacconists, we should unfailingly support those B&Ms that remain and our few printed publications. Amen, and amen.
Respectfully, I just don't see that net neutrality, which is designed to keep the deep-pocket cable guys and networks from charging more and more fees for Internet access as being a threat to pipes and tobacco.
Now, call me naïve (I have been called much, much worse), but the FCC has a lot more to worry about than calling up its friends at the FDA and telling them to put the hammer down on pipe and tobacco e-tailors. Take Reality-TV shows for example. Now, there is a threat to culture, mental health and sanity.
We are already heavily guarded by the FDA, the Center for Tobacco Products under the FDA, and the Centers for Disease Control, and a whole slew of other alphabet soups of initial-defined agencies.
The FCC is after the big boys, the Netflix, the AT&Ts, and the Verizons. And, I know that they own the gateways to much of the Internet, but the Internet is so amorphous, so hack-filled, so wild west-like, that I refuse to believe that anybody can reel it in at this point in time. Not even the FCC.
So, even though, as Palermo says, the FCC has decided the Internet is a public utility, it won't be regulated like your local water board, or electricity provider. Otherwise, the FCC will just get hacked and sawed into little cubes and bits.
The hack jobs won't come from the pipes and tobacco front, but will be carried out by real, honest to goodness hackers who have to pay water bills, electric bills and purchase other household goods on the Internet from other entities declared utilities.
See, I think there is a certain built-in protection: it's called La Cosa Nostra, this thing of ours. We can go along with a little regulation, just as we do in our daily lives. We can also make an offer that is hard to refuse. We are a small, but vociferous bunch.
My faith is in the people, especially pipe and tobacco types. If the regulators continue to squeeze every segment of society, there will come a time and place when those who regulate will find themselves staring directly into the face of an uproar of protest.
It's happened before in history.
Yes, I'm referencing the birth of America. Taxes going to unseen entities drove a ragtag army to challenge the world's greatest military force and defeat it.
And now that net neutrality threat has been rendered neutral, let's move on, shall we?
****
In the beginning, there was the pipe—the almighty briar, a tobacco-smoking device for the eclectically-minded. And, then, something happened: it became what is called today a hobby.
Some see themselves as collectors, aficionados well above the rabble, while others are simply opportunistic hoarders. (You know who you are.)
Or, perchance you are a refugee from the yoke of cigarettes and have sought to change your life, as well as your lifespan. You reach out to something you saw your grandfather or grandmother do. Or maybe the pipe sirens called you sweetly to the shores of peace and calm, and you responded.
Whatever the reason, you became hooked. The hobby, like stamp collecting, grew and grew and before long, it was consuming.
In a very short time, so it seemed, you were buying not just another pipe, but a one-of-a-kind artisanal pipe with perhaps a one-off price tag.
Your wife or girlfriend thought you had shopped for a new sofa. It was difficult to tell her that you were smoking the sofa money.
And then one day you take a realistic look at your collection/hobby.
My, how it reproduced. One day there was only one pipe from a drugstore or pipe shop counter basket, and now there are 100, maybe 200. Who knows? Who is counting?
Pipes are not the end of it, either.
Next comes the tobacco—a lot of tobacco. You have purchased pounds of it, and stored the evidence away in tins, jars, pouches, boxes, closets, trunks and drawers. Looking at this cache of leaf, you are reminded of a tobacco storage bin you once saw at Cornell & Diehl's Morgantown, N.C., office before the whole operation moved to Little River, S.C., as part of the Smokingpipes.com operation.
The bin was a shaggy mountain and smelled really good, so good that it would be emptied in about a day, said the late Craig Tarler, founder of C&D.
Wow. That was impressive. Is it possible for a man or woman to smoke up a cellar of tobacco in one lifetime?
Apparently so. Can one have too much tobacco stored in a cellar? Is there ever too much of a good thing? Do you write what's left into your last will and testament?
Pipes and tobaccos are not the end of it, either.
There are the leather pipe bags and pouches. The plethora of pipe tools, knives, day tobacco pouches, candles to eat smoke, and entire worlds of trees have been destroyed to produce wooden racks to hold all those pipes.
Pipe accoutrements are not the end of it, either.
There are the pipe books and pipe magazines, both print and digital. Then add pamphlets, essays, blogs and online forums.
Books and magazines are not the end of it, either.
Next come the tobacco tin collectors, looking for the old art that now seems to carry prices of one of the French masters. You would think that Monet painted some of the tin art based on auction purchases.
And tobacco tins are not the end of it, either.
Now arrives the most deadly of all these maladies and maladjustments—collecting pipes of another era, time, place, maker, style, stain, or theme, a celebration such as Christmas, or just simply a Pipe of the Year, or a certain other holiday.
That's not the end of it, either.
There are the lapel or hat pins, hats (one size fits all; you can even carry your loot in some after going to a pipe show), smoking attire (jackets, anyone?), tees and shirts.
Nor is that the end of it, either.
There are the ever-popular pipe lighters that provide a warming glow on a moonless night.
This is not just a hobby! It is a way of life! It's like riding a Harley Davidson motorcycle: You know who you are and are proud to let others know as well.
Pipes are infinite. Pipe smoking is forever, a beginning with no end.
We are powerless to the lure of the pipe.
We live in the world of briar and leaf.
Please support us when you see a pipe smoker standing on a busy street corner holding a cardboard sign reading:
"My soul for another pipe."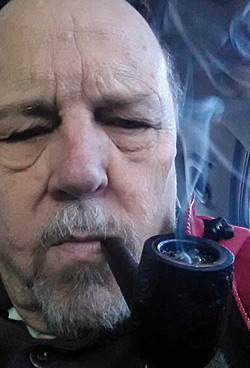 Fred Brown is a journalist who lives in Knoxville, TN. He will write this column for PipesMagazine.com monthly. He can be contacted at
tennwriter@bellsouth.net.
9 Responses