Age of Enlightenment: A New Dawn of Pipes and Tobaccos
Age of Enlightenment: A New Dawn of Pipes and Tobaccos

Fred Brown

I just thought I was a pipe smoker. After returning from the amazing Chicagoland Pipes and Tobacciana Show in early May and reflecting on the event, I have decided that even after more than four decades of smoking a pipe, I am a neophyte.
I mean, there are some fellas who take this hobby very seriously. Me, I toss some tobacco into a bowl, light 'er up and go on about my business. I don't pay much attention to the tobacco being smoked, let alone the pipe!
Cleaning a pipe is not a ritual for me. It's a simple Dill's-Brigham's-or-BJ Long's-through-the-stem-and-a-quick-in- and-out-and-off-we-go-again. I realize this is sacrilege to most of the pipe smokers out there, but I'm a codger. What can I say?
Here is what I discovered at Chicago: there are men—and some women by the way—who know not only pipe styles and shapes, but years crafted, nomenclature, and what was produced by whom, and when. I'd be surprised if they didn't know the tools used as well.
Some pipe smokers even can name the pipe artist, and in many cases, the manufacturer, before any major mergers of pipe making families or firms.
It is just amazing to me that this hobby that I love has so many sides and shades to it. Normally I just think of a pipe as a pipe: billiard, pot, Dublin, bent, meer, the usual suspects. They are instruments, some more intricate than others, that deliver my favorite tobaccos.
I say this out of respect to those of you who really take the time to understand the pipes you love. I mean no offense whatsoever. I am in shock and awe, actually.
In fact, I have some very old pipes—Dunhill, Barlings, Charatans, Petes, Lowe, etc., that I now look upon with newfound reverence and respect.
In Chicago, I ran into pipe smokers of the elite class (no snobbery intended about that, either. It is alright to be elite if you know what you are talking about).
I mean, some of the men and women with whom I chatted told me more about their pipes than seemed possible, unless they were present in the beginning when the pipe was first crafted.
OK. So you have gotten it by now that I'm not a pipe historian. Quite true. I love my pipes and have come to a newborn appreciation for the history. And I have now begun taking a little more time examining my pipes and their ages. Seems I have one or two really old ones. In fact, one of the meers that was given to me is probably from the 19th century. Who knew?
And, I discovered a brave new world of tobacco. Here again, I'm a codger. I smoked my first pipe tobacco in the late 1950s. It was Prince Albert, I think. Or something similar.
Later, in college, I moved on to Sir Walter Raleigh, since that's what most of my professors smoked.
And then I ran into Dr. Neill Whitelaw, physics professor, unalloyed genius, friend of Einstein, pipe smoker and just plain brilliant.
In his physics lab about the only thing I learned was that the top shelf in the lab was lined with tins of codger blends: Barking Dog, Country Doctor, Revelation, Sir Walter Raleigh, Prince Albert, Granger, Half and Half, Carter Hall and several others I can no longer recall.
His pipes, which he smoked while trying to enlighten some of us on the rudiments of physics, looked like burned burls. Some were black they had been smoked so much. Dr. Whitelaw was never without his pipe, or his sharp wit.
He did not suffer fools, thus I soon departed with Dr. Whitelaw's good wishes for whatever it was I was cut out to do in my college career. Luckily, I found the English Department, which allowed me to stick around long enough to graduate.
Of course, I had to emulate Dr. Whitelaw. I smoked all the codger blends at one time or another. And, I pretty much learned from the master how to treat your pipes—as a smoking instrument.
I'm sure most of his pipes were the drug store variety—Kaywoodie, Dr. Grabow, Medico, basket pipes of the era. I, too, smoked Grabow and Kaywoodie and still have them.
My interest in more expensive pipes changed over time as my salary inched up the pay scale. I purchased what I could afford along the way.
I treated tobacco in similar fashion. Codger blends sufficed until I discovered Edwards' tobaccos, which I smoked for years, along with my steadfast codgers.
Now and again, I'd pick up a tin of something expensive ($5 being expensive back then). It seemed so exotic. The tobacco had this little wavy filter looking thing inside a tin. The tobacco itself was so different from any I had been accustomed.
Instead of cubes, the fancy tobacco was slim ribbons of various colors and smells. In comparison, my codger blends reeked of old movie theater cans filled with sand and foul cigarette butts.
Tobacco is not something I usually get all riled up about. I suppose that is due to the fact that I grew up in an era of codger blends and that seemed just fine to me. They smoked, which was all I required at the time. They were cheap and went well with my basket pipes.
Yes, I have advanced to more expensive pipes and tobaccos. But old habits are indeed hard to break. I pick up a pipe that I might have smoked the day before, fill it, and fire it up.
At the Chicago show I discovered smokers who rotate their smoking pipes on a daily basis, if not hourly.
There, one attorney from Munich, Germany, had already purchased his pipes before the official kickoff. He alternated between the S. Bang and another expensive Danish pipe, with a pound of Iwan Reis Virginia.
The attorney carefully loaded the pipe, taking his time to pinch-load, tamp, pinch-load, tamp. Next, he pulled out what looked to be a Dunhill lighter and lit the S. Bang, puffed, tamped, lit again, puffed and leaned back. His eyes glistened. It was that good.
Now, I have never quite had that sort of experience, but I think I'm beginning to understand: There are pipes and there is tobacco. And then, there are very fine pipes and very fine tobaccos.
Just as there are artisan pipe makers, there are artisan tobacco blenders. We are in the Age of Enlightenment in pipes and tobacco. More wonderful pipes are being created than ever before. The same is true with pipe tobacco.
Very talented blenders can even come quite close to re-creating the codger blends of old, despite the fact that agriculture, weather, and a host of other environmental conditions have changed.
Pipe smokers today are truly blessed to have the pipe and tobacco market that exists.
It is daunting to think that pipe smokers of, say, 50 years ago, could only dream of such pleasure available today. And, there were great brands in that time as well as earlier in another era.
But in one lifespan, a pipe smoker can get through only so many pipes and so much tobacco.
There is, after all, a "use by date," on every life.
I hope to make the best of what's left now that I have seen what it means to own a wonderful vintage pipe and extraordinary tobacco to smoke.
It is a final coming of age, an emancipation of consciousness, in a New Dawn of pipes and tobacco.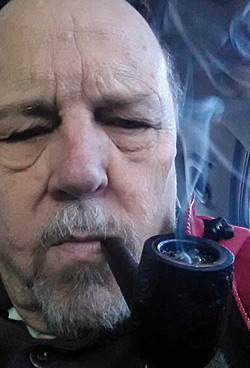 Fred Brown is a journalist who lives in Knoxville, TN. He will write this column for PipesMagazine.com monthly. He can be contacted at
tennwriter@bellsouth.net.
12 Responses