Summerware & Cigars on the Green
Steve Morrisette

As I have often said; there are clothes and there is style and I wish to address the nexus of the two now as the weather warms. I find the toughest challenge in looking good is hot weather. I detest being uncomfortably hot. But, I just cannot be out and about in a T-shirt, cutoffs and flip flops. No one has ever looked good in such an outfit. Imagine your favorite actress or actor in a graphic tee, cut off jeans and flip flops. It's sexy perhaps on a woman, but sloppy on a guy and just generally unfortunate on both.
So what do I do, or rather, wear? The first consideration for garments is the fabric. Like a good cigar or well made pipe, free airflow is critical.
Linen, light cottons, seersucker, and a new fabric called Fresco are all good and attractive choices.
LINEN
A traditional summer fabric, linen is great stuff. It is very light and comfortable and almost any garment can employ this fabric in all it's many weights, colors, weaves and patterns.
I have a goal of assembling an entire summer outfit of all linens down to the necktie and pocket square. I won't go all the way to linen Oxfords and a linen cap, but it could be done and in good taste too. Some complain of linen wrinkling, but that is part of it's look and charm. Relax, it's summertime.
For those that want a sport coat with linen coolness without the wrinkles, Fresco is the fabric to choose. Those brilliant artisan mills have created an open weave linen like fabric that resists wrinkles and has a wonderful drape. J&J Minnis has registered a high twist open weave wool as Fresco. It is very airy and cool and ideal in the right weight for a summer blazer or suit.
Linen garments can be had almost any anywhere and at various price points and quality levels.
Off the rack Fresco garments would be pricier and hard to find. A good tailor should be able to help with Fresco fabric choices for a suit or blazer.
Finally; Guys, if you haven't tried linen trousers in the summer you are truly missing out.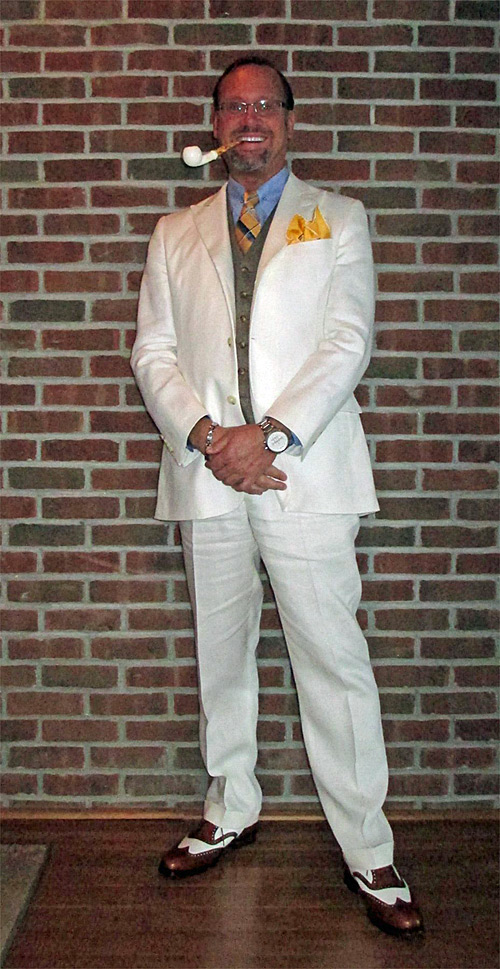 Light cottons and seersucker
These are much better choices for summer heat as compared to polyester and poly blends. Poly tends to hold odors and stains and the seersucker suit, or Southern Tuxedo, as it is sometimes called, is quite comfortable, doesn't show wrinkles much and is quite stylish.
Sneaker Alternatives
A good friend recently asked me for suggested alternatives to sneakers or running shoes. There are lots of great, comfortable and handsome choices that can be dressed up or down.
Boat Shoes
I saw my first pair of boat shoes on my Dad: Sperry TopSiders. He actually got them to wear on the boat. Boat shoes have been Preppy gear for decades, but designers now offer a vast, and I mean vast, range of colors, styles and price points. They are very comfortable, can be worn with or without socks and generally won't break the bank. You can choose to go almost formal all the way to Urban/HipHop. I love 'em.
Drivers and Woven Loafers
Again, tons of choices that work fine with socks or bare ankles. I would avoid drivers for long walks. They are for driving, no? Woven loafers look summery and a bit more casual than a usual loafer, but can certainly go out to dinner when worn with trousers and socks.
Espadrilles
Popular in Europe, you generally don't see them on men in the States. Not that they don't look good; guys here are just unaccustomed to the style. The closest thing in the U.S. is the slip on sneaker. These can look well if care is taken in the color or pattern choice. Van's offers a customization option online that is fun and useful. Here is a design I came up with: sneaker ill. (I seem to be into polka dots this year.)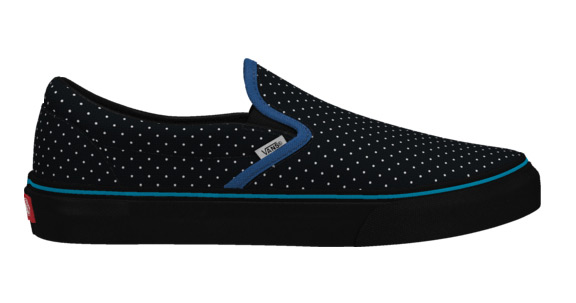 Sandals and Flip Flops
These should only appear at the pool, beach or very casual outdoor activities that do not include seated dining. Also, I would avoid them in crowds and heavy walking situations. It is too easy to injure your toes and ruin your day, vacation or date. If you must wear sandals out, get a closed toe box design like those by Keen. They are quite comfortable, durable and completely protect your toes. BTW- if you are planning to be barefoot in public; get a pedicure. We shall all be grateful, especially the ladies. Pedicures are not expensive and are healthful.
Bare Ankles
Going sockless in trousers is en vogue. I see guys in a jacket and tie without socks and it just looks odd to me. It's not as unfortunate as shorts with a blazer and necktie, but it seems somehow out of kilter.
Bare ankles are fine for a very casual bar or restaurant or informal activities. I suggest that if you wonder if you should wear a tie, you should definitely wear trousers and socks.
Short Sleeves
First, let's confine graphic t-shirts to washing the screens and mowing. There are plenty of nice T-shirts in great colors, fabrics and patterns available. Many have some nice detail touches like interesting collar stitching or contrasting piping that dress them up a bit and you look great. Short sleeve sport shirts are good looking and very comfortable, especially in linen. One thing: Never, never, never and never wear a necktie with a short sleeve shirt. (Do you manage a BlockBuster?)
One Rule I Unashamedly Break
Most well dressed gentleman insist on long sleeves under a blazer or sport coat. I break this rule in hot weather. I happen to think a nice polo or short sleeve sport shirt looks great under a jacket and it allows me to be a bit dressier and still survive the summer heat. I can bear bare arms under my coat sleeves when Nashville begins to fry. Actually, I will switch to a vest and skip the jacket altogether if gets really toasty. But then I'm back in long sleeves again. I don't wish to imitate Ed Norton. (Those of you under 35 can Google: "The HoneyMooners".)
Give Your Jeans a Rest
The best alternative to jeans, now universally termed Denim online and in catalogs, are chinos. Chinos, or khakis, are, in my opinion, more comfortable than jeans. This is especially true in hot weather. They are lighter in weight and now available in many cuts and fit profiles so they actually can fit better than jeans and they are far more flattering to the body. Large men can get them with pleats and svelte fellows look smashing in the plain front styles. Chinos are available in a literal rainbow of colors, variety of weights of fabric and I have even seen patterned chinos. They run the gamut from a regular slack type style through variations all the way to full on jean styling.
The good old versatile khaki tones are quite useful as they easily combine with many colors and can dress up or down. If you wish to avoid the Preppy image of khakis, a pair of neutral light grey chinos do so nicely and are virtually unlimited for color combinations. Chinos can be had inexpensively and in many no iron styles. It seems like everyone from K-Mart to designers to high end labels like Zanella and Brioni have offerings. Be different from the jean crowd and look better in the bargain. Try out some blue, green, red or even yellow toned chinos. You can go right from your daughter's T-ball game to a cigar dinner with out changing trousers. Swap the ball cap for a Panama, slip on a Fresco or seersucker blazer with a linen pocket square over your nice polo and you'll still be cool, comfortable and stylish.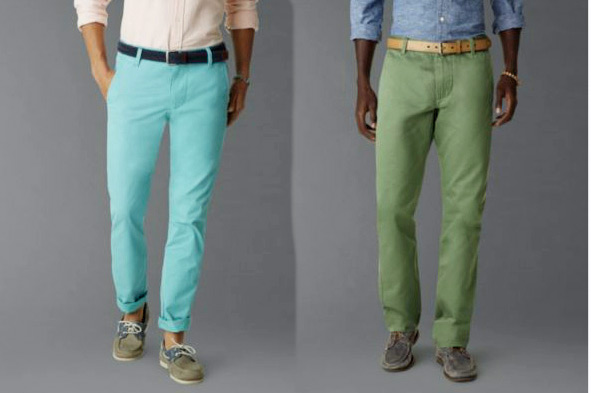 And don't forget the sticks in your travel humidor stashed in the glovebox.
I just mentioned cigars and a word or two on summer smoking etiquette and cigar handling is in order.
On the Golf Course
Men I never suspected to be smokers will light up a cigar on the golf course. And that is great. Since many of these guys are cigar duffers, they sometimes are unaware of the proper and polite conduct for the links.
If one is at a new course or club, ask the pro about smoking during play. They may have posted rules up, but this is an opportunity to meet the pro, show yourself to be a gentleman and even put in an implied "vote" for smoking on the course. Here are a few suggestions and guidelines that would apply on any course:
Always bring cigars to share with your golf partners. Not the Cubans, unless you are angling for a new job.
Never lay your cigar on the grass. Use a holder or clip. Groundskeepers work hard to keep that grass just right, so disposed of your ash properly too.
Never, ever toss a butt. Allow the cigar to go out on it's own – no crushing it out. Then you may safely dispose of it in the proper receptacle.
Graciously extinguish your stick if asked, especially if you are a guest or at a new course. If the request comes from a jerk, wait until he is gone and then light up again.
Cigars on Vacation
If you are traveling, or just out for the day, consider how many and what sizes you might want. Again, bring extras for your friends and please keep your cutter and accessories clean. Take care to ash your cigar appropriately and don't stand on the bow and obliviously puff away. Cigar smoke, as wonderful as it is, can get annoying fast in certain circumstances.
Travel Humidors
They come in all sizes and styles. You may want a retro fitted Pelican Case from Armored Humidor or just a simple stainless single stick tube. One is serious gear and the other fine for an afternoon out. Don't forget the extra matches, lighter, flints and – if not flying- butane.
A final word
If you happen to visit a cigar shop in your travels, don't bring in outside cigars. Purchase and smoke a cigar from that shop. It's just the right thing to do.
the Gentleman Smoker's tip:
If you have airtight (water tight) cases for your cigars, phone, camera or anything; never open them on an aircraft at altitude. Back on the ground, the difference in air pressure will make it impossible to open the case, unless it is equipped with a pressure release valve. Don't ask me how I know this.

Steve Morrisette is an artisan pipe maker, relentlessly snappy dresser, and self-confessed Virginia gentleman. He makes artisan pipes for discerning collectors, and scours the internet and shops of all types seeking information and fine garments, hats, watches, shoes, and jewelry – anything related to the gentleman's lifestyle. Steve also spent several decades as a working drummer and photographer/photojournalist. You can find his pipes at www.smpipes.com, and catch his style photos and latest pipes on Facebook and Instagram.
More Pipes and Tobaccos Articles