The Pipes Magazine Radio Show – Episode 96
The Pipes Magazine Radio Show – Episode 96
Kevin Godbee

Thank you for joining us for The Pipes Magazine Radio Show—the only radio talk show for pipe smokers and collectors. We broadcast weekly, every Tuesday at 8 pm eastern USA time and are available on nearly all podcast sites and apps. Listen on your computer, tablet, phone and even in the car! Our Featured Interview tonight is with pipe maker Scottie Piersel. A few weeks ago at the Kansas City Pipe Show, I inadvertently bought one of her pipes. There were about 40 pipes on a table that were entrants into the 7-day set contest that focused on the billiard shape. Of all of the pipes, I liked hers the best and bought it. I was pleasantly surprised to find out afterwards that the pipe was made by a woman. In our "Pipe Parts" segment, Brian will talk about the preeminent freehand pipe maker, the late Preben Holm. Sit back, relax with your pipe, and enjoy The Pipes Magazine Radio Show!
Tonight's show is sponsored by Sutliff-Tobacco.com, CupOJoes.com, SmokingPipes.com, Missouri Meerschaum, 4noggins.com, MeerschaumStore.com, Cornell & Diehl, and Savinelli Pipes and Tobaccos. Please give them some consideration when making your next pipe or tobacco purchase.
We hope you enjoy our 1-hour show produced just for you—the pipe smoker and collector. The following link will launch a pop-up player. Alternatively, you can download the show in iTunes and other podcast sites and apps after the initial broadcast is complete here.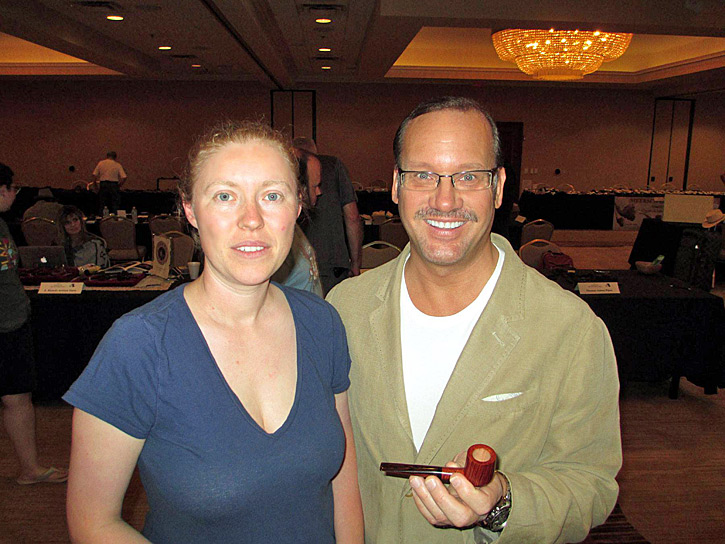 (L) Scottie Piersel, Pipe Maker, (R) Kevin Godbee, PipesMagazine.com Publisher

Scottie Piersel Billiard Purchased by Kevin Godbee
Find Scottie's Pipes at: LadyBriar.com
More Pipes and Tobaccos Articles
5 Responses