The last breath of summer sun stretched out long over the James river in Richmond Virginia, collecting in little pools that reflected a golden glint to the travelers on Manchester bridge above. It was the first day of October and the red bricked sidewalks of the old district drank in the day's radiance until they were full and warm under foot. A light breeze tangled in the dresses of young ladies who had taken advantage of a late breaking Autumn to display a bare shoulder or a low cut back; their perfumed hair alight on the wind like a bough of scented flowers.
Growing season in the Old Belt Tobacco region this year was especially hot and dry. Light rains, earlier in the week, were a welcome blessing as farmers of the Old Belt gathered their second cut harvest.
"The Lord blessed us with an excellent tobacco crop this year," farmer Steven Bowen remarked to the Virginia Gazette last week, adding, "We had timely rains in the spring, and the rains we got the past couple of days really helped us. Now we're in a race with time trying to beat the first frost."
Back in Richmond, just north of the Bowen farm sat founding member and President Emeritus of the Conclave of Richmond Pipe Smokers (CORPS), Linwood Hines. Picking up a squat, rusticated bull dog, Hines blew a light burst of air through the mouth piece to prep for loading.
Putting the pipe back down on the table he said with certainty, "I love the heat, I love Virginia weather, I love tobacco weather. But this year was just a bit too much; even for me." He leaned back in the shade of a tent erected in the Sutliff parking lot. Today it's the first day of October and a temperate 75 degrees (24C).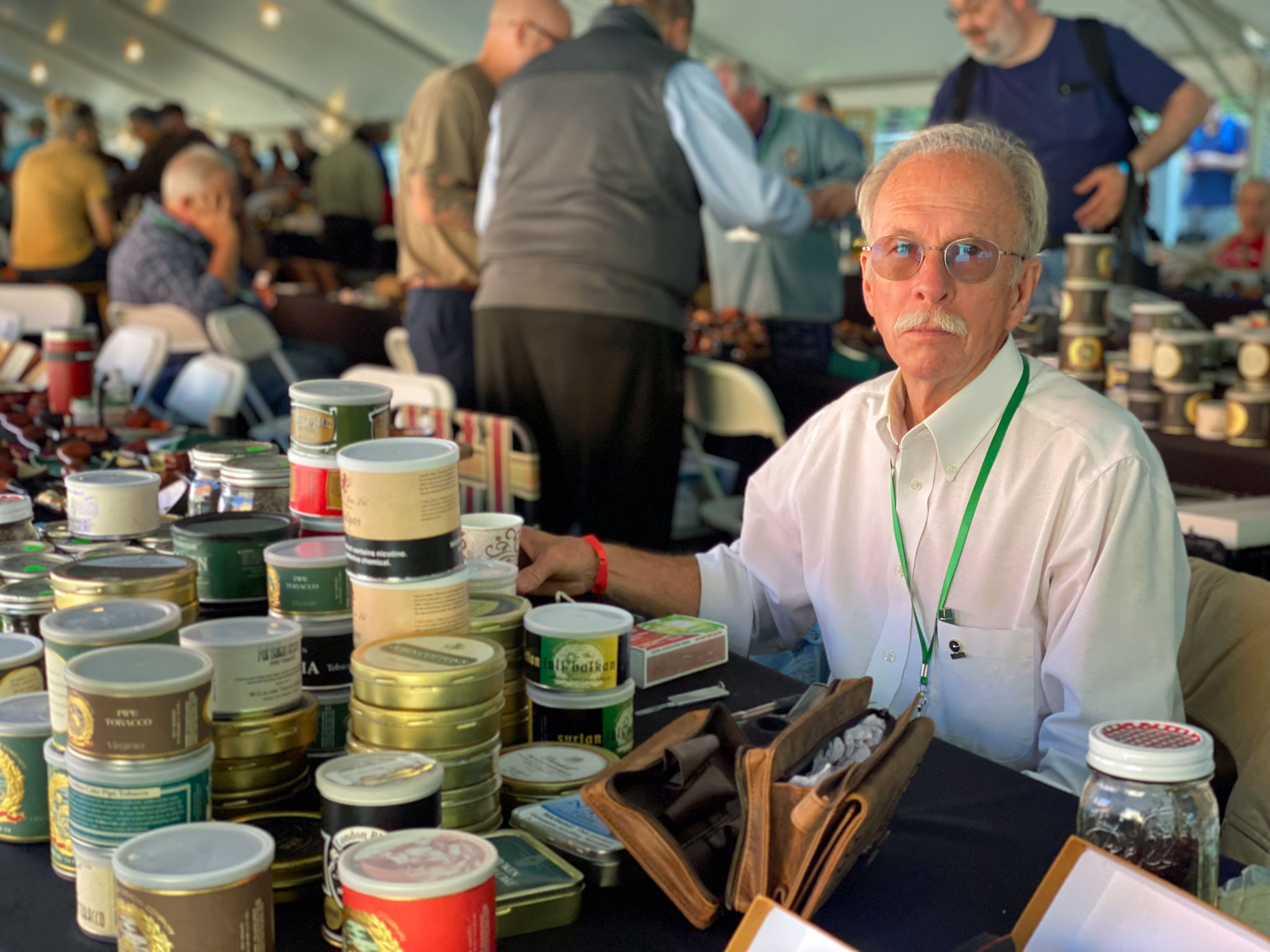 Hines has been coming to the same party for 33 years, an annual gathering of pipe smokers who delight in the hard work of farmers like Bowen. Tall and thin, his well kept mustache has turned from reddish-brown to white over the years, a mark of his experience with the sweet Virginia leaf.
"The best Virginia in the world is being grown in Vietnam right now, they harvest it the way we used to do, by hand," Hines said as he reached out into the air to hook an imaginary broadleaf of Old Virginny. "But you can't get any of it because the Chinese are paying $6 a pound!" he let out with a sigh.
Ralph Barone, a detective at the Los Angeles Police Department, flew to Richmond because he had wanted to make the Las Vegas show, but it had been canceled. Mulling over Hine's vintage tins, he reached for Smoker's Haven "Select Mixture."
"You know, back in the day, Sobranie made all of the Smoker's Haven blends," said Hines, "I used to work in a tobacco shop and the Smoker's Haven tins were half the price of the Balkan Sobranie so the guys at the shop would buy this instead of the Balkan Sobranie. This one was Balkan Sobranie White," he motioned to the "Select Mixture."
"And this one was Balkan Sobranie black," pointing to "Exotique."
This inside dope was the experience younger guys like Barone came for, "Wow, thanks for that information!" Barone said enthusiastically as he slid the tin of select mixture into his sack.
Premal Chedda; the Haven's current owner, related once to the author that, "Our Best Blend," was the name of their re-tinned, Balkan Sobranie white but that "Select Mixture" was a similar base version. Today, the Smoker's Haven blends are produced by JF Germains and are mostly unobtainable.
Is it blasphemy to tell people that the Esoterica blends are American blends? Some of which are matches for another American company, Smoker's Haven who's blends were actually re-tinned Sobranie?
Dedicated pipers arrived to the Richmond Pipe show on Friday for the swap meet, blending courses and, best of all, the factory tour. This years blending courses were taught by Russ Oulette and the Godfather of Perique, Mark Ryan. The two Master Blenders put on a powerful show as the crowd listened attentively and then were treated to large tubs of various blending tobaccos; each allowed to make their own personal blend. Cube Cut White Burley, Dark Fired Kentucky, Latakia, Red and Brite Virginias various Orientals and others were laid like a feast before a team of eager pipe smokers.
The Sutliff factory tour is a thing of legend. This is where The Richmond pipe show separates itself from all other pipe shows; it has America's oldest pipe tobacco company in it's backyard.
Tobacco is an aromatic herb. Its fragrance is so pleasing that they put it into candles and sell them at boutique shops to high class ladies with Chanel purses. Upon entering the Sutliff shipping dock, the aroma of fine tobacco penetrated from the depths of the senses down to the socks in one's boots. The scent was dark and rich, like wild flowers in a forrest meadow after the rain. There was a fruity earthiness to the air like the way sweet clover mixes with a deep and rich petrichor, the pleasant smell of the earth after it rains.
The Sutliff production area is unique in it's antiquity. Originally dedicated to specifically produce the Sutliff classic "Mixture 79,", the building is the company's last remaining production site. Each room is separated by a large, iron vault door. While the function of the doors are to prevent the spread of fire, it gives the factory a game like feel as the doors are opened by various sensors, one requiring the pull of a chord, another a certain placement of a foot upon a pipe.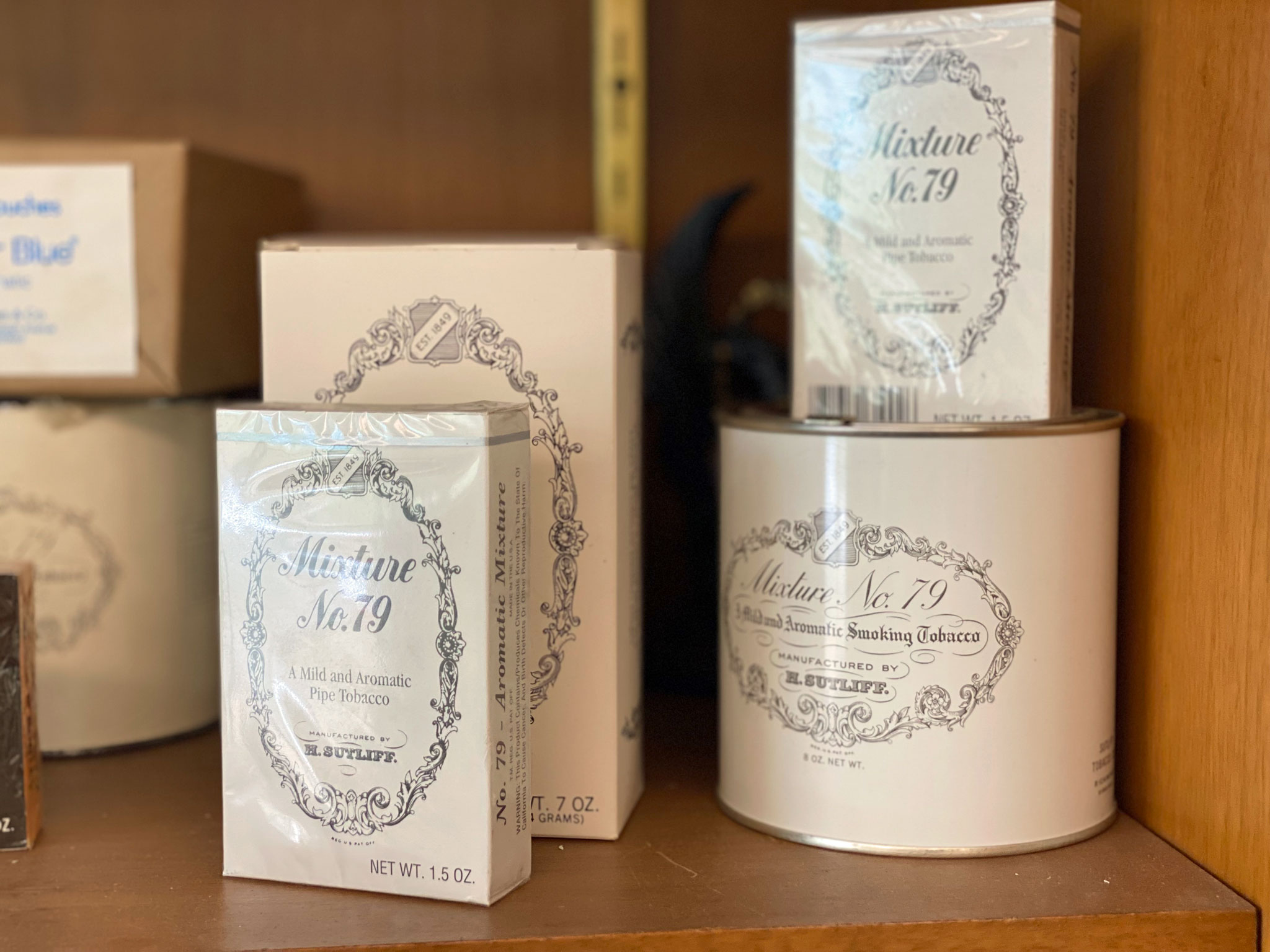 As the small tour group turned a corner to continue on into another room a tall and friendly fellow named Leo Valdes approached and mentioned that he had something special prepared for my arrival.
Two large blocks of pressed tobacco sat laid out flat like granite slabs on a piece of plywood. The blend, a 2021 Christmas VaPer for Sutliff, "Cringle Cake," was oily and dark like a chocolate bar with bits of golden bright scattered throughout. Had the TSA regulations not deprived me of my pocket knife, I would have been strongly temped to cut a chaw off of the brick and put it directly in my mouth. There is something deliciously appealing about pressed tobaccos.
While we were speaking, Leo mentioned that he was born in Cuba and that his father owned a small store and some properties there when he was a boy. The family was forced to flee when the Reds came to power. Eventually landing in the United States, he has built a life for himself through hard work and dedication to this craft. When I mentioned to Leo that I had an old friend from Cuba who was put in a work camp for trying to choose his own career, his face grew dim, "Let me show you something."
Leo was the type of guy who liked to smile; he hadn't stopped grinning since we met. Yet, as he reached for his back pocket the smile disappeared from his face, removing a black leather wallet on a chain from his pants; he carefully took out a small scrap of paper and began to unfold it. There was a trembling in his hand as he laid it out on the table. "This is the paper they made my father sign when they took his business." He had kept it in his wallet for 50 years. "They would have killed me just for saving this piece of paper!"
Leo's happy demeanor revived as he transitioned back to the private tour, the next stop at a large bin containing giant plastic bags filled with some of my favorite blends. "These are waiting to be pressed," Leo said, his face once again alight with a grin.
Jonathan Wood, is the Factory Supervisor of Sutliff Tobacco. The door of his office bears the name plate, "World's Best Dad," he began with the company in the late 1990s when he was in College and stayed because he loved working in tobacco.
In his office sat several large bags of leaf; "This one here is very special," he said as he presented a group of dark oily leaves, pressed tightly together. "This is Katarini (an oriental leaf known for it's punchy flavor) that has been put through the Perique process. Mark Ryan dropped this off recently and we're excited to work with it."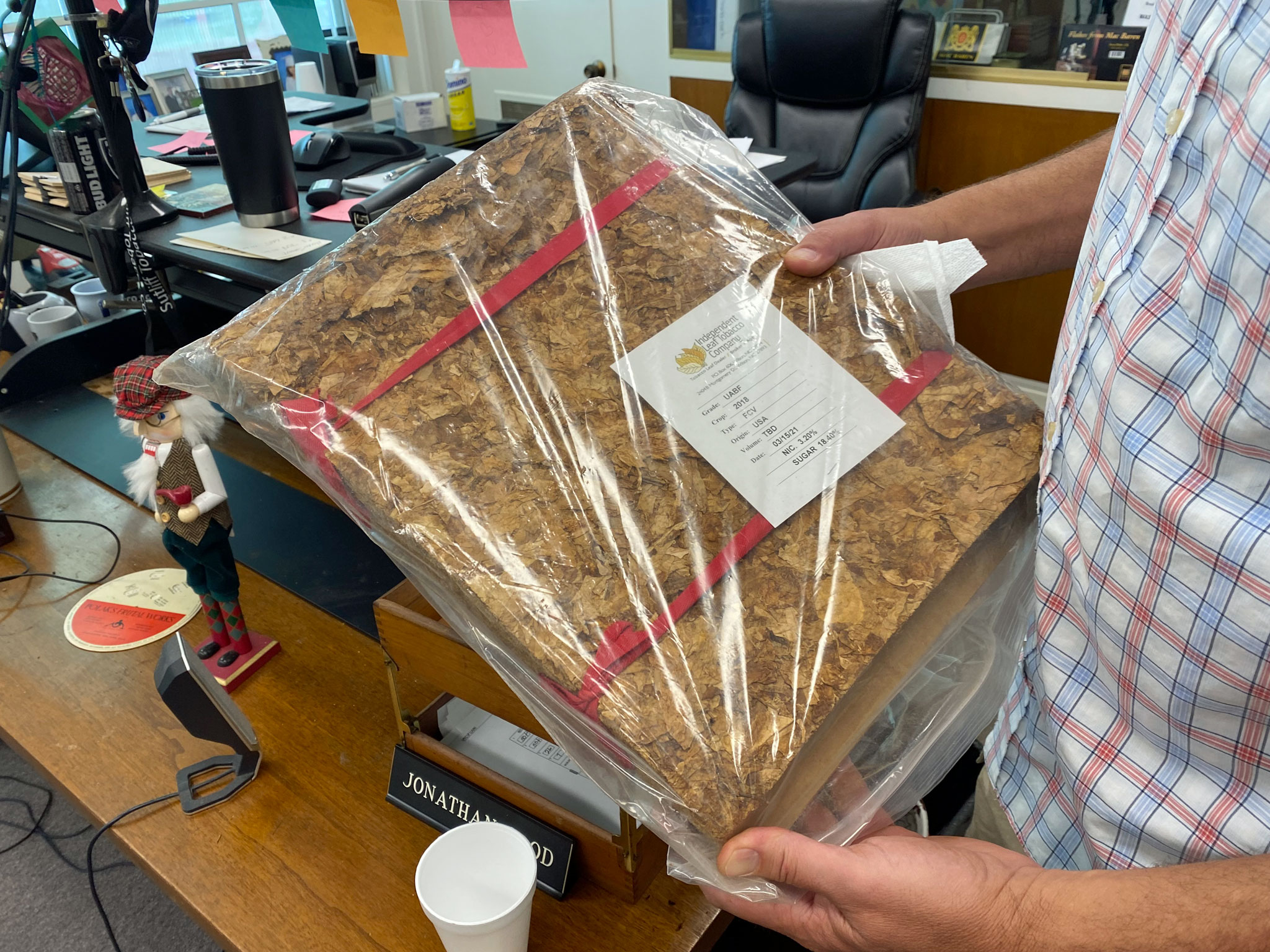 When asked about the recent growth in the premium pipe tobacco markets Wood replied, "The niche part of the [pipe tobacco] business is definitely the best I've seen in the 20 years I've worked here."
Woods long tenure is typical of the employees at Sutliff; a tribute to what Sutliff President Jeremy McKenna said drew him to the company, "They told me before I came here, you'll never have as much fun as you can working in the tobacco business and, as you can see, the bar in my office is a testament to the fact that they were right," said McKenna, who motioned to a fully stocked 5 chair bar in his corner office.
October second is the official day of The Richmond Pipe show. Vendors set up their tables early and food trucks lined the drive outside. The tents were alive with pipe smokers from various regions of the country, all in search of scarce blends and good deals on pipes.
Most of the vintage tins were various McClellands blends, Christmas cheer seeming to appear on every table. Linwood Hines had a pair of McClellands, "Navy Cavendish" that he sold for $35 each, a reasonable price for the hallowed blend. "What!? Where did you find Navy Cavendish!? It's my favorite McClelland's blend!" Jim Amash remarked upon seeing the score.
Amash, better known by his reviewing moniker, "Jim Inks" is a cartoonist and former radio man. His pipe tobacco review catalogue having amassed over five hundred blend reviews. Jim and I had bonded over the last few years as he was friends with Mickey Spillane and I had worked with Stan Lee.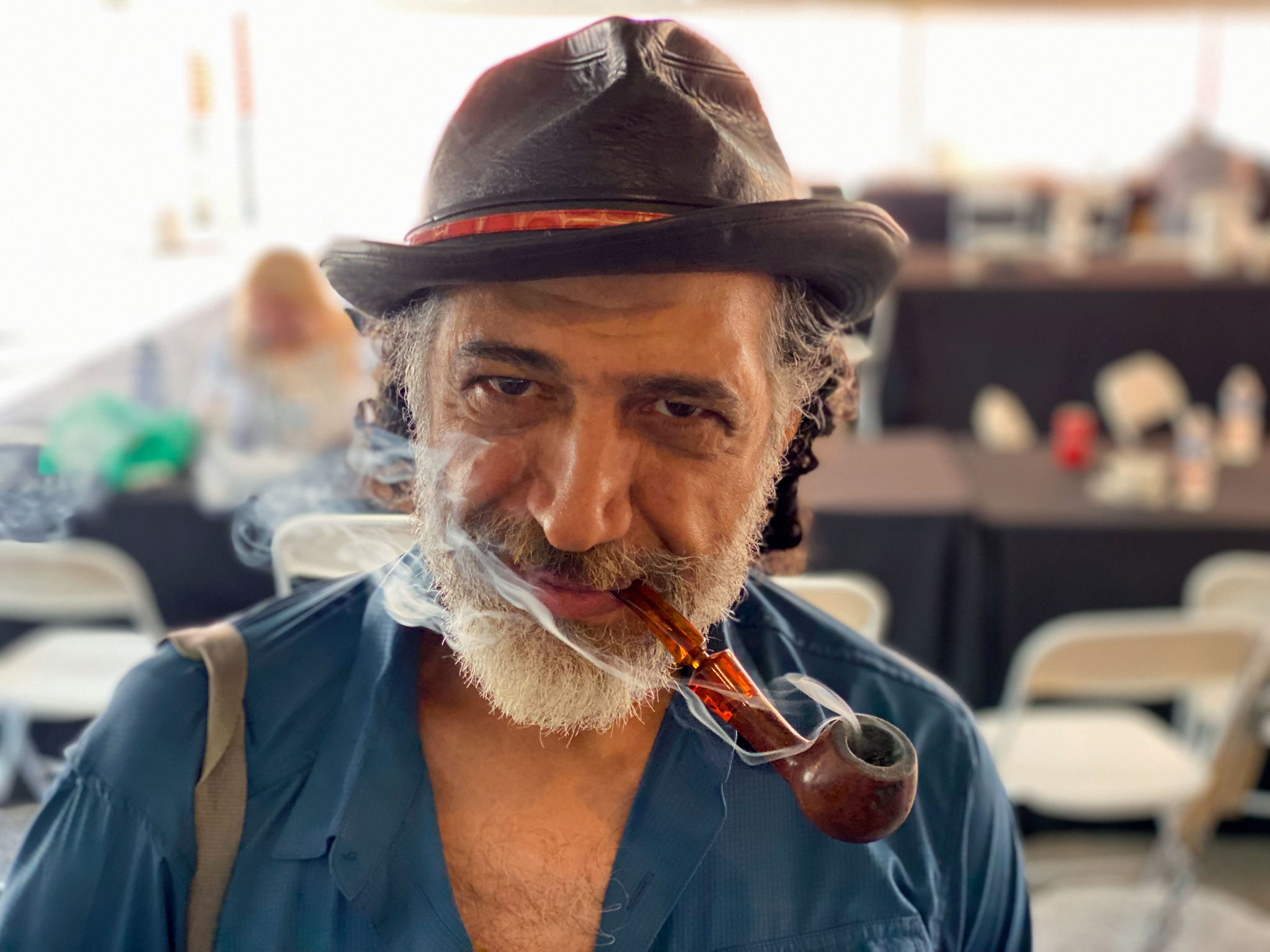 Having already gifted Jim a sealed tin of Edgeworth Jr, from the 1940s at the show, I hadn't the slightest inkling to hand over any of my Navy Cavendish. "I like it because I like the Navy," said Jim, "I like the Jamaican Rum, I'll have to think of something to trade you for it."
In the end, it's the camaraderie mixed with the love of the chase that keeps Pipe Groups such as the Conclave of Richmond Pipe Smokers coming back year after year. Bumping into old friends from chat boards and YTPC videos.
Bob Grosz, another long time member of the CORPS shared that he had just received a beautiful Charatan Pipe which his friend Jack had beat him to purchasing several years back. That day at the show Jack finally sold the pipe back to his friend Grosz who held it in his hand proudly, outstretched for inspection.
A dark black, free hand Danish with a light, horizontal sandblast, counter to the grain. As one looked upon this fine Virginia gentleman, cheerfully holding the pipe that was once was lost to him; it felt for a moment, that everything was in it's right place.
Photos by Old Hollywood Briar
Any pipe enthusiast is guaranteed to drool over this article