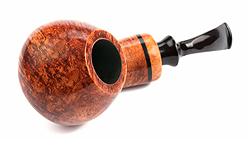 The Chicago Pipe Show is no doubt the granddaddy of all pipe shows. If you haven't yet attended this show, you are really missing out. It cannot be compared to any other pipe show. We recommend that you put it on your calendar for next year and save a budget just like you would for a vacation. You won't regret it. As a matter of fact, some people actually do plan their vacations for the show.
The 2010 Chicago Pipe Show took place on May 1st & 2nd in St. Charles IL, at the Pheasant Run Resort, which is about a 30 – 45 minute drive from Chicago O'Hare International Airport. There are so many things that happen at this show that they cannot be covered in one article. Here is an overview of this year's show. At the end of this article, you will find a list of links for our coverage of specific events at the show.

The Pheasant Run Resort is a grand location for the pipe show with great accommodations for the entire family. You could even tie-in a family vacation with the pipe show if you wanted to. They have a theater with live Broadway Shows, Zanie's Comedy Club, Golf Course, fine dining and casual dining, a sports bar, pro golf shop and beautiful loft suites along with standard rooms. There are playrooms and activities for children if you decide to bring the family. Although Illinois law prohibits smoking in the exhibit hall, the resort has some smoking rooms, and there is a 6,000 square foot smoking tent outfitted with carpeted wood floors, plush chairs and couches, folding chairs, tables, cash bars and hot food.
| | |
| --- | --- |
| Pheasant Run Resort | The Smoking Tent |
As you can imagine, setting up tables with over 350 exhibitors is not a small task. Here is a fun-to-watch time lapse video of the show exhibit hall set up courtesy of the CPCC and Darius Peckus.
[HTML1]
The official part of the show is on the weekend, but there are activities starting as early as Wednesday with several people arriving on Tuesday. There is a 2-day pipe making workshop where participants make their own pipes. There are seminars for collectors of Dunhills, Charatans, educational seminars, opportunities for collectors to buy and sell, and for smokers to try free samples of tobacco. There were over 350 exhibitors and nearly 4,000 attendees from 65 countries. Attendees come from as far away as England, Germany, Denmark, Belgium, The Netherlands, Sweden, Spain, France, Italy, Greece, Mexico, Japan and China. One of the big talks of the show was how a Chinese contingent showed up with bags of money buying up pipes like they were the hottest new fad in the Far East.


Attendees include a broad spectrum of people with occupations such as lawyers, doctors, construction workers, chefs, aircraft mechanic, teachers, electricians and bankers. Some of the most well-known collectors come from around the world. Other pipe clubs attend too.  There are also eBay merchants, retailers, pipe artisans, pipe manufacturers and tobacco manufacturers. We will have details of some of the new products in pipes and tobaccos coming in a future article.
The Official Name of the Chicago Pipe Show is, "The Chicago International Pipe & Tobacciana Show" and the Official Site for the Chicago Show is: ChicagoPipeShow.com.
It is notable that show director, Frank Burla, is retiring from this huge responsibility and handing the reigns over to show treasurer, Craig Cobine. We wish Craig congratulations and condolences.
Also notable is a change in show dates for 2011: The 2011 Chicago Pipe Show will be on May 14th & 15th.


Here is a large collection of Chicago Pipe Show Photos (taken by Bob Tate)
Check Out Frank Burla's Write-Up on the Show Too!

Other Chicago 2010 Pipe Show Coverage:
Chicago Pipe Show 2010 Pre-Show
2010 Chicago Pipe Show – Pre-Show Part 2
Chicago Pipe Show 2010 Day 1 Update
Artisan Pipe Maker Bob Gilbert Interview
Chicago Show "Hands On" Pipe Making Seminar
SmokingPipes.com 10th Anniversary Party