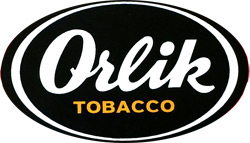 Orlik Golden Sliced has long been an extremely popular pipe tobacco in the U.S. At the same time, there have also been several other distinguished, high quality Orlik tobaccos that were not exported from Denmark to North America…. until now. From Lane / STG, the newly available Orlik blends are as follows:
Orlik Club Mixture – A Danish Mixture made from fine Vitginia tobaccos, mellow Burleys and Black Cavendish. This mixture is mellow with natural sweetness and a very pleasant room note. Easy to fill into the pipe, slow burning with a cool smoke. A supreme smoking experience. Order Here.
Racing Green – A tobacco with high contrasts made partly of Virginia tobaccos from Old Belt in America. On top of this, Burley tobaccos from Mexico and Malawi and a touch of Black Cavendish is added. Order Here.
Mellow Mixture – a loose cut blend made of mature and golden virginia tobaccos mixed with two types of Black Cavendish. The added touch of toasted Burley brings a round taste to the tobacco. The tobacco has a sweet and round aroma. Order Here.
Golden Mixture – A bright mixture made of primarily pressed Virginia tobaccos. On top of this loose cut Virginia, toasted Burley and Black Cavendish is added. The blend has a natural, fresh and sweet aroma. Order Here.
For those unfamiliar with Golden Sliced – This blend is composed of golden Virginia tobaccos with a touch of Perique. A fine natural sweetness in both taste and aroma characterize Orlik Golden Sliced. Order Here.
Orlik Golden Sliced Review Here
Orlik Tobacco Company Video Tour (Part I)
Orlik Tobacco Company Video Tour (Part II)
1 Response