Kevin Godbee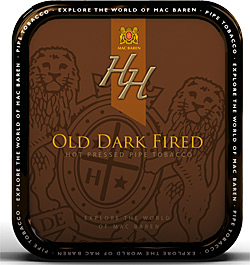 The Mac Baren Tobacco Company today announced that they are re-introducing their popular HH line of tobaccos. HH stands for Harald Halberg, who founded the company in 1887. The company is still family owned today, and the current "HH" in charge is Henrik Halberg. Mr. Halberg also blended the HH line himself.
The HH tobaccos are made especially for the pipe smoker that desires the most natural tobaccos with the least amount of additives; such as added flavorings, or toppings. In a telephone call from Denmark, Mac Baren representative, Per Jensen said;
"The new slogan is 'Natural Pipe Smoking', which signifies the most important thing about all of the tobaccos in the HH family. They are all as natural as possible, with only the absolute smallest amount of casing used to support the natural flavor of the tobacco, and no top flavor is ever used in the HH line. To put it in other words, there is nothing between the tobacco and the smoker."
There is also a packaging change, both in appearance and in sizes available. (So, if you have any of the old tins, they just became collectibles.) There are two HH blends from the past that will remain discontinued as they do not fit into the new no toppings guidelines. These are Mature Virginia and Highland Blend. They each had toppings of Balsamic Vinegar, and Glenfarclas Scotch, respectively.
Previously, the tobaccos were only available in one size tin. Some were in 100 gram (3.5 oz) and others were in 50 gram (1.75 oz) tins, but not vice versa. Now, all marks are available in both sizes. So, for the smokers that are already fans of the tobaccos in the small tins, now you can get them in a larger size. Conversely, the smaller tins come in handy for the pipe smoker that has several tobaccos in rotation, and that just keeps his tobacco in the tin–you have a chance to get through it before it dries out. The smaller tins are also good for the tobacco enthusiast that wants to try any of the HH blends for the first time without having to make a 100 gram commitment.
The four re-issued blends are: HH Acadian Perique, HH Latakia Flake, HH Old Dark Fired, and HH Vintage Syrian.
You can order the re-introduced HH tobaccos in the new packaging from SmokingPipes.com here.
Mac Baren has provided us with several brochures in PDF format that you can read online or download at the following links.
HH Acadian Perique Brochure

HH Latakia Flake Brochure

HH Old Dark Fired Brochure

HH Vintage Syrian Brochure
3 Responses