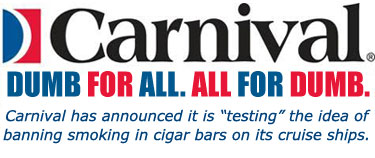 Carnival has announced it is "testing" the idea of banning smoking in cigar bars on it's cruise ships.
If I would have read this news article on April 1st, I would have immediately dispelled it as an April Fool's Joke. Unfortunately, it's no joke my friends. You'd better check before bothering to pack your pipes and tobacco the next time you book a Carnival Cruise.
Why, you ask? Carnival ships have a cigar lounge, don't they? Yep, that's true, but the cruise line is experimenting with a total smoking ban.
No smoking in the smoking lounge.
The news of the test ban broke on the personal blog of Carnival's cruise director, who was responding to a question from a Carnival customer who likes to light up while at sea.
John Heald replied the line has tried out the smoking bans on three ships that include the Bahamas, the Caribbean and Alaska as ports of call.
It is a very long blog post with lots of comments and topics, so here is a screen capture of the pertinent section so you don't have to spend hours looking for the actual post, and then another 20 minutes reading it, like I did.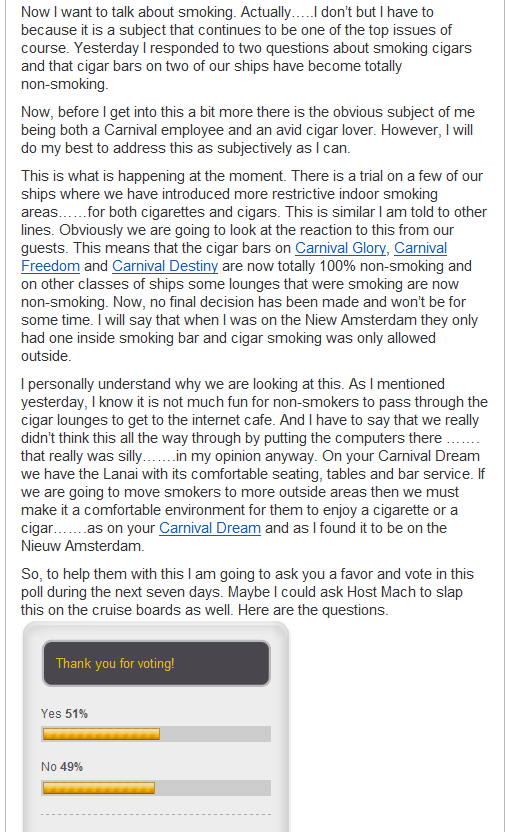 The above poll results were for the question, "Do you think the cigar bars on the Destiny, Conquest and Splendor class ships should be totally non smoking?"
So 51% of people idiots think the cigar bars should be non-smoking.
So the problem with firing up stogies, according to Carnival spokespeople, is guests have to pass through the stinky lounge to get to certain parts of the ships.
"What's next? Banning swimming in the swimming pool?"
Here's a great write-up by Bob Barr in the Atlanta Journal-Constitution, which originally alerted me to this totally bizarre news; Cruise-line tobacco police.
I suggest that Carnival change their slogan, "Fun For All. All For Fun" to "Dumb For All. All For Dumb".
Old Carnival Logo

New Logo Proposed by PipesMagazine.com

10 Responses