The Cadillac of Lighters: Dunhill Rollagas
The Cadillac of Lighters: Dunhill Rollagas

James Foster

While they are not the most expensive lighters you can own, they do come pretty darn close if you're buying new.  Hopefully this article will give you some insight into what to look for – and why buying new may not be the best option for you if you're looking to add a Rollagas to your collection.
Dunhill is known for several iconic style lighters like the Unique – also known as the original Old-Boy style lighter, the Aquarium table lighters, the Tallboys and the Rollagas.  Unfortunately,  researching the history of Dunhill lighters though is like peeling back an onion, slicing it open, cutting your fingers, crying and not knowing if its because you cut your fingers or it's the onion.
My story starts this past January  when I decided I was going to add a Dunhill Rollagas to my collection. Knowing that I didn't quite want to spend the money to buy a new lighter, I went to ebay and started searching for a used , serviced, and warrantied lighter.  After snagging one from a reputable seller, I began my research.   This is where the train went off the tracks.
Dear James,

Thank you for your email, which our customer services team has forwarded to me.

I'm afraid we have a very strict company policy at the moment that we are not able to promote or discuss our lighters to the press. Sadly our policy means that I am unable to help you in this occasion. Should our policy change, I would be happy to send information.

Apologies for this inconvenience to you and your proposed feature, but thank you for your interest in the dunhill brand.

Best wishes,

H

Global PR Coordinator

Alfred Dunhill Limited

5-7 Mandeville Place
London W1U 3AY
www.dunhill.com
So an iconic brand doesn't want to talk about it's products? This made no sense.  So I did the next best thing, I turned to what I've found out is the best hidden resource for vintage Dunhill lighters: The Vintage Dunhill Rollagas Collectors Group on Facebook.  Not only did I find a wealth of knowledge I also had a chance to sit down with the reputable dealer who sold me the lighter on ebay, David Pitts.  We had a chance to chat about the brand over the years so I'll cover some history and then we'll dig a bit deeper with a brief interview with David.
You may or may not know this, but Dunhill did not manufacture their own lighters, the brand is synonymous though with many patents and firsts.  These are in no small part to whom we'd call the father of the Rollagas as we know it, Conrad Zellweger at the La Nationale factories in Switzerland.  Conrad, Louis Willie, Louis Bourquin, Leon Bolle improved upon their ideas and developed the patents that are still used today.  Things like the filling valve , burner system, and flame adjuster  all came out of the Swiss factories and each of these were patented by Zellweger .
As far as Dunhill as a brand of lighters are concerned, they introduced the Dunhill Unique around 1923 which was produced by Wise and Green (the lift arm patent).  In 1926 they bought them out and made the Unique exclusive for Dunhill.  They made many different styles of the Unique and it continued to be their main design for decades. Many of the more modern Dunhill associated designs actually were initiated by the designers that worked for Dunhills subsidiary company Parker Beacon. They first used the roller on their Uniques and other lighters and were actually the first to make the Rollalite in 1939. The Rollagas was patented in 1956 and mass production was began in 1957. Ironically the patent on the bottom of many Rollagases only pertains to the gas inlet valve and not the external design nor the other valves.  Those came from Zellwegers patents at La National.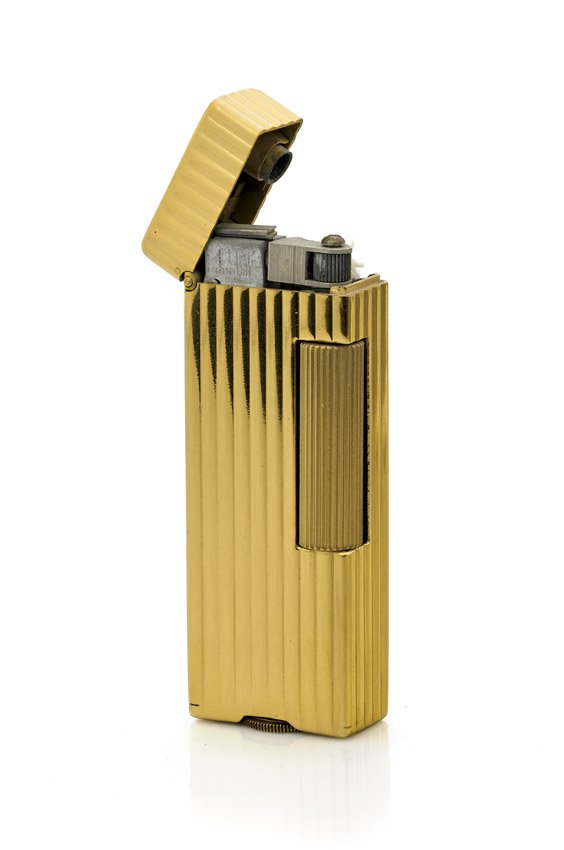 The Rollagas was actually  introduced in 1953 in limited production and was not in their catalogs until after the patent was granted in 1956. Its design was very close to Dunhill's popular petrol model the Rollalite and initially the Rollagas was only offered in gold and silver plated "engine turned" barley-corn pattern bodies with smooth lids. Other patterns were offered beginning in the early 60's including the Florentine pattern , hobnail, and "engine turned," diamond patterns. Dunhill only offered a few solid silver and 9kt gold models in very limited amounts. They brought out the Series 70 Rollagas in 1969 to compete with Duponts wide bodies and this model  was the first Dunhill lighter with the concealed hinge. The concealed hinge made it on the standard Rollagas in 1971.
James: How did we get to our current modern rollgas lighter? – i.e. what components do we see on other previous lighters to get to the perfection of this lighter?

David: It was a slow progression. But if you look at Dunhill and especially their Parker Beacon lighters you can see how the Unique overtime transformed into the modern Rollagas. Once Parker added roller to the unique the race was on. The Roller was the key in my opinion to this transformation. The Rollalite was the culmination of Dunhill's experience and success with Petrol lighters. Its size, shape and weight are perfect. The flint apparatus was easy to operate and worked consistently. So when Butane became an option for fuel the first Rollagas models looked almost identical to the Rollalite. After several years Dunhill made more and more models showing much creativity in the designs on their lighters.

James: Could you briefly talk about how the brand has changed over the past years?

David: I think a change certainly did occur after the Dunhill Family sold the company. Now it is owned by Richemont Group. I believe the discontinuation of the original Rollagas internal valve components with the introduction of the new generation Rollagas was not to improve the function or durability of the lighter but to make it nearly impossible for anyone but their authorized repair services to service. Dunhill will sell no lighter parts new or old to individuals… just their authorized repair services. By contract they prohibit their authorized repair services from selling parts to individuals as well.
James: How easy it is to work on dunhill lighters?

David: It certainly depends on the lighter! The old petrol lighters are fairly easy to replace their wicks and packing. Aftermarket kits are available to service the original Rollagas and all their butane lighters that use the same or similar valve system. This would include the Paris made solid silver Aldunil and Sylphide; TallBoy, LongBoy & Wheat sheath table lighters; Series 70 & the rare S.S gas lighter. The lighters the kits will not work on are the S-Type & Dress lighters from the early 1970's; the gas Uniques and Sylphides (made in England); the Gemline & Japanese made Slimline, and of course the New Generation Rollagas.

The main difference in the service kits sold on ebay is the instructions (if provided). I started selling kits after I had become fairly competent because the kits I first tried had very little instructions other than about  6 sentences….I have sold kits on ebay for about 5 years now and put a lot of time and thought into the instructions. I wrote the instructions so that anyone that can read instructions can complete the task. A Rollagas parts schematics are included and make a good reference. I sell my kits on ebay under my account: vintagedunhillrollagascollectors.
James: how did you get into restoring and repairing dunhill lighters?
David: I inherited a 1980's Rollagas about 10 years ago and enjoyed using it for a few years until it started to leak. Like most people I put it in my top dresser drawer for a few years and forgot about it. After I retired I had a lot of time on my hands and started selling a few things on ebay for my father. Out of the blue I searched for Dunhill lighters and was amazed at all the models that were available. I also found a service kit and I bought one. I felt great satisfaction after I got my beloved Rollagas working perfectly again. So much so I started buying the cheaper ones and servicing those. It wasn't long before I had a little collection.. and like I have now seen so many  others after me it becomes an addiction. After almost a year I became so comfortable with my skills I started buying lighters just to service and resale. This gave me more exposure and people started requesting as to whether I would service their lighters. I charge a fraction of what the Dunhill authorized repair services.  It is not about the money for me. It is a great feeling knowing that I am putting someones decades old lighter back into service and out of their top dresser drawer.
James: Quality wise how do you rate the Dunhill to say a Dupont lighter?
David: I believe DuPonts are excellent lighters… better than the new generation Rollagas, but they are more difficult to service than the original Rollagas.  To me the simplicity of the Rollagas valve system is pure beauty.  That is why I collect them and devote much of my time working on them.
James: Now the Elephant in the room – Why would you not buy a new Dunhill lighter?

David: I have over 200 different vintage Dunhill Rollagas models in my collection and just 3 of the new generation Rollagases. I am not impressed with the quality of the new lighters especially for the price they now charge for a new one. I usually sell a mint or near mint vintage Rollagas for less than 1/3 of the price of a new one. I have had trouble with my 3 New Generation Rollagases not with leaks but with achieving a satisfactory flame height. Generally they cannot get a flame over 1/2 an inch. Unlike my vintage Dunhill Rollagases I cannot work on them myself and would have to pay over $140 each for a service.  It would be out of the question for me to be able to keep all my lighters working paying that much for repairs.
In Summation I would like to thank David Pitts, Edu Estevez, and the rest of the fine individuals over at the Vintage Dunhill Collectors group on Facebook, without their help bringing the history and information to you would not have been possible.  I hope that this sheds some light on the brand and that you find the time to marvel at the masterpiece that is the Dunhill Rollagas. Also thanks as usual to Mike Sandoval for his photography skills. The mystery as to why Dunhill will not provide information or history on their lighters and brand continues, hopefully one day they'll once again be a bit more transparent.

James Foster goes by the online handle of Pylorns in the forums, and he is the creator of an app for keeping track of your tobacco cellar inventory called The Pipe Tool and serves as the President of the Austin Pipe Club.
More Pipes and Tobaccos Articles
4 Responses