There are some who would assert that this whole pipe collecting thing is some sort of disorder, and there are days when I'd scramble to be first in line to admit that they might be right. I've tried many times to yank the doors off their hinges and free myself from this affliction, but to date, there hasn't been more than the slightest shift in the neural pathways hardened, almost fossilized over the years against any and all attempts to guide them in other directions.
Fortunately, mine is a relatively harmless case. I've never gone without food or shelter in order to have another pipe, though I've considered, more than once, forgoing another vice, like coffee for a year in order to accommodate an acquisition outside of my spending range. It's never come down to anything so extreme. (People who have experienced my Hyde-like demeanor when in a state of caffeine withdrawal will attest that I become profoundly grouchy if more than a couple days pass without my morning java.) When something is that far out of reach, I generally just walk on.
And, the truth is that while it could be much worse, the current state of the affliction did kind of sneak up on me gradually. I easily remember a time when I held a very small collection. A seven day set was just the thing, a pipe for each day of the week. I was briefly satisfied with that. But, then, why not two weeks worth, so each pipe could rest well before being smoked again? At some point, along came the idea of dedicating pipes to different tobacco styles, then, at least for a while, to specific tobaccos. And, different shapes accompany different moods. See where this is going? It wasn't long before I calculated that 98 pipes would be a great number to have, allowing for seven pipes and seven blends, with at least two weeks of rest for each pipe between smokes. Might as well round that up to 100. It took several years, but eventually the collection reached that number. But, what about different sizes? Surely, there are times when a long, lingering smoke is wanted, and other times when a brief puff is just the thing; one hundred pipes wasn't likely to be the end of the journey…
As a result of this, for nearly as long as I've been a pipe smoker, I've bought, sold and traded pipes with an eye towards building and improving my collection. There have always been core pieces that, once acquired, would remain in my forever collection. Some of those have significant stories behind them, or are in some other way special to me, but alongside those have always been the transients, those pipes for whom my collection was only a temporary domicile, a place of rest and refuge until their forever home was found. Some of those may have originally scratched some aesthetic itch, to be moved along when my tastes shifted and interest in a shape or size switched gears. Others have been obtained specifically for the purpose of future trade fodder; those are usually easy to part with. One thing that is consistent, though, is that the trend line of the collection's size and scope has always, for four decades, pointed north.
Several times I've embarked on a significant "herd-thinning," sending a batch of pipes off to a dealer for sale or trade credit, treating them as a sort of currency in a generally poor performing savings account. It's how I've gotten most of my higher-end pipes. Break the piggy filled with a few years worth of "lesser" acquisitions, and two goals are simultaneously accomplished; I get something I want more than what I'm parting with, and the cardinality of the group decreases, if only temporarily. By my reckoning, if I'd kept every pipe I've ever had, several thousand, I'd be overwhelmed, inundated with the things. I have known of people with collections of that magnitude; I have both envy and compassion for them.
Usually, I've divested myself of pipes that I'd either lost interest in, or that just didn't smoke well for me. In the latter case, often as not, the new owners of my ex-acquisitions have thought I was pretty far off base. In a potential trade, the question "How does it smoke?" often arises. I'm always truthful. "For me, not so great," only to later learn that it ended up a favorite in its new owner's collection. I always figured it was something I was doing, something different with my technique, my packing style, my puffing cadence, or that some pipes just like tobaccos that I don't, and don't like tobaccos that I do, or that I'd just lost patience with it too soon, or something else entirely. Beyond a cursory glance over my shoulder, I've never looked back. Mostly.
With all the rationalization and pragmatic dust swept under the rug, I do sometimes find myself lamenting some of the "ones that got away," even if there was always sound logic behind their departure. Maybe a pipe was too big, or too small, or it was uncomfortable for me, or the shape no longer held my eye, or it just was one that I'd simply lost interest in. Sometimes, it was an opportunity to get something I wanted more than the ones I was trading. That's not a bad thing, but it's too often easy to forget the reasons behind the decision, and find regret years after the fact.
With some of those trades, I figured I could replace one piece with another, "better" example in the future. That has backfired more than once. I recall a pair of Larsen bulldogs, one bent, one straight. They didn't exhibit the best grain, but were wonderfully unique, wide, squat and futuristic things, like starships with stems. Gorgeous shapes. I've never seen another like either of those two, and remembering that I had them both at the same time brings up more than a little "trader's remorse." And, there was this gorgeously shaped little Castello Sea Rock saddle stem bent bulldog that I fought with for nearly two years before it became a good smoker, yet ended up trading it away out of the frustration I'd endured with it. Again, I've never seen another like it, and not for lack of searching. There was a uniquely carved Charatan Special billiard that was a war club of a pipe, but smoked like a dream. The list goes on. I remember them all, though not always the reasons for their leaving, and some of them, I regret parting with.
In my rational mind, the once magic number of 100 pipes still seems like a worthy, or at least a sensible goal, though it is now approached from the other side. Maybe 50 would be an even better number. Or 42, six times seven, since I have a rack on the wall that holds that many. I know people with much smaller collections that are completely content with them. A friend who collects only the finest examples he can find of straight-grain pipes maintains a very small and exclusive group of a specific number. When he finds a pipe he wants more than one he has, he sells the "lesser" one. I know those who collect only a specific maker and shape, or pipes from a certain country of origin or time-frame. I'm a bit jealous of this sort of dedication and commitment to specialization. I just can't do it. I'm plagued with being a generalist; I just love cool pipes, and there are, and have always been lots of cool pipes for lots of reasons.
I know I can't keep them all, that there has always been sound reasoning behind the "ones that got away" getting away. And still, today, there are many pipes in my "collection" all but ignored, that really should find another home where they would be more appreciated and treasured for what they offer. Sometimes, I make what seems at the time to be a smart decision and that happens. But, looking at things retrospectively, I often find myself a little gun-shy, hanging on to pipes that I probably shouldn't because I might one day change my mind. And, there is always the next pipe that pulls me into its orbit, drawing me into its gravity until I am powerless to resist. Despite my best intentions, the trend line will likely continue to point skywards. To quote Kurt Vonnegut's repeated refrain in his 1969 novel, Slaughterhouse-Five, "So it goes."
Maybe I'm just destined to spend the rest of my life with too many pipes, if there objectively is such a thing, like a magpie forever chasing the next shiny object, while continuing also to search for, and maybe one day find, replacements for some of those that got away. Sigh.
So it goes. It could be worse.
-glp
The Eye altering alters all.
– William Blake
Photos by G.L. Pease – To see more pipe and tobacco photos by G.L. Pease, follow him on Instagram here.
The pipes pictured are from my forever collection. If you ever see them for sale somewhere, please send flowers and condolences to my family.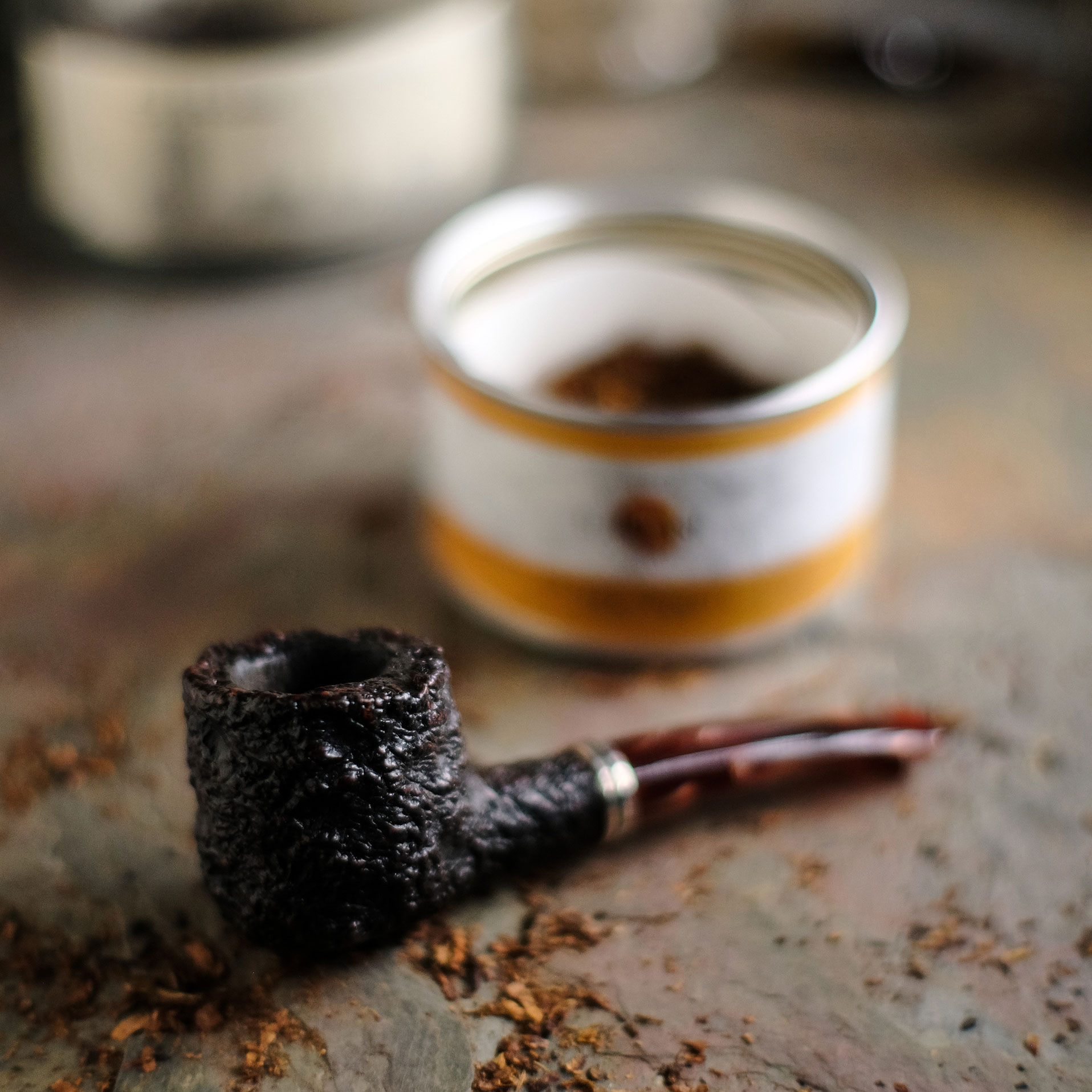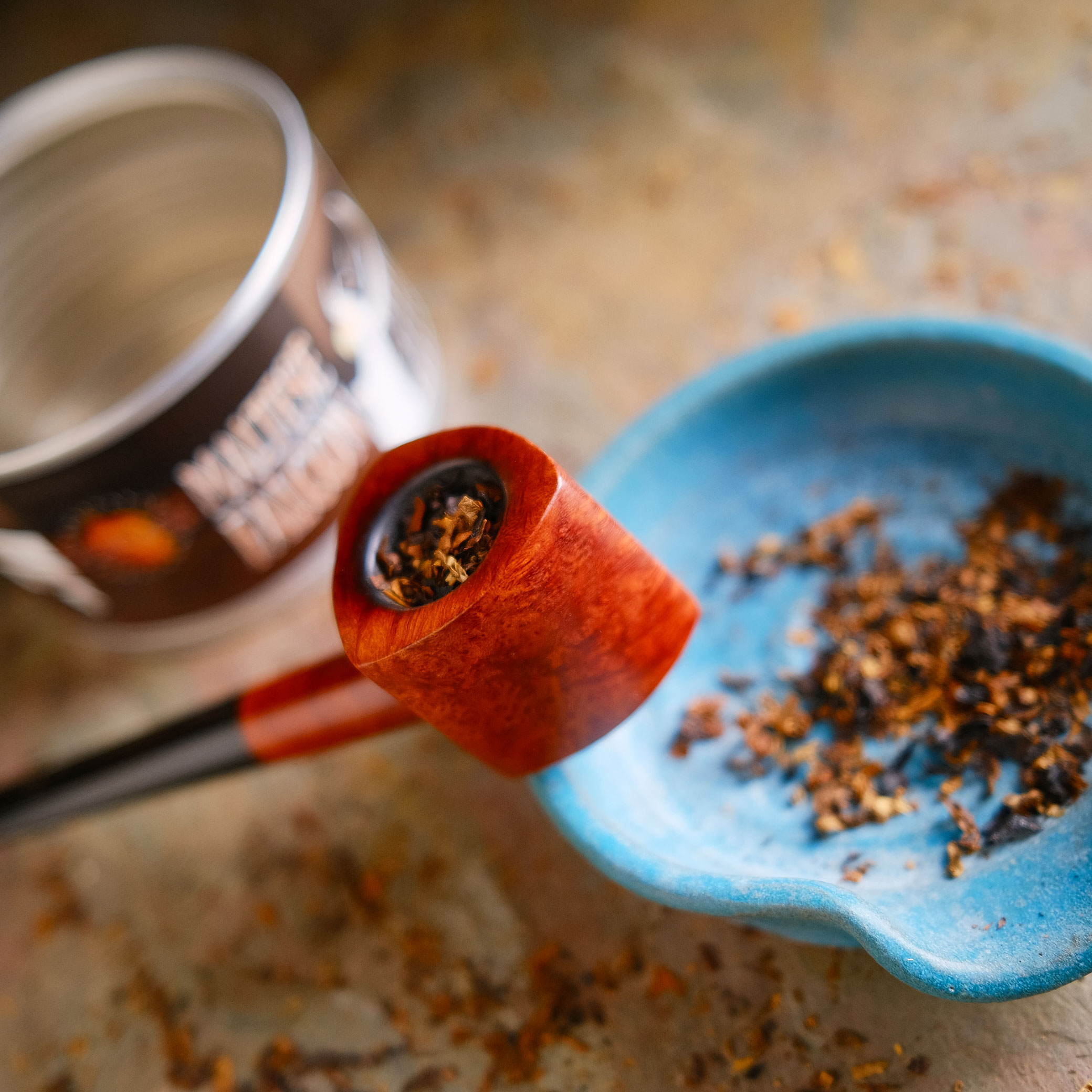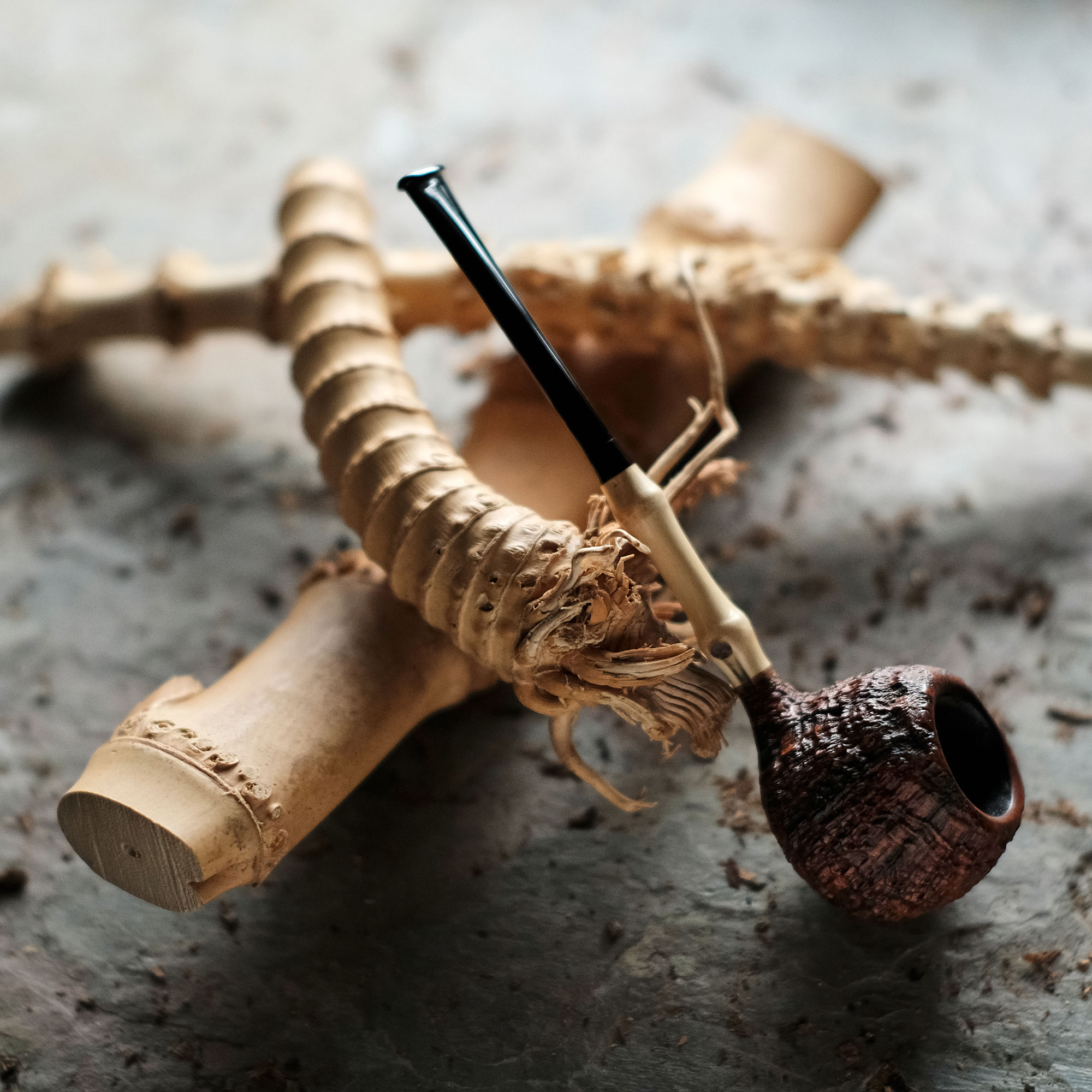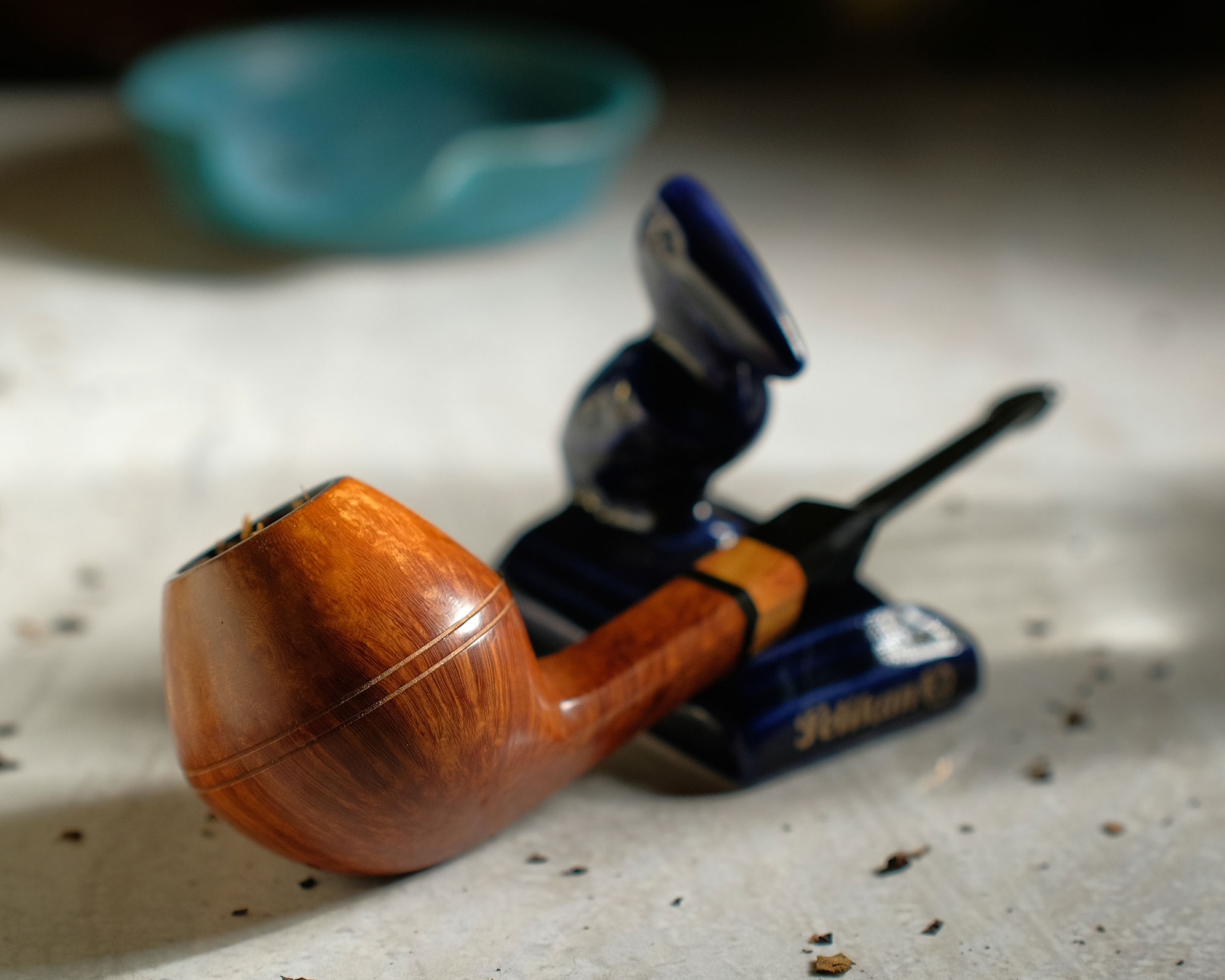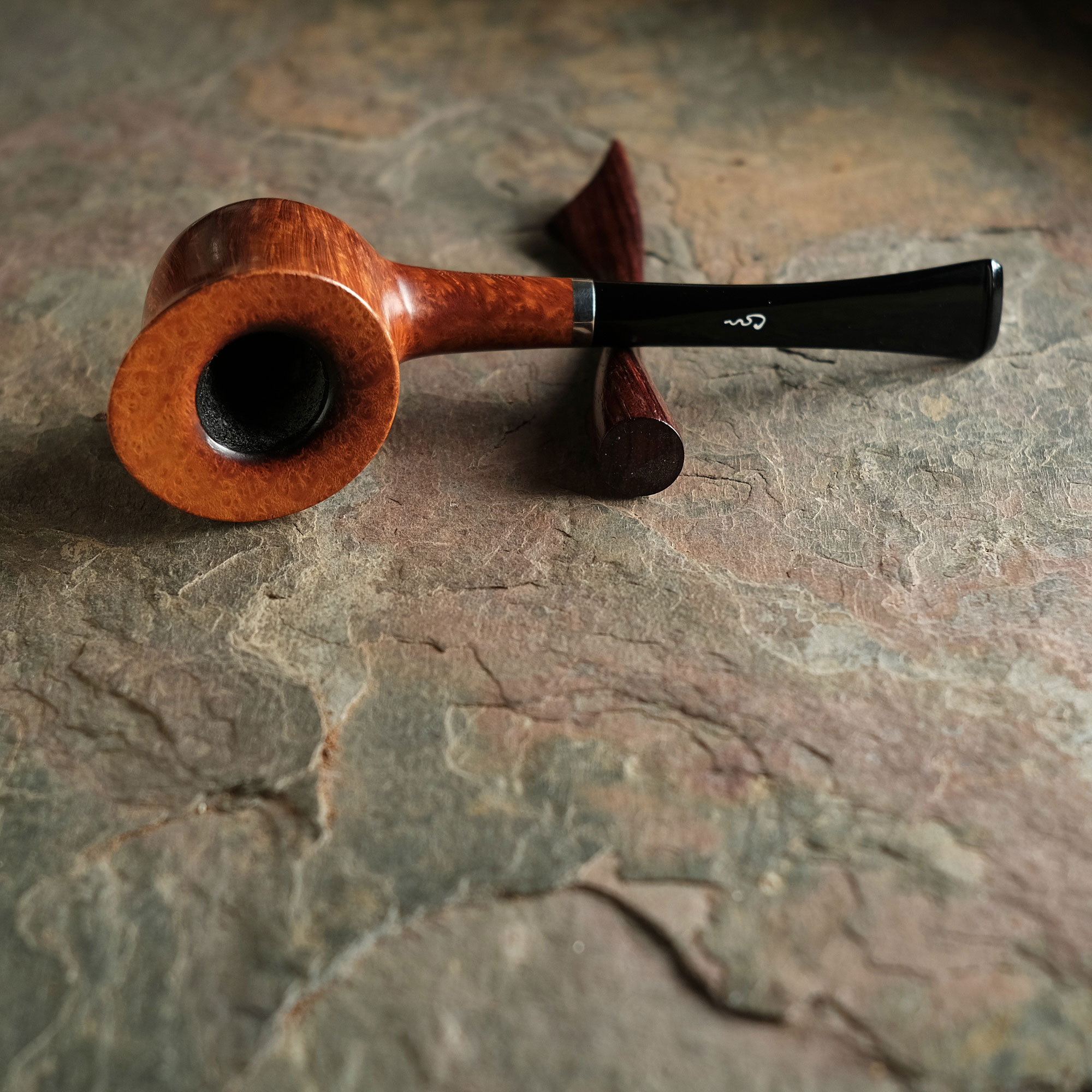 1 Response