Sure to be a rather odd entry into the annals of pipe smoking, I thought I would offer up this topic on how I keep one of my pipes clean. But it works! I love Meers and I love calabashes, but while most are quite darkened on the inside bottom black with buildup of tars, one pipe in particular I wanted to try to keep clean inside and as like new as possible. Enter the Condom.
After quite a bit of smoking, here is the inside of the pipe. It has only been smoked a couple of times without the condom: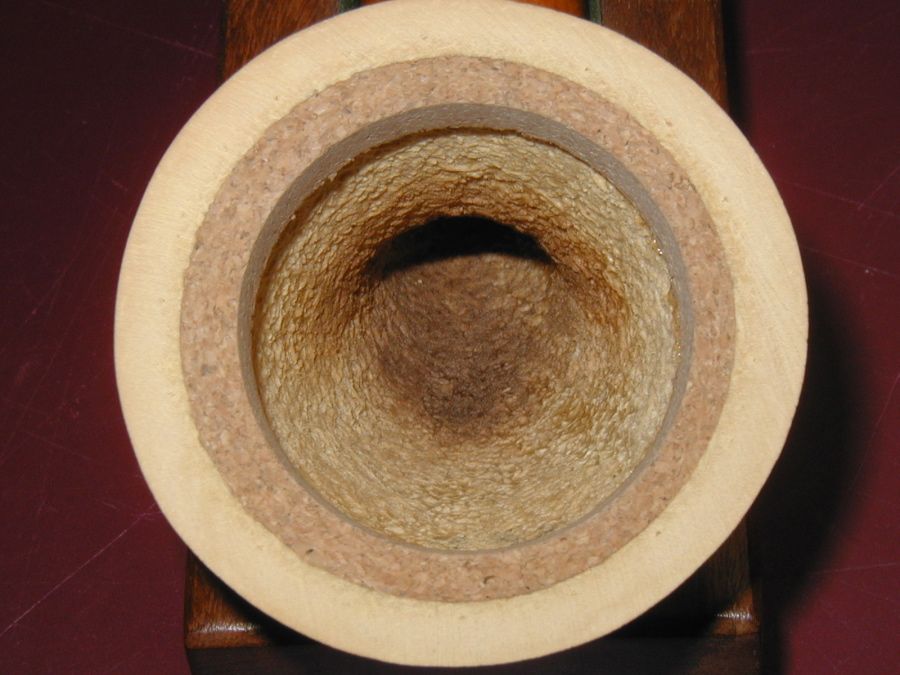 What I do is cut a piece of foil to fit in the bottom where the smoke from the bowl hits. I've found that most of the tar buildup happens right below the bowl and along the bottom of the curve. Very little builds up on the sides or above. Here is a picture of the insert in place:
Once smoked, very little is accumulated on the foil like it would the unprotected gourd. The smoke seems to just slide on by into the mouthpiece-- after smoking, there is only a drop or two of moisture condensate on the foil, and once removed, the pipe looks and smells very fresh. In fact, it could be smoked again immediately and if left to air for a few days, has very little musty smell from the smoke at all.
Not only does this not alter or degrade the taste of the tobacco, I find that it actually seems to transport more flavor to the mouth! And after a fashion, it takes all but a few seconds to make the insert and fit it in place-- I use my finger to fit it in the bottom and with a curved brush I made, I get it to cleanly fit along the side wall nice and tight even beyond where the eye can see. It works!