By: John St. Mark
Spanish wines have established a strong reputation for unique character and a remarkably favorable quality-to-price ratio.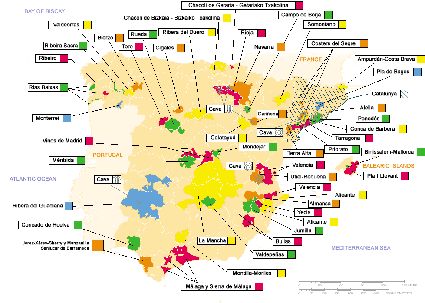 (Click for a Larger View of Spanish Wine Regions)
There are various traditional styles (including sweet, fortified and sparkling wines) that deserve attention, but for now let's talk about those dry, still wines being produced primarily in northern Spain that are attracting so much interest.
Spain has more acreage dedicated to vineyards than any other nation (although it falls third, behind Italy and France, in total production of finished wine due to lower yields.)
With so much to choose from, it might be useful to go over some of the ways wines are categorized in Spain; familiarity with some of the regions and grape varieties, and how the wines are classified, should help you make informed choices.


REGIONS
Wine is produced in nearly every region of Spain, and regional identity is often regarded as a more important indication of character and quality than, say, grape variety. Here are just a few of the regions known as major producers of high quality dry, still wines:
• LA RIOJA's vineyards are located primarily along the Ebro river valley in northern Spain. The sites of wineries built at the time of the Roman Empire are still in evidence there, and the wines of Rioja have long enjoyed special status; in 1685 the mayor of Logroño, capitol of Rioja, prohibited carriages from passing on the roads near the wineries for fear that "vibration from these vehicles might affect the juice."
Vineyard and winery practices in Rioja had changed little over the centuries until the mid-1800s, when two well-traveled men with considerable means chose to employ materials and techniques that had been developed in France. The brands they created, Marqués de Riscal and Marqués de Murrieta, have enjoyed continued success since then (favored in part by historical events, including the devastation of French vineyards by crop pests from the New World and the completion of a railroad connecting Logroño to Madrid and the port city of Bilbao in 1864.)
The political region of La Rioja doesn't precisely coincide with the viticultural region, which is divided into three parts. Rioja Alavesa is in Alava, a part of the Basque country, and it is the highest and coolest of the three sub-regions; the soils are dominated by limestone and clay. Rioja Alta is slightly warmer, and has more alluvial soils with higher iron content; a small part of the Rioja Alta is actually in Castilla-Leon. The climate of these two areas is considered "Atlantic" whereas the climate of Rioja Oriental (formerly known as Rioja Baja) is considered "Mediterranean"; it is warmer and drier, with less seasonal variation (it is partly in Navarra) and the soils are similar to those of Rioja Alta.
• NAVARRA is contiguous with La Rioja to the north and east, and in fact a substantial part of Navarra's production is classified as Rioja wine, enhancing its marketability. In the past, Navarra has been known primarily for rosé wines produced from grenache grapes, but innovation in recent years has resulted in the increasing production of fine reds and whites as well.
• RIBERA DEL DUERO is situated to the west and a little south of La Rioja, in the Duero river valley (the Ebro runs west-to-east, into the Mediterranean, whereas the Duero runs east-to-west, into the Atlantic. On the Portuguese side of the border it is called the Douro, which is where port wine is grown.) The valley averages over 2,500 ft. above sea level, having very hot summer days and cold nights, and a short growing season for Spain. Soils tend to be loose, with a lot of limestone and iron.
In 1864 Vega Sicilia was established there; it has long been considered one of Spain's most prestigious (and expensive) wines, and provided the exception to Rioja's dominance in the production of unfortified, age-worthy dry wines. In recent decades, a number of excellent producers have brought Ribera del Duero wines to a much wider public.
• PRIORAT is an isolated, rugged region located inland from Tarragona on the Mediterranean coast, south-west of Barcelona. Grapes are cultivated in small land holdings situated along a winding river valley, on steep slopes (costers) which are often terraced (terrasses) in nutrient poor, slatey soils (llicorelas.) Summer heat and winter cold are severe. These conditions make highly mechanized farming virtually impossible, and tend to result in low yields with intense flavor concentration (and unusually high alcohol concentration as well.) This region is only recently emerging from many years of economic depression; new investment combined with old vines planted in unique terrain has resulted in some extraordinary wines.
• RUEDA is the southernmost region of Castilla-León, forming part of Spain's central meseta, and averaging around 2,000 ft. altitude. Vineyards tend to be small and scattered, and yields low due to the arid continental climate. Soils are loose and rich in iron, average annual rainfall is around 407 mm. and annual sunshine around 2,700 hours.
Rueda wines were highly prized during the Middle Ages. In 1897 phylloxera (the larval form of an aphid that attacks vine roots) wiped out Rueda's vineyards, and they were replaced with fast-growing, high yielding vines that produced mediocre wine. Beginning around 1972, there was a concerted effort to raise quality standards by promoting the native verdejo grape, along with sauvignon blanc. Unusually for Spain, Rueda wineries are now known almost exclusively for fine whites.
• RIAS BAIXAS is in the northwest corner of Spain, on the Atlantic coast. Wine has been produce there since ancient times; Caesar Augustus was especially fond of wines from the region. The proximity of the ocean and the Gulf Stream influence the climate, which is damp (for Spain) with less seasonal variation than the interior. Soils are generally shallow and sandy with a granite base, and vineyards are right by the shore, near sea level. Several fine white varieties are cultivated here; the best known internationally at present is albariño.
GRAPE VARIETIES
The following are some of the grape varieties native to Spain. Beginning with reds: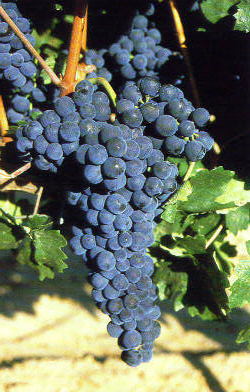 • TEMPRANILLO has been called "Spain's Noble Grape" as it provides the base for many of Spain's most elegant and age-worthy dry red wines. The name is a diminutive form of the Spanish word "temprano" (meaning "early") and it is attributable to the grape's tendency to ripen early (this is important in the high-altitude regions – prone to early frost – where it flourishes.) The origin is in La Rioja, although it is now cultivated just about everywhere better red wines are produced in Spain. It is the principal (and sometimes the only) varietal in most of the classic Rioja and Ribera del Duero red wines. It can age very gracefully, and also produces pleasant, fruity young wines. It is also known as "cencibel" (in La Mancha), tinto de Madrid, tinta de Toro, tinto fino (in Ribera del Duero), tinta del pais (also in Ribera del Duero), ull de llebre (in Catalonia) and tinta roriz (in Portugal.)
• GARNACHA is better known internationally by the French name grenache, although it is originally from the Spanish region of Aragon (the variety we are talking about here is also called "garnacha tinta" to distinguish it from garnacha blanca, garnacha tintorera, garnacha peluda, etc.) This is a variety that requires a long summer to mature properly (it is now widely cultivated in the Rhone Valley, California and Australia.) Old vines in previously depressed regions of Spain (like the Priorat) are now producing wines of exceptional quality. It is also used for fine dry rosés.
• CARIÑENA (named for the area in Aragon where it originated) is also known as mazuelo in Spain. Once again, the French name (carignan) is more commonly used internationally.
Here are some noteworthy whites:
• VIURA is another varietal that originated in La Rioja, where it is still the primary grape for most white wines. It is known as macabeo in Catalonia, where it is used for cava (along with xarel-lo and parellada.)
• ALBARIÑO until recently was cultivated almost exclusively in the Rias Baixas region of Galicia, in the northwestern corner of Spain. It is said to be related to riesling, having been brought by Alsatian monks (pilgrims on the road to Santiago de Compostela) in the 11th century. It is cultivated right by the sea in one of the dampest regions of Spain. At its best it produces wines that are nicely balanced with mineral, citrus and floral notes that go beautifully with seafood.
• VERDEJO is native to the region of Rueda in Castilla-Leon. Rueda is unusual in that the only officially recognized and approved wines are whites. It produces flavorful wines that can offer a range of characteristics, depending on the vineyard and the vintage, from crisp and citric to tropical.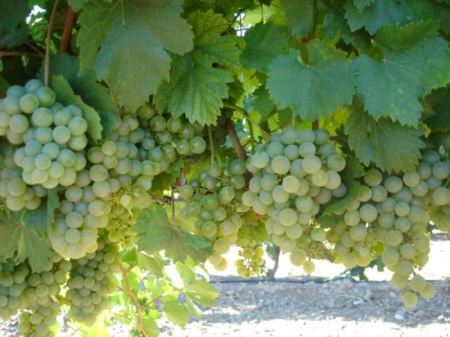 HISTORY AND REGULATION
They've been drinking wine in Spain for a long time. Egyptian wine urns have been found in Andalusia dating from 914 B.C. (the date was easy to determine; they were "labeled" with hieroglyphics specifying the vintner's name, the vineyard, the quality classification, and the vintage date expressed as a year in the reign of the Pharaoh in power at the time.) The coastal regions of Spain were introduced to viticulture by the Phoenicians, and this practice was continued by the Greeks and later greatly expanded by the Romans, who planted vines extensively, primarily in river valleys. Regulation dates back at least to 1106, when King Sancho of Navarra made Spain's first wine laws.
Nowadays the industry is regulated by a system of local and regional councils which began in the 1920s. Nationwide it is administered by the Instituto Nacional de Denominaciones de Origen, which grants (or denies) to specific regions status as an official Denominacion de Origen (D.O.) and the regional Consejo Regulador sets standards for such things as what grape varieties may be planted, vineyard and winemaking practices, aging minimums, labeling terms, etc. Taste and chemical tests must be passed to receive a D.O. seal on the label. D.O.C. is a higher status still (comparable to the Italian D.O.C.G.) for a time held only by Rioja; in 2000 it was granted to Priorat as well.
If a wine is produced outside one of the recognized D.O.s, or is not approved by the Consejo Regulador, it is classified as a simple vino de mesa (table wine) and information cannot go on the label regarding grape varieties or vintage. There is also a newer category called vino de la tierra (wine of the land) which is a step above vino de mesa and is assigned in anticipation of future D.O. status.
Just how D.O. approved wines are classified varies somewhat from region to region (regions with less important wine industries tend to be less strict) but most follow a system modeled after Rioja's:
• Cosecha, Cosechero or Vino Joven is released in its first year, with 0-12 months of barrel aging.
These wines tend to be fruity and fairly simple, and very economically priced. At their best they can be quite enjoyable, and offer a lot of varietal character.
• Crianza refers to at least 2 years of age, including at least 12 months in barrel (white or rosé crianza wines will have half of that.)
After two years of aging, these wines should be smoother and more food-friendly, but of course personal preferences vary regarding wine and food pairing. Depending on winery practices and the sort of cooperage employed, some crianza wines can be quite oaky.
• Reserva wines are released after a minimum of 3 years, once again with at least 12 months in barrel.
Fruit and oak character should be better integrated at this level. It is not simply a matter of age; reserva wines should also be made from a more rigorous selection of fruit.
• Gran Reserva wines have at least 2 years in barrel and at least 3 years of bottle aging (at least 5 years total.)
Bodegas don't produce reservas or gran reservas every year; the wines should also be of exceptional quality. They are often cellared for a very long time. The more old school gran reservas are sometimes described as tasting of "blood and gravel"; that may not sound appealing, but just try one with a rack of lamb!
The information on the label (region, grape variety, quality classification, etc.) can be very helpful when you select wine, but there is really only one way to know if you are going to like it: taste!
¡Salud!
3 Responses