It's OK to LIE, MISLEAD, MIS-EDUCATE, and cause HYSTERIA as long as it's about TOBACCO
It's OK to LIE, MISLEAD, MIS-EDUCATE, and cause HYSTERIA as long as it's about TOBACCO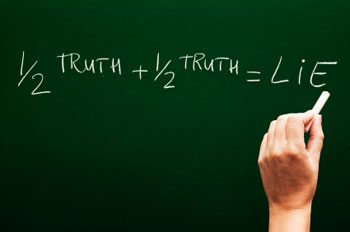 Did you know that if a smoker looks at you from across the street that you will get cancer and die within 5-minutes?
You often hear that there are no "fact checkers" on the Internet, and that traditional media is more professional because they don't just report anything … they have fact checkers. Well, if that's true, then how come this happened? … The other morning, I am upstairs in my office checking email as Laura is making breakfast for us and watching CNN Headline News. Suddenly, she yells upstairs; "Oh my God, you should see what they are saying about tobacco! This is serious! It is so bad!" My immediate reaction was to roll my eyes and think, "what now?" Then I yelled back that she should ignore it and it is all a bunch of hyperbole from someone that has no life and nothing better to do. Laura retorted that it has to be true because Robin Meade is saying it on Headline News and the Surgeon General said it.
WOW! Talk about a misuse of public voice … to say the least. When the Surgeon General and CNN Headline News asserts something, you know that millions of people are going to take it as fact. I am starting to wonder how we here in the U.S.A. compare to the people of Iraq, China or North Korea when their official news agencies report on something. What I've been taught to believe is that media such as the National Iraqi News Agency, Xinhua News, (the state-owned media in China), and the Korean Central News Agency in North Korea don't really report facts. They report their own self-serving propaganda. If that's true, and I believe it is, I wonder how many of the people there have figured it out and know not to really believe all the garbage that comes out of those wide-reaching public voices?
Then I wonder how different it really is here in the U.S. And I wonder if a larger percentage of the population in the U.S. believes propaganda reported as fact than do Iraqis, Chinese and North Koreans.
On December 9, 2010 the Surgeon General issued a report that I have only slightly parodied and exaggerated in my sub-headline. She basically says that a 1-time exposure to 2nd-hand smoke causes immediate and irreversible harm.
I say this report causes immediate and irreversible harm to truth and credibility.
Something else that is extremely troublesome that is constantly done is the extrapolation of the tobacco in mass-produced cigarettes across all genres into luxury tobaccos such as cigars and pipe tobacco.
Consider this statement from the Surgeon General's press release: "Tobacco smoke contains a deadly mixture of more than 7,000 chemicals and compounds, of which hundreds are toxic and at least 70 cause cancer."
That is absolutely 100% FALSE when it comes to cigars and pipe tobacco. They say "tobacco smoke", they do not say "smoke from mass-produced cigarette tobacco" as they should … and who even knows if that's true?
It's interesting how many consumables tout that they are ALL NATURAL, of course connoting their wholesome goodness. Premium cigars and luxury pipe tobacco are also ALL NATURAL and do not have "7,000 chemicals" added to them.
Dr. Michael Siegel states; "The press release's assertion flies in the face of common medical sense. How could it possibly be that a brief exposure to secondhand smoke can cause heart disease? It takes many years for heart disease to develop. It takes years of exposure to tobacco smoke even for a smoker to develop heart disease. I estimate that it takes at least 25 years of exposure (based on the fact that very few smokers are diagnosed with heart disease before age 40).
So how could it possibly be that for an active smoker, heart disease takes 25 years of exposure to tobacco smoke to develop, but for a passive smoker, it only takes a brief exposure?"
Read The Rest of the Story:
Surgeon General's Office Again Misrepresents and Distorts the Science in Report Press Release; Why the Need to Lie to the American Public?
Steve Milloy, author of "Junk Science Judo" and "Green Hell", says; "Let's all thank Surgeon General Regina Benjamin for demonstrating beyond all doubt last week that nannyism is more dangerous than smoking.
The Office of the Surgeon General just released a report claiming that a single puff of a cigarette or a single inhalation of secondhand smoke can permanently damage one's health and perhaps lead to death. Now we know what all those blindfolded condemned men given one last puff as they stood before firing squads really died from.
While no one disputes that too much smoking is unhealthy, the new report demonizing any smoking or even incidental exposure to secondhand smoke is clearly over the top."
Read More of his post:
Surgeon General Jumps the Shark
A renowned member of the Boston University School of Public Health and members of the International Premium Cigar & Pipe Retailers Association are also challenging as unscientific and potentially unethical last week's report from the Office of Dr. Regina Benjamin, the U.S. Surgeon General, about the effects of tobacco smoke.
The report said that even brief exposure to secondhand smoke – as from one cigarette – can cause cardiovascular disease, trigger acute cardiac events and can damage one's DNA and lead to cancer. These and other parts of the report are being challenged by the IPCPR which is comprised of some 2,000 members who are primarily small family businesses that operate neighborhood cigar stores or manufacture premium cigars, pipes, tobacco and related accoutrements.
"The mixed signals and misinformation coming from Dr. Benjamin's office lead one to question everything they say and do," said Chris McCalla, legislative director of the IPCPR.
McCalla cited the fact that one of the first actions of President Barack Obama's administration was to push through draconian increases in tobacco taxes to fund an expanded children's healthcare program. Then the Family Smoking Prevention and Tobacco Control Act was passed, giving new powers to the Federal Drug Administration to reduce smoking in the United States. Now, the Surgeon General is saying, in effect, that walking past a smoker on the street could cause a person to develop cardiovascular disease and cancer.
"It is simply untrue to assert that brief exposure to secondhand smoke can cause such results," added Prof. Michael Siegel of Boston University's School of Public Health. "If there is no safe level of exposure to any carcinogen, that would include exposure to automobile exhaust, the sun's rays, benzene, radon in homes, arsenic in drinking water and many other everyday items."
Prof. Siegel, who is not associated with the tobacco industry or IPCPR, also said those statements are untrue and that nothing in the actual report supports those assertions.
"There is nothing in the report itself which … supports the assertions that a brief exposure to secondhand smoke can cause cardiovascular disease or cancer. These assertions … have been manufactured to create a sense of public hysteria, but they are unsupported by any science whatsoever," he wrote in his blog at www.tobaccoanalysis.blogspot.com on Dec. 13, 2010. "This is the second time that the Office of the Surgeon General has misrepresented and distorted the science of … secondhand smoke. The press release which accompanied the Surgeon General's 2006 report on secondhand smoke made the same false assertion," he said.
McCalla also cited the fact that, prior to her nomination as U.S. Surgeon General, Dr. Benjamin served as a trustee of the Robert Wood Johnson Foundation which contributes tens of millions of dollars every year to promote smoking bans and fund anti-tobacco groups in the United States and internationally.
"Why is this a potential conflict of interest? Because the foundation's sister organization is Johnson & Johnson, maker of Nicorette, a nicotine replacement product," he said.
13 Responses