The Pipes Magazine Radio Show – Episode 79
The Pipes Magazine Radio Show – Episode 79
Kevin Godbee

Thank you for joining us for The Pipes Magazine Radio Show—the only radio talk show for pipe smokers and collectors. We broadcast weekly, every Thursday at 8 pm eastern USA time and are available on nearly all podcast sites and apps. Listen on your computer, tablet, phone and even in the car! Our Featured Interview tonight is with Phil Morgan, the General Manager of the Missouri Meerschaum Co. Missouri Meerschaum has been making the original American-made Corn Cob Pipes for nearly 150-years. They have a great story and a rich history, plus there will be a surprise announcement. In the "Pipe Parts" segment Brian will discuss pipe sub-brands of major factories. We will also week two of three with special pipe auctions to support the JDRF and Brian's daughter, Samantha. Sit back, relax with your pipe, and enjoy The Pipes Magazine Radio Show!
Tonight's show is sponsored by Sutliff-Tobacco.com, CupOJoes.com, SmokingPipes.com, Missouri Meerschaum, 4noggins.com, and MeerschaumStore.com, Please give them some consideration when making your next pipe or tobacco purchase.
We hope you enjoy our 1-hour show produced just for you—the pipe smoker and collector. The following link will launch a pop-up player. Alternatively, you can download the show in iTunes and other podcast sites and apps after the initial broadcast is complete here.

Phil Morgan, General Manager of Missouri Meerschaum Co. Smoking a Country Gentleman Corn Cob Pipe
CornCobPipe.com
We have an amazing S. Bang pipe generously donated by author Rick Newcombe. The pipe is 6-inches long. The bowl height is 2-inches. Width across the rim is 1-1/2 inches. Chamber width is .85 of an inch. Weight is exactly 55.5 grams. So, it is a good sized pipe and comes with Bang pipe sock.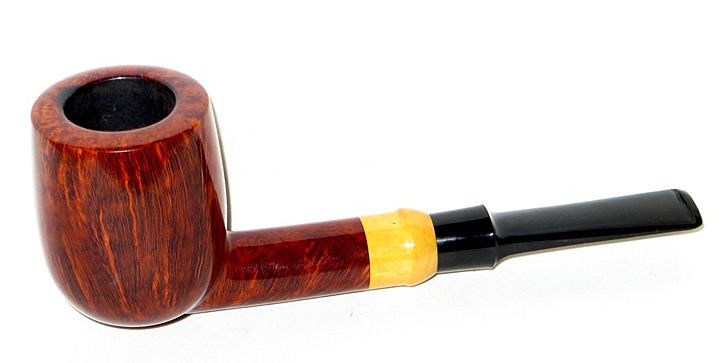 We also have a custom-made tamper donated by Cosmic Folklore. You can bid on these while at the same time helping us raise funds for the Juvenile Diabetes Research Foundation. Brian's daughter Samantha has juvenile diabetes and she is participating in a walk team to raise donations.
BID ON THESE ITEMS HERE (Auction starts on Saturday, March 22nd and runs for one week.)
DONATE DIRECTLY TO SAMANTHA'S STEPPING SUPERSTARS TEAM HERE
More Pipes and Tobaccos Articles
7 Responses