The Pipes Magazine Radio Show – Episode 188
The Pipes Magazine Radio Show – Episode 188

Kevin Godbee

Thank you for joining us for The Pipes Magazine Radio Show—the only radio talk show for pipe smokers and collectors. We broadcast weekly, every Tuesday at 8 pm eastern USA time and are available on nearly all podcast sites and apps. Listen on your computer, tablet, phone and even in the car! Our Featured Interview tonight is with Christopher Jenkins. Christopher plays classical guitar, has two albums out, and has a Masters Degree in Music. He performs as part of The Coda Duo, and is a Teaching Artist at the George Mason University Potomac Arts Academy. Christopher is also co-owner of Faithbrooke Barn and Vineyards, and is of course a Pipe Smoker. In the "Pipe Parts" segment, Brian will talk about Cavendish tobacco. Sit back, relax with your pipe, and enjoy The Pipes Magazine Radio Show!
Tonight's show is sponsored by Sutliff-Tobacco.com, SmokingPipes.com, Missouri Meerschaum, 4noggins.com, Cornell & Diehl, and Savinelli Pipes and Tobaccos. Please give them some consideration when making your next pipe or tobacco purchase.
We hope you enjoy our 1-hour show produced just for you—the pipe smoker and collector. The following link will launch a pop-up player. Alternatively, you can download the show in iTunes and other podcast sites and apps after the initial broadcast is complete here.

Christopher Jenkins
Website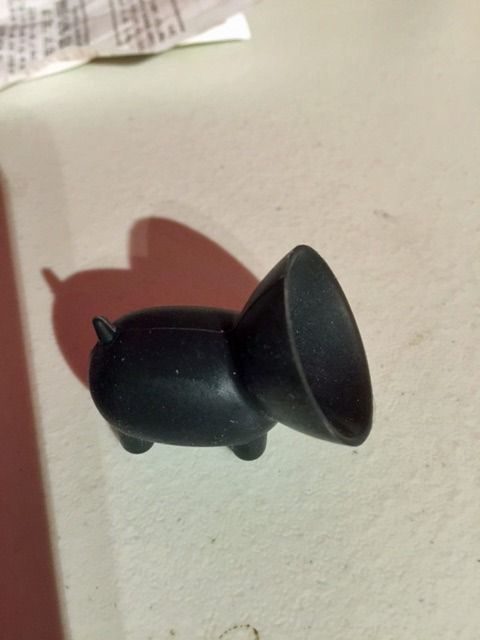 Rubber "Pig Butt" for Brian's Mobile Phone
Auction Items – these end on Saturday April 23, 2016. All from Kevin Godbee's personal collection.
Rhodesian Genod 2012 UPCA Slow Smoke Contest Pipe – smoked once for the contest only.

Nording Hunter Series, "Wild Boar" Pipe.

WO Larsen Pipe

More Pipes and Tobaccos Articles
8 Responses