E. Roberts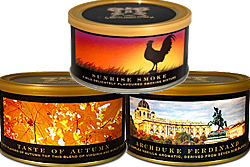 It's the midst of the spring thaw in the northeast, veering between warmish sunny days and snow flurries, and it has my palate thoroughly addled. It's as though the barometer has been drinking, to paraphrase Tom Waits, and the thermometer has been bartending. Even blends that I'm intimately familiar with just aren't hitting their expected stride, at least not for two days in a row. Fortunately, tobacco can be quite forgiving when switching up the rotation. Unlike opening a bottle of champagne, for example, which must be enjoyed in its entirety immediately, opening a tin of tobacco gives you plenty of time to savor it. It can last a few days, weeks, or even months easily—longer if transferred to a sealed jar. With such a wide variety of Sutliff Private Stock concoctions in the cellar to choose from, it's also startlingly economical to play the field with different blends, so this month we'll take a brief look at the three tins I've been juggling while the weather sorts itself out: Sunrise Smoke, Taste of Autumn, and Archduke Ferdinand.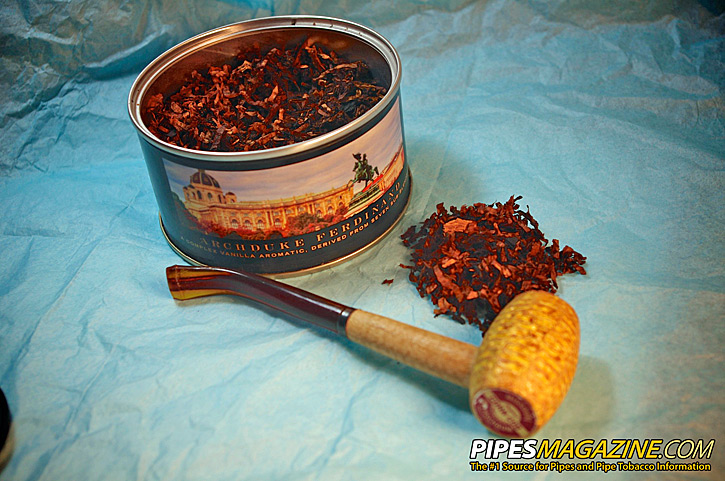 "What is the good of your speeches? I come to Sarajevo on a visit, and I get bombs thrown at me. It is outrageous." –Archduke Ferdinand
Aromatic blends are generally less environment-dependent to experience the full range of their flavors as opposed to, say, a single-crop Virginia like a McCranie's Red Ribbon. So, when the season moved from "just plain cold" to "schizophrenic with a chance of allergens", reaching for an aro was a natural choice. Archduke Ferdinand is a rather curious name for a vanilla aromatic, and the first puzzle I attempt to tease out of the blend. Was it a reference to his propensity for big-game hunting? Would it lead to a series of events that culminated in a world war? Was it merely a tip of the hat to a bohemian attitude when smoking? Sutliff's own site reckons its mix of different leaf and cuts is, "much like tracing the lineage of royalty." Accepting that at face value, my worries of political assassination fade away in the smooth and creamy aroma of vanilla exuded by the chocolaty brown strands. Touting seven different vanilla sub-blends, it presents an even-keeled sweetness that is neither too tart nor too faint.
Moist in the tin, a little drying time makes for an easy burn in smaller-gauge pipes, in which I find it best performs. A Missouri Meerschaum "Mizzou", particularly, fits the blend perfectly with its thin profile and chamber just a smidge larger than a standard tamper. While it doesn't exactly offer a surplus of complexity, it makes for a great short smoke before and after a meal or a snack—sort of a tobacco world bon-bon, if you will. The aroma lasts from top to heel, and is sure to be enjoyed by those around you as it imparts a calming, Play-Doh-esque ambience to the room. As an interesting side note, the tin art depicts an equestrian statue not of the eponymous Ferdinand but of Archduke Charles. Sutliff tins somehow always send me on a pleasant information quest while enjoying the blends within.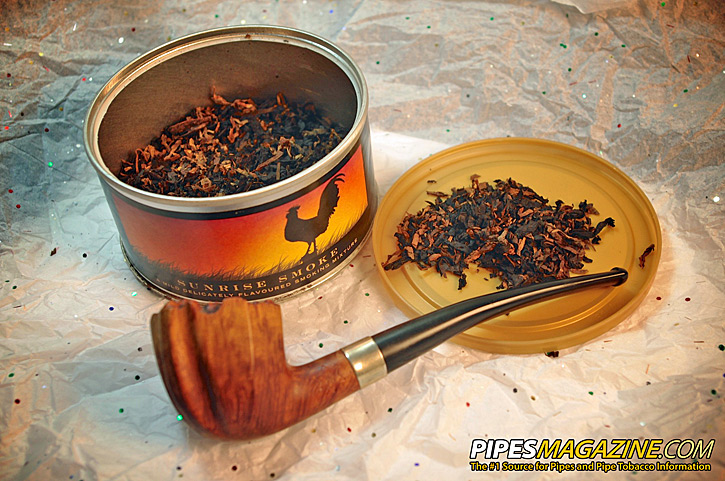 Here comes the sun, here comes the sun, and I say it's all right. –Lennon / Harrison / McCartney
Hopscotching from blend to blend is what I do best, so next up is a Latakia mixture. Sunrise Smoke, from Sutliff's English style line, is a direct reference to the acclaimed Early Morning Pipe from Dunhill. It's touted as appealing to fans of Dunhill's EMP, rather than as a match blend, and should be approached as such. On its own, it's easily one of the best Sutliff blends I've sampled: tart on the top end with some spice in the middle and just enough bass to round it out. Pressed Virginia ribbon and black Cavendish, Turkish, and a restrained pinch of Latakia do indeed make for a good morning time smoke to accompany light bready fare such as croissants with coffee.
In the tin, its bouquet is deceptively muted. A good percentage of yellowish ribbon intersperses the larger portion of dark and black strands, exhaling a mild bouquet with only hints of leather and wood glue. It diverges greatly from the Dunhill blend's proportions of Oriental leaf as well as uniformity of cut. With minimal drying time, though, it's ready to pack and release its true nature, with the flavors coming through quite well from the top of the bowl to the end. Also mild in the nicotine department, a couple of bowls before breakfast and a couple more afterward are enough to wake me up but not overwhelm. I'll definitely be starting a few more of my days with Sunrise Smoke.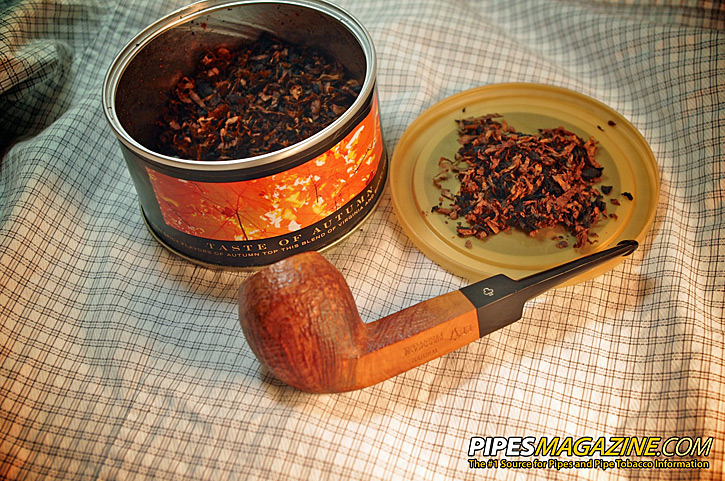 Spring shall plant and autumn garner to the end of time. –Robert Browning
With the morning repast concluded, it's an afternoon out on the town for me, running errands but without a pipe to enjoy. A trip to the DMV, a few business calls, a suit fitting, and a whole lot of walking have me looking forward to returning home for some serious relaxation. During the day I've picked up a couple more Peter F. Hamilton books—a brilliant hard sci-fi author, highly recommended for those who enjoy the genre—and so select a spicy aromatic to accompany the evening's reading: Taste Of Autumn this time, thinking it fitting for the in-between-ness of the weather. Though the tin art depicts maple leaves, this isn't a maple syrup flavored brew; look to Sutliff's excellent Maple Street for that.
After my trip to the Strand for the books, I also made a detour to the Harney & Sons outlet in SoHo to restock on their stellar Earl Grey Supreme. Blended with black, oolong, and white tips, and with a generous helping of bergamot, it is the bee's knees of teas. The tobacco, though an aromatic, sidesteps the typical sweetness in favor of spicy tones, and complements the beverage sublimely. Instead of maple syrup, it evokes the aroma of a campfire built with maple branches, its burley laced through with notes of allspice and nutmeg, and just a shade of tartness from the Virginia at the top to highlight. To be fair, it took several tries to really get a handle on the flavors, as they're not at all overwhelming. Numerous bowls smoked through the same pipe over the course of a few days really releases them, and dials in the profile. Balanced with the tea, the effect is exactly what I'd been dreaming of all day: my body warm and calmed, but my mind racing along an alien landscape, illustrated expertly by the wisps of fragrance issuing from my pipe.

4 Responses