E. Roberts

Leave it to the dry Irish wit of the folks at Sallynoggin to turn a parable on its ear. While the Hans Christian Andersen classic is a cautionary tale, warning us to not be fleeced by appearances (or the lack thereof), Pete's new perennial tobaccos offer us a glimpse behind the curtain to peer at the most understated of aromatics. Many pipe smokers fall into step with a mild snobbishness regarding aromatics, thinking them all cloying, nectarous disguises for cheap tobacco. Peterson's first two seasonal tins for 2015 are every bit the opposite of that assessment. They're the most stripped-down aromatics I've ever smoked, and for all their mildness are rich with flavor, using their gossamer-thin seasonings to merely accentuate the qualities already present in the constituent leaf sourced from Africa and Brazil. This is not to disparage heavily-cased aromatics, of course. I've gone on record extolling the virtues of a thoroughly seasoned smoke many times, from many blenders, and particularly Peterson.

Vilhelm Pedersen's original illustration for the children's classic.
Ever wonder why so many aromatics are variations on the theme of vanilla, chocolate, or fruit? Not surprisingly, the volatile aromatic compounds naturally present in tobacco are the same as those in other plants that produce the fruits that we have made our sweets—nature herself returns to the same palette again and again. They are ultimately facets of the same coin, and accentuating the inherent flavors of tobacco is, well … only natural. This year Peterson shows us how good a nearly naked aromatic can be; I challenge any dyed-in-the-wool aro-hater to prove me wrong.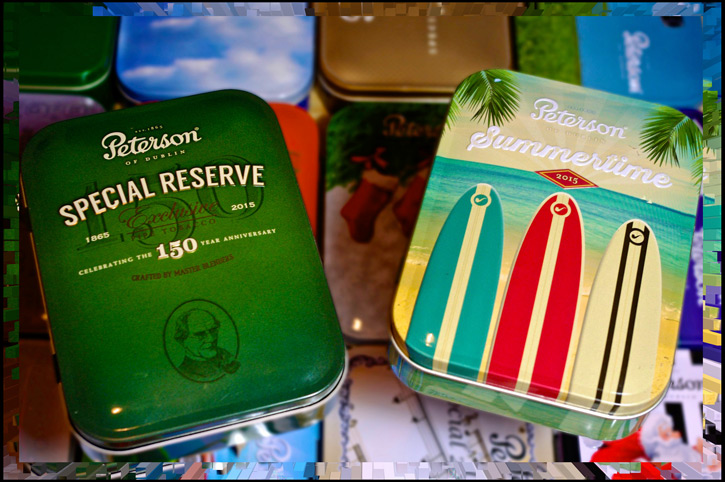 Tin: The Special Reserve tin art is subdued and regal, reminding me of the labels of fine Scotch, à la Johnny Walker: a deep forest green gradient with varied script that denotes "Celebrating the 150 Year Anniversary" is more than sufficient to set the tone for the blend (and nod to its Irish heritage). The tobacco inside continues the regal presentation, with a mostly dark mottle nosing faintly of croissant and chocolate, predominantly rough cut but interspersed with the "flakelets" first presented in last year's blends [INSERT HYPERLINK: http://bit.ly/PeteSeason14 ]. Summertime's tin calls to mind classic travel poster art, with a faded palette of colors depicting three surfboards overlooking calm seas. The ribbon cut leaf inside wafts gently of saltwater taffy, only lightly fruity and faintly sweet.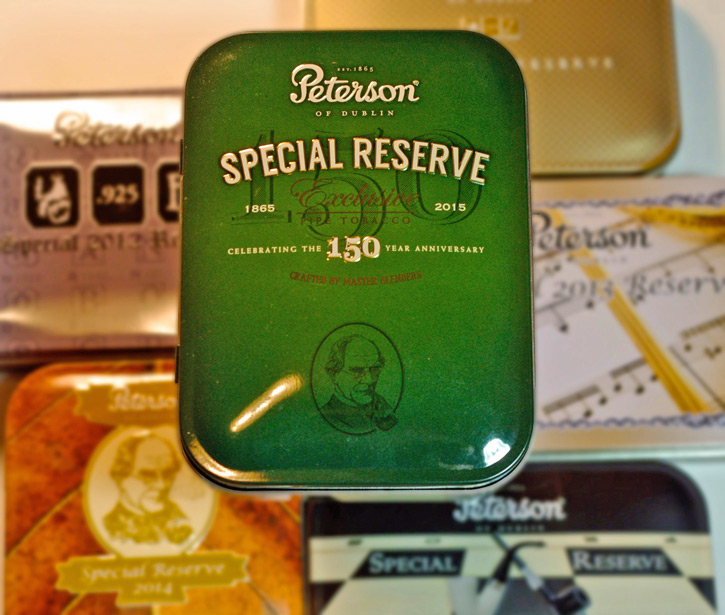 Char: Packing oh-so-easily, Summertime suits any medium-sized bowl I throw it in, marking it as a fittingly laid-back choice of smoke for the season. The Special Reserve seems to prefer slightly larger bowls, group 4 or 5, to really open up its delicate flavor and hit a stride.
Top: Special Reserve's luxury extends well into the bowl, with its largely Cavendish composition eliciting a smooth, velvety mouthfeel from the start. The Virginia lends only an ephemeral highlight to the initial puffs, receding to its supporting role readily with a casually tart background flavor and added buoyancy for the overall composition. The Summertime experience is similarly subdued; effortless to light, devoid of any sharp edges from the Virginia, and mellow from the top down. It finds its footing early, with most of its sweetness coming naturally from the Virginia and burley balance.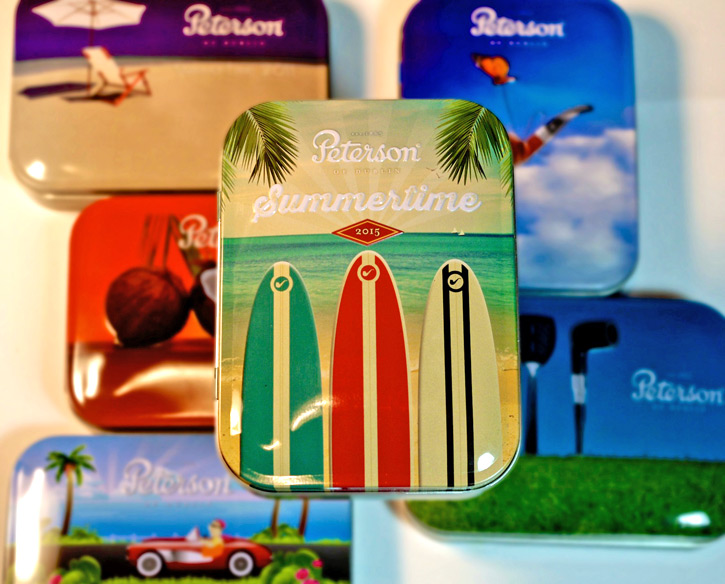 Mid: Both blends flow placidly into the mid-bowl, wherein they exhibit a kernel of sweetness that grows slowly and elegantly as the ember works its way down. Special brings out more of a buttery croissant note from the burley and a hint of fruity wine-like highlights, while Summertime's taffy note subtly intensifies, at points reminding me of banana bread—not banana-y per se, but that vague fruity-bready nexus that is a component of the tobacco itself. Overall, the aromatic components of both are decidedly on the mild side, focusing on the natural sweetness to be found in the leaf, only sparsely amplified.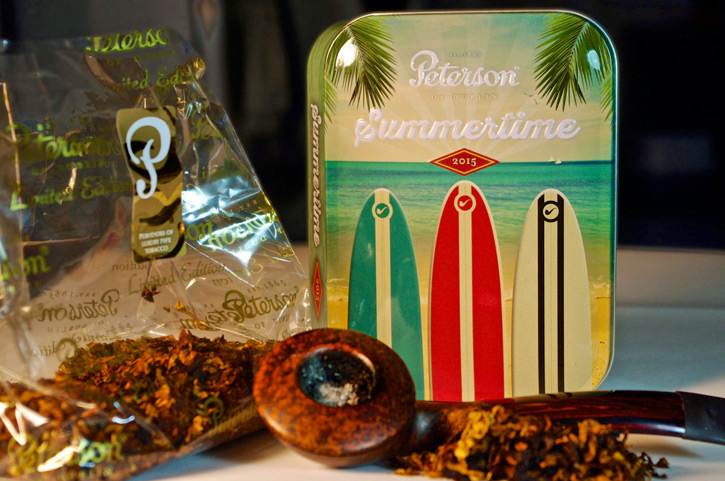 Finish: As we've come to expect with Peterson's special blends, they both smoke clean and dry to the heel, leaving no gloopy dottle to contend with. The pair of them make easy-going smokes that can be enjoyed several bowls to a sitting, and are in fact better for being smoked repeatedly in the same pipes to extract the fullness of their flavors. They each leave the palate with a wispy sweetness and no fatigue.
Room Note: The room note with both blends can be a bit deceiving—and I feel their tin labeling actually gets it wrong—with bystanders experiencing them as more aromatic than the smoker; the tins label them both as a 4 on taste and a 2 & 3 on room note, while in my opinion the ratings should be reversed. Either way you cut it, though, they're lovely blends to enjoy with company.

The delicious flakelets return in Special Reserve!
Rating: 83 Special Reserve, 86 Summertime
Special Reserve brings the classy back for this 150th anniversary with its whiskey-label tin and smooth-as-Scotch, Cavendish-forward blend. It burns easy and smokes like velvet, with a whisper-thin aromatic component. 13 presentation, 33 draw & burn, and 37 flavor + aroma.
To sum up Summertime in a word: halcyon. The faded tin art echoes the almost sun-bleached lightness of the smoke, which you'll enjoy chasing in the warm weather. 13 presentation, 34 draw & burn, and 39 flavor + aroma.
Cellar or Smoke?
I'm reminded of the recent tempest in a teacup over the limited edition of Squadron Leader with Perique—how dare they release only 2000 tins of the stuff?! But what forum followers often forget is just how small the pipe smoking segment of the industry is, and how much of a gamble limited edition blends are to produce, even for the big players like Peterson; a couple thousand tins is a big batch to sell. A search of online retailers shows a handful of last year's blends, released in a batch of only 5000 tins, still available (and yes, I picked up another tin of Holiday 2014. That being said, fans of Pete's seasonal blends will not be disappointed with taking such a bet, and with this year's offerings perhaps those who generally eschew aromatics will be pleasantly surprised by just how natural they can taste.

Smoking Skills. Pete's got 'em.
Brand: Peterson
Blend: Special Reserve 2015 & Summertime 2015
Blender: Peterson
Type: Aromatic
Country: Ireland
Cut: Mixed (Reserve) and Ribbon (Summertime)
Tobaccos: Cavendish, Virginia, Burley
Strength: Mild
Room Note: Mild
Tin Size: 100g
Tin Age: New
Tin Descriptions:
Special Reserve 2015: The Peterson Special Reserve 2015 is a luxurious pipe tobacco blend, released in the year that marks Peterson's 150th anniversary. Ripe, loose cut Virginia tobaccos are mixed with Burley and a mellow Cavendish to give a touch of smoothness and the perfect natural tobacco taste.
Summertime 2015: The Peterson Summertime 2015 is a refreshing blend, made with tobaccos from two continents. Virginias and Burley from Africa and South America are blended in a unique way. On top of this one of the Virginias from Brazil is gently transformed into a deep black and mellow Cavendish. When smoking you will experience a natural tobacco taste, together with hints of exotic fruits.
7 Responses