E. Roberts

If there's one thing that is guaranteed to brighten one's day, it's an unexpected package in the mail. My day job really ramps up around the holiday time, and I'm sure I'm not the only one; trying to finalize everything before the end-of-year accountancy takes place, all while being short-handed with vacations and days off, compresses two months' worth of work into a scant five weeks. The evening pipe is a requisite island of solace in the deluge of the seasonal rush, and particularly around the holidays, I crave sweet aromatic blends that can satisfy when alone and be appreciated equally as well when in the company of friends. Thus when I opened my mailbox to find a surprise package containing the newest W.Ø. Larsen blend, Craftmans Edition, I was overjoyed.
First impressions mean a lot, and this tin is practically wearing a tuxedo. The bulk of Larsen's products are aromatic blends in the Dutch tradition; it's obviously where their strength lies. In addition to their standard lineup, they release a variety of limited edition or seasonal blends every year, as is becoming the norm with most marques, all with well-executed tin art. Departing slightly from their larger pillow-shaped tins or the smaller pill-shaped tins of their yearly editions, this Craftmans Edition tin is squared off to be more brick-shaped, six inches long by two square, and houses an extremely delectable 100 grams of tobacco within.
The tobacco itself is more than just another sweet vanilla blend, thankfully. After spending more than a week puffing on this, the best comparison I can make is with a café latté; it's creamy and sweet in just the right measure, and the tobacco provides a perfect counterpoint to the sweetness in much the same way that coffee does for steamed milk. Vanilla and caramel are natural extensions of tobacco's own flavors, and they are in perfect concert here. It also speaks to Larsen's craft of blending; not trying something new for its own sake, but perfecting that which works. While I take slight grammatical issue with "Craftmans" as opposed to "Craftsman's", I can certainly let it slide in light of the expert execution of the tobacco.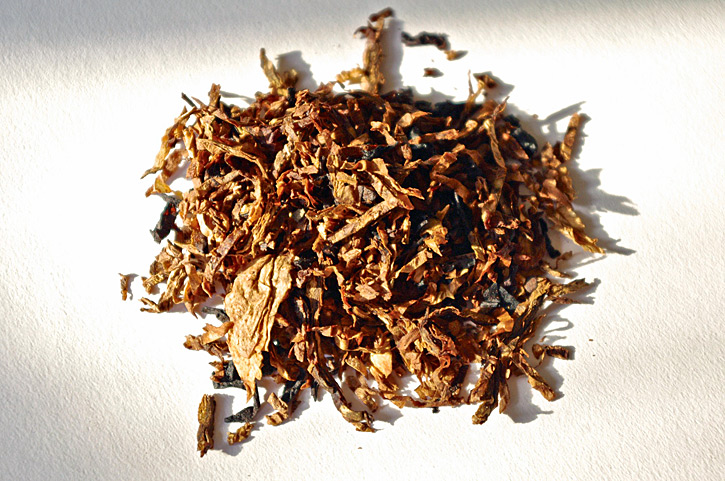 Tin: As already mentioned, this release has presentation in spades. The tin is beautiful yet restrained, and eminently ready for repurposing after the tobacco is just a memory. A subdued dark cornflower blue field with a gloss black line-art floral motif offsets the gold lettering and embossed Larsen logo elegantly. This package touts quality and refinement, and opening it proves likewise; the sealed bag exudes an equally refined bouquet from the colorfully mottled leaf. On the surface it's nothing spectacularly new, another vanilla aromatic. But linger a moment inhaling the aroma, and begin to appreciate the balance between the natural tobacco smell and the topping; after a moment you can detect the faintest hint of anise in the mix, hinting at its subtle complexity. Additionally, the tins are numbered for release, though I've not heard back from Larsen regarding the total number produced.
Char: The Danes are serious about their tobacco, and it shows. The leaf is perfectly conditioned and at absolutely the right moisture for loading straight from the tin, which is always appreciated. It packs and lights easily, and tends to fare better in a medium or large bowl, rather than smaller ones. Though I used one of my Jets for the photo shoot and initial bowls, I quickly gravitated toward a Sasieni billiard and finally my Barling meer to really bask in the aromatic bliss.
Top: The beginning of the bowl is a delight, immediately releasing the flavors promised in the aroma. It's a completely soft light: no sharpness from Virginia or topping, just a smooth kindling from the match which transitions to a warm ember in the bowl.
Mid: Urged on by my accompanying selection of several varieties of Earl Grey tea, the mid bowl really opens up the flavor here. Sweetness is tempered and consistent, never overpowering, and gracefully offset by the teas. Good tobacco taste consistently shines through, though some attention must be paid to the cadence—puff too vigorously and it tends to overheat and get sour, though it never veers toward tongue bite. When sipped at gingerly, taking time to savor the palate, the flavor is wonderful, subtle and delicate. It took some coaxing, but wisps of anise were detectable layered in the mix.
Finish: When measuring aromatics against a standard, it is no great flaw to be a one-note song. This one note does it well, and sings wonderfully to the bottom of the bowl. The mix does not solely rely on its additives for flavor; rather they accompany the blend to a good synergy. If there's any downside, it's that the fluffy ash at the bottom of the bowl tends to appear too soon.
Room Note: Perfectly timed for a holiday release, if you can get it before it sells out. It fares wonderfully in mixed company for holiday parties, and may even surprise a few co-workers with how charming a tobacco smoker can be.
Rating: 87
15 points are earned easily with the great packaging, quality leaf, perfect moisture, enticing aroma, and overall balance and classic visual appeal. 32 points awarded for Draw & Burn; as mentioned, it's ready to go right out of the tin, but is not the most flexible blend in terms of finding the perfect stage for its flavors to be fully enjoyed. Bonus awarded for absence of goop. 40 points for the Flavor + Aroma score seems even-handed. Though overall it's pretty much a one-note blend, it hits that note consistently, pairs well with beverages, and leaves a great room note.
Cellar or Smoke?
Worth picking up for fans of Larsen, for the tin alone, or just to have another lovely Dutch style aromatic in the rotation. Great addition to holiday or 'out-in-public' blends.
Brand: W.Ø. Larsen
Blend: Craftmans Edition
Blender: W.Ø. Larsen
Type: Aromatic
Country: Denmark
Cut: Ribbon & rubbed flake
Tobaccos: Virginia, Burley, Cavendish
Strength: Mild
Room Note: Medium
Tin Size: 100g
Tin Age: New
Tin Description:
Since 1864, we have offered the ultimate luxury in pipe tobacco, employing only the best master blenders in order to ensure the highest levels of quality. We carry on this tradition today and in honor of our 151st year of continuously striving for perfection we have created the limited Craftmans Edition.
The mixture is a skillful assembly of Virginia, Black Cavendish and Burley tobaccos. Vanilla and caramel flavours have also been added to create the refined W.Ø. Larsen aroma.
An additional feature is that some of the tobaccos have been pressed, rested and rubbed to ensure a more gentle burn.
4 Responses