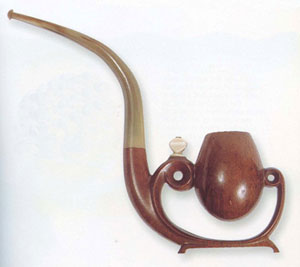 After many years of collaborative thought given to the idea of a virtual antique pipe museum residing on the most ideally suited platform today, the Worldwide Web, two avid collectors of these objets d'art have made it happen. This month, Daniel Beck and Ben Rapaport launch "The Tobacco Pipe Artistory" (a compound noun of art + history that we coined) on that ubiquitous Internet venue, Facebook.


This Facebook Fan Page is wholly focused on the study and celebration of antique tobacco pipes in every medium from around the globe. Their stated objective is "to create a singular, accessible 'see-all-tell all' fan page populated not only with myriad images of antique pipes, but also containing relevant textual information to illuminate everything that befits this subject: photos; videos; pertinent articles in open sources; auction news; a selective bibliography; and related links". The Facebook platform facilitates the exchange of information and ideas, in order to evolve a better, more universal understanding of these long-gone utensils of smoke, and to draw attention to the exceptionally skilled craftsmanship of thousands of unknown artisans who, for some 200 years, produced pipes in meerschaum, assorted woods, ivory, porcelain, clay, and various metals. As well, pipes in other mediums, such as bone, steatite, Catlinite, etc., from a much earlier era will be exhibited.
Rapaport states; "We believe that "The Tobacco Pipe Artistory" serves as a very unique clearinghouse for all who seek an informed and expansive education: pipe collectors, pipe smokers, researchers, curators, art students, personal property appraisers, historians, and tobacco industry personnel. We acknowledge that "The Tobacco Pipe Artistory" is now and will always be a work in progress, but with the contributions of others, it can gradually metamorphose into one of the most entertaining, instructive, and visually exciting venues on the Internet. Those who have something to say or show are encouraged to join as fans, participate, and offer their views and news. We welcome one and all!"