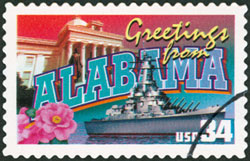 Birmingham, Alabama – A $13.3 million federally funded anti-smoking campaign led by a Birmingham public relations firm aimed at making Alabama a smoke-free state will result in a loss of businesses, jobs, tax revenues and citizen rights, according to the International Premium Cigar & Pipe Retailers Association.
The PR firm cites recent successes in small Alabama towns which passed no-exception or near no-exception smoking ordinances recently. The firm is next targeting larger communities such as Birmingham, Bessemer, Gardendale, Hoover and Homewood, according to published reports.


"Federal and state governments are relying on tobacco tax revenues to fund SCHIP – State Children's Health Insurance Program – which provides healthcare for children, yet they are doing their best to put tobacco out of business," said Chris McCalla, legislative director of the IPCPR.
"The bottom line is Alabama citizens want choice and, most importantly jobs, not Big Brother," McCalla said.
"These are the very same career politicians – many who no doubt ran on a jobs creation platform — now spending tax dollars to pay a PR firm to kill those very same jobs, right in the middle of one the worst economic downturns in the state's history," he said. "Will someone please explain how that makes any sense?"
McCalla said that the claims of prohibitionists should be challenged as to their source and back up information.
"The 2010 Surgeon General's Report does question even occasional exposure to secondhand smoke, but those claims have proven to be wildly exaggerated and unsubstantiated. Look it up. They are also contrary to the standards established by another government agency, OSHA – the U.S. Department of Labor's Occupational Safety and Health Administration. OSHA set safe levels for secondhand smoke that are up to 25,000 times higher than the air quality levels found in the average bar or restaurant where smoking is permitted," McCalla said.
The IPCPR says the well-funded tobacco prohibitionists have been buying breakfasts, lunches and dinners for Alabama opinion leaders in Dothan, Montgomery, Gadsden, Anniston, Huntsville, Birmingham, Tuscaloosa and Mobile in hopes they will pressure Alabama state and local legislators to deprive business owners of their rights to decide for themselves what their smoking policies should be.
"Legislated smoking bans, for whatever reason, are unnecessary and inexcusable. They deprive business owners their right to make such determinations on their own. Business suffers and jobs are lost under legislated smoking bans. Beyond that, however, the anti-tobacco forces attempt to falsely justify their claims based on bad science, overreaching conclusions and ridiculous assumptions," said McCalla.
"The PR firm – The Modern Brand – should be ashamed of itself for taking the people's money to manipulate them out of their constitutional rights while jeopardizing their businesses, jobs, and state and federal tax revenues," McCalla said.
11 Responses