Online tobacconist overcomes poor economy, product shipping restrictions, high taxes and stiff competition to achieve their most successful year of sales of cigars, pipes and pipe tobacco.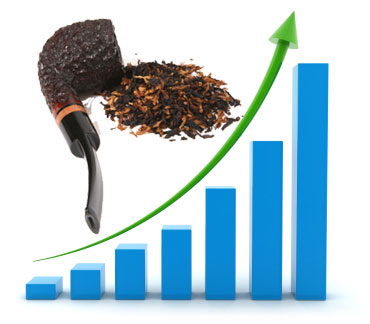 Albany, NY – PipesandCigars.com is pleased to announce a 10% increase in orders from 2010 to 2011, making their 17th year in business their most successful to date. This increase in sales of cigars, pipes, pipe tobacco and accessories has necessitated a number of changes within the company including significant increases to the production staff and expanding the corporate workspace to include a brand-new office dedicated to the sales and customer service call center.
When completing the year-end sales totals, PipesandCigars.com reported sales of over 20 tons of bulk pipe tobacco, which is sold in increments as small as one ounce. The bulk tobacco represents just a portion of the online tobacconist's total sales, which also include boxes of the best cigars on the market, pipes and pre-packaged tins of pipe tobacco as well as a variety of accessories. The company estimates using over 160 miles worth of packing tape to safely secure all their packages for shipping, and has increased efficiency to the rate where one package is processed and shipped every 1.36 minutes.
"2011 was a banner year for PipesandCigars.com," said the company's owner Scott Bendett. "Being in the tobacco industry is more difficult than ever. Since I started in this business 17 years ago, New York State's tobacco tax has risen from 37% to 75%. Additional exorbitant federal taxes on both cigars and pipe tobacco have been implemented. The different kinds of tobacco products we are allowed to ship via mail-order has been repeatedly restricted, and the competition from other online tobacconists to offer the lowest online cigar prices is more fierce than ever. With the recession economy keeping people from spending on luxury goods like cigars and pipe tobacco, the industry is in a very difficult place. It gives me a real feeling of pride and satisfaction to overcome all of those hurdles and have had a year as successful as we did in 2011."
When asked why PipesandCigars.com is succeeding despite so many obstacles, Marketing Director Travis Lord stated, "With the cigar industry in its current state, you can't make any mistakes. Operating efficiently with a low mark-up is essential, as well as exceeding the customer's high expectations when it comes to product selection and customer service. Having a well-optimized website that is easy to use is also a key point in attracting new customers and keeping them coming back. Our goal is to use current technology to provide our customers with the experience of shopping with a small tobacconist like they remember from years past, but with added convenience and the ability to visit from anywhere in the world. We truly care about providing the best cigars and the premier overall tobacco experience from start to finish and I think that sets us apart from many companies who just want to push out a box of cigars and call it a day."
The company began humbly in 1994 with just owner Scott Bendett, 15 boxes of cigars, and kiosk in the local mall. The business quickly expanded to a mall storefront, and then eventually its own building, which is when Bendett took his tobacco to the Internet. Increasing sales forced the company to relocate again in 2006, and continued growth facilitated the most recent move in 2010 to the company's current home, the state-of-the-art PipeandCigars.com headquarters that also houses the company's destination tobacco shop and smoking lounge. A true small business success story, Bendett employs over 30 Albany area residents and maintains an active presence in the community, contributing to a wide variety of local charities.
For more information, please contact PipesandCigars.com
5 Responses