St. Petersburg, FL USA – The launch of the new tobacco review site, LuxuryTobaccoReviews.com was announced by Right Click Media, LLC today.
The last two years have seen an increase in the popularity of pipe smoking for the first time since the 1970's. This resurgence in pipe smoking has been partially fueled by the Internet, which is why there was a need for a professionally published tobacco review site.
Like other sites, the reviews are user generated. However, the difference is that the tobacco listings on LuxuryTobaccoReviews.com are professionally crafted to make sure that the most up-to-date, accurate information is cataloged. There are also professionally photographed product packaging shots for easy identification. A unique feature is that users can embed their own YouTube reviews right on the site.
According to Associate Editor, Bob Tate; "We've already received numerous positive comments, which of course, are quite encouraging. There has been some great constructive criticism as well. We have immediately acted upon suggestions within the same hour the comments were received. Since beta-testing, several improvements have been made, based on the input of pipe enthusiasts. We are completely consumer-driven and marketing-oriented to make sure that LuxuryTobaccoReviews.com becomes the review site of choice amongst pipe tobacco aficionados."
Operating Manager of Right Click Media, LLC, Kevin Godbee asserted; "We couldn't be happier with the launch of LuxuryTobaccoReviews.com. It's something we've been wanting to do for over a year now and the support has been great, not just from pipe smokers, but from the industry as well. We already have the support of several sponsors and expect more to join us shortly."
Gregory L. Pease, the highly respected creator and master-blender behind the hugely popular G. L. Pease line of tobaccos has contributed an article to the site entitled, "Reviews Without Tears". The purpose of the article is to demonstrate how easy it really is to write a tobacco review like a professional.
Right Click Media, LLC is also the owner of this site, PipesMagazine.com.
Visit LuxuryTobaccoReviews.com to read or write tobacco reviews.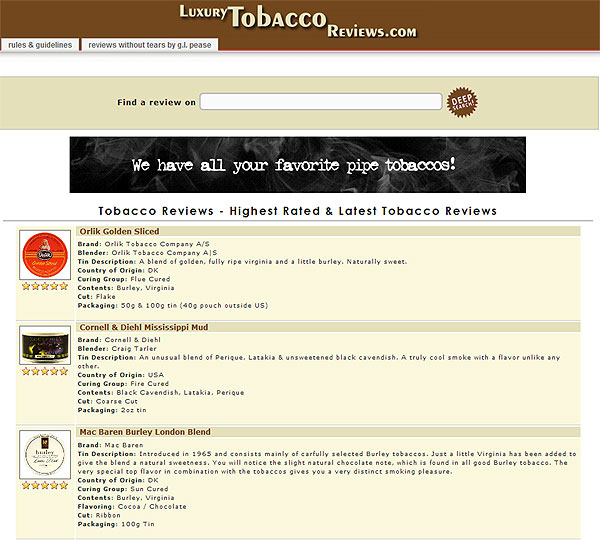 1 Response