Kevin Godbee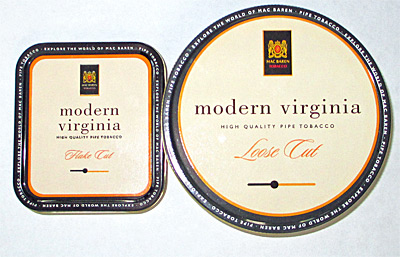 Mac Baren has just introduced their latest pipe tobacco blend; Modern Virginia – in both loose cut and flake cut versions. The blend contains 70% Virginia tobaccos of two types; a bright yellow and a dark, each from a different country of origin. Next in the recipe is the "Modern Cavendish" which makes up 20% of the blend. Traditionally, Cavendish is made from Burley tobaccos. Modern Cavendish is Mac Baren's name for their black Cavendish made from Virginia tobaccos – so there is definitely a lot of Virginia going on here. The last 10% of the mix comes from Burley. The Burley helps round out the flavor, and balances the sweetness and any potential bite or overheating from the Virginia tobaccos. Mac Baren says there is a "slightly detectable topping of sweet, ripe fruit". I haven't had a chance to smoke it yet, but there is nothing slight in the tin aroma. The bouquet from the can reminds me of the breakfast cereal Fruity Pebbles.
Personally, I love Virginia tobaccos, but I am not a big fan of aromatics. This is interesting as a Virginia-dominant aromatic tobacco, however. My first chance to smoke it will be during The Pipes Magazine Radio Show tomorrow, Oct 14th. We will also be airing the new radio commercial for Modern Virginia on that show.
As usual from Mac Baren, the Loose Cut comes in a 3.5 oz (100 gram) tin, and the Flake Cut comes in a 1.75 oz (50 gram) tin.
For the Flake, Mac Baren's print ad says: "The tobacco is pressed into blocks and stored for minimum 30 days before they are cut into flakes. Finally the flakes are hand packed to protect the tobacco from breaking up." You can see a PDF of the print ad here.
Tin Description: The flake is manufactured from Virginias out of 2 continents. Both a bright yellow and a darker Virginia have been used combined with a Modern Cavendish. To secure a soft and smooth smoke a touch of Burley has been added. This flake gives you the natural sweetness from the Virginia tobaccos combined with a slightly detectible topping of sweet, ripe fruit. Furthermore your surroundings will appreciate the pleasant room note.
Release Date: October 20, 2014
Brief Review by JimInks in the Forums
2 Responses