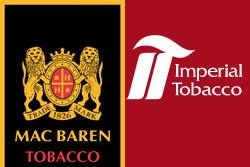 Mac Baren Tobacco Company, one of the most well-known Danish companies and pipe tobacco brands in the U.S., got a little bit bigger this week. They agreed to take over the pipe tobacco portfolio and certain related fine cut brands from global English giant Imperial Tobacco Group. The deal follows Mac Baren's 2013 purchase of Sutliff Tobacco Company in Richmond, VA from Altadis.
"We focus on the niche categories in which we are able to sustain and grow our businesses despite a declining total market, whereas for Imperial, pipe is a non-core strategic category, as it focuses primarily on its bigger global cigarette and fine cut brands. As a consequence Imperial considered a spin-off, and as we have been producing some of these brands for them for years, this transaction makes a lot of sense for both parties", according to Per Buch, CEO at Mac Baren Tobacco Company.
More New Jobs & Investments in Production
The brand transaction will boost production at Mac Baren's Svendborg facility by some 25-30%, and management expects to add head count in both production and sales.
According to Mac Baren management, the added volume will also contribute to the ever ongoing automation and rationalization of the production process making the company even more competitive. As a result of the transaction Mac Baren will add further CAPEX to an existing program preparing the company for the implementation of EU's tobacco directive.
The parties have agreed to keep the transfer price undisclosed.
The following brands are included in the transaction [Editor's note: Fine cut is shag a.k.a. RYO for cigarettes.]
| | | | |
| --- | --- | --- | --- |
| Brand | Product Group | Brand | Product Group |
| Amphora | Pipe | J&H Wilson | Nasal Snuff |
| Amsterdamer | Pipe and Fine Cut | Kentuck | Chewing tobacco |
| Buccaneer | Fine Cut | Le Superieur | Pipe |
| Caporal | Pipe and Fine Cut | Lichte Pruim | Chewing tobacco |
| Capstan | Pipe | Prestige | Pipe |
| Coopvaert | Pipe | St. Claude | Pipe |
| Django | Fine Cut | St. Bruno | Pipe |
| Gold Block | Pipe | Three Nuns | Pipe |
| Heerenbaai Paars | Pipe | Walnut | Pipe |
| | | Whiskey Pipe | Pipe |
5 Responses