IPCR 2019 Update #2 What's New in Pipes? Dunhill is back?!!?
IPCR 2019 Update #2 What's New in Pipes? Dunhill is back?!!?
James Foster, CST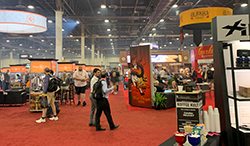 After my previous article covering the regulatory affairs in the industry and the changes to International Premium Cigar &; Pipe Retailers Association (IPCPR) tradeshow, I thought a good follow up would be all the good news and great new products that are still hitting the market this year as a bit of a pick-me-up if you were feeling a bit down in the dumps. This post will be a bit picture heavy so strap in. Also, note a few of these pipes and brands I didn't get a chance to talk with very much because the manufacturers are all doing business with the retailers so the press is always advised to leave them alone until they are not busy. Given that fact, I may not have as much information on all the pipes that you might expect, and in some cases, I may have only had 1-2 minutes to chat.
We'll start with Sutliff and MacBaren as I did have a chance to chat longer with Jeremy McKenna, President of Sutliff Tobacco about their latest production for John Cottons. An aside: Sutliff is celebrating 170 years as a manufacturer in the US this year.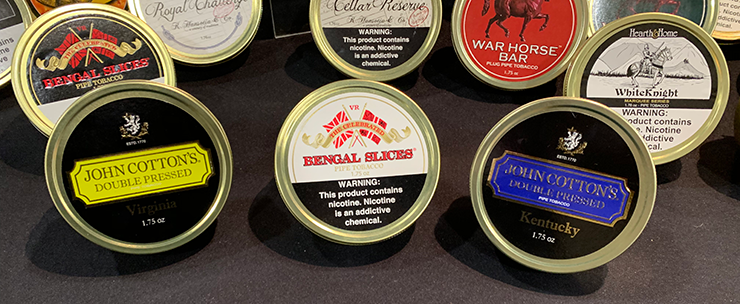 John Cotton's Double Pressed is the latest blend Sutliff is proud to produce and to our knowledge double pressing has never been done in the industry. When you want to mature your tobaccos you can do it with time or heat, pressing brings out the sugars with the heat and pressure. MacBaren uses hotpresses, so these are a combination between Denmark's MacBaren factory where they hotpress the tobacco, cut it, and rubbed flakes out in a ready rubbed tobacco. Then the tobacco is shipped to Sutliff in the US and repressed it for either a plug or crumble cake. One is a Virginia and the other is a Kentucky. The double pressing helps mature the tobacco more and takes the bite out. You could still cellar this tobacco but with a double press, it's not necessary; it's ready to smoke right out of the tin. They tried this process as a trial and it's taken off very quickly and the John Cotton's Virginia Double Press won the best Virginia at Chicago Pipe Show this year. I had a chance to sit down and sample it, and it really tasted like an 18 month to 24 month cellared Virginia very mellow and enjoyable.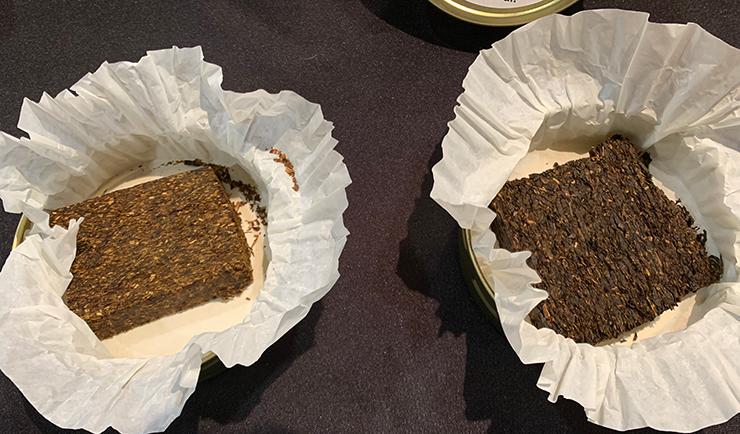 I also asked Jeremey about the Pipe Tobacco Council and the FDA as he's on the industry-only council with many other pipe tobacco manufactures working with CAA (Cigar Association of America) IPCPR-PAC, and Cigar Rights of America (CRA) in the various lawsuits against the FDA. The PTC is made up of Laudisi, C&D, Sutliff, Arango, National, STG and a few others and the PTC shares lawyers with the CAA. This last Thursday (June 30th 2019) the PTC met with the FDA where they presented their case where tobacco should be tested and shouldn't be tested and provided evidence about it. I did ask if there was anything consumers could do, or donate etc – but PTC is a manufactures organization so the only advice is to write your congressman.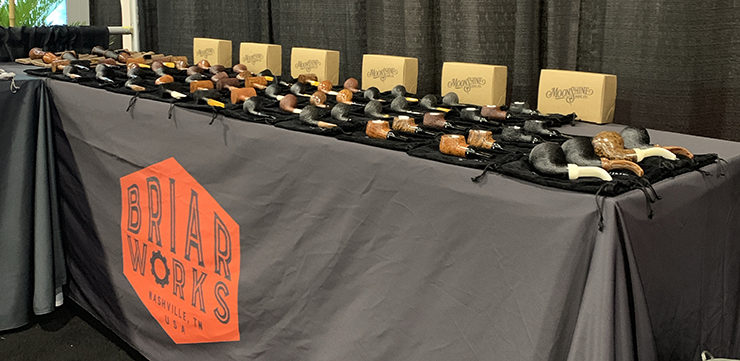 Briarworks has some newer pipes that you may not have seen and I sat down and put my feet up at the booth and chatted with Pete Prevost.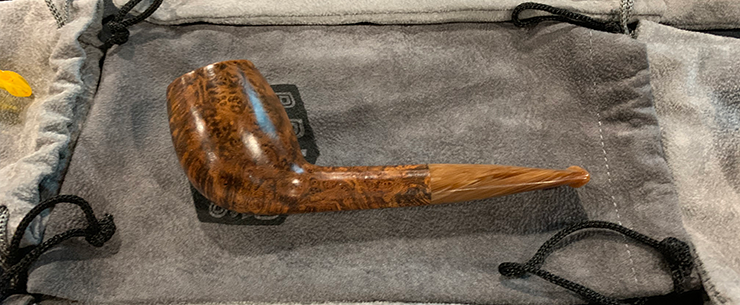 A handful of retailers have picked up the newer stems – the most popular colors are black, tortoise and the coffee colored stems.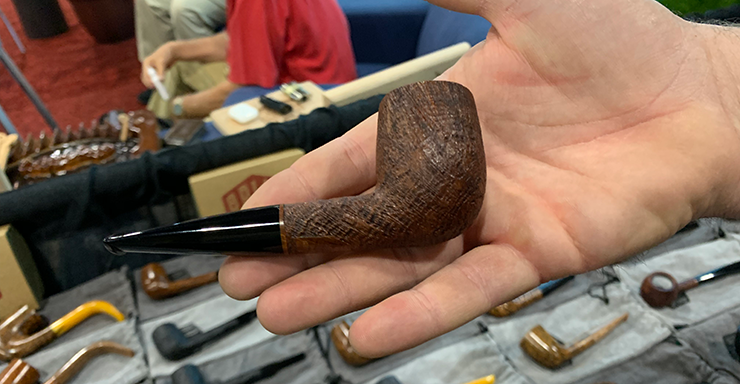 Pete's Vanna White Hand show's off the stem change on their C-22 bent billiard and billiard and used a shorter, fatter, tapered stem. "I felt proportionally it makes it a great looking billiard. A lot of people say it kind of reminds them of a Dunhill LB except not as big but proportionately the look is similar," Pete Says.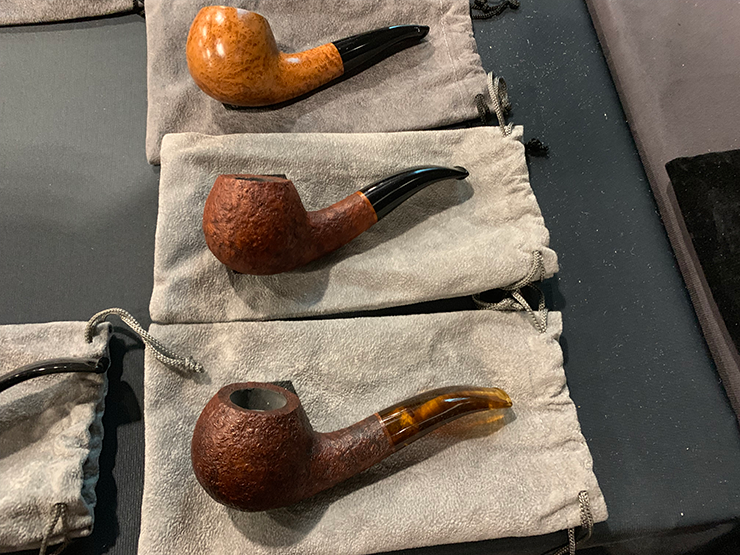 The author shape is not a new shape in the classic line but Pete did mention they have been producing a lot more of them lately.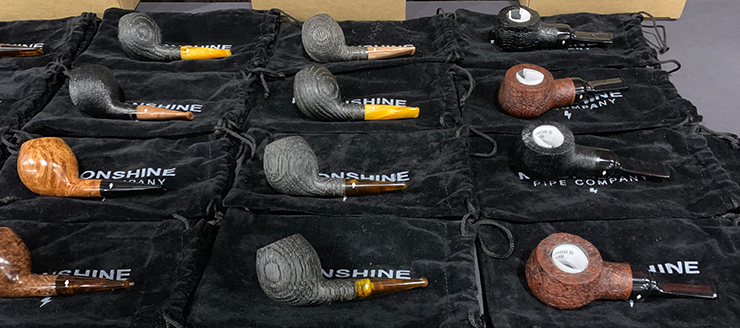 Newer to the lineup and the first time offered at IPCPR tradeshow are the new Briarworks Moonshine line with morta pipes. They plan on offering some more shapes with morta soon. Additionally, Pete mentioned that they are starting to do some 9mm filtered pipes on the shapes they can for the EU market and sparingly in the US.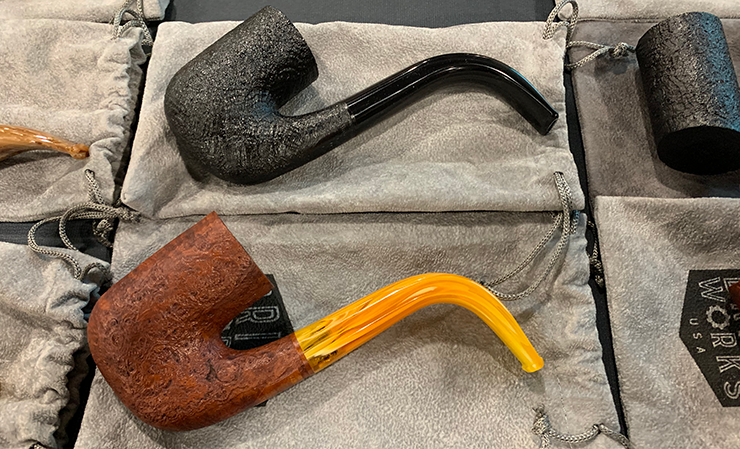 The OOM Paul shape is the first time also at the tradeshow and surprisingly enough it passes the pipe cleaner test. "It is such a steep angle that you do have to twist the cleaner or pre-bend it but it does work," Pete says.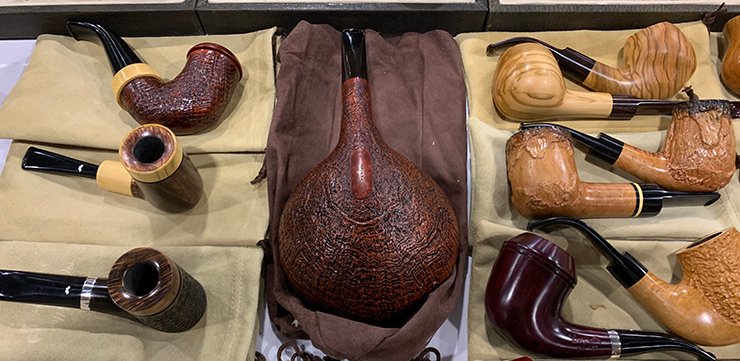 Next I passed by Maurizio Fraternale's booth who distributes for brands like Caminetto and Ser Jacopo. They had this massive Caminetto with a beautiful grain that was blasted on the bottom and sides and smooth around the rim. It dwarfed all other pipes on the table.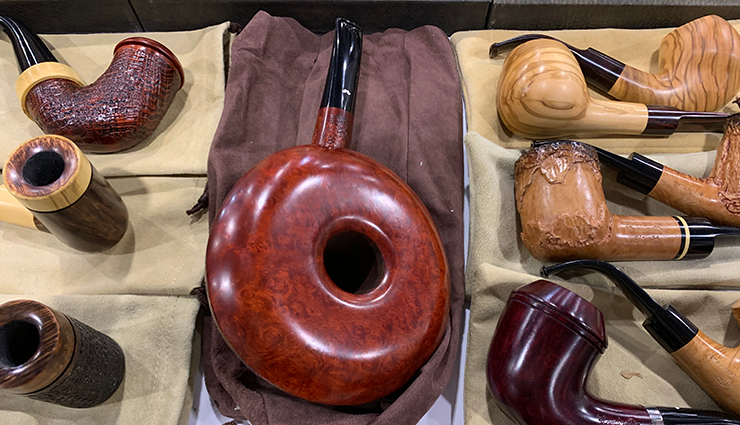 Of course no trip around the table should be complete without some pictures of the unique and "insane" pipes from Ser Jacopo.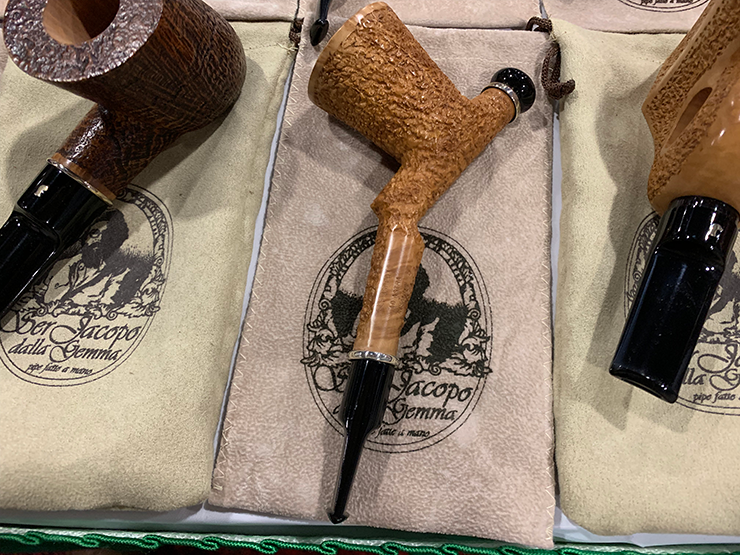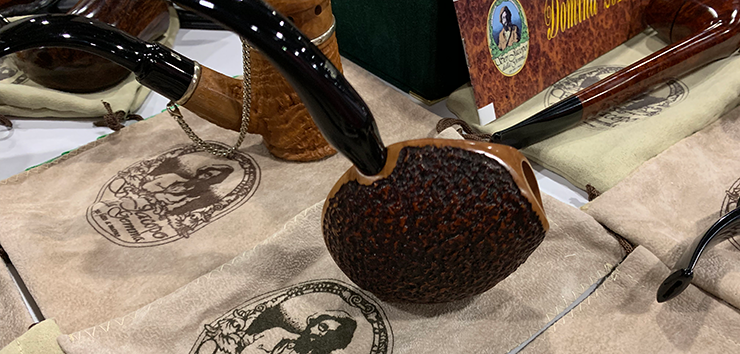 Great little reverse calabash here.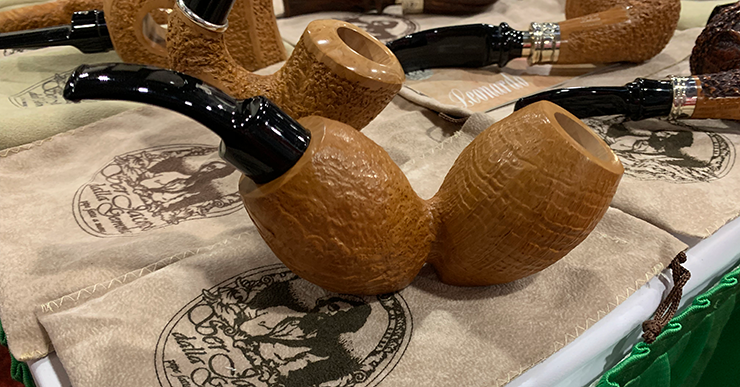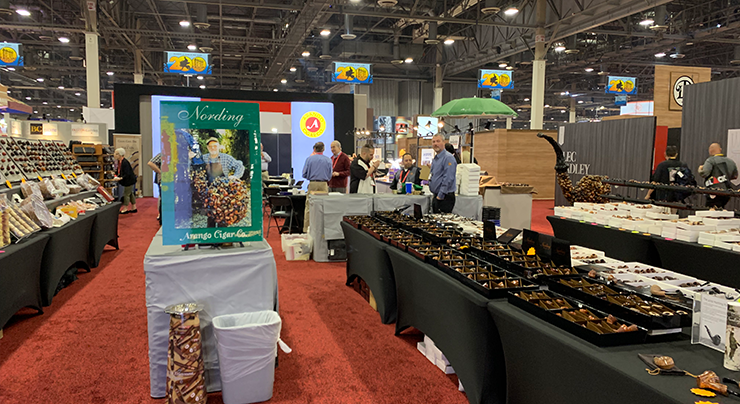 Swinging by the Arango Cigar Company who distributes many brands such as Erik Nording, Wessex, Chacom, Butz Choqiun (BC), and IM Corona to name a few. I spent a little time with Knud Nording (Erik's son) looking at what is new this year.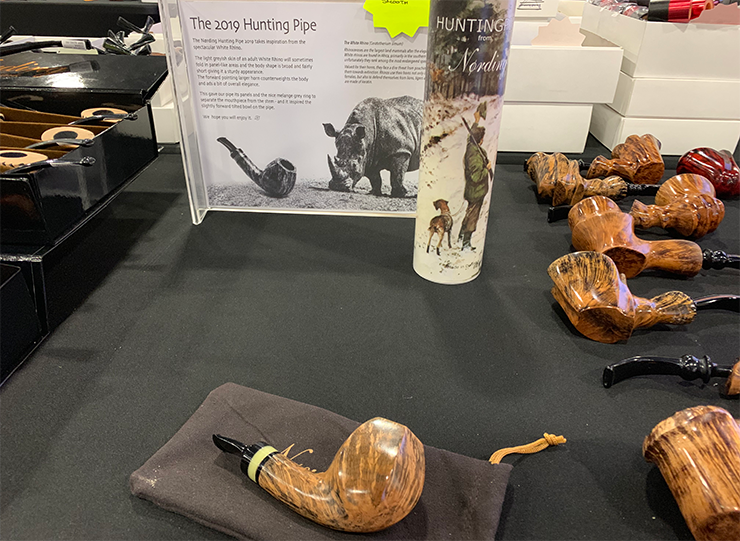 New this year in the Hunters Series is the White Rhino. The light greyish skin of an adult White Rhino will sometimes fold in panel-like areas and the body shape is broad and fairly short giving it a sturdy appearance. This gave the pipe it's panels and the nice melange grey ring to separate the mouthpiece from the stem- and it inspired the slightly forward tilted bowl on the pipe.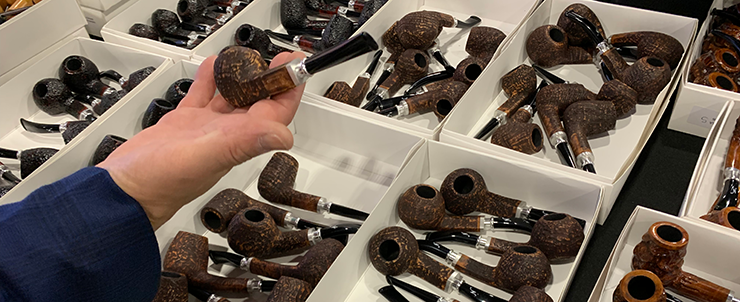 Nording Vahalla line – series 351 sandblasted and light brown and is new for Nording. The spigots are new for them as well and the spigot is changeable into a churchwarden stem.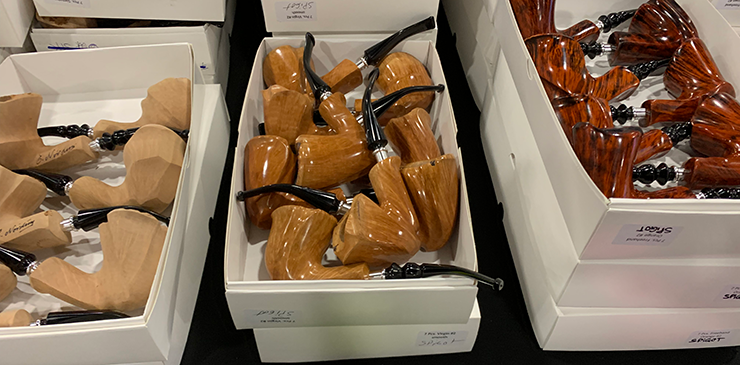 Similarly the signature smooth also have spigots, look amazing.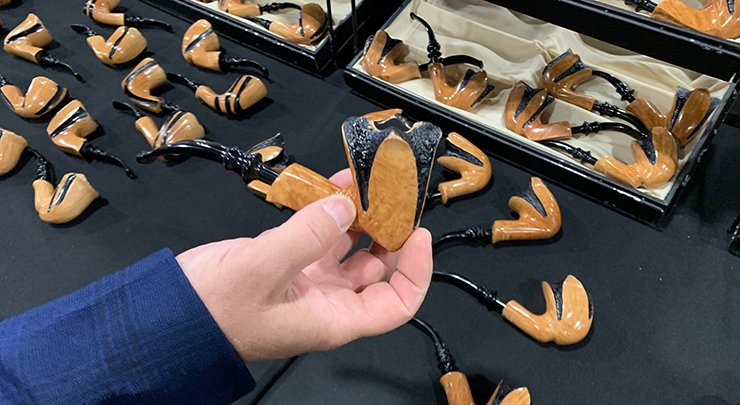 The new line that looks like a flower with rustication and smooth mixed pipe.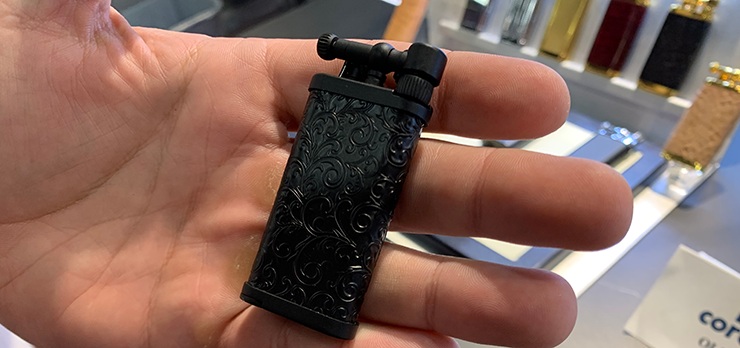 Brand new IM Corona Old Boy designs – Arabesque design in matt black and pewter.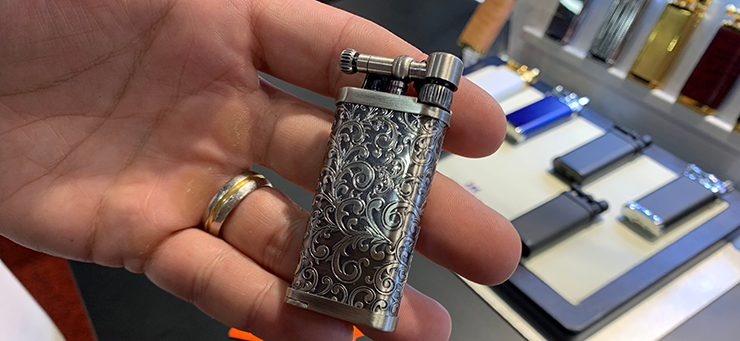 The cammo and the blue design Old Boy's are brand new as well they just got the prototypes a few months ago so look for them at your local retailer soon. Similar price points you are used to seeing for all of these.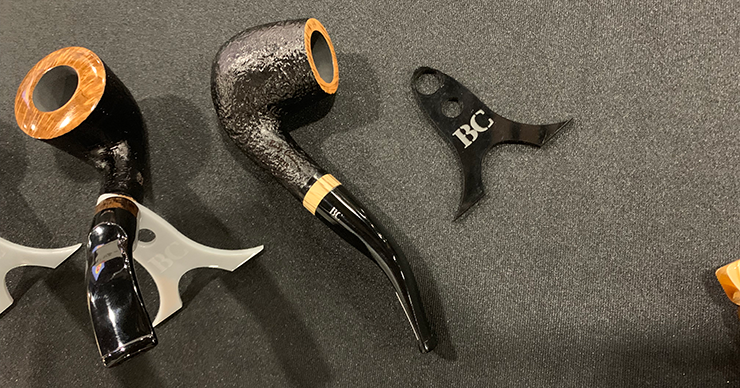 Butz-Choquin pipes had some new and interesting pipes available this year as well.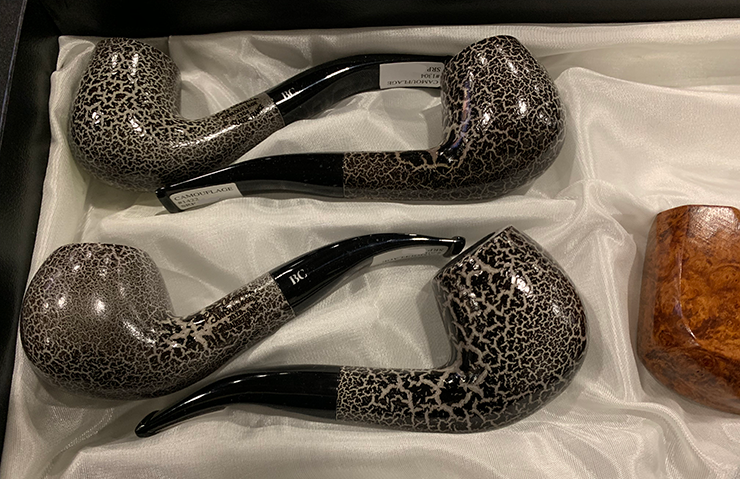 As of 2018 the new Camo Pipes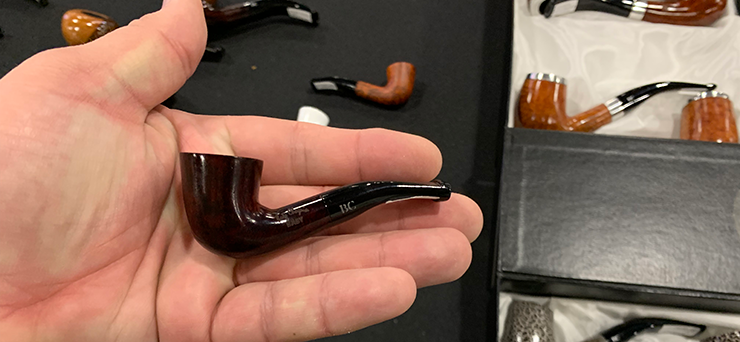 And of course the baby pipes, so tiny, perfect for the one minute and thirty second smoke break.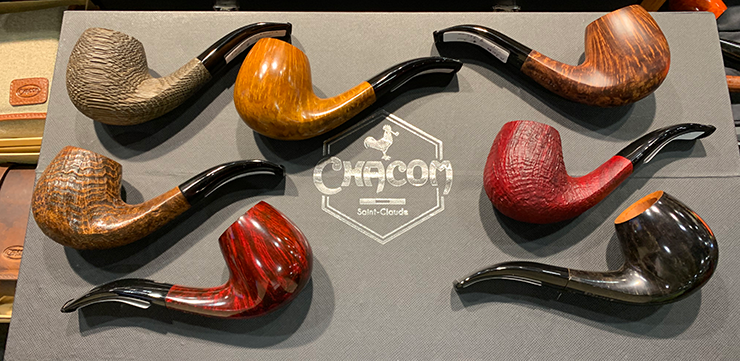 I chatted with Antoine Grenard who runs Chacom factory in Saint-Claude and took a look at the Pipe of the year available in many options and colors. The top left is actually a lighter grey morta pipe – the morta is sourced through Mimmo. Antoine decided to sandblast the morta because the grain pops out and you can see all the details better, but it's very new for Chacom to work with morta.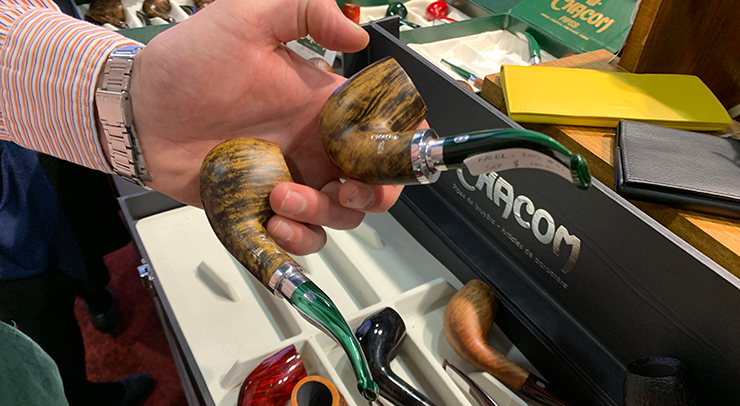 The Noel pipe or Christmas pipe for 2019.



There is also the new marble finish pipes as well for 2019.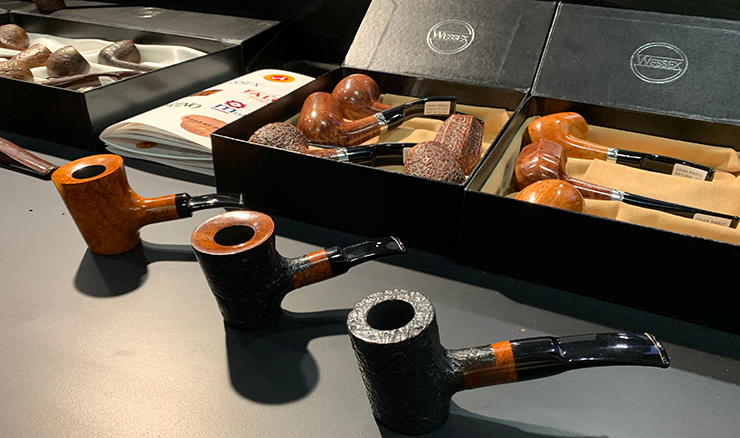 New for Wessex this year is their pokers.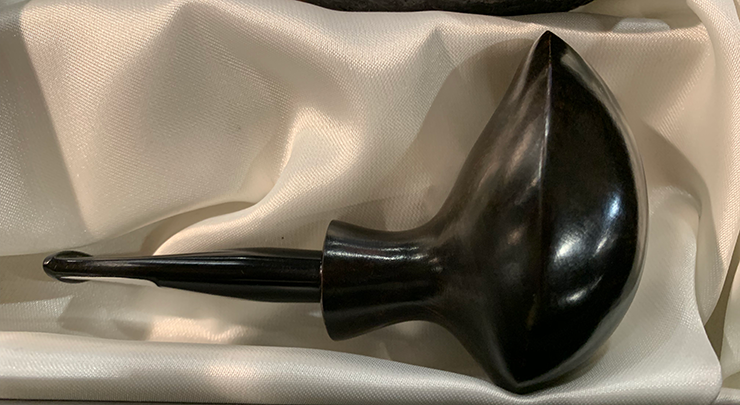 And this new egg shape which is very strange looking and the way you smoke it will be a bit different of an angle than you'd expect.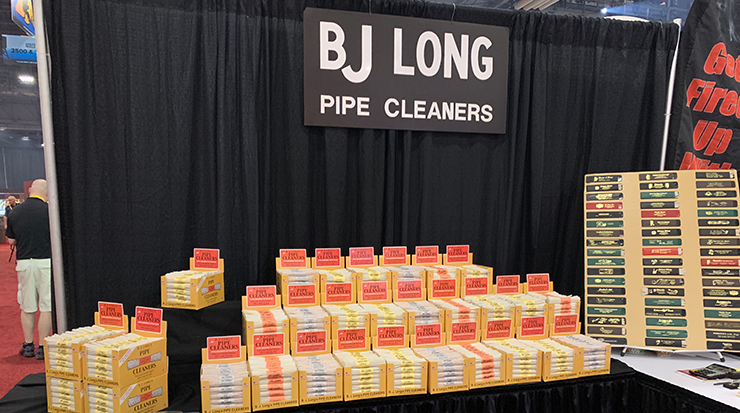 Of coruse, BJ Long was in attendance, nothing new here but stacks and stacks of pipe cleaners.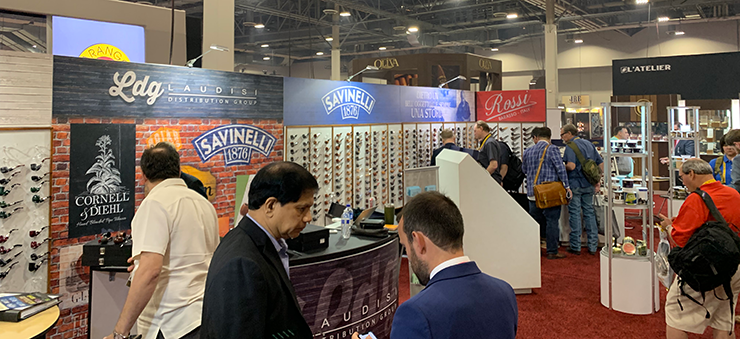 Next up we've got the Laudisi (LDG) Group which has Peterson, Savinelli, C&D, GL Pease, and Kiribi lighters.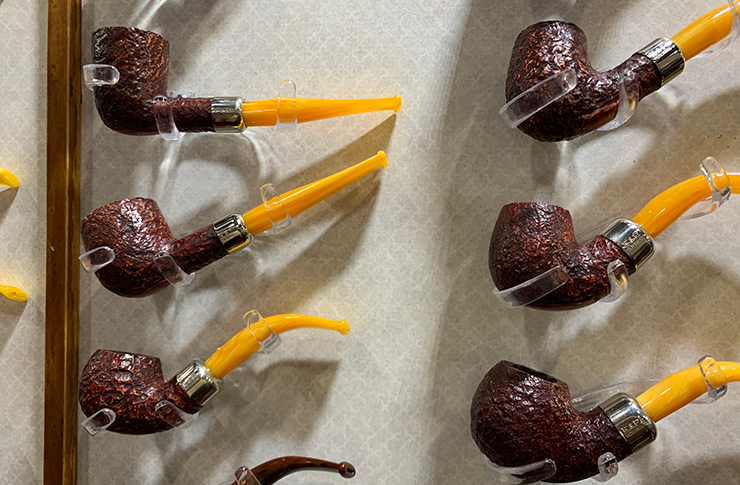 Peterson Summertime 2019 pipes will be out in July 10th.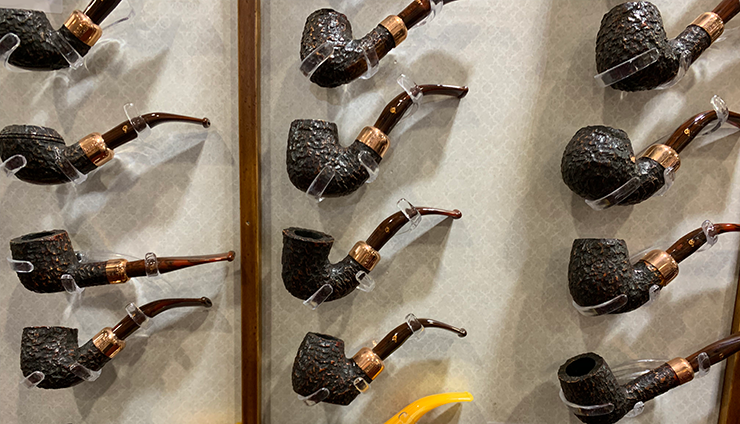 Peterson Christmas 2019 will be out around September of 2019.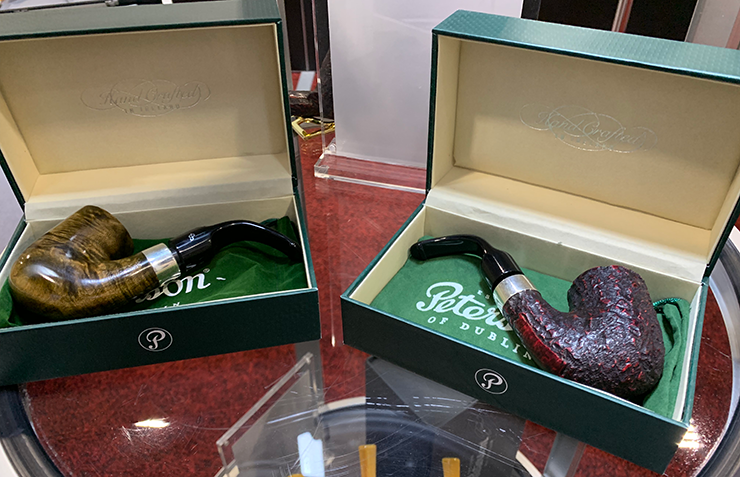 Pub Pipe will be out July 10th as well, a smaller version of the house pipe with a rustic and a smooth. Many of the new pipes are sporting the newer rustication which many have indicated they really like.



The Savinelli St. Nick "Christmas Pipe" will be out in August.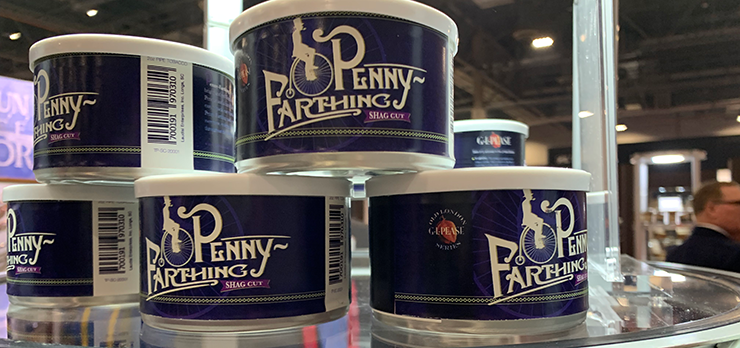 GL Pease has a new tobacco coming out very shortly called Penny Farthing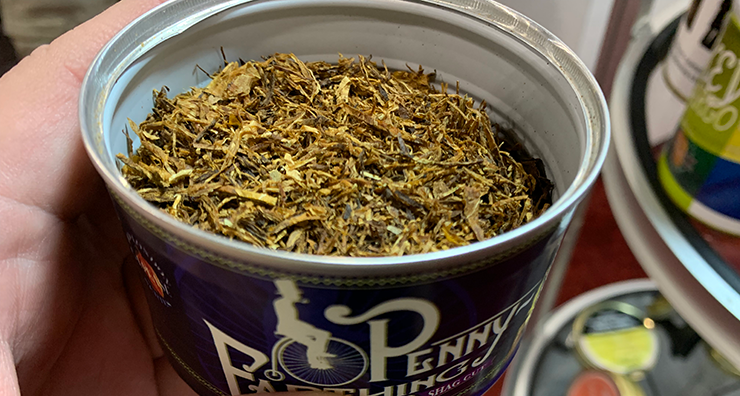 It's a shag cut tobacco that's Virginia, Perique and maybe a hint of Kentucky. Upon sampling a bowl, it burned down quick as expected from a shag cut, subtle hints of citrus, some spice, all in all very nice.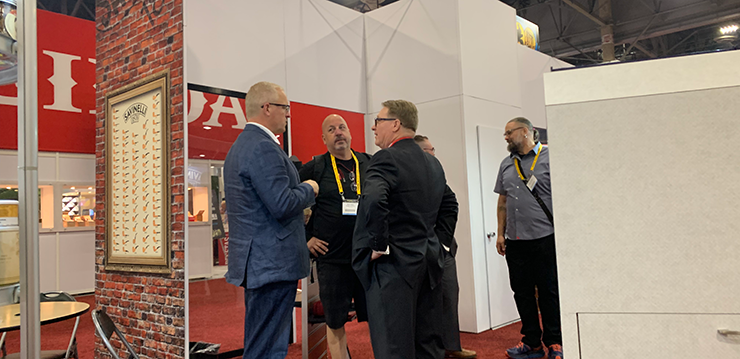 The LDG booth was also not lacking political visitors. Minnesota House Representative Jim Nash stopped by to chat with Bill Haggerty at Laudisi.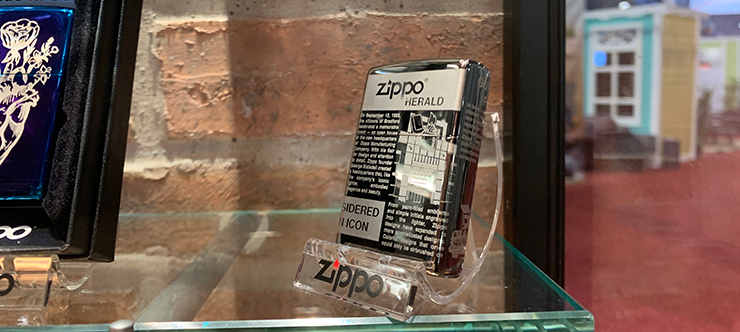 Zippo has a few new options and products like new custom 360 degree laser engraved lighter that wraps all the way around.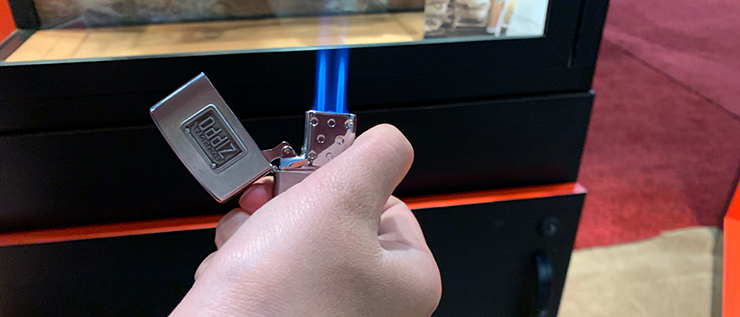 New Zippo made Butane lighters are new and will be shipping in September.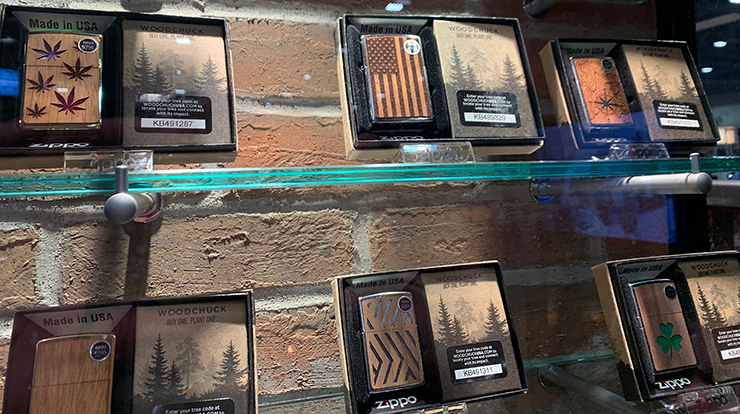 Wood paneled zippo lighters, emblems are wood front and back, made from different woods like oak or birch.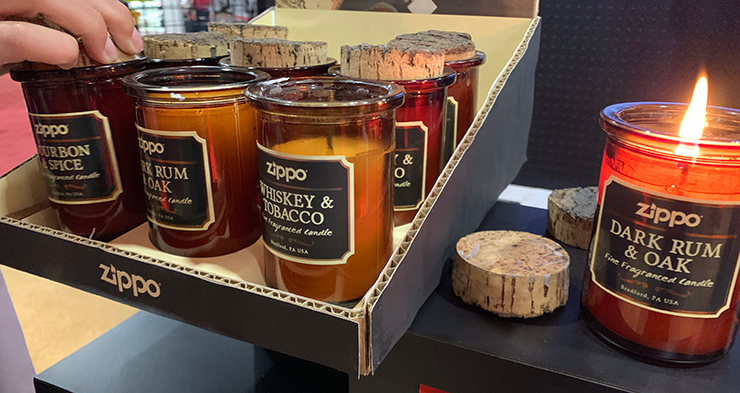 Zippo now has their own candles as they purchased Northern Lights Candle company in January of this year.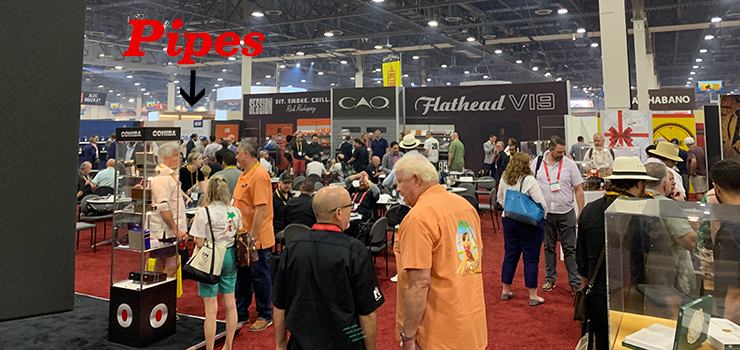 I stopped by the Scandinavian Tobacco Group (STG) booth, or really the General Cigar booth. As you can see pictured above: the pipes section is only a tiny spot in the corner. As STG has worked through their acquisition of General Cigar it made sense in their minds to bring the General Cigar booth and not bring a separate STG pipe tobacco booth.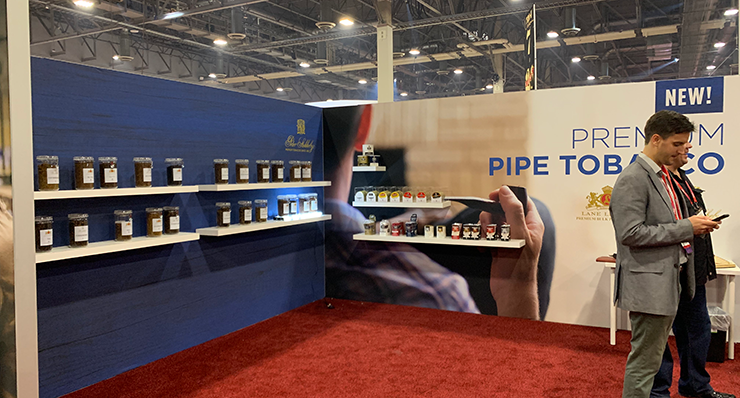 The good news from STG is that we're going to see 14 blends of Peterson Tobacco coming out and by the end of July, and they will be fully caught up with backorders. UPDATE: Announced July 3rd. STG has acquired Dunhill pipe tobacco brands.
Scandinavian Tobacco Group A/S acquires premium pipe tobacco brands
Scandinavian Tobacco Group A/S has closed a deal to acquire certain pipe tobacco trademarks and designs from Dunhill Tobacco Company of London Limited, a subsidiary of British American Tobacco p.l.c. Included in the deal are premium pipe tobacco trademarks such as Early Morning Pipe, Nightcap, Royal Yacht and Elizabethan Mixture that were previously sold under the Dunhill brand and carry a solid reputation as well as premium positioning. The price paid is confidential, but immaterial.
Scandinavian Tobacco Group will market the acquired trademarks as sub-brands to existing brands in the company's portfolio. The acquisition strengthens Scandinavian Tobacco Group's product range in the premium pipe tobacco segment in important pipe tobacco markets such as the US, Germany and across Asia.
Regis Broersma, Senior Vice President for Scandinavian Tobacco Group's Smoking Tobacco & Accessories Division says: "We are very happy and proud to add these well-known pipe tobacco brands to our existing strong portfolio. They will enhance our offering to our consumers – and we look forward to protecting and explore the full potential of the portfolio by leveraging our sales and marketing competencies."
I reached out to Leonard Wortzel at STG for a bit more information and he let me know they have the rights to all the brand names such as nightcap or 965 as well as the tin art. They just can't use the word "Dunhill". Stay tuned for more information as the true Dunhill blends are coming back.
"Essentially. We'll be replacing "Dunhill" with another, existing brand. Can't quite announce that name yet. Instead of "Dunhill" Nightcap, it will be "Brand X" Nightcap," says Leonard.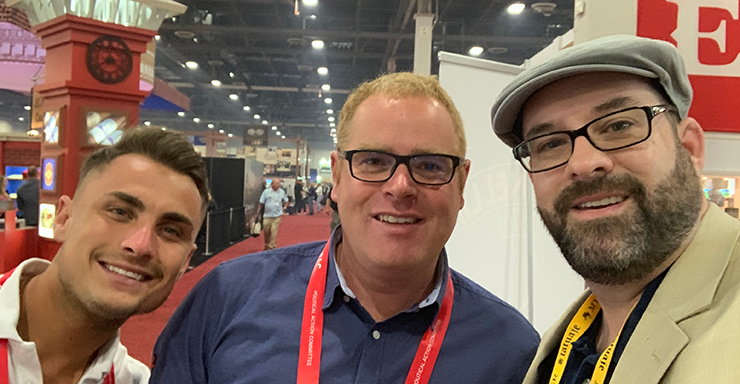 Lastly, on updates in the Pipe World, I sat down with Chris Gawith, owner of Gawith and Hoggarth and Samuel Gawith brands. I spent over an hour with him in an interview which will come in a future article but I wanted to include a quick note about what we can expect as we've all noticed shortages in the US market as far as finding their products on our shelves. Chris explained that they've had some serious changes (similar to the US) with regulations on how European producers operate which have affected all levels of their company to be compliant with the EU and the UK laws.
Additionally, G&H previously had two distributors in the US market. One for Samuel Gawith (Phillips and King) and one for Gawith and Hoggarth (Arango). They have now centralized on one – Phillips and King. They've made significant changes as well for their order taking and now setup online ordering so that distributors and retailers (in the UK) can order online as opposed to calling in on the phone. Chris has recently taken over the company with the passing of his father and is now in the process of applying his expertise in engineering (he's an engineer by trade) to the company with process improvement and oversight.
The key take away from our discussion is to look for more products coming over soon to the US market. Stay tuned for a future article with a more in-depth conversation with Chris.
James Foster goes by the online handle of Pylorns in the forums, and he is the creator of an app for keeping track of your tobacco cellar inventory called The Pipe Tool, serves as the President of the Austin Pipe Club and is a Certified Tobacconist.
More Pipes and Tobaccos Articles
9 Responses