James Foster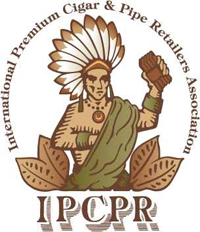 Why would I have expected to have very little new pipe news this year? In a totally unexpected fashion my 2 and a half days on the IPCPR trade show were jam packed with meeting pipe people and in a blur of activity from every tobacco manufacturer trying to get their new products out the door before the August 8th FDA deadline. You can catch part 1 where I covered the highlights of my first day full of government regulations here.
This article I'll highlight the information at each stop along my circuit 2 1/2 days.  Strap yourself in as there is a ton of information and pictures and in some cases it will seem a bit like rapid fire so excuse the brevity.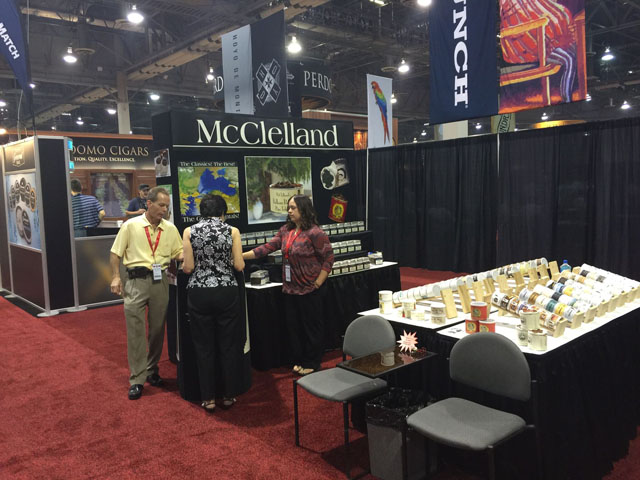 McClelland
First stop for me was McClelland as I chatted with Mike and Mary McNeil and they answered one of the most asked questions that everyone has on their minds:  Will Christmas Cheer be around this year… and next? Yes, in fact they are releasing 2017 right now too since they already have the leaf.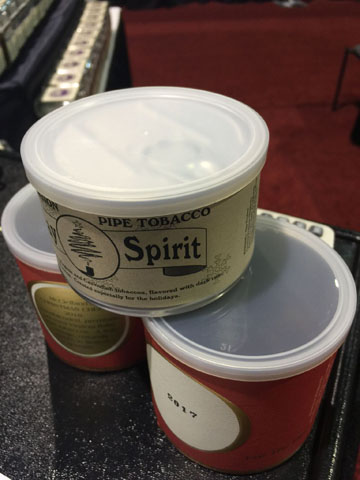 Additionally they are releasing Holiday Spirit 2016 and 2017 and their new anniversary blend.
The Christmas Cheer 2016 has a selection of ripe red flue-cured Virginia from a 2010 Middle-Belt crop down near Durham, NC.  The 2017 features deep red, flue-cured Virginia from an excellent 2013 crop grown near New Hope, NC.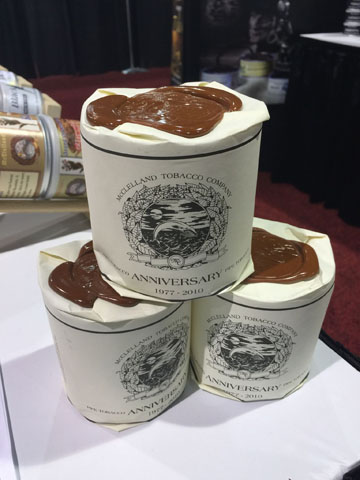 A little digging about the history of the Anniversary Blend  and it  was originally released in 2002 to commemorate 25 years of quality tobacco manufacturing, a total of 3000 tins were issued wrapped in commemorative paper with a red wax seal. A second release, had a green wax seal and an updated date span on the paper wrapping (1977-2005), was released in 2005. A third release, had a brown natural wax seal and updated date span (1977-2010), was released in 2010. Now a 4th for 2017 celebrating 40 years will feature a blue seal! They didn't have the tin art yet.
Now as to will we see 2018 blends of these? We really don't know at this point.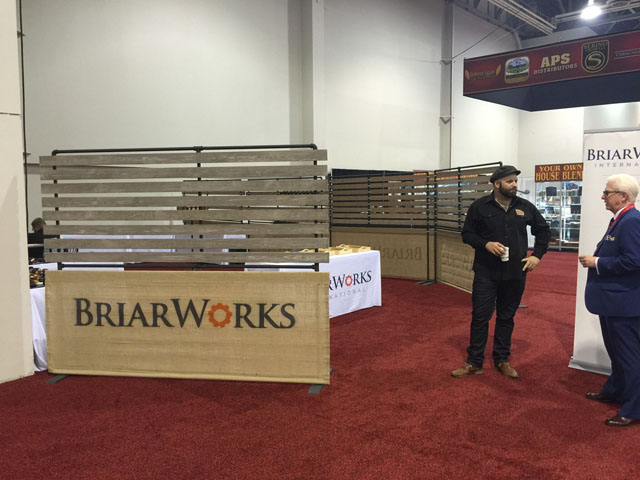 Briarworks
Next stop was Pete and Todd with Briarworks International.   They also brought with them a comfortable couch that served as a great place to kick up your feet after standing up for 12 hours straight.  While Briarworks did not have anything you have not already seen yet, we did talk a bit about the company and the direction.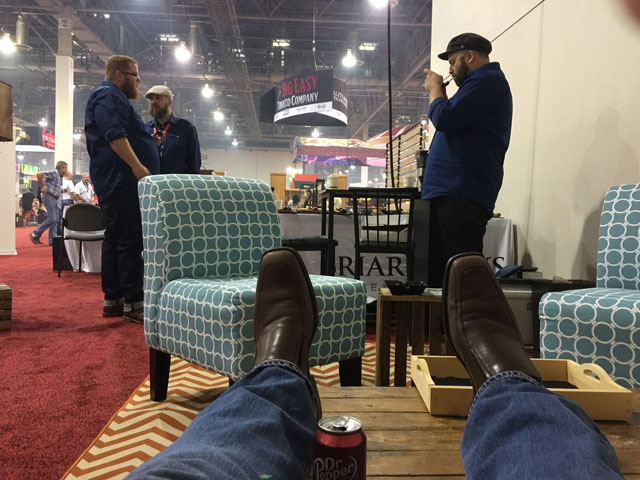 As you may or may not have noticed  you're not seeing as much of the Neptune and Icarus in retail.  They've consolidated the two brands and put them on the back burner.  For the forseeable future they are concentrating on the classic lines and Briarworks signature. They built the brands Neptune and Icarus thinking that everyone would recognize and identify with those – but really Briarworks is the brand that everyone identifies with and less so when it comes to  Neptune and Icarus. For they classic line  they've increased the number of shapes available  and added some additional embellishment colors, better quality and more custom fit mouth piece – retail 90-130 bucks. They are also doing some large scale private label manufacturing.
And if you haven't checked out the Briarworks website lately, they've fully updated it and  launched direct to consumer website and added a web-store.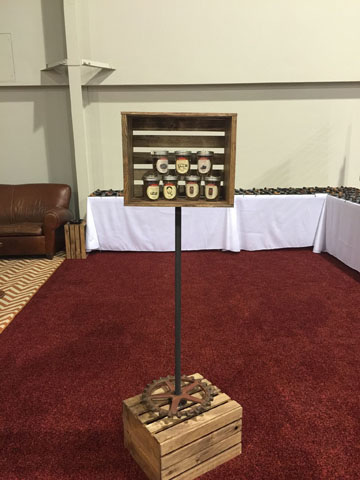 On the tobacco front they've added – which you've heard about – Peach Cobbler, Sweet Tea, and Country Lawyer. The Peach Cobbler, as  Todd says,  "You get the 'bready,' pastry that you don't get in other peach blends."
Country Lawyer  surprisingly doesn't have latakia.  They actually started with latakia in the blending when they were working on it and it just didn't have the right flavor profile they wanted. Some people come to expect cigar leaf blends to have a bit of latika.  Once they pulled it, and tweaked it more, they found a pefect balance and released it.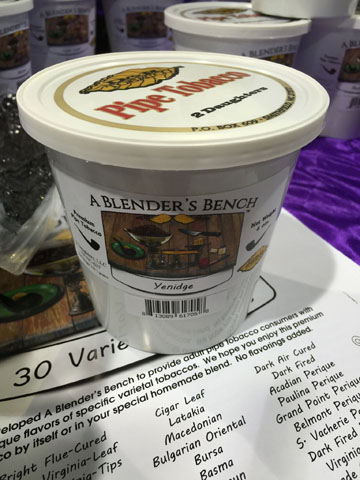 Daughters and Ryan
Daughters and Ryan is pulling tobacco from the warehouse that Mark Ryan has been sitting on for years and releasing with the uneasiness of the FDA regulations. First up is some Yenidge tobacco which smells really good with the classic oriental tobacco scent and then a faint hint lemon grass.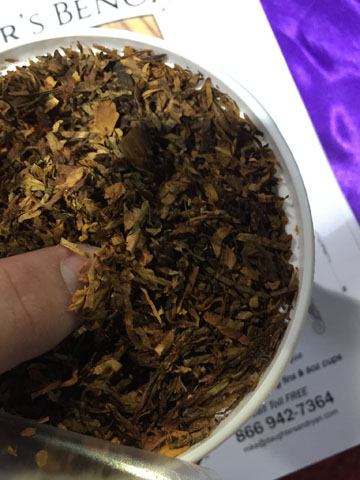 Next is his Acadian Virginia, they process the Virginia the same way they do regular perique.  The first thing you will notice is that it's not as dark as regular perique its much lighter brown. You may have heard Mark talk about how they tried this in Brazil and it didn't do very good.  Russ Oulette  had asked Mark to try it anyway with some of his higher quality leaves that he's known for picking up and the results speak for themselves,  it turned out perfect.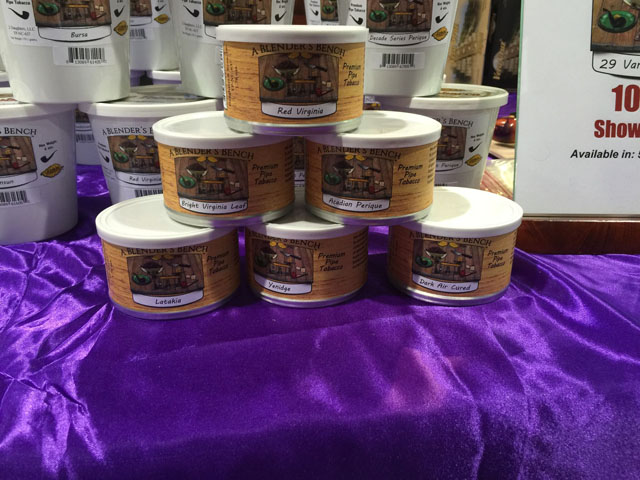 The fermented  juice in the barrels  is a dark honey color as opposed to the blackness of regular perique.  The Virginia used for this  came from a co-op farmer in Canada and as Mark tells the story it's the best crop of Virginia he's ever had. When you pop a tin and smell this, you'll understand.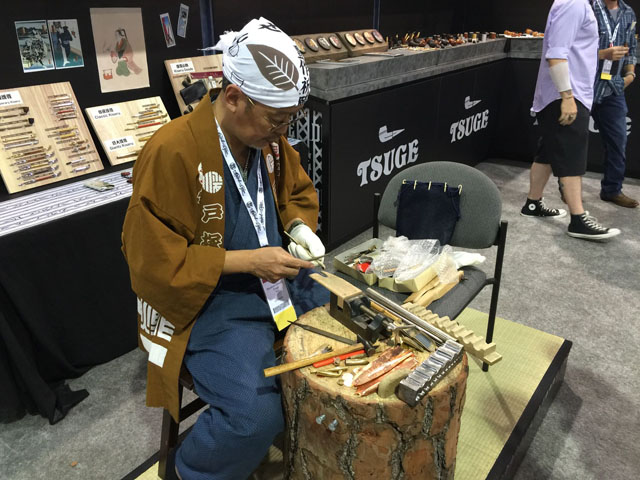 Drew Estate Tusge
When I walked up to the Drew Estate booth to chat with Grant Batson, the first thing I noticed was two men dressed in traditional Japanese garb.  One was actively making a Kiseru pipe.  The Japanese have been making Kiseru pipes for over 400 years.  They are made with bamboo,  brass, copper,  gold, silver and priced accordingly. The bowl is very small – its like the middle eastern dokha- and the tobacco used, kizami is a finely shredded tobacco that similarly, is very high in nicotine.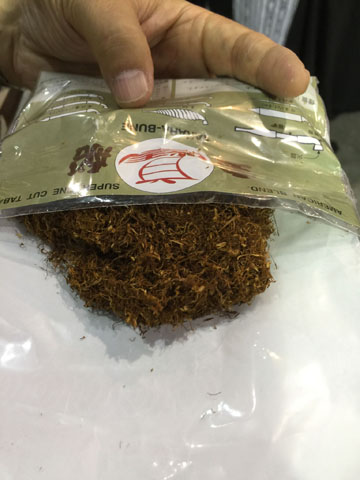 The prices range from $25 to $1200 and they are trying to break into the US market.  So far many people are enjoying the pipes but the catch with them is getting the specific Kizami tobacco in the US.  Tsuge has not been able to import it yet.  Grant says in the mean time,  just use some of Daughters and Ryan shag tobacco and it works ok.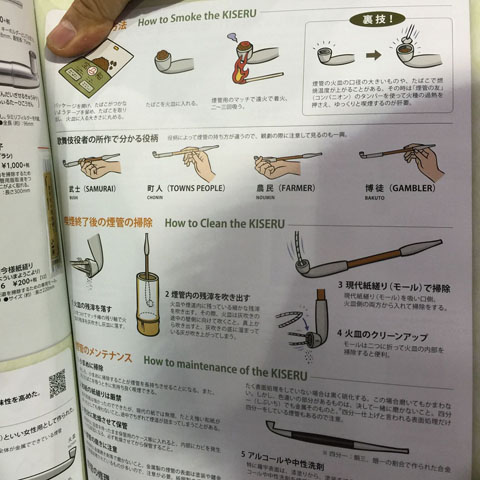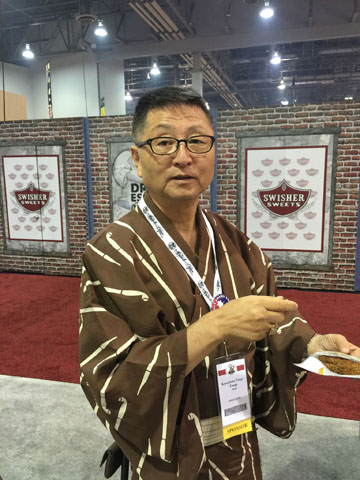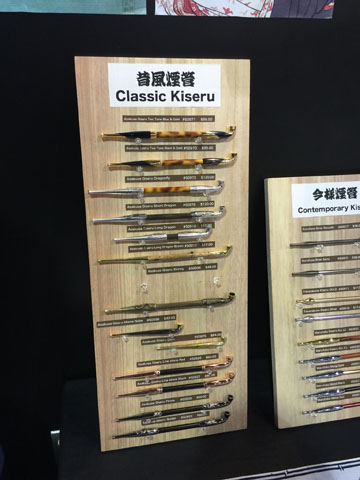 Another product that just hit is the brand new tradesmen pipe at a $79.99 price point. It has the Drew Estate/Tsuge feel too it, but it is still traditional tobacco pipe. These are exclusive to Pipes and Cigars currently and because of this Grant didn't bring any to IPCPR for me to snap a picture of.
Hekthor Wiebe- Radiator Pipe –
Stopping next at Hekthor Wiebe's booth: we chatted about how his pipes came about and the differences of his Radiator pipe. The idea for the pipe came about when he lived in Winnipeg, Canada – when his son had health issues (many people followed his story on social media with his son and a transplant.) His prototype for the first pipe was completed in a Ronald McDonald house out in Edmonton, Canada – with his sleepless nights worrying about his son.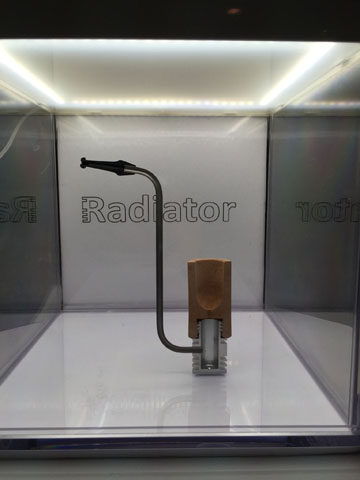 Hekthor says most people ask him about the pipe cleaner test, and yes, you can run a pipe through it but you don't have to; just run it under the tap water. The metal of course doesn't ghost so you can use another bowl and dedicate different bowls to tobaccos. New this year is the volcano and brandy shape bowls. He has some new sizes and is road testing a meerschaum bowl right now but wants to make sure its good condition before he releases it.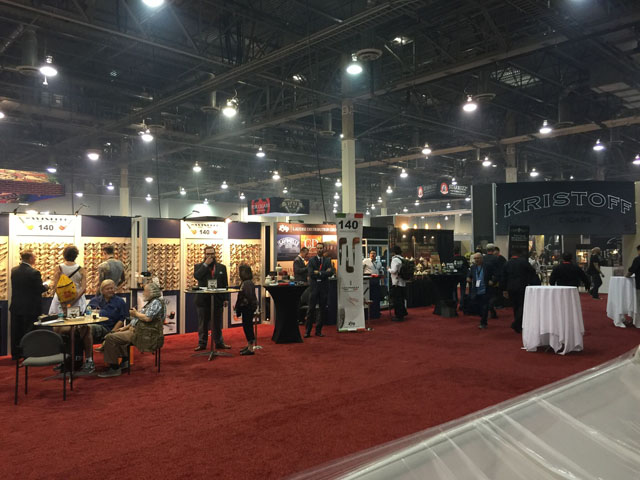 Laudisi (Savinelli and C&D) –
Just hitting the shelves is a bevy of new blends from C&D.  The usual Mixture Monster, a new Christmas Blend – Corn Cob Pipe, and then we see a couple new Kiribi  lighters – orange, blue, red leather wrap hitting the market.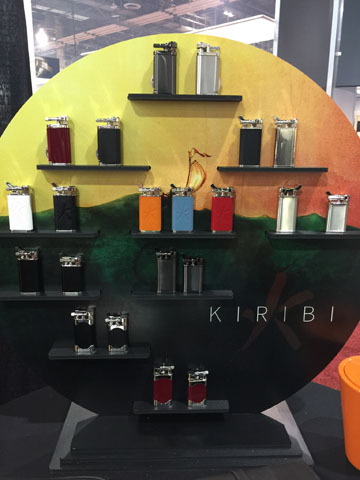 You also may have noticed that GL Pease's Temple Bar, Renaissance Reserve, and Regents Flake just came out which were on display for people to snag and try out.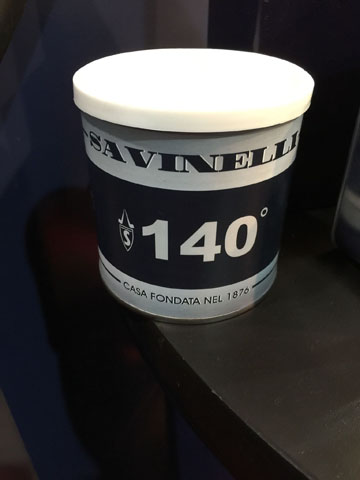 New at the show was the 140th anniversary tobacco which was made by C&D. It contains a special dark fired from Italy, some Virginias, Katerini and then a very light mild topping on it – somewhat floral fruit, lavender, and a honey note.  The floral note was not the  soapy lakeland mind you.  Out of the newest blends, I really enjoyed sampling this one.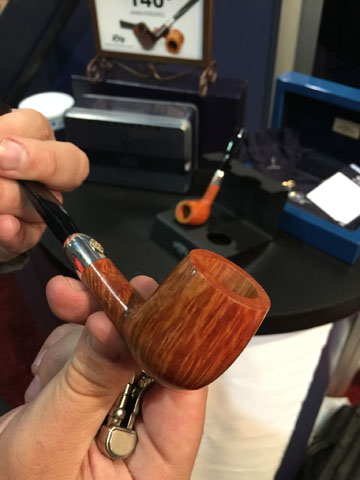 The 140th anniversary pipe  features a military mount with a push tenon. There will be two versions filter and non-filtered with a funneled airway and 6mm filter. They  also available in Giubileo d'Oro but only 12 are available.
Description from the site: Much like their 140th Anniversary blend, Savinelli's 140th Anniversary pipe pays homage to the marque's heritage, this time with a sleek, minimalist classic: the straight, Italian neo-classical Billiard. Showcasing the dedication of their team of skilled craftsmen, and the foundation upon which the Savinelli family built their legacy, each of these limited-edition pipes comes fitted with a sterling silver military mount and a push-style tenon for easy maintenance and cleaning.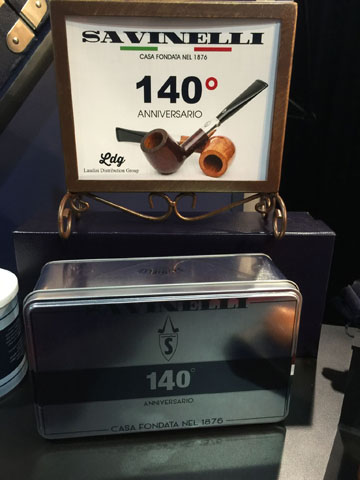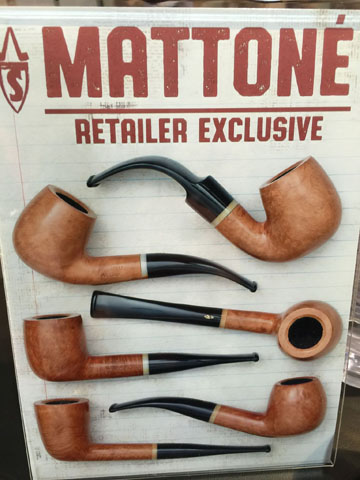 Mattone is a brand new line and is the Italian word for brick (I think Joe actually told me 4 times that Mattone meant brick, I got it man!)  This line of pipes will MSRP for around $85 and is  Savinelli branded and only sold at your local brick and mortar store. It will not be available online. They also  come packaged in this nice  leather pouch.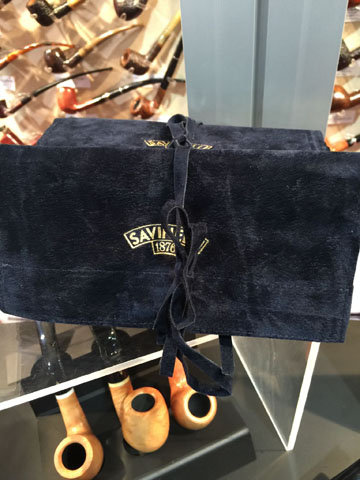 The golf pipe is a miniature 320 shape, their most popular and is new as well.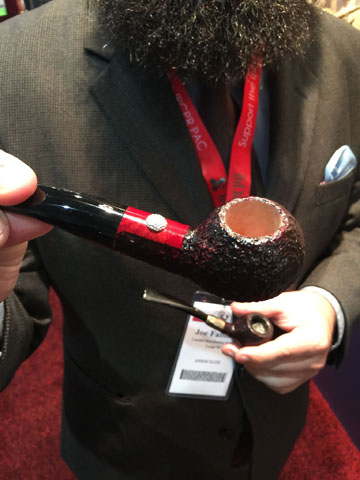 Christmas pipe 2016 – released slightly before the show, not pictured here but available shortly if you don't already see it.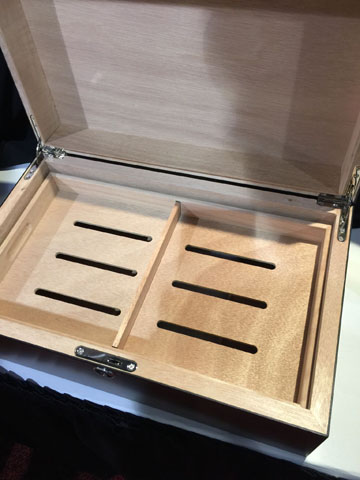 Brigham
New for Brigham this year is their  humidors which feature some "quadrant hinges" that are extra thick and thus last longer. The side walls thicker than similar priced humidors and offer 3 finishes: dark walnut, cherry, and mahogany. Each of the larger ones come with Brigham hydrometers – and humidification packs which are generally  a higher quality than you'd expect at the price point.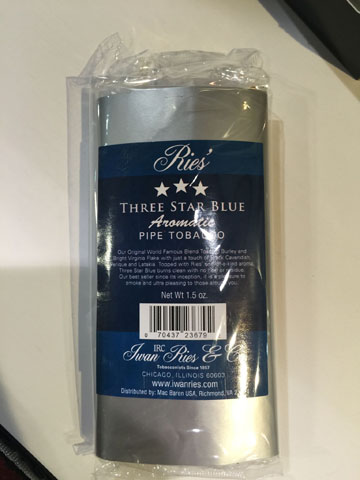 MacBaren and Sutliff
MacBaren has Three Star Blue which is brand new, repackaged and the brand goes back to Iwan Ries. In the 1920s they came up with the blend then in the 1960s MacBaren/Sutliff took over production from them and then finally in the 80's they bought the brand so now they are introducing it nationally.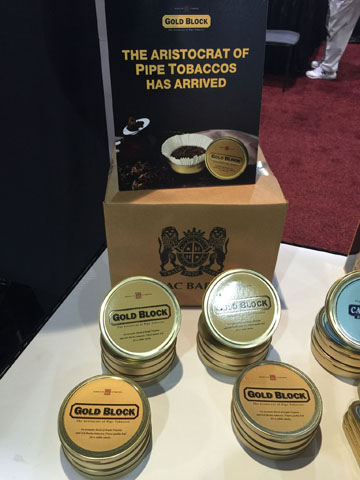 The others new tobaccos you most likely already know about: Gold Block, St. bruno are back. Gold block is actually not a block, and never was its actually a lose cut. Amphora also out – and all of these came out in January. Amphora has been made by MacBaren since 2006 but hasn't been over in the US until MacBaren bought the trademarks.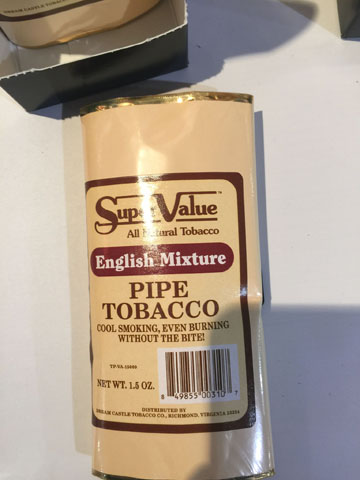 SuperValue – since the last IPCPR they have released burbon whiskey and first true english tobacco – latakia based in value priced product – and upgraded the quality of the pouch to a foil lined instead of the standard plastic pouches. The Foil lined pouches will give the product much better shelf life.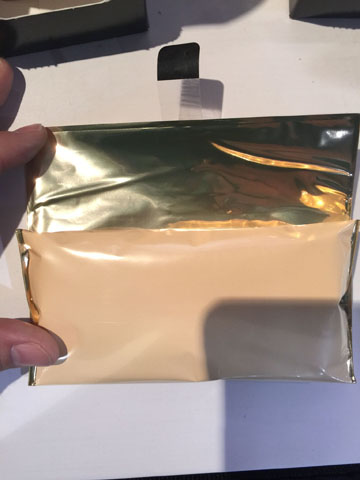 Straight blending components from Sutliff got re-released with 28 different blending or component tobaccos: Latikia, 4-5 different burleys and various Virginias for instance.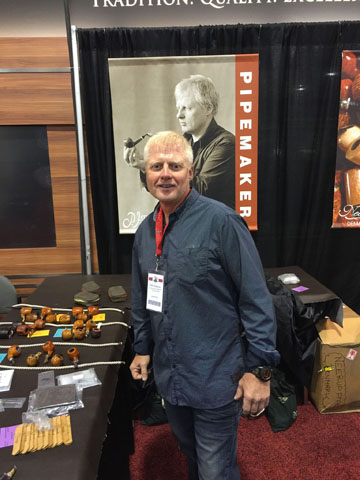 Peder Jeppesen (Neerup)
Peder is prolific with his offerings and always has new pipes out.  By the time I got around to his table, he had already  sold a ton of pipes at the show and didn't have much left to cover with me.  What he did have though was some great new accessories. Some new leather pipe bags (not pictured),  lots of brushes in varying sizes – shank, bowl, filter shank brush – and then a nice leather cleaning and servicing kit.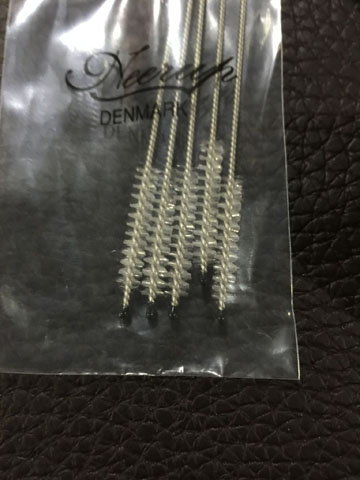 The rubber nib protector on the brushes are what set these apart for your standard. He sold out of all his kits at the show – so expect to see those soon with the retailers.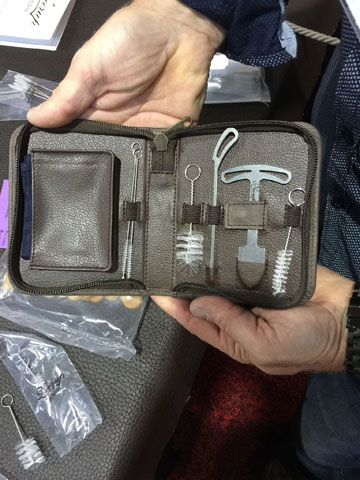 For those of you who are not familiar with Peder – he has been carving pipes for over 30 years since 1977 – started with Karl Erik, then Erik Nording, then after trying something else, came back to pipe making and  struck out on his own. Starting in his spare time making pipes Peder then picked up some machines. When Larsen didn't want to continue with the factory he bought some briar and the additional machines to make pipes on a larger scale.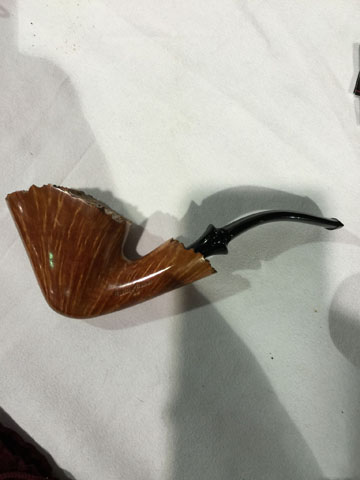 Pipe Tart
This was the first year for Sally at IPCPR and one of her carvers she represents Fabrizio Romeo asked her to represent him at the show. Shown above is good example of Fabrizio's pipes that you can expect.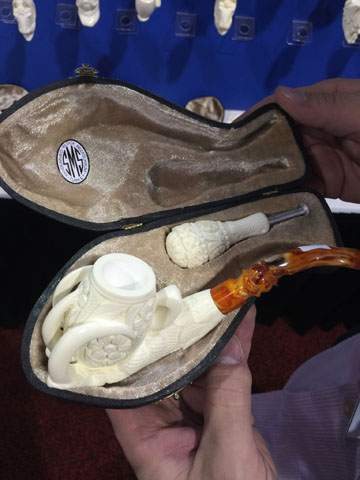 SMS Meerschaum and Lorenzo
I stopped by the Lorenzo booth and SMS Meerschaum to chat and noticed a trend of meers that come with tampers.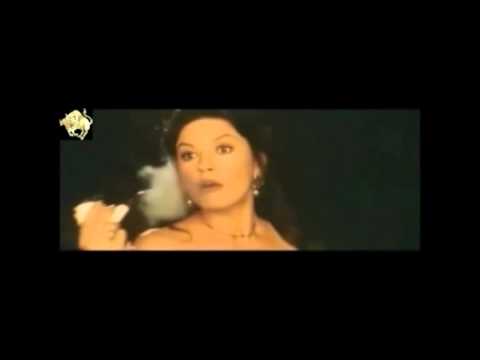 Another interesting tidbit is that one of their pipes was actually in The Legend of Zoro with Catherine Zeta Jones smoking it.  In the balcony scene she  then she throws it over the balcony behind her and then we notice the horse (Tornado) is smoking it.  Sorry for the crappy picture but it was the only one I could find of her and the pipe.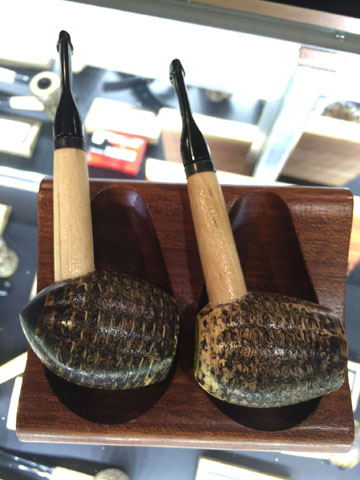 Missouri Meerschaum
Of course Phil and Pat Morgan were at the show with Missouri Meerschaum Pipes and they do have some new styles.  Shown above is the little devil cutty and little devil acorn. And then below is the Marcus, a  Dublin style bowl like the Mark Twain but smaller.  The suggested retail around $12.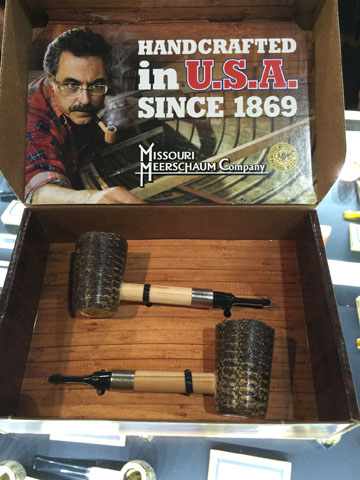 All of these bowls are cut by hand because of size and  they use a lathe – this extra work is what adds to the price point, but at $12 who is complaining? These are excellent quality pipes at an excellent price that you have come to expect from Missouri Meer.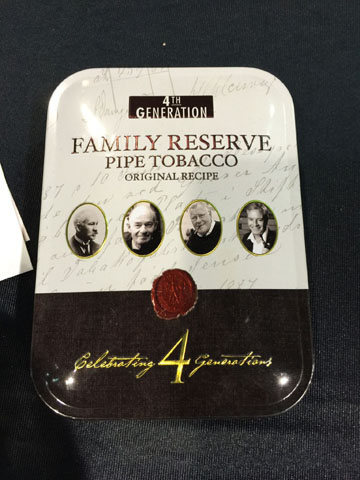 4th Generation – Stokkebye
I briefly had a chance to swing by the 4th Gen booth and chat with Erik.  They have a new tobacco out that was released at the show which he sent me the description here: In celebration of 160 years of family tradition – this Family Reserve blend is a truly unique mixture consisting of deep brown burleys, broad cut virginias, black cavendish and sprinkles of mature Navy flake.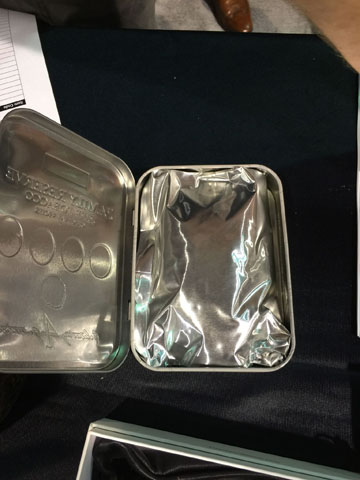 The top note is a delightful combination of prunes, marzipan and vanilla, bringing out an enjoyable smoke and light sweet aroma.  Unfortunately I didn't get a chance to actually see the tobacco or sample it at the time.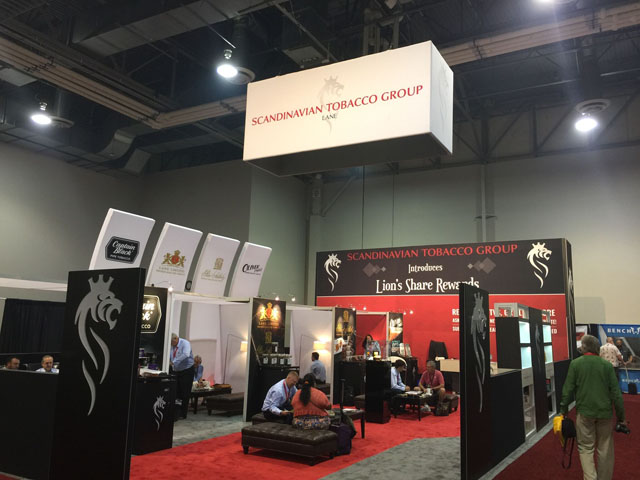 Scandinavian Tobacco Group/Lane Limited
In June STG became exclusive distributor of Oliver Twist products and is STG's first venture into the smokeless category of tobacco.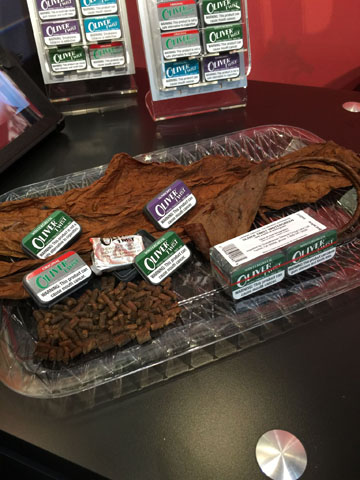 4 blends will be available – its hand made, with premium wrapper leaf – leaves are spun into long rope, cased, and then cut, then vacuum packed for shelf life and moisture content. No spitoon or spit cup needed (so they say).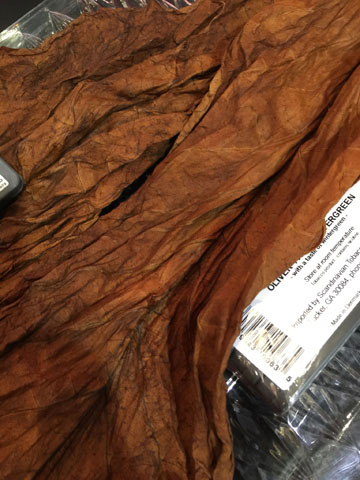 They explained that it's very high quality smokeless chewing tobacco as a "bit".
"This is the 'rolls royce' – its pensylvania broadleaf. " I asked if they stripped the stem and got rid of the junk and indeed they do, they strip the stem and then roll each half of the leaf. If you snag some of these – take one of the bits and you can actually unroll the bit into the leaf.  Lasse and Michael explained that high skilled labor that goes into making these; the employees spend 3 1/2 years learning how to work with this and is similar to cigar rolling.  Oliver Twist as a company has 200 years experience making these tobacco bits, and only these.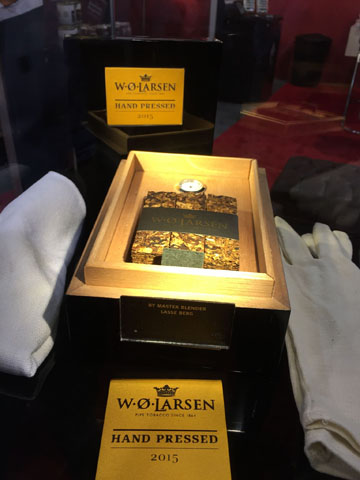 Obviously they brought out the Hand Pressed tobacco that they talked about at the Chicago Pipe Show. Only 200 were made in the whole word and US got 40 of them for retail.   Larsen wanted to embrace what was local to Denmark without being able to grow tobacco in Denmark.
The hand pressed tobacco is said to be the first tobacco of its kind to be produced using traditional techniques which were widely abandoned a century ago. By recreating the hand press, Master Blender Lasse Berg fused 21 quality tobaccos with the aromas of "sweetgale" leaves handpicked from the moors of Denmark. The resulting notes of Danish terroir were preserved to create a product that "allows enthusiasts to indulge their refined palates while enjoying an elegant smoking experience", STG said.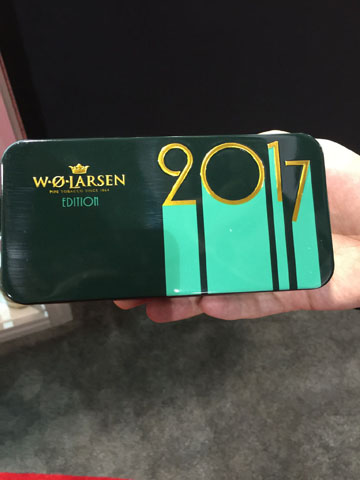 2017 WO Larsen limited edition- will be coming out very shortly and has a top note that is dry white wine from California.  The contents are a mix of  Black Cavendish, Virginia and Burley.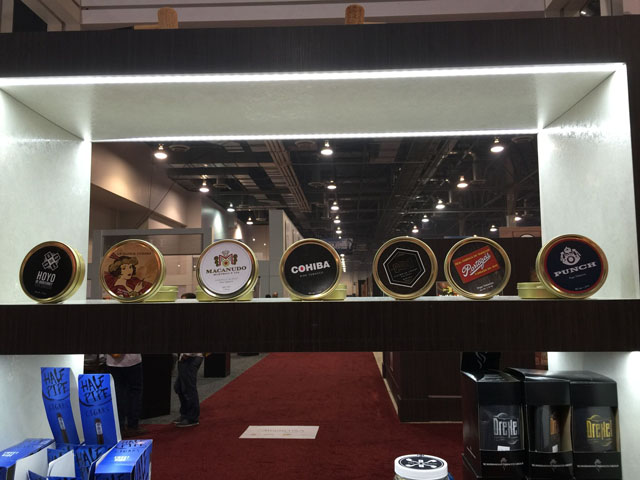 Next up we have the Cigar Series.  Hoyo De Monterrey , Gloria Cubana, Macanudo, Cohiba, patrañas, punch, Foundry. – They don't have actual cigar leaf in them which may be surprising, but what they do is match the profile on what you'd expect if you smoked each one of these as far as smooth, or bold, or spicy.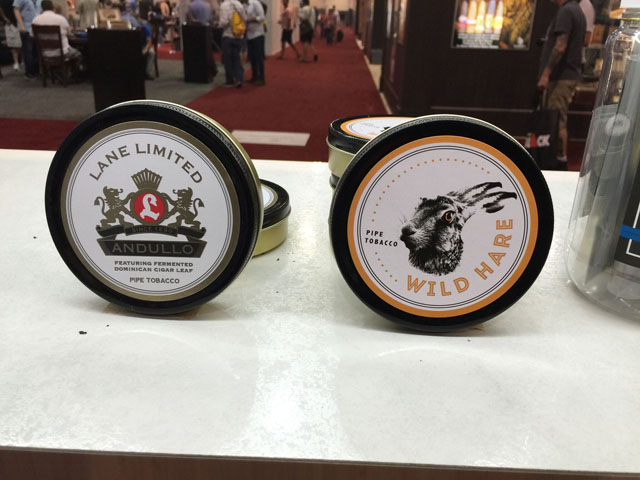 Andullo tobacco – is only grown in dominican been doing it for 200 years.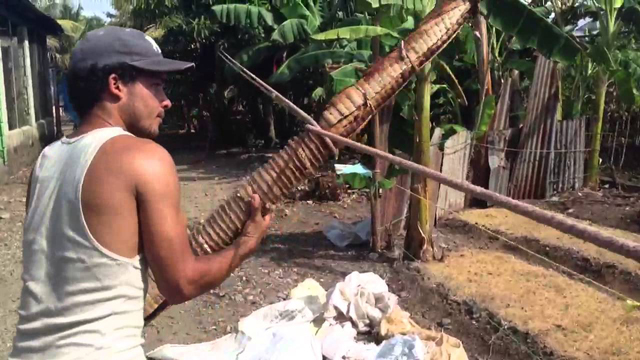 Its similar to perique as far as a fermenting process except they don't age/ferment in a barrel, they wrap it in banana leaves and then wrap it with rope very eerily similar to Tambalaka in Indonesia.  This blend is 45% andullo, 45% black cavendish, and 10% latakia. I sampled some at the show and I got almost no latakia after smoking it. It reminded me immediately of The Beast – as far as the tin note – minus the rum.
A whole new line as Lasse remarked "It's aimed at the the millennials,"  and will come in  tins and pouches.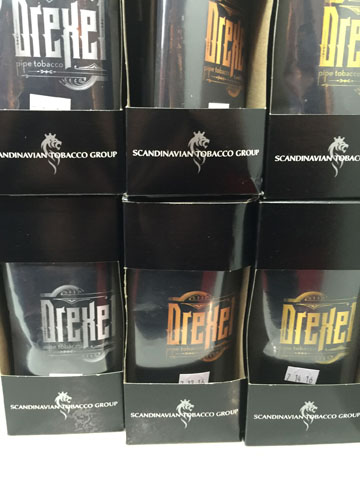 The Drexel line will come in three different types of tobacco, gold aromatic (vanilla), silver English with Cyprian latakia, bronze flake – which is virginia perique.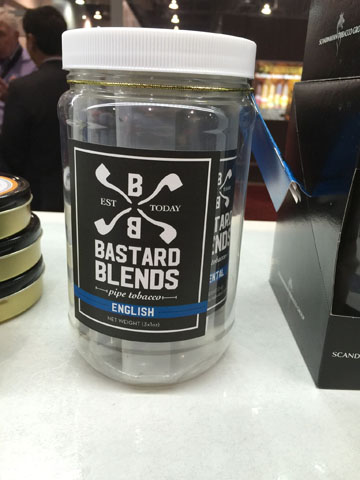 Bastard Blends is a new concept that STG wanted to get out – the jar they had for me to look at was the English.  They will launch with an  English, Aromatic, Vapr, and a Hybrid. Each jar will have 3 pouches – 3 items to get your Blend and you can adjust the quantity of each to mix your preference. It comes with handbook on how to blend and the kit will be the same price as buying the tins or pouches so the price point will be fairly low.  They had a plastic jar on display but Lasse states that  it will be a glass mason jar, not plastic like shown.
"Blend the tobacco in the container  to  "Create your own bastard"  that is established 'today' i.e. make your own bastard today with bastard blends."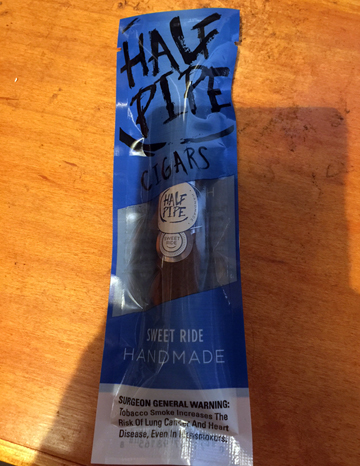 They have a new line of cigars coming out called Half-pipe.  These are  hand made cigars with   50% BCA and 50% dominican filler  with Habana Wrapper.   It's main goal in the market is to move people from machine made swisher style  to a more robust cigar or pipe. I smoked this when I got home, the shoulder is very sweet, reminiscent of a swisher sweet, but the mix of the Cavendish and a nice wrapper made it a fairly enjoyable, albeit sweet cigar. I actually smoked this in about 15 minutes.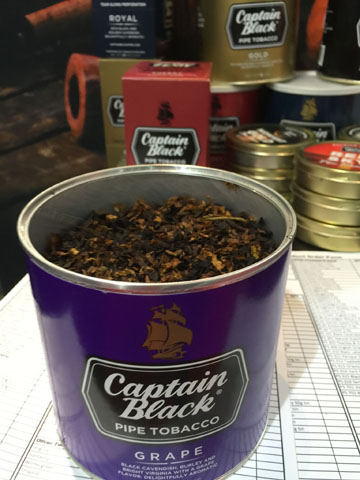 Lastly –  they're introducig the first grape tobacco they belive is on the market.  When you pop the tin, you certainly feel like you're in the Welch's Grape Juice factory.
Final information from STG/Lane is that  after we know more about the FDA stuff Lane wants to work more with the Pipe Clubs – but they are going to figure it out – a couple contests they have in mind with some pretty cool prizes.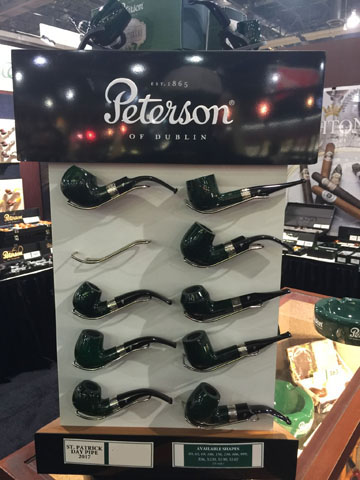 Peterson
Peterson had their St. Patrick's day 2017 pipes on display with 12 shapes available.  For St. Patrick's Day they've returned back to racing green color for the pipe and then have done a hand engraved little shamrock and Celtic band.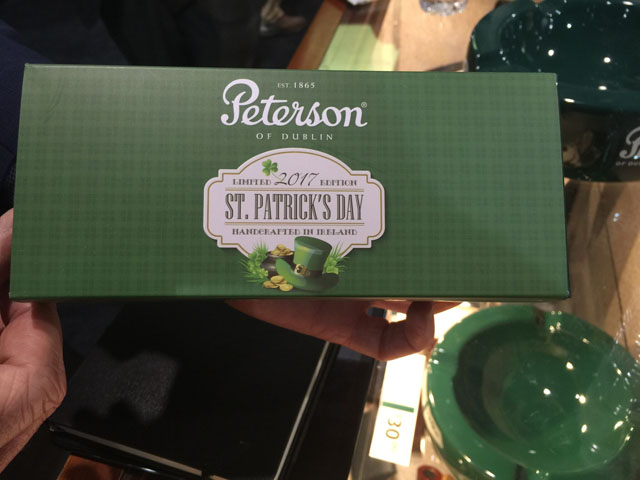 They did laser engraving on this as opposed to stamping and will have 8 bent and 4 straight with a nickel band.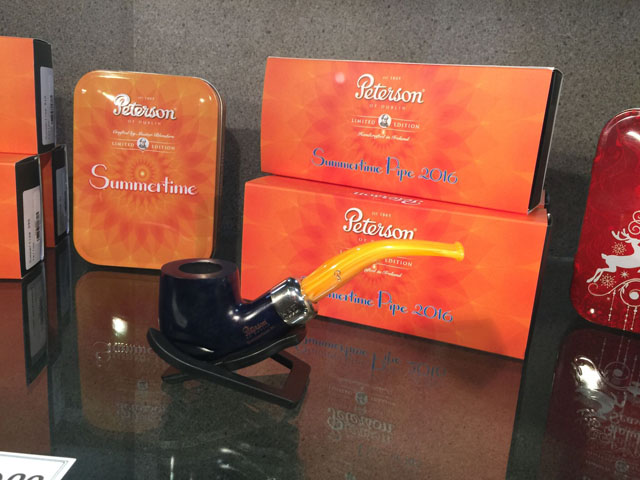 New for the first time is a the Summertime pipe with a royal blue finish, military mount or friction mount in 12 shapes.  The packaging matches the the blend. Conor explained that the limited editions they are up 23% on production on the tobacco side and the Summertime blend, he expects to perform the same or better.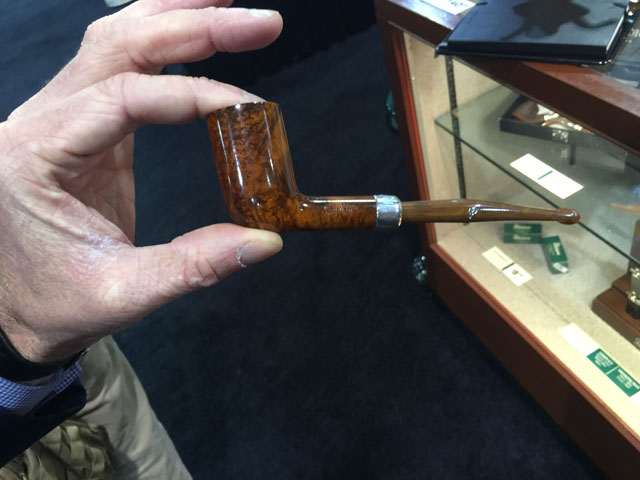 Also new at the show that many may not have known about is the short classics pipes. Peterson is using church warden bowls and finishing with silver mounted accents with caramel finish on the stem. The stamping is small finer or crisper than before because of the smaller bands. This new set of shapes comes from an increased demand for the specialty shapes the smaller shapes and will come in 6 shapes.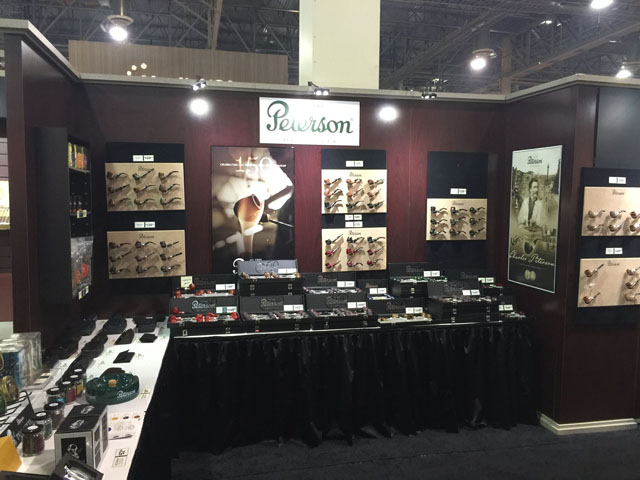 Unfortunately the pipe of the year for 2017 and the 2016 Christmas pipes have already been sold and they had none to display. Expect them to show up soon to your local retailers though!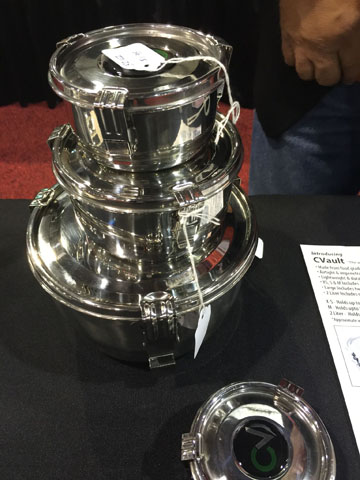 Music City Marketing
In the "It could be the coolest pipe accessory of 2016" category we have The Cvault.  It's made from food grade stainless steel and is airtight and impenetrable by light.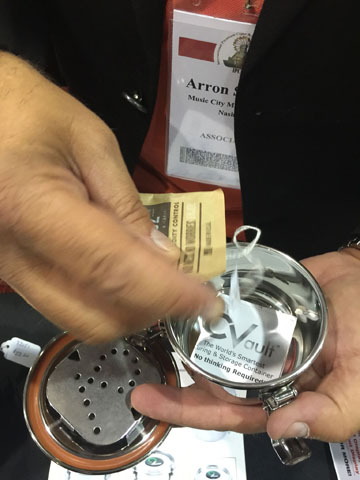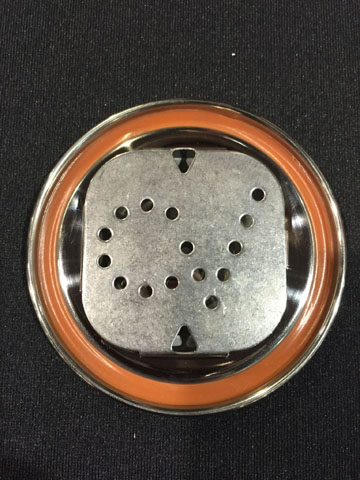 They come in XS, Small, Medium, and Large and 2 Liter and at on the lid have a built in section to hold the small Boveda pack (62%) that is included.
Extra small holds up to 1.6 oz
Small holds up to 3.2 oz
Medium holds up to 5.6 oz
Large holds up to 12 oz
2 Liter holds up to 1.6 lbs
Look for these to hit your local retailer and online sources very soon.
In summation I'd like to thank all the vendors that took the time to chat, I had more time this year to circle the floor but still didn't even scratch the surface when it comes to vendors at the show with the caveat that most of the vendors were cigar related.

James Foster goes by the online handle of Pylorns in the forums, and he is the creator of an app for keeping track of your tobacco cellar inventory called The Pipe Tool, serves as the President of the Austin Pipe Club and is a Certified Tobacconist.
More Pipes and Tobaccos Articles
7 Responses