Since we didn't have IPCPR (Now the PCA) this year as a tradeshow I didn't get a chance to go sit down and interview all the people in the pipe industry to bring you the latest news and information. But, I have managed to reach out to a few people before the holiday season and try to get a summation of new products, holiday sales, and interesting deals available just in time for Christmas, etc.
Note: Keep checking back as this post will be updated as more deals pop-up.
Laudisi, Smoking Pipes
Now that Laudisi is in full swing over Peterson we're seeing the seasonal pipes and plenty of them.
Peterson has released a special-edition Christmas pipe every year since 2009. 2020's edition is really special in that it showcases Peterson's excellent sandblasted finishes. If you're not aware, Peterson recently upgraded their entire sandblasting process, embracing a more artisanal approach in which they can treat each pipe individually, making decisions in the blasting cabinet to best highlight the briar's natural grain patterns. Combined with a warm, chocolatey stain, broad copper mounts, and Cumberland-patterned acrylic stems, it makes for a beautiful design that's subtly festive but still quite tasteful (something a pipe smoker can enjoy all year round). These pipes are already available, but we'll be continuing to highlight them over the next few months.
For the third year in a row, the Christmas pipe features the classic nickel-mount marks of shamrock, foxhound, and round tower, those great symbols of Éire Charles Peterson first applied to his nickel-mounts back in 1891. This is the only way, so far, to get them on a new Peterson pipe, which apart from the recent Christmas pipes hasn't been seen since the early 1960s. Stamping this year is, of course, applied by hand: Peterson in cursive over OF DUBLIN in small caps with a larger CHRISTMAS underneath and 2020 and the shape number nearby.
Personally, I picked up the Darwin shape as that's usually my favorite of the Peterson shapes but it appears to no longer be in stock at some places.
Savinelli – For nearly a decade, Savinelli has released an annual Saint Nicholas pipe, presenting a variety of the marque's iconic Italian shapes in a singular finish unique to each year. For 2020's edition — the eighth installment of the line — deep red, hand-tooled rusticated finishes join accents of brass- and ruby-colored acrylic and pearlescent white stems for a presentation evocative of the holiday season. It's available in nine iconic Italian designs, including the popular 320 KS, 106, and 311 KS models. These pipes are already available, but we'll be continuing to highlight them over the next few months (smoking pipes).
2nd Annual Smokingpipes Christmas Crawl
From Smoking Pipes:
Last year, we kicked off what we hope will be a longstanding tradition here at Smokingpipes: the Christmas Crawl. Beginning the first week of November and ending after Christmas, it is our biggest sales event of the year: essentially just under two months of compelling, back-to-back promotions, new product releases, and substantial discounts. For our second annual Christmas Crawl, we plan to announce a new promotion or product each week, with rotating sales periods (though there will certainly be some overlap).
Each sale will be Christmas Crawl branded and numbered, so folks can count down and follow along with the promotions we're running. I think it's quite interactive and more engaging than your typical, run-of-the-mill holiday promotion. It's meant to be an experience, with enthusiasts checking back in or trying to guess what's coming next. For those reasons, I can't get into the specifics of the promotions we'll be running, but customers can expect at least one significant sale to begin each week. We're going to have fun with it, and we hope customers will too.
Finally Smoking Pipes will be doing a site-wide discount which will run through Cyber Monday of 10% off all tinned and bulk pipe tobacco and 15% off everything else (new/estate pipes, accessories, cigars, etc).
Nording Hunting Pipe Smooth Cheetah
Keeping with the products we might have missed, Nording did their yearly Hunting pipes
This plump bent Apple shape was chosen by Erik Nording to represent his annual Hunting Pipe series for 2020, while the endangered Cheetah was his inspiration. Dressed in a smooth, matte finish with a contrast stain intended to represent the animal's fur, the shank is accented with a trim ring of black bamboo, then topped by an acrylic, jet-black stem.
Blue Room Briars
Blue Room Briars is running a sale with 15% off everything site-wide from Friday 10am until Tuesday 10am.
The Country Squire
For the Holiday Season, the Country Squire is offering a deal 10%-30% off all pipes and 10% off Squire House tobaccos Black Friday through Cyber Monday. ALSO, The Country Squire launched an updated website for this holiday season with tons of new updates for better usability including a shareable wishlist feature so you can share with your friends and family and not have to worry about getting a new pair of socks or a tie you never wanted.
Many of the updates were for useability like the ability to sort by shape
Missouri Meerschaum Christmas Gift Sets
This handsome set comes with a robust white, barrel-shaped bowl and two colored acrylic bit choices in both straight and bent styles. But wait, there's more! For this best time of the year, you get to choose one of the five Missouri Meerschaum Company authentic Leather Tobacco Pouches to accommodate your pipe.
Christmas Bundle:
The Christmas Bundle 2020 features a non-filtered pipe with a dark stained, barrel-shaped bowl and a long ivory-colored bit. This handsome pipe will be paired with your choice of one Missouri Meerschaum Company 1.5 oz. pipe pouch tobacco and your choice of either a pipe nail, tobacco pouch humidifier or a pair of BJ Long soft rubber pipe bits.
Pipes2smoke

Is doing a Black Friday sale on Meerschaum pipes that starts the 24th and ends Nov 28th at midnight. Ashtons and Becker will be on sale as well over the course of the week.
Wilke Pipe Tobacco

Is doing 20% off pipe tobacco on their Black Friday sale which runs all month.
Holiday Tobacco Tins
C&D is once again doing Golden Days of Yore for Christmas as well as Corncob Pipe and A Button Nose. Also for those who are doing the crawl at smokingpipes.com if you order a Peterson Pipe they are throwing in a special edition Tin of C&D. No details per se on it yet.
Golden Days is a festive mix of red and bright Virginias, Black Cavendish, dark-fired Kentucky, Katerini, and more. A unique Aromatic mixture, it's all married together with hints of ginger, nutmeg, allspice, cinnamon, and chocolate — topped with a dash of the best dark rum from Santa's secret stash.
Corn Cob Pipe is tiny cube cut Virginias, Cavendish, Burley, and a bit of red Virginia with a hint of marshmallow and cocoa added. I mostly get cocoa when I smoke it.
Sutliff: Cringle Flake
Sutliff's Cringle Flake Holiday Edition 2020 presents a blend of blackened, 10-year-old Virginias with 17-year-old Perique. Given the individual vintages of each of these components, the mixture offers an exceptionally mature flavor right out of the tin, a deep richness similar in character to a 10-year-old Virginia/Perique. That maturity is further augmented by partially cavendishing the aged Virginias, steaming them for one hour before they're combined with the Perique and pressed into delicate flakes. Naturally sweet with a spicy, piquant character, the result is incredibly complex, with notes of stone fruits, earthy spice, and molasses dancing across the palate.
Ken Byron Ventures: 3 Holiday Blends
Ken Byron is doing 3 blends for the holidays: Festivus, (va/per with holiday spice), Festivus GT (Grand Tour, straight VA from around the world), Festivus Pudding (va/per navy ribbon made with modern dark rich spiced rum), Yoshimi's Holiday Mocha (aromatic, coffee, cocoa, peppermint)
Boswells': Christmas Cookie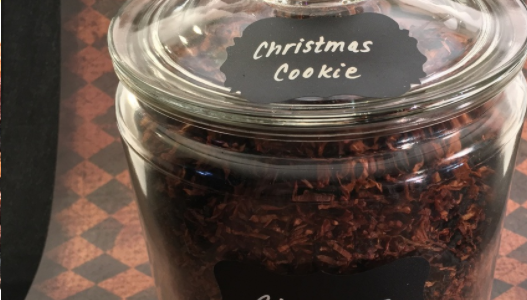 A very mild blend that Dan has created by hand to maintain each tobacco's individual characteristics. Christmas Cookie tempts the most discriminating palate. Creates a delightful aroma. The name says it all. Created Nov. 2002. Here is ideal tobacco for a Christmas gift, tobacco that every pipe smoker will enjoy as a real Holiday Treat!
And now for some harder to get items that you might have to order internationally to try if you are in the US. I love these special edition tins, and usually, these special seasonal blends are really good, but with the FDA deeming regulations many distributers are unwilling to import them to the US now.
Kohlhase & Kopp Winter Time 2020 pipe tobacco
Experience a Christmas fairy tale with the Kohlhase & Kopp Winter Time 2020. Let the fine Virginia cubes slowly trickle into your pipe and light it up. Immediately a pleasant cloud of rosemary surrounds you. This is accompanied by notes of orange and citrus and a hint of cinnamon. This tobacco makes the perfect gift or treat for any pipe smoker over the festive period!
W.O. Larsen 2021 Edition
W.O. Larsen is celebrating the year 2021 with a new pipe tobacco of the highest quality. This extraordinary composition consists of double fermented Black Cavendish, deeply colored and matured Virginia as well as dark, air-dried tobacco.
Refined with vanilla and nougat aromas.
Peterson – Special Reserve 2020
Peterson Special Reserve 2020 is a carefully composed blend of Virginia and Burley tobacco based on Black Cavendish. Refined with notes of almonds, this tobacco unfolds into a tasty, nutty smoking experience.
Rattray's Winter Edition 2020
Ebony Black Cavendish, a Broken Dark Virginia and nutty Burley provide the basis for this blend. The dense aroma of gingerbread and plums will make your palate dance the tango! And then is this fabulous vanilla note flowing through the room. A perfect Christmas Blend from Rattrays!
James Foster goes by the online handle of Pylorns in the forums, and he is the creator of an app for keeping track of your tobacco cellar inventory called The Pipe Tool, serves as the President of the Austin Pipe Club and is a Certified Tobacconist.
1 Response