WE NEED YOUR HELP.
We need the TTB (Tobacco Tax Bureau) to to adopt the Pipe Tobacco Council's proposed definition to differentiate Pipe Tobacco from Roll-You-Own (RYO) cigarette tobacco as proposed in rulemaking Docket TTB-2010-0004. Without this definition, pipe tobacco is in danger of having it's tax rate equal that of RYO, which threatens the very existence of pipe tobacco.
Many of you may be aware of this situation, and some may not, but this is an URGENT update regarding the biggest threat to pipe tobacco and our beloved hobby. There are myriad details that will be left out of this post for the sake of brevity and expediency.
Here is the general situation. (You can research the details if you wish.) Roll-Your-Own (RYO) cigarette tobacco was punished with a 2000% tax increase about a year ago. The RYO companies saw this coming, and re-packaged their product as pipe tobacco. It wasn't long before anti-tobacco advocates, and tax-hungry government officials figured out that they were losing hundreds of millions of potential tax dollars. Their simple solution – increase the tax on pipe tobacco to bring it in line with RYO and the loophole is closed. There has already been one bill that thankfully died in committee, but a new identical one has already been proposed.
Pipe tobacco could possibly become extinct.
You can raise taxes on cigarette tobacco as much as you want and that industry will never die. Cigarette smokers are too addicted to quit. However, if pipe tobacco taxes come into line with RYO, there are not enough pipe smokers that will continue to smoke to make it worth producing. The market is too small. Pipe tobacco will likely no longer exist, or in the least, many producers will go out of business.
It's obvious that tobacco in general is extremely vilified. However, pipe smokers have a much more benign image. There have been literally hundreds of times that industry professionals have worked behind the scenes to protect the life of our hobby when none of you knew about their efforts. Thousands of hours of hard work have been put towards defeating tax increases, anti-smoking ordinances, etc. The simple message is that pipe tobacco is different and should be excluded from harmful tax increases and other types of laws.
However, the situation with the RYO loophole now has many saying that pipe tobacco is not different and shouldn't be treated differently.
To solve this problem, the Pipe Tobacco Council has proposed a definition of pipe tobacco that differentiates it from RYO. Unfortunately, this proposal is sitting at the bottom of the pile, and the longer it sits there, the greater the risk that taxes on pipe tobacco will be brought to the level of RYO.
HERE'S WHAT YOU NEED TO DO
We've made this as simple and easy as possible for you. By utilizing an online automated system, you can quickly send correspondence to your Senators and Congressmen, politely asking them to get the TTB (Tobacco Tax Bureau) to move this up on their list and make the ruling that will define pipe tobacco and remove the threat of it's extinction.
It is free to send emails. The system requires your zip code to determine the correct representatives. Optionally, and recommended for maximum impact, you can have printed letters sent for $3.00 each.
Often times, people also do not realize that things like this affect jobs as well.
See the letter from Missouri Meerschaum below.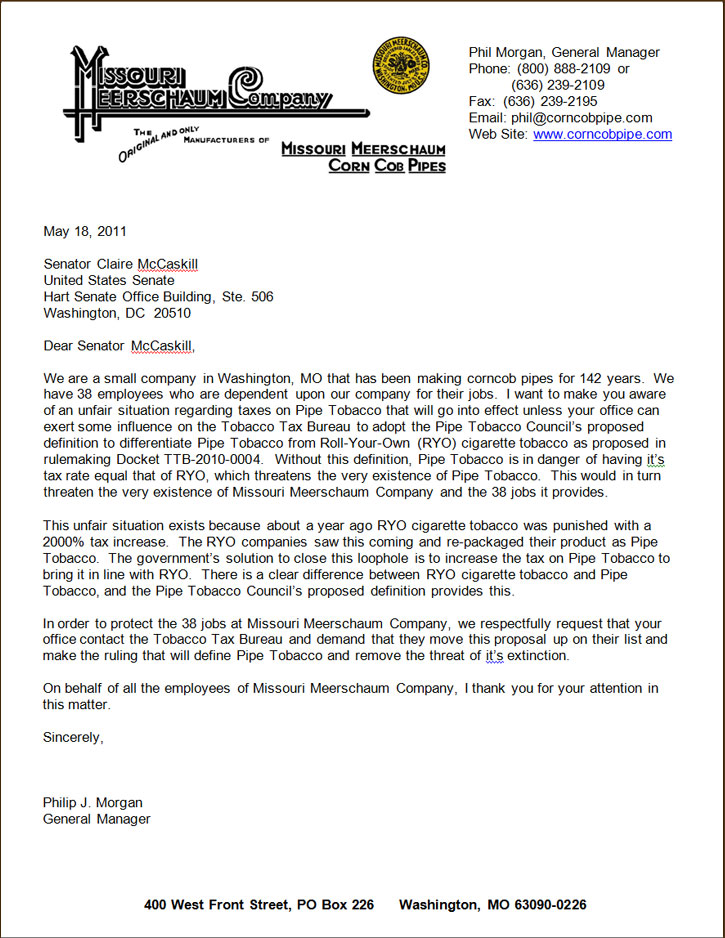 27 Responses